The Result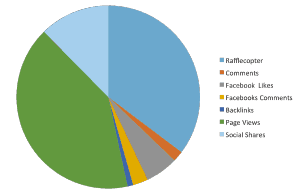 Contests and giveaways are always wildly successful on blogs. Our jelly bean guessing game was no different. We used the Rafflecopter plugin to count and track our 540 entries directly on the blog post.
We were also able to track 628 pageviews and 8 links as well as 29 comments on the blog post.
On Facebook, we logged 88 Likes and 41 comments. Overall, there were 189 social shares on all channels.