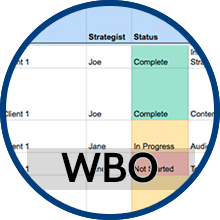 When it comes to growing your marketing team, you know that hiring experienced, rockstar marketers has its advantages but so does training and promoting from within your organization.
Make the process pain free by using our work breakout template to determine the strengths, weaknesses, and skills gaps of the members on your team.
The template can also help you to develop and track individualized training plans for each employee. Download it today to get started!
Download the Work Breakouts Template
Fill out the form below to get instant access to Inflow's Work Breakout Template.