What a week! I arrived back in Denver last Wednesday night exhausted from all of the knowledge bombs dropped at the Hero Conference. This conference is considered the PPC event of the year, and I was lucky enough to attend this year, because I received a free pass for winning their blog contest (you can read the blog here).
The Hero Conference is by far one the best events for the digital advertising industry. I want to give kudos to the entire Hanapin Marketing team for organizing and running an amazing event. I had an absolute blast hearing from industry leaders, networking, meeting #ppcchat peeps, eating delicious food and enjoying all the free drinks.
While the experience of being in Portland was worth it, the real value came from the amount of information packed into two full days. It's nearly impossible to decide which break-out session to attend because they are all so good.
Sorting through all this information is going to be daunting over the next few weeks. This truly is a conference that keeps on giving for months afterward due to the amount of shared strategies and tactics from all of the sessions and those in attendance.
Favorite Hero Conference Sessions
In an effort to distill the information into actionable next steps for our team, I picked four sessions that really stood out to me. Some of the ideas were new to me, some are areas where I need to expand my knowledge and others just challenged me to re-think my presumptions.
Here are my top four sessions:
Chris Haleua (@chrishaleua) – The Best & Worst Rules Ever Written. Key takeaway: Work on Increasing Knowledge Around Automated Bid Rules. Chris really challenged the way account management builds out automated bid strategies. He developed a 3X3 bid strategy that is going to take some time to wrap my head around. It's a really smart bid rule that helps you prioritize high-value keywords (top converters) and not waste time and ad spend on low-value keywords. Automated bid rules can be really tricky, but by running through his deck and templates, I'm hoping to walk away with a winning strategy.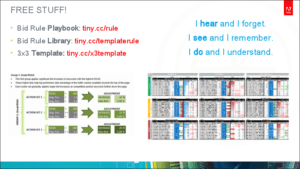 Steve Hammer (@armondhammer) & Christi Olson (@ChristiJOlson) – A Non-Coders Guide to AdWords Scripts. Key takeaway: Learn JavaScript to Write AdWords Scripts. AdWords scripts are amazing for automating a lot of manual tasks. The problem is, they are written in JavaScript. I don't know JavaScript, but after attending this session, I'm ready to learn! Steve and Christi did a phenomenal job walking through the code and explaining how to read the code. They recommended taking baby steps like tweaking little variables to get the information you need. It looks like I'll be taking some Code Academy classes to hone my JavaScript skills.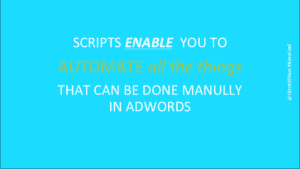 Megan Ginecki (@megster88) & Wijnand Meijer (@wijnandmeijer) – Re-Evaluating Success: The Value of PPC Audits. Key takeaway: Put Together a Cohesive PPC Audit Scorecard. AdWords account audits can be difficult– especially if you don't have a cohesive team strategy. Thankfully, Megan and Wijnand provided amazing resources including a massive PPC Audit scorecard. I know our team is very excited to implement this checklist to audit our own accounts and potential clients. The great thing is, it can also double as a training guide for new hires. Do yourself a favor and get this comprehensive checklist!
Katy Tonkin (@katytonkin) & Michael Stricker (@radioms) – Worldwide Reach: The Impact of International PPC. Key takeaway: Review Regional Dialects for International Ads. Running international PPC campaigns poses challenges and potential opportunities for improvement if you know what you're doing. Katy outlined some problems that she's found when managing campaigns in other countries. One of my favorite tips was for targeting cities rather than countries in the APAC region. She explained that most big cities are used to mobile phones while rural areas are just getting acquainted. Therefore, rural areas may not be the most discerning of searchers and could be wasting a lot of your ad spend. Lastly, make sure your ads are translated in the regional dialect and don't use Google Translate.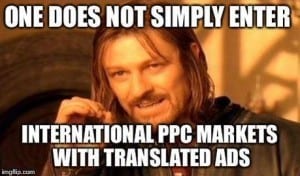 I definitely left the conference feeling a little overwhelmed with the variety of skills needed for this job. However, I can't wait to start implementing some new tactics on client accounts and challenging team members evaluate their strategies. All-in-all, this was an amazing trip and I can't wait to attend next year. Lastly, I want to give a huge shout to Ariana Wolf (@arianawolf) for letting me borrow her Macbook charger.