We had another great month at Inflow HQ. We successfully got a manual link penalty lifted for a client's site, and are eagerly waiting to hear back on another. We got started on our biggest content audit ever, with over 40,000 pages! The Great American Beer Festival came to town this past weekend, so to honor all the beer drinkers, we came up with a few 'brews' of our own:
Panda Porter – A well-hopped beer brewed with brown malts, this porter is dark and heavy, and has a subtle earthiness to it, with hints of bamboo. The content of this beer is just too much to pass up!
Penguin Pilsner – This refreshing light beer contains only the purest water harvested from melted glaciers in Antarctica. People have linked this pilsner with some of the finer beers known to man.
Pigeon Pale Ale – This is a very hoppy pale ale, brewed with all local ingredients. Definitely one not to be missed.
Penguin is Coming!
We have been sitting on pins and needles for months, and it appears that the long-awaited Penguin algorithm refresh is about to be rolled out. There's good news and bad news with this: if you disavow bad links now or as of about two weeks ago, it will likely be too late for this next Penguin refresh. But, the Penguin refreshes will be more frequent moving forward because of the new algorithm in place.
We will be keeping a close eye on this, and rest assured your site's traffic as well.
Google Sitelinks Search Box
In mid-September, Google started sending out emails through Webmaster Tools prompting sites to "Make your site ready for the new sitelinks search box."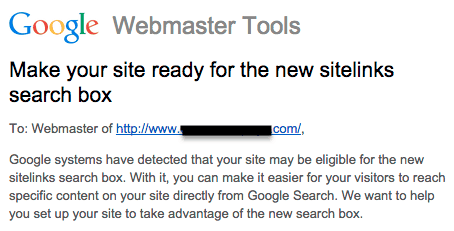 When properly implemented, performing a brand search will now result in a search box between the homepage and the Site Links. We noticed that Moz.com has implemented this feature:

Pretty cool, right? At first, we were excited and eager to plan implementation for our clients; especially since the process is fairly simple and straightforward. But upon some analysis and internal discussion, we started questioning whether this is something we should recommend. From the screenshot above, we searched 'Inbound Marketing.' Notice below how many ads appear in the results that are NOT Moz.com.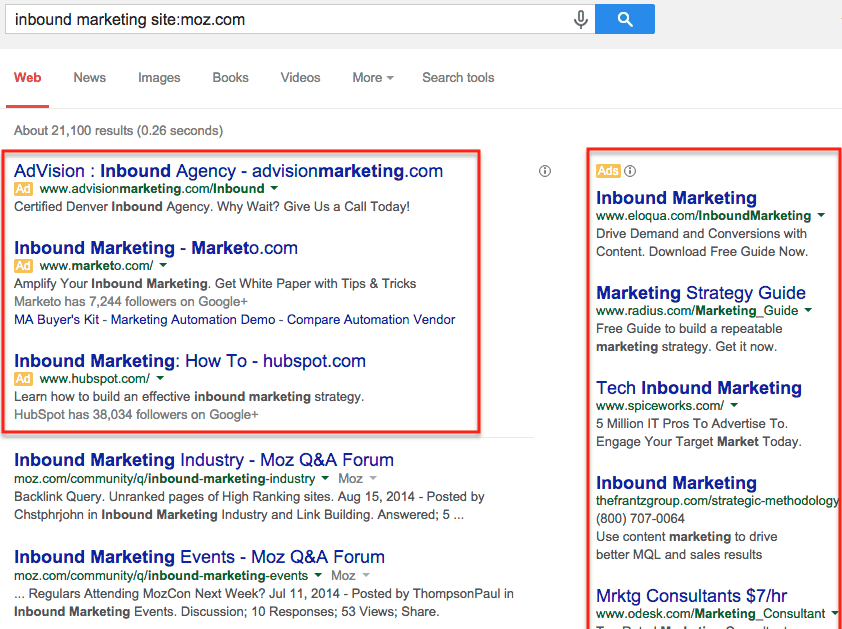 The probability that someone will click on a Moz.com search result has undoubtedly gone down, even if their initial intent was to visit Moz. It's hard to say how much, but is this a chance you really want to take with your brand? Why not capture the traffic on the first search result and not even give users the chance to go somewhere else?
What are your thoughts on the new Sitelinks Search Box? Let us know in the comments below.
Ello, is this thing on?
A new social networking website blew up in September called Ello. This post on the Inflow blog is documentation of our initial reaction to and discussion of the new platform. Ello's unique value is that they are anti-advertising. You'll see in our discussion that some of us like the idea, while others aren't quite sure.
Other Articles We Enjoyed in September
103 Curated SEO Resources for 19 eCommerce Platforms – Everett has compiled a list of some of the best resources on the web for 19 of the most popular eCommerce platforms.
10 Essential Google Analytics Dashboards for Ecommerce – If you run an eCommerce site and have not setup any custom reports dashboards, this is a must read!
Best Time to Send Email Newsletters– TL;DR: It depends!
Twitter Cards The Complete Guide – Have you ever heard of or used Twitter Cards? Did you know you can use them to ask your audience to do things like sign up for an email list or view and use a coupon? Check out this article for some great information about how you can capitalize on this new functionality.
Best Social Media Metrics – What really matters in social media? Avinash Kaushik digs in and tries to answer this question by describing four great social KPIs: Conversion rate, amplification rate, applause rate and economic value.
Feel free to reach out to our Strategists about anything you may have encountered on the web, read or experienced with your inbound marketing efforts. You can also reach out via social channels:
Facebook | Twitter | Google+ | LinkedIn
We love to talk about inbound marketing, so please don't be shy about discussing with us!