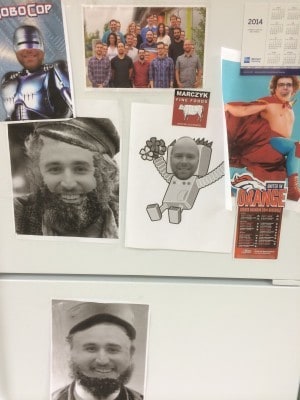 The agency life is often thought of in "Mad Men" terms these days. Or that it needs to be filled with "buzz" and Nerf guns, skinny jeans and hipster music playing on a loop.  And well, that's pretty much a fallacy.
At least here at Inflow it is.
We don't come in and get rowdy. There's not really hip music piped into all the cracks and offices on our floor. When we come to work, we get to work. Sure, we have our antics and pull pranks on one another. Like the picture on the left. I believe those were a few attempts at humor.
But mostly, we have deliverables, we have deadlines, and we have a drive for excellence.
All that said, we still recently found an opportunity to nurture creativity, in a huge way.
Blank walls and blank stares
Back when we relocated from the "very hip" old office to this new office space, we found that some of our company culture changed. Now you need to know a couple of things about the old office. 1) It was small. And when I say small, I'm talking that we were as close to sitting on top of  each other as possible without a lawsuit.  2) We were loud. And with the ability to basically hear each others' conversations because of our proximity, we were incredibly obnoxious. Funny and obnoxious. And I think that we often confused that as creative.
When we moved to our new seemingly corporate-type office we more than doubled our space. Folks got much needed and deserved offices. With having dedicated offices for much of the staff things just naturally quieted down. We all stopped chit chatting so much. Fantastic for productivity, not so much for much else. Many of us still made it a point to take breaks with each other to talk and just let loose. Our kitchen! (exciting because we didn't even have one at the cool office) became a place to hang our art, which incidentally was Photoshop altered images of one another. For the most part, we were still the same group of misfits…just spread out over a lot more square footage.
And we were taking a very long time to decorate this new office. One big reason was that we just didn't know what to do. We're marketers, not interior designers.
Ownership of our environment
From the beginning, we knew that this space was ours and we'd be the ones to decorate it. That's why we didn't bring in a designer.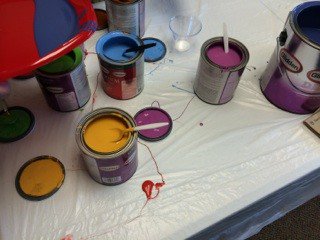 I'm sure that some of the strategists and analysts may feel a bit less than "creative" when they are in the trenches with an SEO Technical Audit. Or conversion A/B testing. Or anything in an Excel spreadsheet. However, some of us get to be creative regularly. Content marketing takes strategy, sure, but it also requires a lot of creativity. In fact, while we were in the process of rebranding, I'd take time every morning to engage in what I dubbed "creative brand storming." It was my way of tackling issues of messaging, positioning, brand voice, etc. And our President, Mike Belasco, not only allowed it, he encouraged it.
Belasco also set up a bullpen area in a large open part of the office. Part of this bullpen is filled with permanent workstations where some employees like myself are situated. In another spot there is a "phone booth" for us to make calls. In yet another, there is a round of four comfy chairs and laptop stands for collaboration. This area, has no walls by Belasco's design. I actually asked for cubicle-style walls when we moved here and was turned down. There was a grand vision for the space.
So when it came time to finally decorate this office, he took a lot of ideas in. Monica Valdez is a pretty talented artist. As in shows her work at galleries, talented. So under her direction, we found our office decorated courtesy of the weirdos (our art proves that) that work here.
Designing our environment as team building
Mike, Monica and Alexis set it up for us to have an after hours art party. You could actually hear the eye rolls when they announced this. For people that just months before were pranking each other regularly, this really cool idea was lost on us. I promise you that more than one of us was mocking "happy trees" in our heads. Unbeknownst to us, the masterminds had not only created an opportunity to decorate the office space, but to create a team building / bonding experience for us.
Employee engagement
Every single one of us was here the night of the art party. We've got families, small children, pets, significant others, houses, crazy neighbors, sports – there were a ton of reasons for any one of us to not make it to the paint party. It was optional. And like I had mentioned before, we had our reservations about the whole thing. Yet, we all showed. Full attendance is literally not even possible to get group company photos.
When it comes to measuring a metric like employee engagement, attendance and participation are pretty good places to look. Plus, everyone enjoyed themselves. We could look among ourselves and see the different way in which everyone worked on a completely creative task. Devon and I were decisive and quick. Christina was purposeful and drew upon her formal art training. Rick got all punk rock and Mod Podged a picture of a skull to a canvas. Yes, it actually is as cool as it sounds. Basically, everyone entered into this creative task in their own way. And then something really interesting happened: people began collaborating. Organically (heh). For example, Caesar and Mike Vallano created a dinosaur painting. So maybe we are pretty hip after all.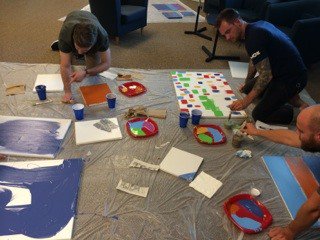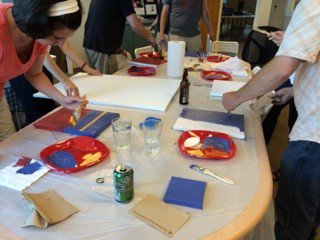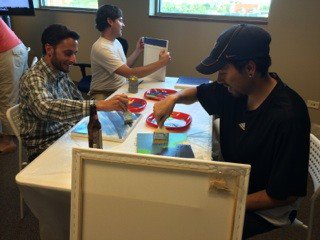 Inflow has undergone a lot of change since the beginning of this year. For one, we became Inflow. We relocated. Staff changed. Service offerings have changed. We all get to enter the building and say hello to an exceptionally nice receptionist (Hi, Jeanice!). Things have changed here and it's come with some normal growing pains.
Monica hung paintings around the office to compliment one another and create a cohesive gallery display as you move from one point to another. It looks damn good in here. We still chat up one another on who made what, and the things we like about the paintings. Tim  continuously tries to snag one of the paintings he made for his office. He's not the only one with an intense pride for the work he created.  I think everyone has their favorites.
Employees as brand enthusiasts and ambassadors
One of the biggest movements in retaining employees is to turn them into brand enthusiast and ambassadors so they feel more invested in the company. Studies show that workplace environment affects employee happiness with the job, but also how well they perform that job. Our newly decorated environment has affected our day-to-day insofar as we know the art on the walls came from a great night. We know on some level every time we walk through the office space that instead of cheesy motivational posters or hipster art, our leader chose to put us in charge of decorating our own space. (Using the colors of our brand palette!) He nurtured our creativity without knowing what he was going to end up with. He financially invested in the team's creativity by purchasing the supplies; providing food and beer. He sent us a very strong message that he and Inflow believes in the creative power of the employees. And that, in turn,  makes us proud to be on the Inflow team.