Knowing which high authority sites to get links from can be difficult. Of course you can always do a search on Google for your target keywords and see what comes up. Most of the time these will be high authority sites in your niche, but oftentimes they are your competitors and getting a link from them is probably not likely.
Instead, you should consider looking at sites that offer competitive intelligence and market research data to help you locate high authority sites in your industry. There are several you can choose from:
Some of these sites are definitely more reliable than others, for example I'd place sites such as Alexa and Quantcast at the bottom of the list and comScore and Hitwise at the top. For purposes of this post lets focus on one of the best (in my opinion), Hitwise.
Hitwise publishes a weekly report showing the top sites in various industries such as banking, real estate and social marketing. These are the only industries they offer free data for but the 'Top Search Terms" report is also a great place to see what's trending. Sometimes it will be relevant to your business and sometimes it won't, but it doesn't hurt to check it out every Monday. I subscribe to the RSS feed so I don't miss anything.
Since they are giving away these reports for free, the data is limited. If you want the data that is most relevant to you, you're going to have to pay, and I mean a lot. Hitwise doesn't tell you how much they charge but instead ask that you contact them first for a quote. Various research around the internet say it costs about $20,000 a year or more depending on how many channels you want access to. WHUT?!?
If you want to see the kind of data Hitwise can provide, take a look at this example on the top real estate sites.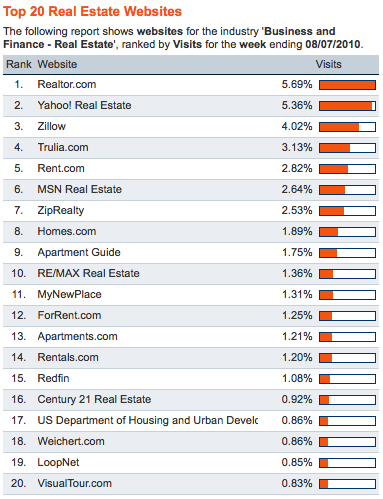 These are authorities in the real estate niche. They might not be showing up for long tail phrases like "Real Estate in Durango, CO" (or maybe they are, who knows) but they are showing up for your market defining keywords, such as "real estate." Now that you have this killer list, you need to go through each site and see if there's some way you can get a link from it. If you can't get a link, maybe you can utilize the website to become a recognized voice in your industry (see below), which will eventually lead to more opportunities in the future, such as guest blogging.
Let's take a look at how you can use Zillow, one of the most recognized real estate sites on the web. Looking around I see that they allow various options to advertise with them, for example submitting your listings, creating a profile with personal information and getting a listing in their directory. They also have a Q&A section where you can answer questions and discussion forums where you can become a part of the community. I see that they also have a blog that sometimes links out to other sources. If you can create something that they would link to, perhaps local market research, hot news or an interesting link bait article, mention it to one of the editors. They're also on Twitter which would be a great place to connect and start a relationship. This one site alone provides a lot of opportunities and I'm betting most of the others do too.
As you can see, if you can afford a Hitwise membership and have the resources to act on the data they provide, you can really take hold in your niche. Going back to the real estate example, you don't have to focus on just real estate. What other interests do new homeowners have? Lawn care, decorating, home improvement, local groups and activities. These are all other channels you can research.
I love the data that Hitwise provides, but for now I'll stick to the free reports and hope for something I can use. And don't forget to check out those other competitive intelligence sites for some ideas too. Comscore has a great free resource called the comScore Data Mine, another one I subscribe to.