Since moving into our new office last November, there has been a tight race forming. Number of blog posts made by yours truly vs. chairs I have destroyed.
My chair of choice for the last few years has been an exercise ball. There was definitely a 'learning curve' to use such a chair, mainly with my back muscles and core adjusting to being used constantly. After a few weeks it was like nothing had happened, no problem sitting on a ball all day.
There is something about the floor surface in our new office that doesn't get along with exercise balls. Ball #1 lasted about 3 months. A piece of god-knows-what poked its way through the ball just enough for it to flatten. These things have no patch kits! So, I bought another ball and a plastic mat, thinking the concrete floor was the culprit.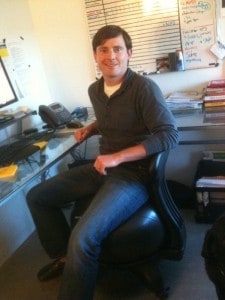 Six months later, another flat. New exercise balls aren't much (~$25) but buying 3-4/year is obviously not ideal. That's when I learned about a ball chair being sold by a local company named Gaiam. I had known of such chairs before but had written them off as a 'lazy man's alternative' to my fitness ball. Either I am now a lazy man or the ball chair is just what I was looking for! Or both.
The main benefit to my new ball chair is it's off the floor! No random shards can burst my bubble 🙂 I am 6'1″ and the height is about the same as the 65cm fitness ball I used to use. The ball is smaller and takes much less effort and time to inflate. The rollers are convenient for rolling around the office, something not possible on an exercise ball unless you're some kind of acrobat! Also, I like to lean back throughout the day and the chair's back support gives me this opportunity.
I hereby recommend the Gaiam Ball Chair. Two thumbs up! Hopefully (with thanks to my new chair) my number of blog posts will start to win the race with my destroyed chairs!