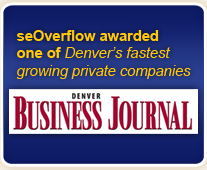 Inflow (formerly seOverflow) is proud to announce that we've been awarded One of Denver's Fastest Growing Private Companies for the 3rd year in a row by the Denver Business Journal. These days it can be challenging for folks to find a talented and credible SEO company, so we're honored to be well respected in our hometown. We believe it all starts with where you hang your hat.
seOverflow's Colorado based customers such as DISHWorld and Webroot have not only gained us Denver Business Journal notoriety, but have helped to put us on the E-Commerce map.  We're proud to call ourselves one of the leaders in E-Commerce SEO in Colorado and nationwide.
We couldn't do it without the talents of our SEO On-Page Optimization and Link Building teams as well as our Director of SEO Strategy, Everett Sizemore. Everett's unprecedented ability to understand and navigate through SEO complexities gives our clients a distinct competitive edge. Everett recently received rave reviews as a SEOmoz contributor for his recent moz webinar: E-Commerce SEO: Fix and Avoid Common Issues.
We are thankful to E-Commerce, B2B and Local customers alike for their loyalty over the past five years. We look forward to continuing to provide our clients with top-notch SEO and Pay Per Click services.