How mobile drives purchase decisions, and how to track success in an omnichannel world
With the propagation of smart phones with huge data plans, the landscape of retail is changing rapidly. While traditional eCommerce is frequently considered separately from brick and mortar, the addition of mobile to the mix can help tie these disparate channels back together. Mobile also adds to the number of touch points (and thus exit points) a user has, making it that much more important to engage users in all phases of their shopping cycle.
To illustrate how mobile can change how users interact with your brand, consider the following example:

Lisa is shopping for a winter jacket and lands on your site on her laptop while researching at home. She finds a few things she likes, but wants to know more about each one before deciding which ones she wants to check out in the store. This is the first key interaction with your user – if you don't provide a good research experience, you've already lost the shopper, possibly for good. In a recent survey conducted by Google, Ipsos MediaCT and Sterling Brands, 75% of shoppers want to see price, and 74% want to see local availability when researching a product. [i]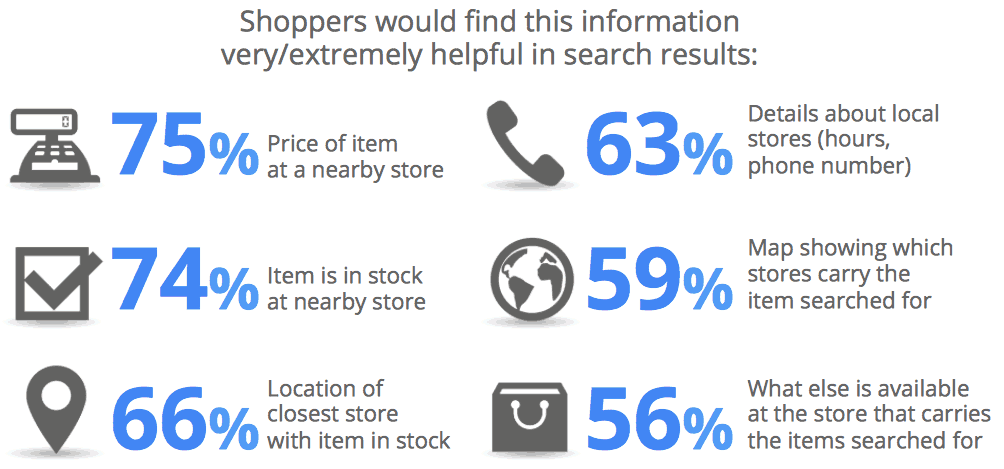 Key Takeaway: Customers expect to see product reviews, reviews of your store, pricing, and local availability on your site, and will look for that information elsewhere if you don't provide it.

Fast forward to later in the week. Lisa has a list of jackets she wants to try on, and has some time between running errands in the area of your store. This is an extremely important moment in your interaction with Lisa – 93% of smart phone users do eventually go on to complete a purchase with 82% of these happening in physical stores [ii]. Furthermore, they generally are looking to purchase very soon after this interaction: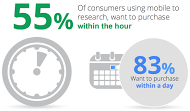 This highlights the importance of having a fully functional mobile site that mirrors the desktop experience, regardless of how complex those features are.
Key Takeaway: Local inventory, pricing, and store locations need to be a part of the mobile experience in order to get users into your store.
Because, of course, your mobile site follows all the best practices and shows Lisa the local availability of the products she's looking at, she gets directions right there on her phone and comes into the store. As she's looking for her previously researched jackets, she sees another one she really likes and wants more information. At this point, your mobile experience goes from being a marketing or acquisition tool to acting as Lisa's personal sales assistant – the majority of users are still actively researching while in the store but many find it difficult to get the information they need: [iii]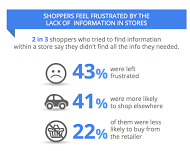 This again highlights the importance of making all content from your main site available on the mobile site, and ideally this information should be easy to access when the user is looking at a specific product at the store; consider technology like barcode scanners that link to product information on your site or app. Want to get reviews? Scan the item with the app to pull up product details. This location doesn't have it in your size? Scan the item to find it at another location, then reserve it for later pickup.
Key Takeaway: Most shoppers look for information while in the store, so enabling easy research via mobile site or app empowers them while keeping them within your ecosystem.


Knowing a user is in your store, either actively through barcode scanning, or passively through geo-fencing around your locations, offers other opportunities to engage the user. If a shopper pulls up your site in-store and looks at a specific product, this is a great time to offer a coupon for something related. According to a Google study, 85% of users would be more likely to shop in stores that offer personalized or exclusive coupons [iv]. This both provides the user with an experience that feels very personal and creates an in-store version of an upsell or similar products module you might encounter on a website.
Key Takeaway: Offering personalized coupons to users while they are in the store can help push potential buyers over the edge to close a sale.
In the example above, Lisa engaged with the brand in 3 channels – desktop, mobile, and in-store. While she may have only used each of those touch points once in this sample transaction, the Google/Nielsen study mentioned above found that mobile users who eventually make a purchase visited the mobile site 6 times on average [v]. This makes tracking your users extremely difficult with tools that work on a session basis like Google Analytics, and tracking across devices is nearly impossible if you don't have some kind of unique identifier to tie each interaction back to the user. Many companies have seen conversion rates "down" despite increasing sales, and multi-channel interactions and per-session analytics have a lot to do with this.
Be on the lookout for upcoming posts from the Conversion team to address some of the more challenging aspects of engaging with and tracking mobile users.
[i] Digital Impact on In-Store Shopping: Research Debunks Common Myths, October 2014, Google, https://think.storage.googleapis.com/docs/digital-impact-on-in-store-shopping_research-studies.pdf
[ii] Google/Nielsen Mobile Path to Purchase custom study, November 2013, http://ssl.gstatic.com/think/docs/mobile-path-to-purchase-5-key-findings_research-studies.pdf
[iii] Digital Impact on In-Store Shopping: Research Debunks Common Myths, October 2014, Google, https://think.storage.googleapis.com/docs/digital-impact-on-in-store-shopping_research-studies.pdf
[iv] Digital Impact on In-Store Shopping: Research Debunks Common Myths, October 2014, Google, https://think.storage.googleapis.com/docs/digital-impact-on-in-store-shopping_research-studies.pdf
[v] Google/Nielsen Mobile Path to Purchase custom study, November 2013, http://ssl.gstatic.com/think/docs/mobile-path-to-purchase-5-key-findings_research-studies.pdf