Inflow's eCommerce Conversion Testing eBook
Stop wasting your time when testing eCommerce sites.
If you have struggled with A/B Testing or have implemented "winners" that never moved the needle, Inflow can help. Use this eBook from test expert Keith Hagen to learn how to properly, efficiently, and effectively run and report on tests — so you can get the results you're looking for.
What you'll learn:
How to end discrepancies between test winners and real-world results
How to calculate the test duration (how long the test should run) for accurate data
When and why to scrap testing tool data in favor of Google Analytics for better analytics
Bonus content: We give you a complete checklist for better eCommerce testing.
Streamline your testing strategy by downloading our eBook now.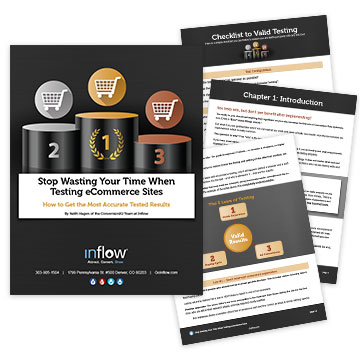 Get the eCommerce Conversion Testing eBook Now