Short-Term Budget Pacing & Adjustments Tool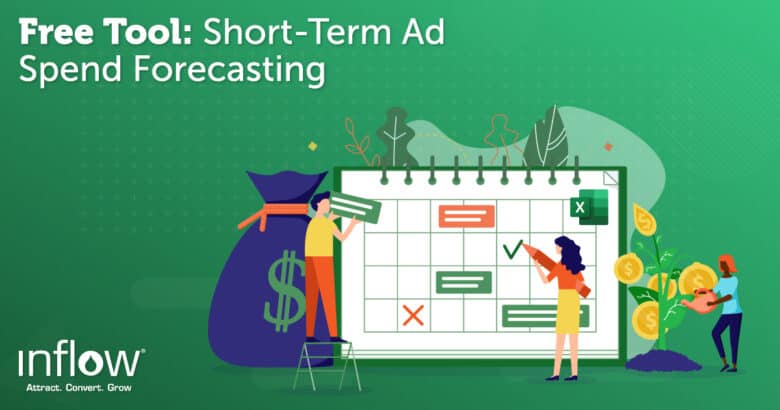 Generate a more granular view of short-term budget spending with our paid search marketing ad spend forecasting tool. Combine its automatic reporting with your own campaign knowledge to help hit your client's ad spend goals.
Get the Short-Term Budget Pacing & Adjustments Tool for Free!
Step 1
Want more great content?
Join our mailing list to get our Inflow Insights newsletter once a month, along with weekly new content updates.
Step 2
Get the tool!
Click the button below to open your very own copy of the Short-Term Budget Pacing & Adjustment Tool.
How to Use Our Short-Term Budget Pacing & Adjustments Tool
For a more detailed walkthrough of this tool, read our full introductory blog.
Step 1: Gather Your Data
To generate accurate ad spend forecasts, you'll need to populate the tool with:
Campaign
Day
Campaign Type
Impressions
Clicks
Cost
Transactions
Revenue
Impression Share
Impression Share Lost Due to Budget
Impression Share Lost Due to Rank
Custom Segmentation (if applicable)
You can gather this data through a platform like Supermetrics.
Step 2: Customize Your Dashboard
Input your own data into the highlighted sections. Add the current month to the "beginning of month" section , as well as the days in the month, your client's budget, and the current date. Use the telescoping tool ("lookback window") to generate monthly spend forecasts based on recent increases and decreases in spend.
Step 3: Segment Campaign Data
The tool will automatically break down expected daily ad spend by campaign type and campaign name. Use the "Custom Segmentation" tab to break your campaigns into groups based on tier level, performance, etc.