Inflow's eCommerce Content Audit Toolkit
Looking for outstanding ROI from your SEO budget?
Start with a website content audit to learn exactly how your current content is performing — and what you need to do to make it even better.
With Inflow's Content Audit Toolkit, you'll learn how to perform a comprehensive audit of category, product, and other eCommerce web pages at scale. Our spreadsheet audit template and step-by-step guide will help you analyze your entire content inventory and reveal opportunities for increases in both traffic and revenue.
Fill out our form now to download our free content audit tools and get started today.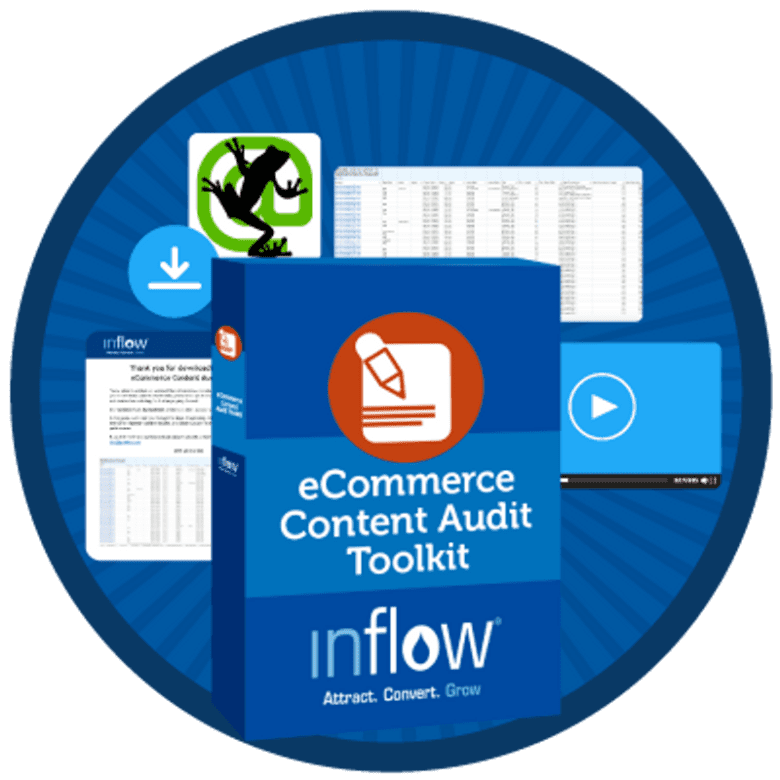 Get the eCommerce Content Audit Toolkit
What is a Content Audit?
In order to use our audit tools correctly, you need to understand exactly what a content audit is, including its purpose in search engine optimization (SEO).
An SEO content audit is a project that includes two key steps:
Reviewing a website's indexable pages for current SEO performance and opportunities, by:

Pulling organic traffic, conversions, and other metrics from sources like Google Analytics, Google Search Console, and Ahrefs
Assessing on-page SEO for target keyword usage and relevant information
Analyzing backlinks and other factors

Determining an optimization strategy for those different pages and types of content:

Consolidating or pruning
Improving
Keeping as-is
All of this is done with one main goal — to improve organic metrics (like traffic, bounce rate, and more) and drive more customers to your eCommerce website.
What's Included in Our Toolkit?
Without the right tools, this process can quickly get complicated. Key data can fall through the cracks, and the sheer number of pages on an eCommerce website can overwhelm even the most level-headed of digital marketing teams.
That's why our eCommerce Content Audit Toolkit includes everything you need to get started, including:
How-to guides (including videos!) for every step in the process:

Running website crawls
Organizing website data
Choosing the right strategy for common scenarios

A tracking spreadsheet (Google Sheets or Excel) to organize all of your website content, including:

URLs
On-page data (word count, headings, internal links, etc.)
Meta data (title tags, meta descriptions)
External link data
Current organic performance (page views, page speed, etc.)

Our customized Screaming Frog configuration file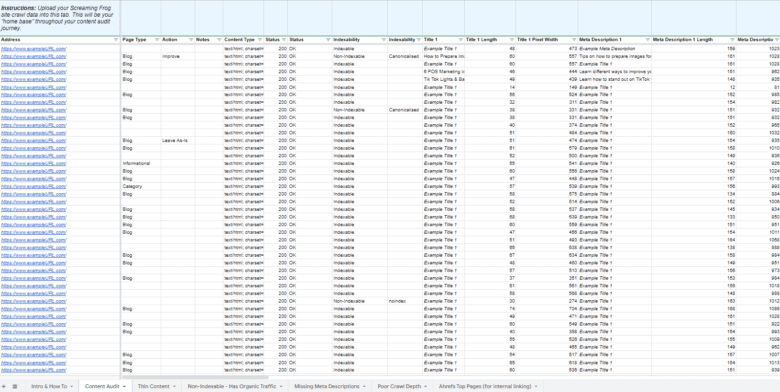 External Tools Required
In order to use our Toolkit, you'll also need access to a few reporting tools and crawlers:
Google Analytics & Google Search Console
Screaming Frog
Ahrefs (or Semrush/Moz)
What Our Content Audit Toolkit Can Do For You
This set of tools has been developed through years of our technical SEO team running crawls and optimizing our clients' websites. Along the way, we've proved its worth time and time again (as you can read in our case studies).
By downloading and using this resource, you can find the same success, including traffic increases of 30–90%.
Why?
Your page rank and other ranking factors are consolidated into fewer, stronger pages.
Your crawl budget is conserved and crawl efficiency improved, making it easier for search engines like Google to access deeper pages on your site.
Your ratio of high-performing to "dead weight" content is vastly improved.
Your data will reveal new content gap opportunities and potential duplicate content issues.
Because content is king in today's digital environment, a properly run site audit can put your eCommerce content marketing strategy on the right path — and set your business up for years of effective content creation and optimization.
Get Started Now
If your website content is ready for a makeover, it's time to download our eCommerce Content Audit Toolkit.
Use it to evaluate your current content performance and create an improvement plan that brings in more traffic, more qualified customers, and more revenue.
Don't have the time for the DIY approach?
Our team of SEO experts is always happy to do all the hard, time-consuming work of content analysis — and then present the final audit reports and recommendations for your team to implement.
Request a free proposal anytime to get the process started.