Editor's note: This guide was updated for accuracy and modern best practices in 2023.
Successful eCommerce businesses educate their customer (or potential customer) at every point in their buyer journey, from query to purchase.
How? Through a stellar content strategy.
Building and maintaining an eCommerce content marketing strategy is not only beneficial for overall customer nurturing, but it also widens the possibilities with search engine optimization. By understanding the true intent behind keywords, online marketers can understand the different needs of potential buyers and produce the type of content that will most likely lead to conversions.
Creating a content marketing strategy for eCommerce can often be overwhelming. In this blog post, we've given you all the tools to get yours started on the right foot.
Want an expert to create your content marketing strategy for you? Contact our team today for a custom SEO content proposal for your eCommerce site.
---
Table of Contents
---
What is eCommerce Content Marketing?
Content marketing is the line that connects the dots between consumers and business owners.
Consumers look for specific pieces of information depending on where they are in the buyer's funnel. Business owners provide that info through content (blogs, videos, and more) answering the consumers' questions at each step of the funnel.
eCommerce content marketing specifically refers to how an eCommerce brand creates valuable content that appeals to its target audience. The end goal? To provide the content a user needs, wherever they are in the buying funnel, and ultimately lead them to a final purchase.
Whether you're a B2B or B2C marketer, content marketing campaigns can provide big returns.
How to Create a Content Strategy for eCommerce
Every business is different, which means your content marketing strategy should be unique. You know your customers' path best, so you know what content will best engage and resonate with them.
But knowing how to translate that into effective content can be difficult.
We've offered a step-by-step guide to help:
Step 1: Understand Your Target Audience & Their Buying Cycles
When expanding (or starting) a content strategy, you have to first understand your user's search behavior and how it correlates to your website.
For example, someone searching for "mens hiking boots" is going to require different content than someone searching for "mens Vasque Sundowner" or "Vasque vs Asolo boots." That's because all three of these queries have different intents.
The first query indicates that the searcher does not yet know what product they might be interested in purchasing. The next query is typical of someone who knows what they want and is probably shopping by price, stock/availability, etc. The last query ("Vasque vs Asolo boots") means the consumer has narrowed their choices down to a small set of preferred brands/models — but is looking for some final advice to help them make a more educated decision.
Therefore, each of these search queries requires a different eCommerce content strategy.
"Buying cycles" can help you narrow down your approach. Every good marketer knows that the sales/buying cycle involves multiple stages. We've simplified them a bit and tailored them to the specific scenarios encountered in an eCommerce shopping environment.
Note: If you haven't yet created your ideal customer personas, you won't be able to develop the right content for each buyer in the stages below. We recommend diving deep into audience research and developing these personas prior to creating a long-term content marketing plan.
Top of Funnel:
Uneducated Shoppers Looking for Options
These visitors are in the earliest possible buying stage. They're searching for options under a core topic, such as "boots" (most general) or perhaps "mens boots" (still general, but more specific). They're ready to be educated about the various options available to them. Therefore, the content that best suits them should be general and present them with various types of products.
Simply put, these visitors are "browsers."
You can appeal to these consumers in a number of ways. You could present high-level product types in a browse-and-click format (a category page), or you could write general informative articles about their options in a conversational and helpful manner.
Middle of Funnel:
Educated Shoppers Needing Convincing
Conversion rates on initial visits from uneducated shoppers are typically lower than visits from consumers who are further in the buying cycle. However, somewhat-educated shoppers may be ready to "convince themselves" to purchase — and, therefore, have a higher potential for conversion. Your eCommerce content strategy can get them over the initial hump.
Helpful educational content about their options can provide value to the visitor, potentially convert them into a sale, or (at the very least) acquire an email address for later marketing. Whatever the outcome, your eCommerce site is still able to meet business goals through content strategy.
Shoppers Who Know What They Want
Shoppers in this stage of the customer journey already know what they want — and they're specifically searching for it with product names. These consumers might not be ready to buy just yet, but they have pinpointed what they (most likely) want.
Thus, conversion rates will be high for product-name keywords, as long as your product pages provide a compelling experience.
Bottom of Funnel:
Shoppers Needing the Final Push
You might see keywords (in your various metric tools) related to reviews of your eCommerce site, your return or shipping policy, coupons, sales, and other branded keywords. This means a shopper is looking to validate their decision to purchase on your site.
You'll need to identify these keywords and target them on the right page. Not only will it enable you to match content with the user query (and intent), but it will also help with reputation management.
Shoppers Who Are Ready to Buy
These shoppers are already sold and ready to buy. They are most likely searching for your brand, your store's hours, address, etc. Make sure all that information is easily available and that your conversion pages are optimized for their use.
Step 2: Audit Your Existing Content
Like with any other digital marketing initiative, when it comes to content marketing, you have to first know where you are now to build a plan that gets you to where you want to be.
In other words, you need to conduct a content audit.
Your content audit can be as simple or as in-depth as your team's bandwidth allows for. However, the more detailed your initial audit, the better your insights for creating an effective content marketing strategy for the future.
At the bare minimum, your audit should answer the following questions:
Which content is (and isn't) bringing in organic traffic?
Which pages are generating revenue for your eCommerce store?
Which content does (and doesn't) fit with your current marketing goals and your target audience's needs?
Once your audit is complete, you can create a priority list of pages to improve, remove, and consolidate per your content strategy — without duplicating your efforts or wasting time on content that won't perform for your target audiences.
Not sure where to start? Our eCommerce Content Audit Toolkit will help you analyze your site's current content and prioritize your next steps based on page traffic, revenue, and more. It's a crucial tool for anyone looking to revamp their content marketing strategy (or just keep a close eye on their current content performance).

Step 3: Create Your Content Strategy
For those new to the content marketing sphere, it can be helpful to create your content marketing strategy and content plan simultaneously.
Part of setting your content goals includes understanding your team's current strengths and capabilities; your content plan will lay out how you'll make them happen.
Follow these steps to get started.
3a. Identify the Types of Content to Use
Content strategy for eCommerce is about more than optimizing your product and category pages. The best eCommerce stores leverage the power of their blogs, social media, images, and videos to get more eyes on their products and increase conversions.
I briefly mentioned a few content ideas above, but there are many other ways you can enhance your eCommerce website strategy and target users at different stages of the buying cycle, such as:
Buying guides and "how to"/tutorial content
Contests and sweepstakes
Product image galleries
Gated content
Product reviews and comparisons
Niche-topic articles and blog posts
Multi-expert or "round-up" articles
Online "print" catalogs
Infographics
Forums
User-generated content
Coupon, discount, and sale pages
FAQ pages
The video below is hosted on YouTube. If you need assistance with viewing the video, please contact [email protected].
There are a lot of factors to consider when deciding which types of eCommerce content to invest in (covered in more detail below), but the top of the list should always be your audience personas, their pain points, and their funnel stage (discussed in the previous step).
If you're not sure which content formats will resonate with your audiences, go back to your audience demographic research. You can also use our Persona Topic Matrix to brainstorm and organize content types and topics for your consumers at every stage in the funnel.

You should also consider the following factors:
Keyword Volume
Keyword research can be a great starting point for your content ideation, but it shouldn't be the end-all, be-all behind your content strategy.
Tools like Semrush and Ahrefs can show you what content topics are popular in your industry and are especially helpful for researching specific product and category page terms to target on your eCommerce site.
But don't let high monthly keyword volume dictate your content calendar. Many low-volume, longer-tail keywords can drive high-intent customers to your site (and are often overlooked by new marketers who chase keyword volume over anything else). In fact, those longer-tail keywords may actually reveal details about your target audiences that you weren't originally aware of!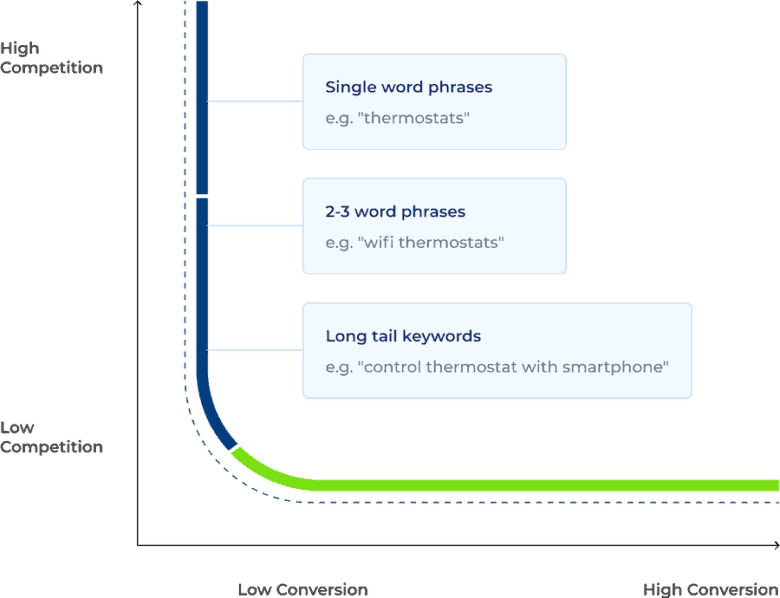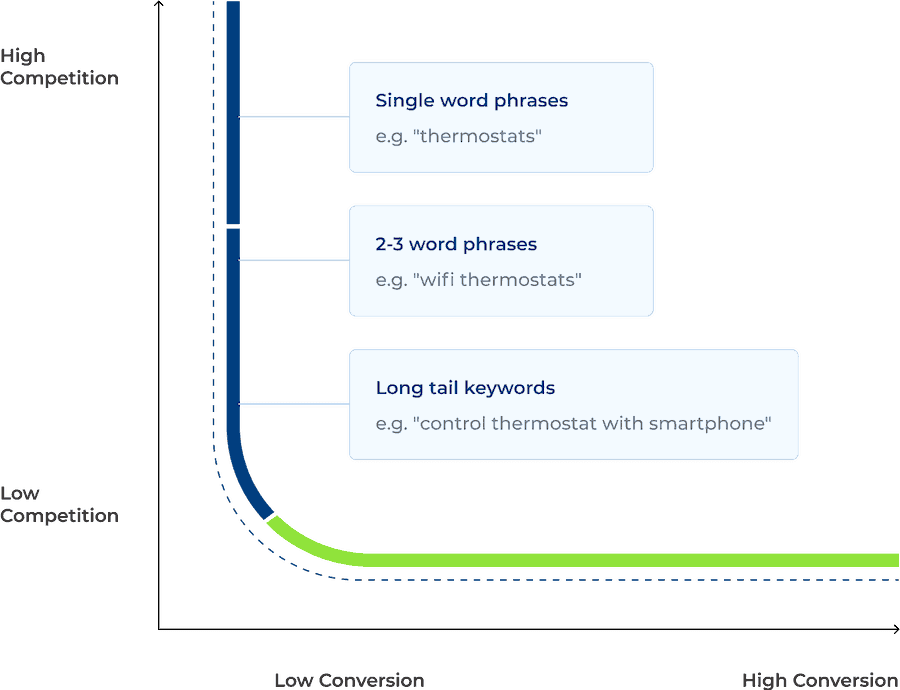 When creating keyword matrices for content ideation purposes, always consider how these topics fit in with your audience's buying funnel stages and particular interests.
Competitor Content
If certain content is working for your industry competitors, odds are that it will work for your eCommerce website, too.
Review what kind of content your competitors are producing (Blog posts? Videos?) and how well it's performing. (Semrush and Ahrefs are good tools for this.)
Keep in mind: Your industry competitors may not always be who you're competing with in the search engine results pages (SERPs). Make sure your competitor research includes brands ranking high in the results, so you can learn from their approach, too.
You can use our Competitor Analysis Template as a starting point for your research.

3b. Create a Content Calendar
Once you have your content types and topics prioritized, get them organized in a content calendar.
Typically, a content calendar includes details like:
Content type (blog, video, etc.)
Content topic
SEO details (metadata, titles, target keywords)
Target audience/funnel stage
Accompanying content (infographics, videos, etc.)
Authors
Publish date
That said, your content calendar should be tailored to serve your team's needs best. Start with our free downloadable template, and personalize it as you see fit as you embark on your content marketing journey.

3c. Create a Distribution Plan
Creating content for your eCommerce website does you no good if you can't successfully promote it. Pages targeting specific keywords may get organic traffic over time but, until then, you need to push out your content through more immediate platforms.
Distribution is a key part of building a content marketing strategy. But don't leave it to the end!
Consider how your content will present across channels as you're planning it, and you'll save yourself the extra time and effort later on.
Social Media
Social media marketing is far and away one of the most effective ways to reach consumers. But, before you start your campaign, you need to determine which social media platforms your customers are on, what your goals are, and what resources you can devote to this promotion.
(Hint: This should be part of your audience research in Step 1.)
It's always best to start small: Focus on producing high-quality, engaging content on a few key channels before posting across all social platforms. Measure your results and adjust your campaigns accordingly for the best results.
Building an organic social media strategy for your eCommerce site ahead of time will increase the odds of your awesome new content getting traction and bringing in new customers.
Paid Media
In digital marketing, paid media includes search engine marketing, pay-per-click advertising, and paid social ads. For a price, you can ensure your content is seen by your consumers across search engine results, social media feeds, and more.
Paid media can often be a trial-and-error method. If you try to go too big at the start, you can spend a lot of money for little results. Working with an experienced eCommerce PPC team can maximize your ad spend and ensure your new content strategy isn't all for naught.
Earned Media
Earned media includes any publicity or promotion from outside sources. It's the digital word of mouth, such as shares, likes, retweets, mentions, and more. When you've got quality content, people will share it on their own feeds, amplifying your reach to new audiences.
One such example: Quoting experts in your blog content. Those you interview will often share the article they've been featured in, their followers will see your content, and you've got a brand-new set of eyes.
Email Campaigns
Finally, don't forget email campaigns as part of your eCommerce content strategy.
Emails offer more opportunities than just promoting your latest sales and newest products. Send out email blasts for newly published shopping guides, upcoming contests and sweepstakes, and more.
Just make sure you're following GDPR rules for email marketing consent.
Step 5: Execute Your Content Strategy.
So, you've got your content types and topics figured out and documented in an organized content calendar. You've created a distribution plan that considers your target audiences and desired content goals.
Now, it's time to set it all into action.
One of the first decisions you'll need to make is whether you'll execute your content strategy on your own or with the assistance of an outside content marketing professional.
Creating effective and engaging content takes time; if you have a small marketing team, you may not be able to commit the time and energy necessary to keep your content train rolling as needed to meet your goals.
If you need helping hands, they come in a variety of forms: full-service content agencies, agencies that specialize in SEO content planning, freelancers who can turn your content briefs into full-fledged articles and videos.
You can even use AI tools to kickstart your content creation (although we do not recommend publishing entirely AI-generated content on your website!).
Our advice: Don't bite off more than you chew. Prioritize your content based on what your team can reasonably accomplish, and start small.
Then, as you start seeing results, you can justify expanding your efforts without jeopardizing buy-in from your stakeholders.
Step 6: Track Your Performance & Optimize Your Approach.
Your eCommerce content strategy should be a living, breathing thing that's reimagined and updated based on your brand's changing needs — and, more importantly, your content performance.
By tracking and analyzing your content marketing performance, you can optimize your efforts to focus on what delivers best (and avoid sinking more time and money into content that returns little in terms of traffic and revenue).
Unfortunately, evaluating your content marketing performance isn't as simple as other marketing channels like paid search or paid social. The connection between page views and revenue is a bit more tenuous and requires some advanced tracking and reporting.
When building your reports, keep the following in mind:
Useful Metrics for eCommerce Sites
With other digital marketing channels, success is often measured in revenue alone. But, because content marketing targets customers at every stage in the funnel, revenue isn't always an appropriate measure of success.
For certain content campaigns, your goals will be to develop product and brand awareness to keep your eCommerce store at top-of-mind when customers are ready to purchase. Therefore, you'll want to use more appropriate metrics — like page views, dwell time, and clicks — to evaluate how well a piece of content is resonating with your target audience.
Remember the goals I talked about above? Use those as your KPIs for different types of content. Here's an example:
Top-of-Funnel Content: Organic traffic, engagement rate, click-through rate
Middle-of-Funnel Content: Organic traffic, click-through rate, revenue
Bottom-of-Funnel Content: Organic traffic, revenue, conversion rate
Cross-Channel Attribution
Just because your content marketing efforts don't directly translate into revenue doesn't mean they live in a digital marketing vacuum. In fact, when done correctly, these efforts can positively affect other channels like paid social, paid search, organic search, and others.
Remember: Today's customers are omnichannel beings, who jump between channels like social and search (and back again) before making a final purchase.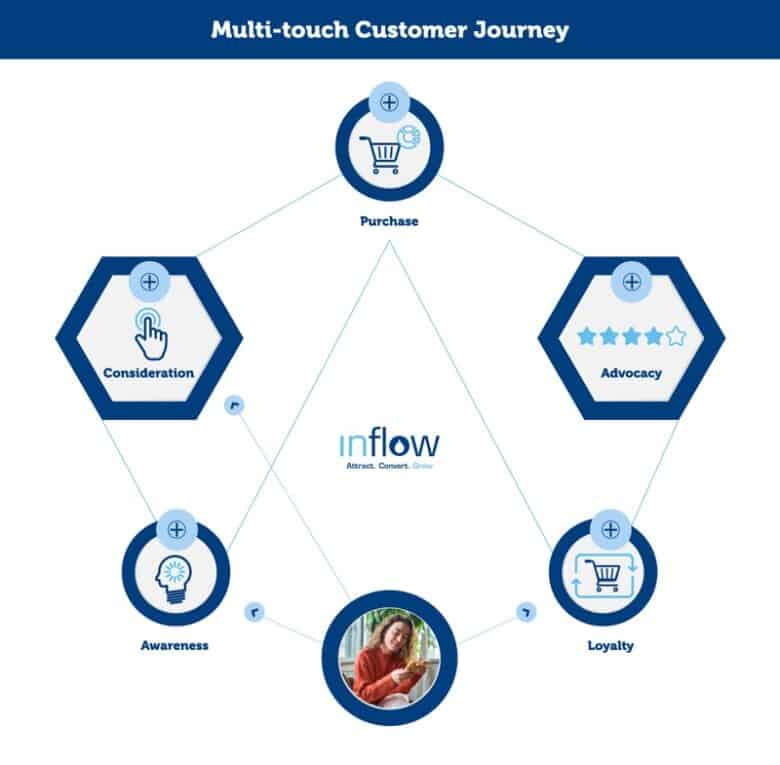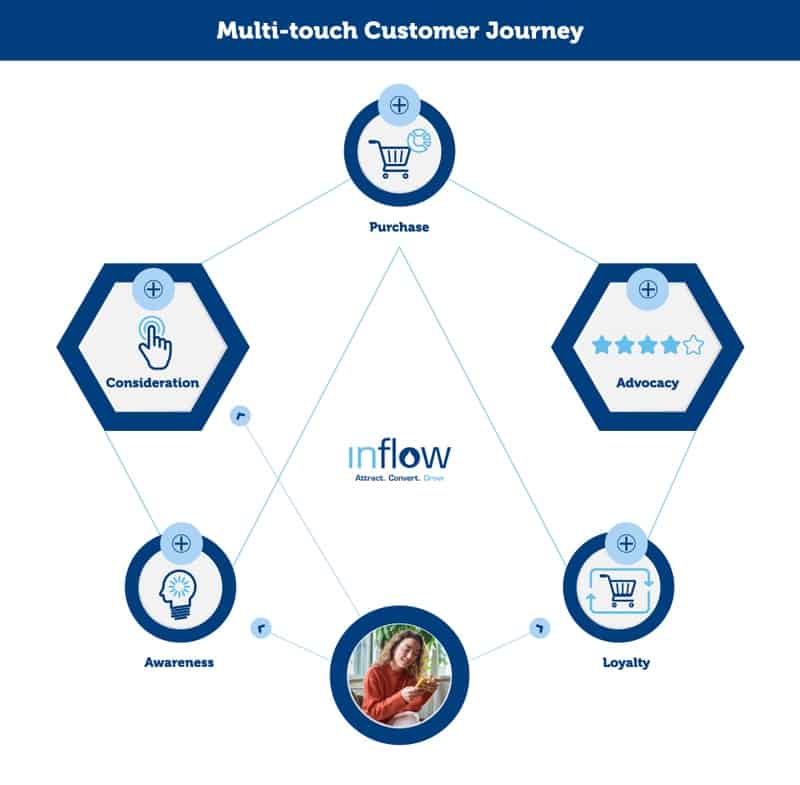 For this reason, we recommend adding cross-channel attribution to your reports. This means reviewing your customer paths to see how they get to your website, where they go when on your website, and how that translates to any final purchases that they make.
Here's an example from one of our clients, whose customers frequently jumped between marketing channels before making a final purchase: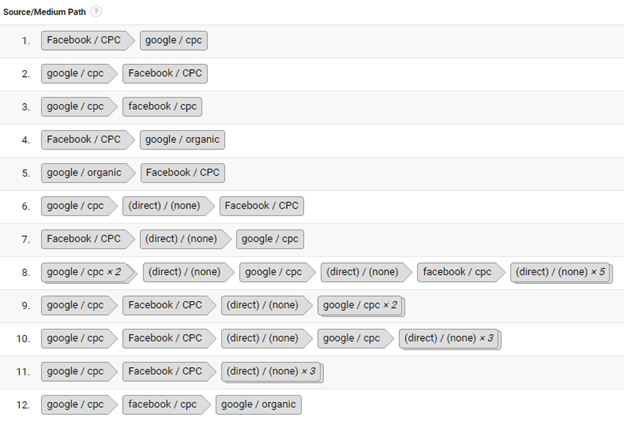 Without this report, we'd be missing crucial information on how our Google Ads influenced later purchases through direct traffic. Even though they weren't attributed purchases, they were still products of our paid search ads — and should be accounted for in our reporting.
Take a similar approach to your content marketing efforts. Google Analytics 4's page path explorations are a good option, as is its traditional original-source tracking.
Build Your eCommerce Content Strategy Now
While it may be daunting, creating a content strategy for your eCommerce website is the first step to effective, successful content marketing.
All of the steps above are feasible and waiting for implementation by your marketing team. Sure, some changes may need to be made in order to achieve them (i.e. acquiring talent or hiring an agency like Inflow to assist), but nothing truly "great" happens without effort and change.
If the definition of insanity is "doing the same things but expecting different results," then the only risk you have is falling into obscurity. So, what are you waiting for?
Start building your content marketing strategy today and get ready to see the fruits of your labor with new consumers, increased conversions, and more for your online store.