Inflow's eCommerce Link-Building Guide
Learn how to earn high-quality links (the kind that won't get you penalized) to product and category pages on your eCommerce site with Inflow's link-building eBook.
This 20-page guide is written by Sr. SEO Manager Alex Juel, who has a decade of experience earning effective backlinks that stand the test of time.
Within it, you'll find:
A breakdown of different types of link opportunities
Actionable, step-by-step tips for developing your link-building campaigns
Safe and successful ideas to build a strong backlink profile
And much more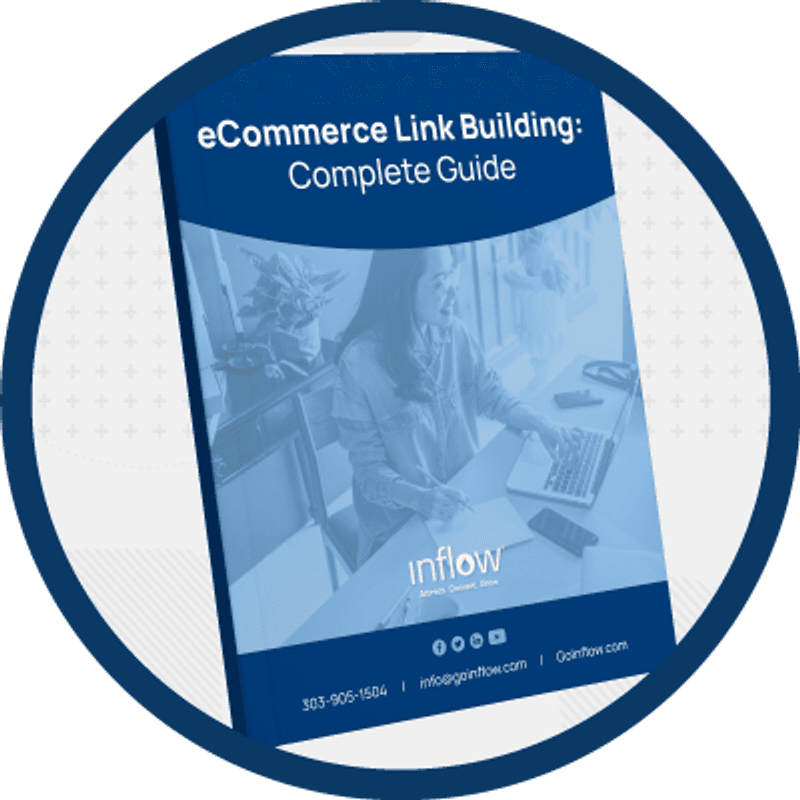 Get the eCommerce Link-Building Guide Now
So, what are you waiting for?
Download it and start improving your link-building strategies today.
Table of Contents
In this link-building PDF file, you'll get everything you need to increase backlinks to your web pages.
Here's a sneak peek:
What is Link-Building?
What Makes a Quality Link?
How to Review Your Link Profile Quality
How to Build Links to Your eCommerce Website

Content-Based Link Building: Blogging, Buying Guides & More
Opportunity-Based Link Building: Outreach, Competitive Analysis, & More

Qualifying & Prospecting Link Opportunities
Additional Resources
Our Approach: White-Hat Strategies Only
When you download our link-building eBook, you'll get access to 33 proven strategies for increasing your backlinks — tactics that can be used for both eCommerce and non-eCommerce sites.
What you won't find? Black-hat linking strategies that rely on swaps, payments, and other questionable methods.
Here at Inflow, we believe that the best way to increase your organic traffic and search engine rankings isn't through spammy, get-rich-quick schemes. Instead, we invest in long-term, high-quality content marketing that builds thought leadership within our clients' industries. 
That way, organic performance is less likely to be affected by the latest algorithm updates — and the number of quality backlinks is more likely to grow over time.
Learn more about our white-hat linking approach by contacting our digital marketing experts today.
More Link-Building Techniques & Resources
Want to learn more about link acquisition in today's organic environment?
Check out some of our additional in-depth guides below: