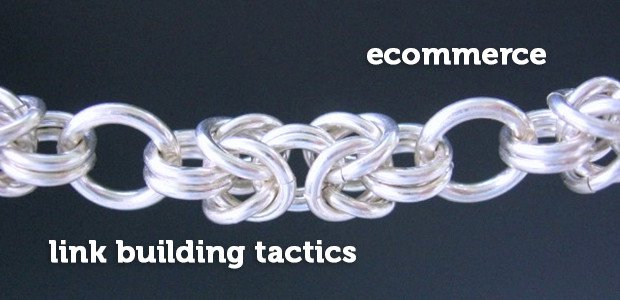 A couple weeks ago we discussed link building strategy for a healthy eCommerce site. Now we'll explore the many ways to building links into an eCommerce website. A common misconception is that the efforts are solely focused on building links into product pages or even category pages. While it's great if you can get links to product pages or category pages, additional "linkable" content will probably be required.
There are several hundred or more link building "tactics" depending on how you categorize them. At Inflow, we've organized tactics into a Link Building "Three-Legged Stool." The three legs include Content-Based Link Building, Opportunity-Based Link Building, and Baked-In Link Building.
Content-Based Link Building
Content-Based Link Building includes tactics in which developing (or reusing existing) content is a large part. A few of these tactics include:
Research Guides
Research guides are great content to add to category pages because they can explain a lot of information to potential buyers who are still in the research phase. These pages can also funnel link juice to product pages. They are a great way to rank for research keywords too, which isn't usually possible with product pages. Below is a great example of a research guide about composting from Gaiam.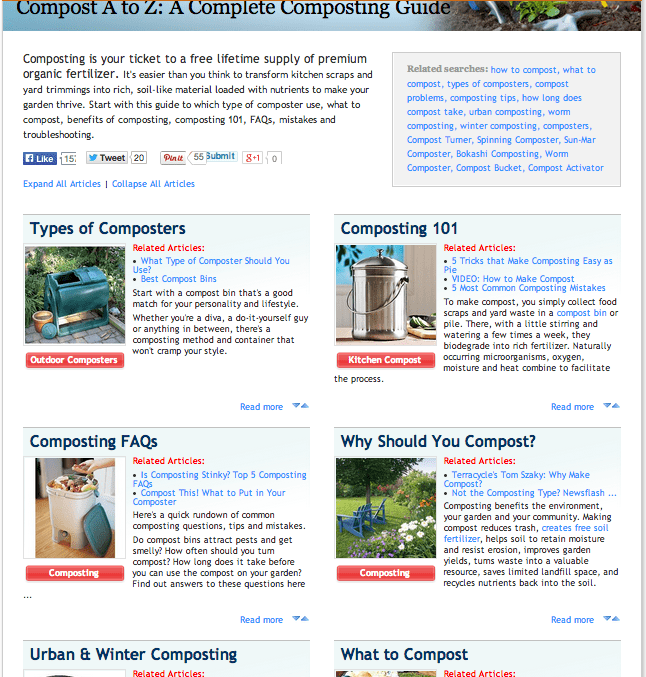 Co-Sponsor a Giveaway
Bloggers love to give away products because it really drives traffic to their blogs. Most bloggers jump at the idea of running a contest on their blog when they don't have to pay for the prizes.
Contact industry bloggers and ask them if they are interested in running a contest. All they have to do is set up the contest and they can send you the winner's details (name, email, address) when the contest is over. You send out the prizes and that's it!
You can also get entrants to explore your website by making it a part of submission requirements that the person must visit the site and find a product they like and then explain why or how they would use it. If you host the contest on a popular blog, you can drive a ton of traffic.
eCommerce Sweepstakes
This is a brilliant idea from my fellow coworker, Dan Kern.
The idea is to earn links to category or product pages from industry-related bloggers by running a contest/sweepstakes. You need to come up with a good way to get industry bloggers to participate by writing a personal story on their own blog for this to work. For example, if you're targeting vegetarian bloggers, you can ask them to write about their favorite vegetarian recipe or to share the story of why they became vegetarian, or their first trip to the grocery store as a vegetarian.
To be entered into your contest, they need to mention three categories (or products if you want to go that route) from your site from which they want to win a product. You don't want to break Google's guidelines by requiring them to link. Just tell them to mention the category. If the blogger wants to link, they will. The blogger who wins gets to choose any item (with a price limit if necessary) from one of their chosen categories.
If you already have good standing relationships with industry bloggers, try to get a few of them to participate early before the contest is announced so you can use their blog posts as examples in your newsletter and entry page. The benefit for them to participate early is a link to their site from the contest page. The benefit to you is that potential entrants see these examples from other top bloggers in their industry and want to join the contest.
Build a landing page to attract links and add a contact form for bloggers to submit their entries. You can run the contest for 1-3 months and continue to promote while sourcing the best entries to further build out the page. When the contest is over, simply remove the contest portion of the page and use the sourced entries to make a useful and very linkable article. Here's the one Dan did with a knitting blog before he came to work with us.
Invite Your Customers To Guest Post
Get free content from your customers by asking them to write a guest post for your blog. You can start a series discussing how your customers use your products in interesting ways. Ask people to contribute stories in purchase order confirmation emails, when you send out newsletters and on your blog.
Craftsman Tools has a great example of how they source linkable, customer-generated content for their site. They ask customers to submit how-to "projects" that were completed using their tools (https://club.craftsman.com/community/#/projects), which results in great linkable content and is likely to be shared by the contributors on their social channels.
Guest Blogging
Guest posts have a bit of a bad name these days and for good reason – they are often low quality, poorly researched and full of anchor-text rich (spammy) links. Guest blogging is one of the most abused tactics currently being used, but it can still be a useful technique if done properly. Instead of thinking about guest blogging as a way to build links, think about it as a way to share high-quality information and reach a new audience. The links should be an afterthought. Guest blogging with this in mind can help build your brand and drive qualified referral traffic.
To find guest post opportunities, you can use advanced search queries such as:

Keyword + "guest blog"

Keyword + "write for us"

Keyword + "become a contributor"

Keyword + inurl:category/guest
Substitute "Keyword" with your own industry topic.
You can also put these queries into Google Alerts to get notifications of new opportunities as they are indexed by Google.
There are also some paid services you can use to make guest post research and outreach easier. Ontolo's Link Building Tools provides automated advanced search query research for guest posts. Another great service is MyBlogGuest, which is a community of people looking for, or offering guest posts. MyBlogGuest also has a great article gallery feature where website owners can make offers on uploaded articles. If a high-quality site makes an offer, you can accept it and the blog owner will be given access to your full article to post on their blog.
Another useful service is the BloggerLinkup newsletter. They send out newsletters three days a week that contain user-submitted requests for guest posts, in addition to people who have content to offer for site owners. You can either offer already written content in this way or scan each newsletter for opportunities where you can write new articles based on the blogger's request.
No matter which method you use to find guest post opportunities, make sure the sites are relevant to your industry and meet quality standards. Don't use too many bylined links (links in the bio) because Google considers those links low quality. But if that's the only link the blogger will give you, at least use a branded term instead of keyword-rich anchor text. You should try to get natural links from within the content of the article as often as possible with natural link text. I've had a fairly good success rate with having my links stay intact by including only one highly relevant link to a blog post on my client's site and 2-3 additional links to other high authority sites that provide additional information to the reader.
Opportunity-Based Link Building
Opportunity-Based Link Building includes tactics that leverage existing opportunities. A few of these tactics include:
Donations
Donate products to charities and events and you're likely to get a link from their "Sponsors" page. You can seek out sites that are more likely to link by searching Google for queries such as "sponsors" + Keyword and "donations" + Keyword. Or try one of the advanced queries tools mentioned earlier.
Vendor Page Links
If you sell products from other manufacturers, look at their sites to see if they have a "Vendors" page where they link to all the businesses that sell their products. These are extremely easy links to get. You should already know the businesses with which you work. Look through every site for pages named things like "Where to Buy," "Our Retailers" and so on.
Links Via Competitive Link Analysis
Run your competitor's sites through Open Site Explorer, AHREFs, Majestic SEO or whatever backlink analysis tool you prefer to find out where they are getting links. Once you have an exported list, start with the most authoritative links and sort them by target page to show product and category pages. Look at the linking pages to find out why they are giving out those hard-to-get links. This can help uncover some easy link wins and also unveil some interesting strategies that your competitors are using.
You can also do competitive analysis on non-competitor, industry-related sites that happen to sell a specific product from the category you are trying to get links from. For example, if you are a clothing store that sells many different products but you want to focus on getting links to your "shoes" category, gather a list of stores who sell only shoes and nothing else and run their URLs through a backlink analysis tool. Their linking sites might be open to linking to your "shoes" category page.
Links From Q&A Sites
Q&A sites, such as Yahoo Answers and Quora, are great for getting content noticed. The search engines aren't likely to provide a lot of value to the links placed on Q&A sites since anyone can create an account and add links, but the value lies in being able to answer someone's question as an expert and provide a link to your site or a blog post if it helps provide more information on the topic. If you see a question that you can answer but don't have relevant content to link to, you can add a post to your blog and then answer it. You have to hurry though (same day if you can) because the question may be answered by someone else before you.
Posts from Q&A sites will sometimes show up in search results too, in addition to internal searches on those same sites, which is great for getting your content noticed, potentially driving traffic and being linked to from other sites. Always be authentic and don't add links in every answer because it could be seen as spamming and your account may be shut down. On the other hand, if you provide a lot of quality in every answer, you can build up an "expert" profile and be recognized as an industry leader, which can build trust and hopefully lead to other great link opportunities.
Here are some popular Q&A sites:
There are many niche-specific Q&A sites too. Just do a search in Google.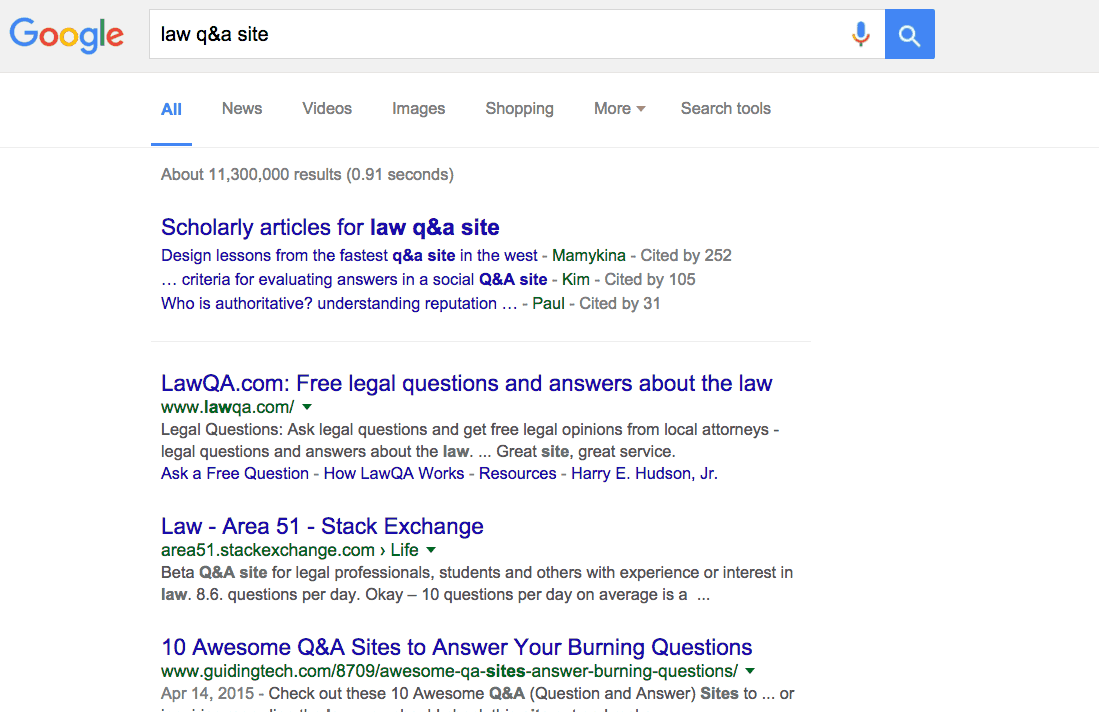 Choose one or two sites, complete your profile and build a repertoire. Check in on relevant categories for 15 minutes or more every morning — or once a week, whenever is best for you — and see if there's a question you can answer. You should also engage with the community by up-voting other answers that you like and "friending" people within the network. Become an influencer and forget about marketing.
Blog Commenting
Blog commenting for links used to be a common link building tactic. People would typically seek out blogs that had lenient comment moderation policies and then instead of using their real name, they use keyword-rich anchor text or their business name. And that would actually work to help increase rankings, but not anymore. Many marketers who partook in this practice are now seeing their sites manually penalized.
But there are still ways you can use this tactic. If you have an authentic and useful comment to leave on a post on a topically relevant blog, go ahead and do it. You can link to your website in the URL field, as long as you use only your real name. Don't use any keywords or brand names.
I don't use blog commenting as a part of my typical link building strategy, but if I'm working on blogger relationships for one of my clients, I'll post an organic comment. I don't add links though because anchor text to a bunch of different websites on my name would be strange. However, it makes sense for someone who doesn't work at an agency to link their site to their name.
There are also rare occasions where I will add a link to a client's blog post from within a comment, as long as it's relevant. I don't use this as a way to build PageRank links, but it's a great way to drive targeted traffic to relevant blog posts and hopefully get them noticed. I wrote a blog post about barefoot shoes on one of my blogs and mentioned it in a comment on a blog post on another website about barefoot shoes. It sent hundreds of visitors over the next few days and I didn't get any links out of it, but it had the potential.
Get Links From Local Businesses
Think about local businesses, groups, and organizations that may be interested in what you're selling. Even if you only sell online, all you have to do is brainstorm a little.
Let's say you sell musical instruments. You could try to get links from local schools, music programs, or musician associations. You could also donate instruments or offer discounts. Here's another example; if you sell power tools, try to get links from local carpentry shops, home building companies, auto mechanics and home repair contractors.
Product Reviews
Product reviews are probably the easiest way to get links to product pages. There are a couple ways to prospect product review opportunities. One way is to simply contact blogs in your industry who may be interested in your products. You can also do a search for people who have already done reviews for other products on your site.
Try some searches such as:

Keyword + "review"

Keyword + "product review"

Keyword + inurl:review
I've had a lot of success simply explaining who I am, explaining the company I'm representing and then asking them if they'd like to write a review about a product. They get the product for free, all that I ask is they write an honest review after they've had the time to properly use it.
You can also use services, such as Tomoson.com or Business2Blogger.com, which connect bloggers with businesses to review products or participate in giveaways. In both services, you can create targeted campaigns so that you only attract bloggers that fit your industry.
You have to be careful with this technique because, depending on how you ask for reviews, you could violate Google's Guidelines as they pertain to link schemes. (See the first bullet; "exchanging goods or services for links.") Never tell your reviewers they can have your product as long as they link to your site. You should only ask for a review and let them decide if they want to link to you or not. Let them use the anchor text of their choice as well. This makes sure that the links are as natural as possible and prevents you from breaking Google's guidelines.
Turn Homepage Links Into Deep Links
Scan your backlink profile and look at all the sites linking to your homepage. Manually review each page and see if it makes sense for them to link to a deeper page on your site instead. You'll often find that a blogger mentions one of your products but then links to your homepage. Ask them if they'll link to your product page, too.
Scan Your Blog Comments for Link Opportunities
If you have a blog, look at the URLs of the people leaving comments. Many of these sites may be relevant to your industry and the people leaving comments are probably already interested in your brand and your products. You can ask them if you can be a guest on their blog if they offer advertising, or you can ask if they want to do a product review.
Reverse Image Search
Are other websites using your product images? Do a reverse image search in Google (https://www.google.com/imghp) or use a service like https://tineye.com/ to find out. If someone is using your images, ask them for attribution by adding a link to the corresponding category or product page. If you want to encourage people to use your images, add an alt-text to your image saying so. You can also add your images to Flickr with a creative-commons license and in the image description, require attribution in the form of a link to the page of your choosing.
Get Links On Discount Pages
If you're willing to offer discounts to military families, government agencies and/or schools, you can get some very powerful links. Here are some examples of discount pages from a university site, .GOV site and for offering military discounts.
To find these, try simple searches such as:
site:.edu discounts
site:.gov employee discount
Sponsorships
Paying for a sponsorship is a great way to get links to product and category pages. If you sell shoes, look for opportunities to sponsor marathons and link back to your running shoes category. If you sell curtains, look for window covering conferences or expos (do a search, they exist!) and ask if they accept sponsorships. Or maybe craft bloggers or fabric companies. Try searches like fabric inurl:sponsors. Also, try locally for even more relevancy.
Links From Meetup.com

Meetup.com gives links to sites who sponsor a Meetup group. One way to sponsor is by giving discounts to the members of a group. Another way is to pay the annual dues for the group, which is $72 per year or $45 for six months. See current pricing information here.
So, if you own a gym, you could sponsor a local running group. You could also build a custom landing page on your site to make your link more relevant to the group.
To get started, do a search on Google for something like site:meetup.com "This group does not currently have any Sponsors" running
Brand/Product/Employee Mentions
If someone mentions your brand, a product that you sell or one of your employee's names and they don't give you a link, contact them and ask for one or try to figure out how you can get one. An example would be if a blogger mentions how they would really like to try one of your products. This would be a great opportunity to offer them your product for review. You'll also often find mentions on forums and Q&A sites where you can join the conversation, answer questions and provide more information about your products.
You can find mentions by using several tools. Moz's Fresh Web Explorer can show you where your search query has been mentioned over the last 30 days and you can set up a daily alert. You can also set up Google Alerts to get notifications directly from Google when they find and index mentions of your brand or product names. You can use advanced queries in both Fresh Web Explorer (see here) and Google Alerts (see here) to refine your results. Another handy tool is Majestic SEO, which is free for domains you own. Their reports can show you places where your URLs are mentioned but not linked. Mention.net is another great tool to use to monitor brand mentions and it's very affordable.
Coupon Codes
Instead of, or in addition to, offering a sitewide coupon code to your customers, offer exclusive product-level coupon codes to high profile bloggers to share with their readers. You can contact bloggers who are a good fit for specific products and get links directly to product pages. Other good link targets are frugal living and personal finance bloggers. If you're tracking brand mentions and you notice a blogger has reviewed one of your products, you can also get in contact with them to see if they would like a custom discount code for that product to offer their readers.
Get Links On Wikipedia
Although links from Wikipedia are "no follow," and do not contribute to increased rankings in the search results, getting links from Wikipedia can drive referral traffic and brand citations, and is likely to display some level of "trust" in the eyes of the search engines.
There are at least three ways you can get links from Wikipedia:
Create a business page
Cite an article on your site as a reference
Add a link to the "External Links" section
Not just any business can create a business page. Wikipedia requires that a topic has received significant media coverage from reliable sources and they must also meet their notability guidelines.
Most businesses do not meet Wikipedia's notability guidelines, in which case you'll need to reference material on your business site from a Wikipedia article instead. You need extremely high-quality content if you want to reference it in Wikipedia. If you have a page on your site that has proprietary statistics from an internal study you did, for example, find and edit a relevant Wikipedia page to include your information and then cite your article as the source in the "Reference" section.
Alternatively, if you have an in-depth educational resource on your site that supplements a Wikipedia page, you can add a link to it from the "External Links" section.
Be careful when editing in Wikipedia. If a moderator senses you are promoting a business, you will have your account closed, links removed and your IP banned, preventing you from editing again in the future. You can create a new account from another IP address, but after being flagged, you can bet that Wikipedia moderators are watching closely for any new edits that someone might make that are related to the business you were trying to promote. Every little edit on Wikipedia is heavily moderated. If you can't provide a useful contribution to the community, don't make any edits until you can.
Contribute Information To Other Sites
It can be hard getting links from industry-related websites because you're probably their competitor. Instead, think about how you can work with other complementary, non-competing websites. For example, if you are a clothing store, get in touch with editors at fashion websites and ask if you can contribute information about product details.
There's probably a lot of information you can say about a product that doesn't fit in the product description of your product page. Share it! Many bloggers love getting free, original content from experts. Who else knows your products better than you?
Ask For Links In Order/Shipping Confirmation Emails
This idea comes from Rand Fishkin. All you have to do is ask for a link in your order confirmation email. Your customers already like your business and probably have no reservations about linking if given the opportunity. You could potentially add incentive as well and give them a discount on their next (or even current) purchase if they reply to your email with a link to their post.
Employees
Ask your employees to link to your site from their social media profiles (LinkedIn, Facebook, Twitter, Google+, etc.) or to write blog posts on their own site if they have one. Who knows, you might get a few good links from this and it doesn't hurt to ask. You could also start an incentive program for your employees to write expert articles for your blog and then share their posts on social media.
Host Affiliate Pages On Your Own Website
I got this awesome idea from my coworker, Everett Sizemore. If you have an affiliate program, you can create co-branded pages on your site for each affiliate. BeachBody is a great example of how this works. They give their BeachBody coaches easy-to-remember URLs that can be shared easily online or on business cards.
When your affiliates promote themselves, they'll build links to their affiliate page, which builds onto your own link profile as a whole. You have to be careful with this strategy though because your affiliates might not realize that crappy links can hurt your website and they might go on a spamming spree. Hopefully, you can prevent most issues by forbidding certain types of promotions in your affiliate program's Terms of Service.
Get Customers To Share Their Recent Purchases
After a customer makes a purchase, ask them to share their purchase on their social media accounts. You want to make it as easy as possible for your customers to share. Below is an example of how Amazon does it.

You should also place sharing buttons on your product pages and even in your confirmation emails.
Baked-In Link Building
Baked-In Link Building involves building your site and content in such a way that by the nature of having more optimized content, it attracts more search traffic and indirectly more links. Some methods of Baked-In Link Building include:
Create a Blog
The great thing about a blog is you can write about anything you want. You can create linkbait (appeals to bloggers and social media) or trustbait (educational/research-based content) and link back to your products where relevant. As your blog content earns links, it funnels some of that link juice down the line to your product pages.
Add a Resource Library
A resource library is a page that links to all the high-quality educational content on your site. As the library gets more and more extensive, it will attract more links, which will support those pages it's linking to and, of course, those pages can link to product/category pages.
Here's an example of a Breastfeeding Resource Library from The Pump Station and Nurtury. These types of resources aren't much different than blog posts, but because they are organized this way, they are often seen as more professional and trustworthy to potential linkers, as opposed to a blog.
Create a Q&A Resource
This is a great way to get your customers to create content for you. When your customers ask questions about your products through email, social media or in person, put those questions on your site, along with your answers. Then you can add this content to your product pages.
Build a Forum
Buggies Unlimited is a golf cart parts company that has what is probably the most popular golf cart forum online. You probably wouldn't think there would be a need for a forum about golf cart parts, but with any product, there are people who will have questions, who love or hate that product or who simply want to communicate with other like-minded people who have purchased the same products. Forum posts are great because they are highly targeted for the search engines and are entirely user-generated. Sometimes users will even include links to your products, which is a great way to naturally build internal links.
Add Linkable Content to Your Category and Product Pages
You can put all sorts of content on your category and product pages if you're comfortable enough with placing that content there. You can create videos (product demos or viral videos), infographics, comparison charts, polls, giveaways and sweepstakes, which can all be placed on the product or category page to which they relate. You can also add trustbait or linkbait content right to the page.
Evergreen Holiday Pages
If you do annual holiday specials, which many eCommerce businesses do, make sure your URLs are "evergreen." Don't include the date or year in the URL so that you can reuse that page and continue piling on the backlinks every holiday season.
Clean Up 404 Errors
It's common for products to go out of stock or stop being sold altogether. That often leads to 404 error pages or simply blank useless pages that benefit nobody. Make sure you redirect those pages to retain any links they may have. If you leave an empty page up for too long and a linker notices, they're going to remove the link from their site and you won't be able to recover it. When redirecting pages, try to redirect to something similar if possible.
Reclaim Links to Search Results Pages
You might find that some people link to your search results pages when referring to your products, i.e. www.site.com/search/product-name. Search results pages are typically disallowed by robots.txt or noindexed in the robots meta tag, which makes these links nearly useless. They certainly don't help your product pages. Contact the site owner and ask them to update the link to the correct URL.
Internal Links
Internal links are great because they help PageRank to flow throughout the site, they help search engines determine relevancy based on the anchor text you use, and they are the easiest to get because you can edit your website content in any way and at any time you want. From category pages, you can add deep links to sub-category pages, product pages that need a boost or even informational articles you've produced to help educate the customer further on the product. From product pages, you can link to similar products, complementary products or your most popular products in that category.
You can add links to product and category pages from blog posts too, but be careful not to annoy your readers or potential linkers. If you have too many internal links or if the links are forced, it's going to reduce readability and won't attract links. Add links only as they come up naturally. Not every post needs to link to something. The main focus of the blog should be to provide value to your customers. You should also promote your articles by adding a link to 2-3 related articles at the end of your posts. If you are using WordPress for your CMS, there are several plugins that can do this for you automatically.
Qualifying a Link Opportunity
To prevent your site from ever having to deal with a Google penalty, you need to set some quality guidelines on the sites you contact for links before you reach out to them.
There are many factors you can use to determine the quality of a link placement. For example:
Moz DA / PA
MozRank
MozTrust
PageRank
Age of domain
Linking root domains
EDU / GOV links
Load time
Social media metrics
Comments / reader participation
Number of ads on the page
Content relevancy
Spelling / grammar
Most of the above quality factors probably won't be the one deciding reason why you choose to reach out to a specific site or not, but when looking at them all against the site as a whole, you will be able to see the "bigger picture."
Prospecting For Link Opportunities
There are many ways to prospect for link opportunities, depending on what you're looking for. The simplest method, which is also free, is to use advanced search queries. Below are some examples.
Guest Posts

Keyword + intitle:"write for us"

Keyword + "guest post"

Keyword + "contributor" + inurl:blog

Niche Directories

Keyword + "submit * website"

Keyword intitle:directory

Product Reviews

Keyword intitle:review

Keyword "ratings"

Keyword reviews inurl:submit

Resource Lists

"Recommended sites" + Keyword

Keyword "weekly roundup"

Keyword inurl:"links OR resources"

Advertising or Sponsorships

Keyword "our sponsors"

Keyword "advertise with"

Keyword "thank you" sponsor*
There are some free tools that can help you come up with more queries too, such as Ontolo's Link Building Queries generator, Buzzstream's Link Building Query Generator and the classic SoloSEO Link Search Tool. I'm sure there are more, but these should cover most everything.
Paid Tools
There are also paid tools you can use to do a lot of the prospecting work for you. Here are some of the tools we use or have used in the past:
CisionPoint – This is an expensive tool (about $500 per month when we last used it), but worth it if you have an expert on your team willing to communicate with journalists and bloggers. CisionPoint can help you find expert journalists who cover your industry and who may be interested in your content, using you as a source or doing an interview. We loved the tool, but because we couldn't get our clients to follow up on the expert opportunities we found, we had to drop it.
GroupHigh – Here's another expensive tool (about $400 per month) but if you interact with a lot with bloggers, GroupHigh is exactly what you need. They have more than 15 million active blogs listed in their system, all of which have quality metrics, detailed contact information, and social media profiles. And it's all categorized and easy to search based on industry and for opportunities, such as guest posts, sponsored posts, contests, and display advertising.
In conclusion
All of these tactics are powerful ways to build high-quality links to your eCommerce site and when combined with smart strategy, can drive great traffic to your category and product pages.
Do you have a favorite link building tactic for your eCommerce site? Tell us about it in the comments below.
Download Our eCommerce Link Building Guide!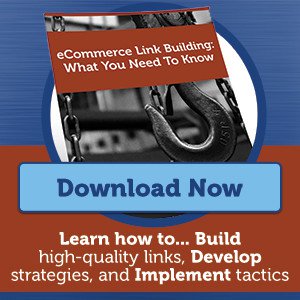 Fill out our form below to get your copy of Inflow's eCommerce Link Building Guide in PDF form. Keep this handy reference guide available as you plan and execute your eCommerce Link Building strategy.