Typically, when eCommerce marketing teams strategize about improving Google rankings and growing SEO traffic, a lot of the conversation inevitably focuses on link building.
After all, for years, link building has been touted as the pinnacle of SEO strategy. Get more backlinks, improve your organic traffic — or so we've been told.
But, as with most search engine optimization tactics, it's a bit more complicated than that.
In today's guide, we'll not only discuss the current state of link building and our team's perspective but also give you some guidance for understanding your site's current backlink profile and creating a strategy that drives the best results for your business.
When you're done, you'll have all the tools you need to make the best SEO choices for your site — however much link building that actually involves.
And, if you want a professional's help making it happen, our eCommerce SEO link-building team is always happy to help.
Table of Contents
What is Link Building?
Generally speaking, link building is an SEO strategy that focuses on adding external links (backlinks) to your site from other valuable, authoritative sources.
There are two methods of link building:
Active link building, which involves proactive outreach to external sites
Passive link building, which focuses on creating quality content that naturally attracts inbound links over time
(I'll discuss these two processes in more detail later on.)
All of the backlinks pointing to your eCommerce site comprise your backlink profile, which is an important factor in your SEO performance.
Why It Matters for Your eCommerce SEO Strategy
While the exact degree of their importance has varied over the years, backlinks are critical for enhancing your website's authority, relevancy, and trust.
A link profile with a lot of high-quality and relevant links can boost a website to top rankings in the Google search engine results pages (SERPs). Links from relevant websites also offer the benefit of driving customers who are actually interested in what your eCommerce website has to sell, which is critical for expanding your brand's potential audience.
For this reason, acquiring high-quality backlinks is still foundational to achieving a high SERP ranking, especially for newer sites.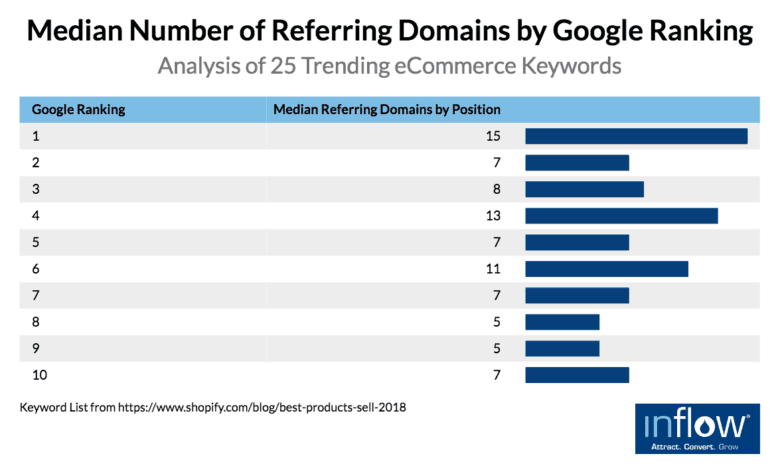 But not all links on the web are created equal.
Over the last few decades, Google has become wise to the countless link schemes businesses have employed in efforts to improve their site's authority. Thanks to major algorithm updates like Penguin, sites deemed to have low-quality link profiles by Google are penalized — and often see massive drops in rankings in the search results or removal altogether.
So, just as quality link building can boost your organic performance, an improper link-building strategy can tank your site authority and be incredibly difficult to come back from.
eCommerce Website Link Building in 2023
But, because search engine optimization isn't an exact science, we can't tell you exactly how much your link-building efforts will affect your overall SEO performance (and, for what it's worth, neither can Google). There's no denying that high-quality backlinks enhance your site's authority — but link building shouldn't be where your SEO strategy starts and ends.
In fact, at some point, continued aggressive link building could yield diminishing returns for eCommerce sites, especially when they're naturally attracting links through a high-quality content marketing strategy. In this situation, investing resources into link building may not be the best use of your team's limited time, effort, and funds.
That's why we recommend eCommerce brands focus first and foremost on passive link-building through high-quality content marketing, which tends to yield a higher business ROI for brands. Not only are you creating content that naturally attracts backlinks, but you're also attracting new customers to your site through SEO content, educating them about your product, and increasing the chances of final conversions.
Combine that with certain outreach methods like HARO, and you've got the perfect modern eCommerce link-building strategy.
Learn more about building an effective link-building strategy in our complete guide now.

What Makes a Quality Link?
So, what exactly determines the difference between a high-quality and a low-quality link?
Let's start with what not to do.
Low-quality links are abundant across the internet and typically include:
Links from spammy and topically irrelevant sites
Links with keyword-rich anchor text (or overly optimized text)
Links within blog comments
Paid links
High-quality links, on the other hand, are typically links with the following characteristics:
1. Relevancy
A backlink should be (at least somewhat) topically related to the page it's linking to. The higher the relevancy, the higher quality the backlink.
It's fine to get links from non-relevant sites if the links are natural — say, for example, if a parent blogger writes an article about child safety online and then links to an antivirus company website — but you typically don't want to seek out links on sites that are not within your niche.
2. Professionalism
It's pretty obvious which links come from professional websites and which are clearly spam.
For example, if a backlink comes from a site mentioning payday loans, Viagra, gambling, and other questionable content found in spammy circles, you probably don't want it linking to your eCommerce site. Ditto for URLs with lots of ads or links to other sites.
3. Naturality
"Natural" is another way to say "organic" — that is, a link that occurred without any sort of promotion or payment. (Typically, these will also be highly relevant and professional backlinks, too.)
An organic link is usually editorial, placed within a piece of content by the writer as a useful reference to their readers using non-keyword-rich anchor text. This is the type of link you want and should be trying to get.
4. Authority
Authority sites with well-researched content written by expert authors are the hardest sites to get links from. But, if you prove to be an expert in your industry (writing authoritative blog posts, doing interviews, being active on social media), you can get natural links on sites like CNN.com without even trying.
5. In-content Placement
As mentioned above, the most powerful backlinks come from placement within content — not within templated content (navigation, sidebars, footers), blog comments, or bio sections.
Note: These links are also most likely to use natural keyword anchor text, another sign of a quality backlink.
6. Hard to Get
Finally, the highest-quality links are the ones that are the hardest to get.
Anybody can get links from sites like easylinkdirectory.com. To build a quality backlink profile, your eCommerce site should be looking for backlinks from professional, authoritative sites that have an actual reason to link to your content.
It will take time (and a whole lot of effort), but your SEO strategy will be much better off in the long run than those that rely on manipulative link-building schemes.
Nofollowed vs. Followed Links: It Doesn't Really Matter!
Allow me to get technical for one brief moment.
A lot of marketers get caught up in only trying to get "followed" links because they believe "no-followed" links don't help a site increase rankings — but that's not totally true.
Let's say you get an editorial link from Dailymail.co.uk, one of the most popular news websites in the world. If you check, you'll see that they added the no-follow attribute to all outgoing links, which means the links will not provide a ranking benefit.
But that link to your site has the potential to be seen by millions of people, which can send a ton of potential customers to your site. And, although the link is no-follow, people seeing your site could link to it from their own websites, and they might not use the no-follow attribute.
A natural link profile will have both followed and no-followed links. There isn't an exact ratio that anyone knows of that the search engines consider natural — but if all of your links are followed and none are no-followed, that could make the search engines think that something funny is going on.
In other words, don't stress about the technical nature of your links. Focus first and foremost on getting high-quality links to your eCommerce site — and let the follow vs. nofollow cards land where they may.
How to Review Your eCommerce Link Profile & Create Your Strategy
You can't just go out and build links to your eCommerce business from any website that will place them. If you do, you're likely to get your site penalized, which is a steep challenge to overcome after years of incorrect SEO strategy.
To create a comprehensive link-building strategy, you need to first understand where your website is currently at — and which opportunities await you.
Below, I've recommended a few basic steps for evaluating your link-building performance and opportunities. If you want help going through this audit, reach out to our professional SEO team, who is happy to craft a custom, advanced eCommerce link-building strategy for your business needs.
Step 1: Evaluate your domain authority.
Remember how I said link building is only worth the effort up to a certain point? To decide if active outreach is helpful for your eCommerce site, start by reviewing your current website authority.
This metric — referred to as domain authority (DA) or domain rating (DR) — is tracked by all major SEO tools, including Ahrefs. Generally speaking, the higher your DR or DA, the more high-quality backlinks and linking root domains you have — and the less likely you'll need to invest in active link-building outreach.
It's actually quite telling to look at the distribution of sites in different DR ranges and how many referring domains (links from unique domains) that sites in each range have, on average.
In the following table by Ahrefs, you can see this distribution: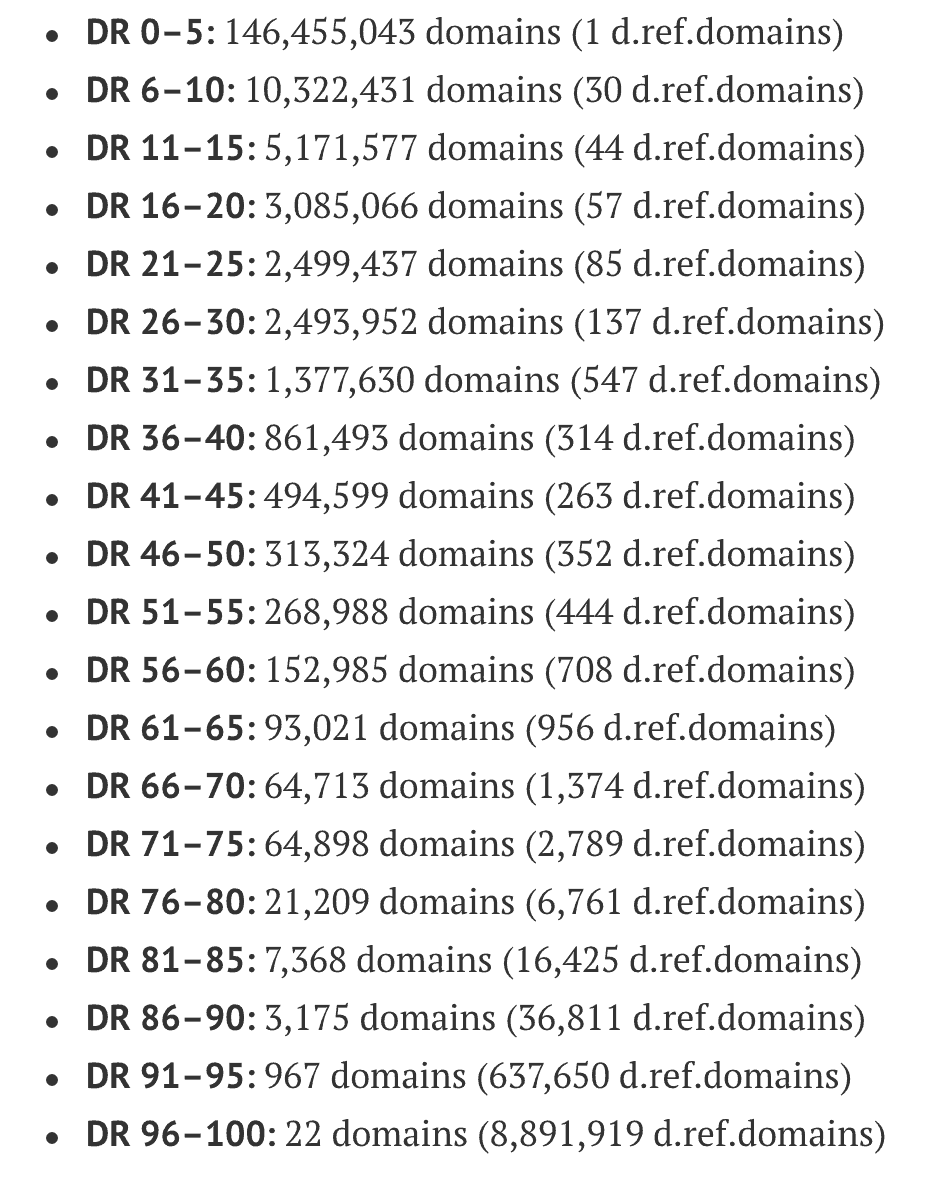 As DR increases, the number of additional referring domains you need to move to the next tier of DR grows exponentially. This begs the question: If you already have a large mass of high-quality backlinks from a variety of linking root domains, is an SEO strategy that can be summarized as "Let's just keep building more links" really the best use of resources?
Spoiler alert: Depending on your brand, it may not be.
We've found that many established online stores with high-performing content often already have organically attracted plenty of backlinks, so manual link building likely isn't the best way to increase organic traffic.
If your eCommerce site has invested in foundational and strategic content (blogging) to optimize your SEO, and you've earned a significant amount of backlinks already, ask yourself two questions:
How are our link profile and domain authority relative to our competitors?
How much effort would it take to build the number of backlinks necessary to equal or outperform competitors by moving up to higher DR ranges?
If the answer to the second is "tens of thousands," the effort required to gain those manually will be substantial — and, more than likely, impossible for your digital marketing team to achieve.
Step 2: Review your existing backlinks.
As you're reviewing your domain authority, take the time to review your existing backlinks, too. (You can download a list of your incoming links from your SEO tool of choice.)
You're not just looking at how many high-quality backlinks you have here. You're also looking for potential problem areas — strange patterns and red flags such as:
1. Keyword-Rich Anchor Text
People don't naturally link to pages using keywords. People link to websites using brand names, URLs, or phrases such as "click here." Therefore, the majority of your anchor text should consist of natural anchor text (phrases and words that logically make sense in the context of the article).
If you see a page on your site with a large percentage of keyword-rich anchor text, you should consider contacting the linking sites and asking for the text to be "updated" or build more links to the page using natural anchor text in hopes of offsetting the damage that might have already been done.

2. Sitewide Links
Sitewide links aren't always bad, but they can be if your link profile is full of them — especially if they are on non-related sites or if they also have keyword-rich anchor text.
Most sites don't offer sitewide links unless they have been paid for. Google knows this and, in turn, is likely to devalue those links or take action on sites that are abusing that tactic.
3. Reciprocal Links
Some people believe that reciprocal links are bad, but that's not always true. In many cases, it's entirely dependent on the industry.
In some industries (like charities or education sites), it's common to see a lot of reciprocal links. In those cases, Google is usually pretty good about determining if those links are natural or not.
We recommend comparing your link profile with others in your industry. For example, you can use Moz's Link Explorer to review your site's and competitors' profiles.
People naturally reciprocally link to each other all the time, but they are likely linked to people they know or who work in the same industries, and the links are usually on quality pages.
If your reciprocal links are on low-quality pages that list hundreds of other non-related websites and the page is named "links.html," you might have something to worry about.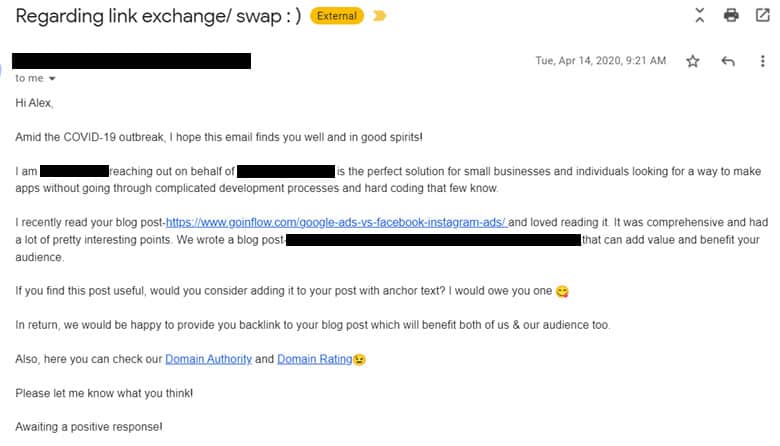 4. Directory Links
Directories used to be the go-to link-building method for quick wins. Unfortunately, they have become so heavily abused that search engines took action. Today, most directory links have lost their SEO value.
However, there are still some good niche and/or paid directories that provide value to readers and won't look terrible in your link profile. For example, if you sell boat equipment and you find a directory that lists only other boating-related businesses, you'd probably want to be listed there.
5. Comment Spam
Comment-based link building is practically useless these days. These links don't carry nearly as much value as they would if they were in the content of the article.
In fact, comment spam is so heavily moderated these days that it can be hard to get a legitimate comment through unless it provides real value to the conversation.
You can find comment spam by scanning your links for footprints like "wordpress.com" or "blogspot.com." Free blog services like WordPress can be more lenient in moderating spam than other sites, so you'll likely find comment spam links that have gotten through on those sites.
6. Internal Pages with Lots of Links
If you notice that some of your pages have a lot of incoming links — but the anchor text is keyword-rich or the page doesn't seem like something a lot of people would be linking to — it's probably because that page was heavily promoted.
On the other hand, if the page is high-quality and the links are natural, you have nothing to worry about.
You can quickly check how many links the pages of your site have by looking at the Best Pages by Incoming Links feature of Ahrefs' Backlink Checker.
Step 3: Analyze your competitors' backlinks.
As we've alluded to above, your competitors' backlink profiles and link-building strategies should be important factors in your own site's link-building approach.
Just as you've evaluated your own backlink profile, look at your top competitors'. Where are they getting links from? What kind of backlinks are they? Are there any linking opportunities that your eCommerce site can take advantage of?
For example, if you sell running shoes, you may see that competitors are getting links from major marathons across the country. Your brand may consider sponsoring some of those same marathons (or smaller, local races) to add the same backlinks to your site.
You can apply this same strategy to other industry-related sites, too, even if they're not your direct competitors.
Step 4: Create your link-building strategy.
Once you have an understanding of your own backlink profile, your competitors' performance, and your eCommerce vertical as a whole, now you can start building an effective link-building strategy — based on the tactics that will work best for your online business.
Active Outreach
Active link building (also referred to as manual link building) requires a lot of cold emails and a lot of patience. It's best used when you have a clear set of opportunities — partnerships, vendor links, current broken links, etc. — that can easily be added by external parties with a clear benefit for them, too.
Programs like HARO (Help a Reporter Out) are also examples of direct link building. By offering up your expertise in your industry to answer reporters' questions, you can not only gain backlinks but also enhance your brand awareness and thought leadership across the web.
Note that the average ROI of link building is minuscule, so the more you can automate and personalize these pitches, the better off your marketing team will be.
Passive Link Building
If your eCommerce site is already receiving a significant number of natural links, we recommend doubling down on your content marketing efforts. (Even if you're seeking links as a brand-new site, content marketing is a must-have part of your SEO strategy.)
At Inflow, we often refer to two types of content on eCommerce sites:
Foundational content refers to key pages in your store, like product and category pages.
Strategic content is pages where you're strategically targeting mid- to long-tail keywords that aren't best represented by a foundational page in your store.
In most cases, the latter will be your best bet for long-term, strategic link building.
Strategic content comes in many forms — blog posts, buying guides, infographics, videos, expert roundups — whatever fits your audience and brand the best. Good strategic content resonates with your target audiences, educates them, and builds trust in your brand.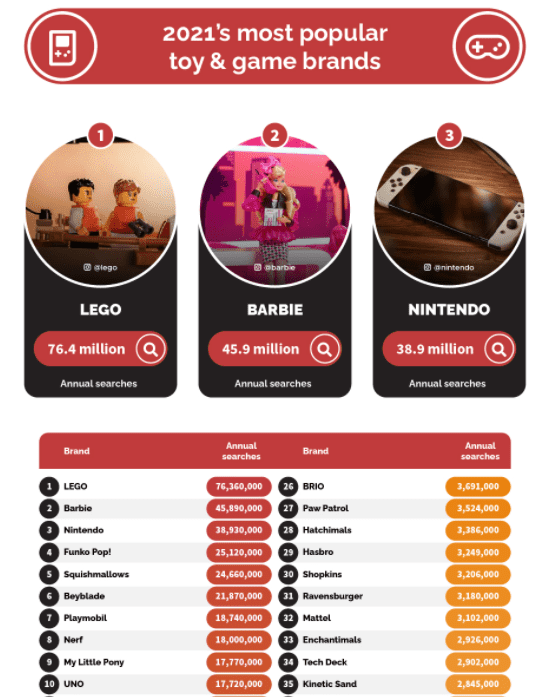 Think about a yoga store wanting to rank for "how to do sun salutations." Their yoga mats, yoga clothing, or yoga accessories product or category pages are likely not going to rank for that, but a blog post could.
And, if it's written well enough, it could also attract natural backlinks over time — without you having to spend time proactively finding link-building opportunities.
In other words, while link building is not the primary goal of eCommerce content marketing, it's a natural result of a strategy done well.
Check out more active and passive link-building tactics here.
Link Building: Just One Piece of the eCommerce SEO Puzzle
There's no denying that link building is important — but, as we've found from helping hundreds of online retailers with their SEO, there are other tactics that can often move the needle better or faster than link building.
While general, active link building may increase the overall authority of your site, strategically creating link-worthy content to go after new, specific keywords that your target customers are likely searching for could give you better ROI on your SEO efforts.
Our recommendation: As you craft your eCommerce link-building campaigns, think more strategically about how you'll deploy your team's SEO resources. You may end up deciding that manually building additional backlinks to certain pages is the best use of your time — but even if so, that is a far more strategic approach than just focusing on link building as the be-all, end-all of your SEO strategy.
If you need help creating an SEO strategy that includes link building as part of a comprehensive, results-driven approach, you've come to the right place. Request a free proposal today to learn more about driving backlinks, organic traffic, and conversions for your eCommerce store.