Typically, when eCommerce marketing teams strategize about improving Google rankings and growing SEO traffic, a lot of the conversation inevitably focuses on link building.
Link building is important, but, we've found from helping hundreds of eCommerce sites with their SEO, that for many sites with good domain authority and a solid foundation of existing backlinks, there are other tactics that can often move the needle better or faster than link building.
In fact, for some websites, we recommend not spending time just building general backlinks. When we've worked with companies like these, we've instead spent time on other, non-link building SEO tactics and have generated nice results.
In this article, we discuss how to determine when to focus on link building vs. when not to. Then, we outline the other tactics besides link building that we often deploy on eCommerce sites that have yielded good results.
Note: If you'd like to talk to our SEO experts about whether they'd recommend link building or other SEO tactics on your eCommerce store, contact us here.
When Backlinks Matter
First of all, it's important to remember that acquiring many high-quality backlinks is still foundational to achieving a high SERP ranking.
For newer sites, building up high-quality backlinks should be one of the very first things you focus on. To rank on the front page of Google, you usually need at least one high-quality backlink.
But at some point, aggressive link building could yield diminishing returns because the site may already be attracting links to quality content passively.
That's not to say there's no place for ongoing creation of new content that also continues to attract links. But investing resources in additional aggressive link building may not be the best use of their time and some of the alternative SEO tactics discussed below may yield a higher business ROI for the company.
Let's explore why.
What It Looks like to Have a 'Strong' Backlink Profile
To find out if link building is worth the effort for your site, you'll want to open up a tool like Ahrefs and check your site for the following signs:
A High Domain Authority/Domain Ranking
Domain Rating (DR) in Ahrefs is an estimate of your site's reputation in the eyes of Google's search algorithm. It's not a perfect measure, but it will give you a sense of the strength of your backlink profile. The same is true of similar metrics such as Moz's Domain Authority (DA).
Generally speaking, the higher your DR or DA, the more high-quality backlinks, and linking root domains you have.
For the purposes of this article, it's actually quite telling to look at the distribution of sites in different DR ranges and how many referring domains (links from unique domains) that sites in each range have, on average.
In the following table by Ahrefs, you can see this distribution: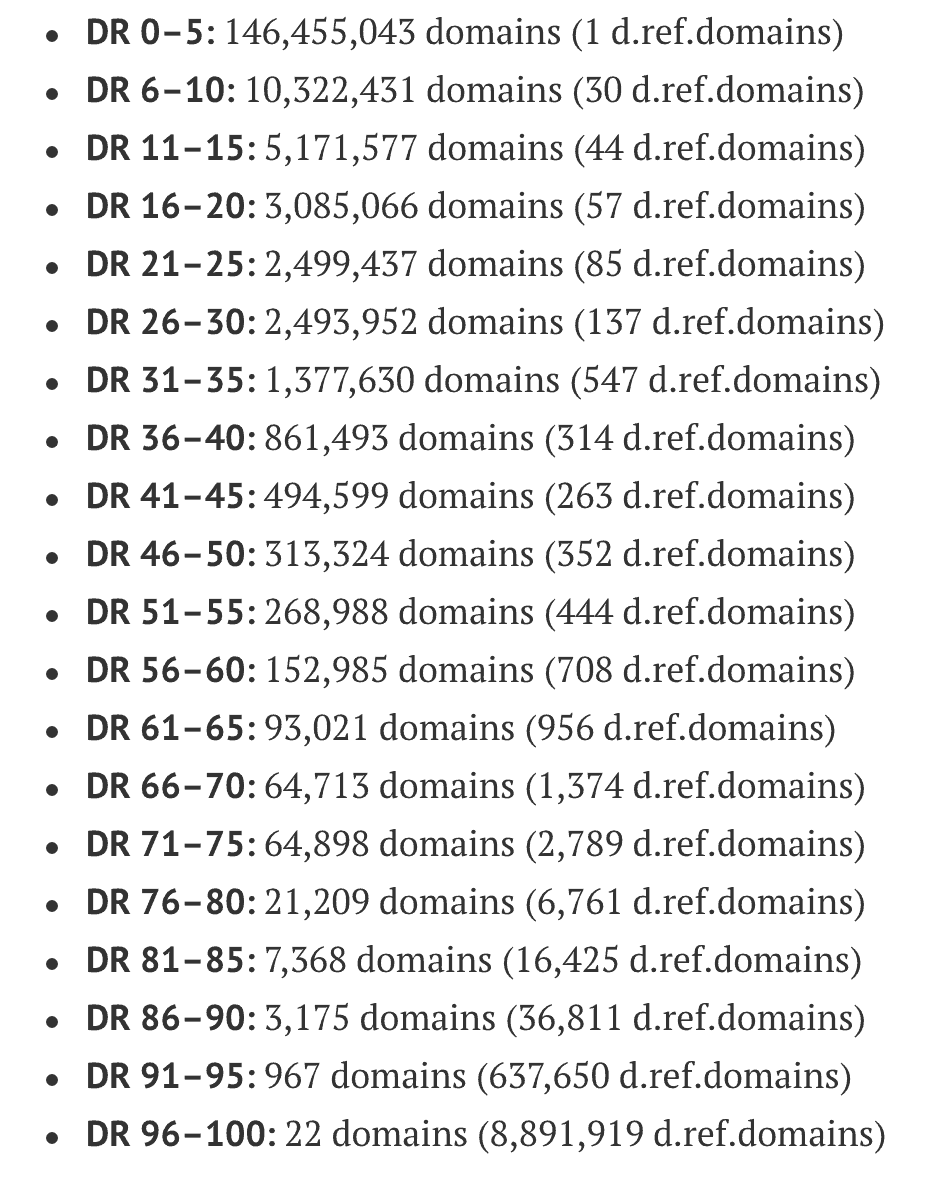 The most important thing is the number of referring domains you must acquire to continue improving your DR, which is the number in parenthesis in each line (the "N domains" next to the DR is the number of domains that Ahrefs has indexed that have a DR in that range).
You can see that as DR increases, the number of additional referring domains you need to move to the next tier of DR grows exponentially. For example, sites with DR 6 – 10 have on average 30 referring domains, and the tier just above it (DR 11 – 15) have on average 44 referring domains. That's a difference of 14 linking root domains.
But that difference keeps growing as you go up in DR.
Look at the difference between DR 86 – 90 and DR 91 – 95. Sites between those two DR ranges have, on average, a difference of 600,000 referring domains!
So, this begs the question: if you already have a large mass of high quality backlinks from a variety of linking root domains, is an SEO strategy that can be summarized as "Let's just keep building more links" really the best use of resources?
It may not be. SEO is complex, so of course there are certain situations that call for more link building, but in this article, we want to challenge eCommerce marketers, directors, and founders to think beyond the view of "link building is always most important".
As we explain below, you can often find lower hanging fruit by thinking more strategically about how to deploy SEO resources. To be fair, you may end up deciding that building additional backlinks to certain pages is the best use of time, but even if so, that is a far more strategic approach than just focusing on link building as the be all end all of your SEO strategy.
An Example of a Naturally Large Amount of Backlinks
Knowing the above concept of diminishing returns, we first check to see how many backlinks and referring domains an eCommerce site we start working with has.
What we've found is that many established online stores with high-performing content often already have organically attracted plenty of backlinks, so spending our time doing manual link building for them likely isn't the best way to increase organic traffic.
For example, Moving.com has done a lot of great blogging and therefore has a variety of foundational and strategic content designed to optimize their SEO.
Using Ahrefs, we can see how their content strategy has helped them acquire nearly 10 million backlinks from 10,400 referring domains with 91% of them coming from dofollow links, giving them an Ahrefs DR of 83.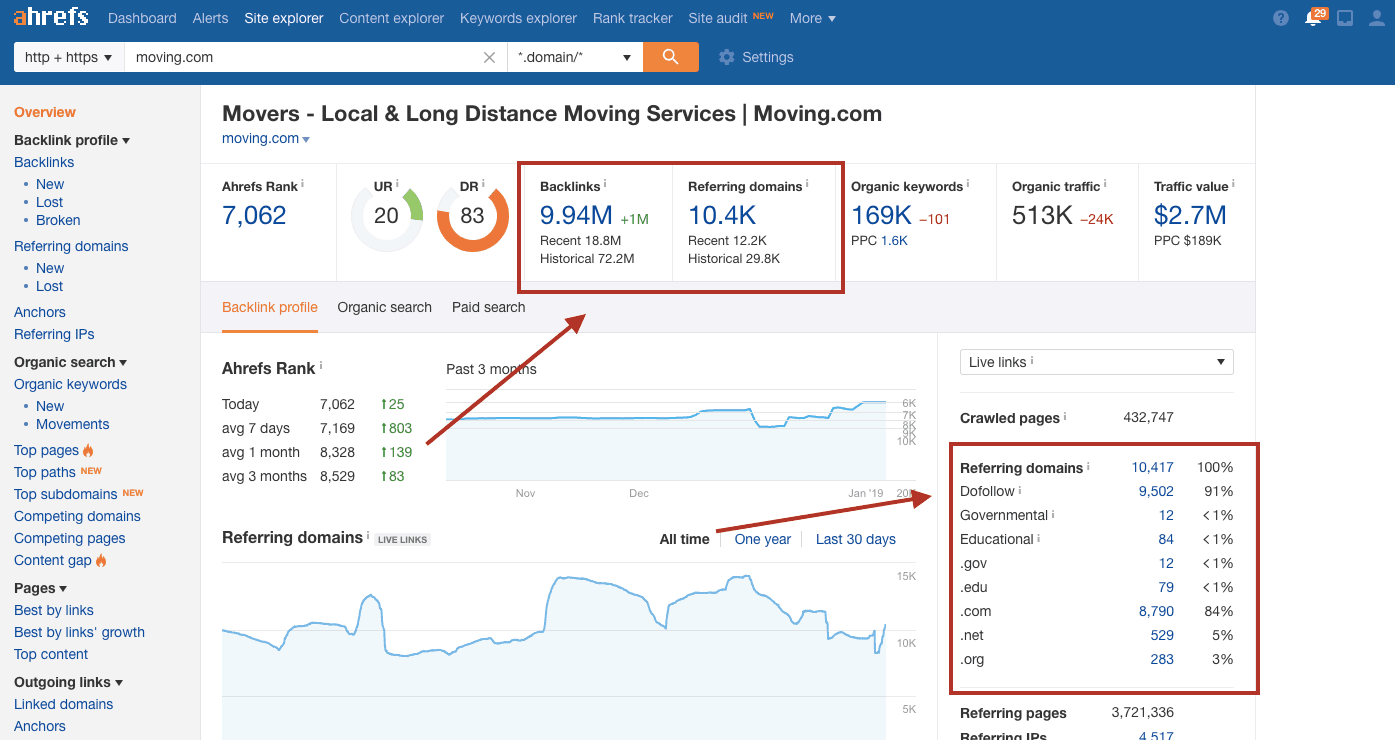 As we see from the table above, with a DR of 83, sites in the higher DR tiers have, on average, tens of thousands (or for even higher tiers, hundreds of thousands) more backlinks than Moving.com.
So, in situations like these, you should ask two questions:
How is our link profile and site quality (DR, DA) relative to our competitors?
How much effort would it take to build the amount of backlinks necessary to equal or outperform competitors by moving up to higher DR ranges?
In the example above, anyone who has done link building knows that tens of thousands of backlinks is non-trivial. So this would be a good situation to explore other SEO tactics and site optimizations that could boost SEO results, and give us a greater ROI on time and resources spent.
As a final note, make sure to check where your backlinks are coming from. One very easy way to optimize your SEO is to see if you have any broken referral (incoming) links and if there are any significant clusters of links originating from the same IP range.
Fixing these small issues can greatly enhance the SEO of your eCommerce site. Again, if you want us to look for you, feel free to reach out.
3 Ways to Improve SEO without Building More Backlinks
At Inflow, once we've identified that an eCommerce site may not see huge returns from additional link building, we'll explore the following 3 SEO tactics:
1. Create or Improve Strategic Content
At Inflow, we often refer to two types of content types on eCommerce sites: foundational and strategic.
Foundational content refers to key pages in your store—like product and category pages.
Strategic content, however, are pages where you're strategically targeting mid to long tail keywords that aren't best represented by a foundational page in your store.
This content can come in a variety of forms: blog posts, buying guides, infographics, videos, resource sections — whatever fits your audience and brand the best. Good strategic content resonates with your target audience(s), educates them, and builds trust in your brand.
The key is that the content is strategically designed to rank for certain mid to long tail keywords that your foundational content (product and category pages) are not or cannot rank for (because including those keywords on product and category pages, for example, may not make sense).
At Inflow, we often look for keyword gaps as opportunities to create strategic content. One way to find keyword gaps is by conducting keyword research on your competitors to see what keywords they rank for that you either don't rank for at all or don't rank as highly.
While these keywords will typically have a lower search volume, they will let you rank for terms that your target customers are searching for but your foundational content would not otherwise rank for.
Think about a yoga store wanting to rank for "how to do sun salutations" — their yoga mats, yoga clothing, or yoga accessories product or category pages are likely not going to rank for that, but a blog post could.
So while just general, active link building may increase the overall rankings of all keywords you rank for, often strategically creating content to go after new, specific keywords that your target customers are likely searching for could give you better ROI on your SEO efforts.
Finally, these new strategic content pieces can often be crafted to attract natural links – e.g. data-based or resource-based blog posts on a keyword gap you identify. These types of content pieces often attract links naturally over time, without you having to spend time proactively finding link building opportunities.
2. Remove, Improve, or Consolidate Pages
One of the very first things we do at Inflow during our content audit process is to locate and weed out any low-performing pages that may be lowering the overall "quality" of the website.
While Google continues to remain secretive about what variables affect a site's search engine ranking, we know that having a significant number of low-quality pages will damage your SEO.
Often, we'll have new clients come to us with thousands of pages that generate little to no organic search traffic and in many cases have little to no value to users. This is content that does nothing but damage their search rankings.
Using the Cruft Finder Tool we found that one of our eCommerce clients had over 38,000 useless pages on their site — 90% of which we ended up removing entirely.
Sometimes, the answer isn't as easy as removing the page from your site. If the page in question is strategic content or vital to your online store, we'll either "improve" or "consolidate" it.
Improving a page can be as simple as republishing that piece of content or increasing the number and variety of the targeted keywords. If there are multiple pieces of content on the same or similar topics, we will consolidate them into one big authoritative post.
3. Improve Internal Linking
Finally, we often look to see if we can improve the internal linking architecture of an eCommerce client's site to strategically improve the rankings of high converting pages which also have an opportunity to drive more organic search traffic.
Here are a few reasons you might undertake an internal linking strategy for your site.
Improve your site's architecture; ensure good link equity is being fairly spread across important pages to the site.
Increase the number of links to high priority pages – in general, the more internal links a page has, the higher its relative value to Google. This could include product pages, category pages, Page 2 Opportunities (see below), high revenue pages or new pages being launched.
You have page(s) that receive a lot of organic search traffic and/or attract external links, but the page(s) have little conversion value. By strategically placing internal links from these pages to relevant "money" pages, you can create more value from those pages as well as funnel some of the "link juice" to these pages as well.
You want to remove internal links because pages (typically in the header and/or footer) are sending internal link juice in too many directions. Wayfair recently reduced the number of internal links on certain page types and it resulted in a 10% increase in Organic traffic.
At Inflow, we'll often use this for client pages that are ranking at the bottom of page 1 or near the top of page 2. We call these "Page 2 Opportunities". In those cases, if strategic internal linking can move the page in question up a few spots, that can exponentially increase the amount of click throughs it's getting – in particular if it makes to the top half of page 1 (where the vast majorities of clicks go).
How does this work?
Well, internal links can carry value, similar to how external links can carry value. In particular, we've found that keyword rich anchor text can send a very clear signal to a crawler about what it can expect when it goes from page A to page B (but don't overdo it). We've found his can often boost rankings of page B.
(This effect is similar to best practices in paid search: having the ad copy include the search keyword and have the landing page also have that keyword so all 3 steps align around the same keyword.)
We've found that sending those keyword rich signals with a handful of internal links can often be enough to boost a certain page up the rankings a few spots, without building any external links.
Another way to apply this tactic and give certain pages a boost is by having those links come from your best-performing pages. Although, do keep in mind that this tactic can only be used a handful of times as the more links you add, the more diluted their effect becomes.
Revamp Site Architecture to Scale Internal Link Building
Finally, in addition to using internal link building strategically to improve the rankings of certain pages, there are times where we have revamped the entire site architecture to improve internal linking on a site-wide basis.
This is, one could say, a way to do internal link building "at scale". We only do this in certain situations where we think the resource investment in fixing this will pay off. If you've curious if your site could use this, contact us, and we'll give you our honest opinion.
Conclusion
Link building is still a very important aspect of SEO for eCommerce brands. However, in our experience, after a good foundation of backlinks have been built, opportunities arise to get a higher ROI on your time and resources by deploying other SEO tactics besides link building.
Where this cutoff happens is dependent on each specific site and how much other "low hanging fruit" they have in terms of under performing pages, strategic content opportunities and more. But we encourage all eCommerce marketing teams to take a hard look at other factors that can improve SEO results besides backlinks.
You may find many opportunities you otherwise could have missed.
Note: Want a custom in-depth assessment of your search ranking performance? Contact us to get started.