Inflow's SEO Content Calendar Template for Google Sheets
Tired of tracking down content plans across your CMS, Google Docs, and emails? Get all of your blog and website content in one place with our free content calendar.
Inflow's SEO planning template provides an easy-to-use, effective way of organizing every piece of content by:
Topic
Keywords
Audience Profile
Awareness Stage
And More
Download our template today to make tomorrow's content planning a breeze.
What is a Content Calendar?
Simply put, a content calendar is a way to organize all of the content that your brand is producing. Typically, an SEO planning template like ours covers website content — blog articles, product pages, landing pages, category pages, and more.
But the genius of this template is that you can expand it and include whichever types of content you see fit, including:
Social media posts
Videos
Gated content
Printed marketing materials
Case studies
Product launches
And more
Your content calendar should be just like your brand: unique. Inflow's editorial calendar template is a good place to start, but we highly recommend editing it as you see fit.
Like your content marketing strategy, your calendar should change over time to meet your business needs and goals.
Why Do I Need a Content Calendar?
In today's world, we're producing content at a rate never seen before (you can thank AI tools and content mills for that). Without a content planning calendar, your marketing team will quickly become overwhelmed with the masses of blogs, videos, and other content your brand is producing on a daily basis.
Our content calendar template organizes all of your content marketing details in one place, to save you time and sanity. Use it to easily track publishing schedules, content ideas, and more.
Bonus: Having all this data in one place not only keeps you up to date on your current content production, it's also a great way to revisit any decaying content on your re-optimization list.
When all of this data can be found in one spreadsheet, it's much easier to make content marketing decisions on the fly — without having to track down old drafts, keyword research, and other data across your CMS.
What Should Be Included in a Content Calendar?
Our free content calendar template includes all the basic information you need for SEO content marketing. At the bare minimum, your content calendar should include all of the data you use to shape your website strategy, such as:
Writer
Topic
Workflow status
Content type
Target keywords
SEO meta data and search intent
Competitors
Target audience persona
Awareness stage
Due dates
Publication dates
Links to drafts and notes
And more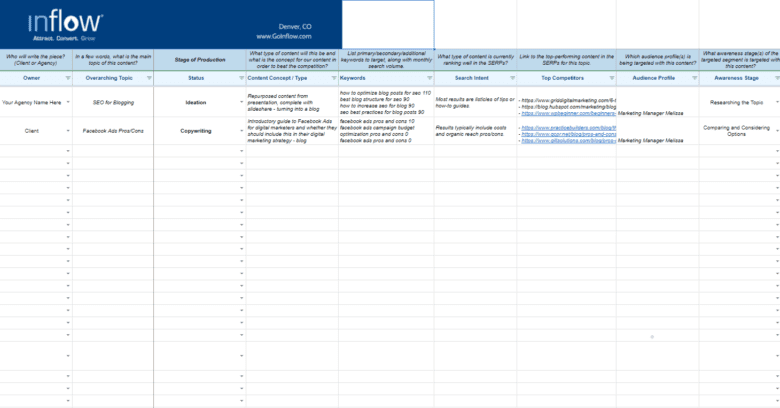 But this is just the start! To fully integrate your content marketing, you can add in more columns and tabs to include your promotional plan, such as:
Social Media Posts
Every good marketer knows it's not enough to hit "publish." Social media is the easiest way to share your new content, and you can build your plan right into our calendar template.
Consider including:
Sample social media copy and creative
Channels
Publish dates
Engagement strategies (which accounts to tag, which questions to ask, etc.)
And more
For a free social media content calendar, check out this template from Hubspot.
Videos
Similarly, you can include a tab on this Google Sheets template for accompanying videos. Maybe you want to create a "vlog" version of your content, or you have an idea for a tangentially related video to embed in your blogs. Include those details in this template, and you can keep them at the forefront of your to-do list.
Some factors to include:
Video topics
Links to video scripts
Animation ideas
Accompanying teasers or gifs
Channels
Publish dates
And more
Outreach Opportunities
We're all looking for backlinks. Outreach may not be the "easiest" way to get them, but it's often the most fruitful.
As your content team works on individual projects, add notes for outreach opportunities like:
Podcast appearances
Guest blogs
Webinars
Using This Calendar to Inform Your Content Marketing Strategy
When evaluating content marketing metrics, keep your calendar at hand. As you add more data into your calendar, you can review them together for the most comprehensive analysis.
Here's an example:
Say some of your new blogs are starting to bring in substantial traffic to your eCommerce site. But, despite your initial plans, that content just isn't converting into sales. Instead, the traffic from those blogs leaves your site without ever viewing any product or category pages.
By looking back at your content calendar, you can review your initial targeted keywords and audience personas. Compare them to your currently ranking keywords, and you'll likely identify where the search intent isn't mapping up. From there, you can choose to change up your current content to better match current traffic — or add more details to the existing content that draws readers to different pages.
If you're a good content marketer, you're probably making strategy adjustments like this daily. But, without a content calendar, you may not be tracking those changes. And, when you revisit that content in a few years, you'll have no background on what the original goal of that blog was (or why you made the changes you did)!
This calendar is more than just a place to log your data. It's also an incredibly useful reminder to keep strategy at the forefront when planning your marketing campaigns.
Other Content Calendar Options
Not a fan of Google Sheets/Excel, or want something with more bells and whistles?
In addition to this template, our SEO team members frequently use third-party tools that offer integrations, automation, and other customization. We've added a few ready-to-use content calendar templates below:
Start With Our Template Today
Whether you're just kicking off your SEO content creation efforts, or you need a free content calendar to gather all the masses of data you already have, download Inflow's template today. It's a great starting point to create a calendar totally personalized to your needs.

In the meantime, check out any of our other free content marketing resources, here to help you boost your strategy and drive more sales for your online business: