Ask any SEO specialist about predicting ROI from their marketing efforts, and you'll get a variety of responses, centering on one idea:
It's impossible!
But, in our experience, it's actually easier than you think to forecast the potential ROI of SEO for eCommerce websites, as long as you keep a few things in mind.
In this guide, we'll explain three methods our strategists use to evaluate potential returns for our search engine optimization clients — so you can do the same for your website.
What You'll Need: Intuition + Data
In the past, when talking to a new client, we used our years of experience working with hundreds of eCommerce sites to give our best guess about the ROI they could expect in three to six months. We called this the "eyeball method."
Leaning on historical performance from similar sites and strategies, we'd estimate the impact we'd expect our SEO improvements to have on rankings, traffic, and (most importantly) their revenue.
For example, we'd say, "We expect to increase your organic search traffic by 30% over the next three to six months."
And, because our team has been doing this work for so long, we'd tend to get extremely close with our estimates.
For some clients, this approach was acceptable. It gave them a rough idea of what to expect before investing in SEO services.
But, for others, it didn't really demonstrate the revenue impact that improvements would actually have on their business — taking into account the kind of SEO strategy they'd follow (ie. content marketing and/or technical SEO), the scale of their efforts, and more.
Now, we include much more data in our predictions. With this, we see much better buy-in from prospects considering our services.
Bottom line: Whether you need to sell a prospective client or an internal stakeholder on the value of improving organic traffic to your eCommerce site, this fuller perspective view is the ideal way to demonstrate your investment's impact on revenue.
So, let's talk about how it's done.
How to Predict the ROI on SEO for Your eCommerce Site
Below, we'll walk you through the three methods we take to forecast SEO ROI for our prospective and current clients.
But first, an obligatory note: While these are great top-level techniques, they may not be right for every site. The predictions you get will vary based on factors like your site's historical performance, the level of competition within your industry, and more.
When in doubt, reach out to an expert for a custom forecast of what certain SEO efforts could mean for your eCommerce site.
First, make sure your tracking is accurate.
Because data is the backbone of this calculation, you need to ensure all of your tracking is set up correctly. Without an accurate understanding of your current performance, you cannot accurately predict any results from future SEO investments.
We're not just talking about Google Analytics here, either.
Consider all your lead sources, including PPC and social media marketing, call integrations, and more. By understanding exactly where your leads are coming from, where they arrive on your website, and where they convert, you can better attribute the revenue data to the right sources.
This also means understanding how a multi-channel strategy may interact with your organic search efforts.
It's not a one-and-done effort. Your data should be under ongoing review to confirm that all conversion tracking is firing correctly and that you have the most comprehensive view of your revenue sources.
If you haven't done so already, an SEO analytics expert can help you configure and organize your data to inform your future strategy.
Option 1: Calculate opportunity based on historical data.
Once you're confident in your data tracking, then it's time to start calculating.
When a new eCommerce company is interested in working with us, the first thing we do is review their site's current and past performance, including:
Rankings for target keywords
Organic traffic
Revenue from organic traffic
This data gives us a good idea of how the site is doing overall and what impact we believe we can make on the site.
We give each prospective client a detailed breakdown of the strengths and weaknesses we find in their search ranking performance, using their historical data and competitor/industry comparisons as baselines.
We label different opportunities with red, yellow, or green lights based on some of the factors listed below. This light system helps us set proper expectations around time to results and is one of the elements used in eyeballing and communicating final ROI expectations.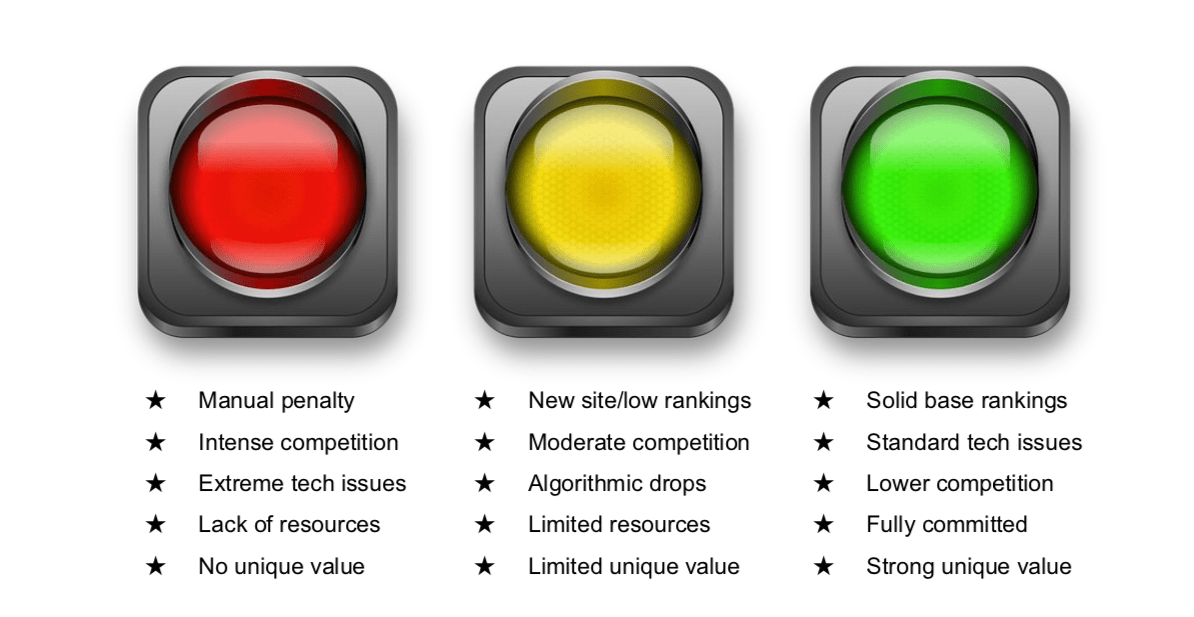 An example: When pitching increased blogging efforts to one eCommerce client, we started with a report on their previous success.
Over seven years, our client had invested $15,000 into their website blog (both with and without our agency's help). This included our set agency fee, additional copywriter expenses, and other SEO costs.
While most of their content production was completed in 2014 and 2015, their blog continued to generate assisted revenue every year since then. Using those numbers (found in Google Analytics and/or Ahrefs), we set about averaging blog-assisted conversions and revenue over that time period.
Looking at the data, we estimated that the client's SEO work within that time had directly led to $40,000 in revenue — an ROI of about 166%.
Therefore, if the client doubled their investment into strategic, thoughtful blogging, they might expect to see that return double, as well.
Option 2: Evaluate the effort of high-value keywords.
But what if you don't have nice numbers like this — or have never significantly invested in SEO before?
In that case, start by looking at the lowest-hanging SEO fruit: improving the target keyword rankings for your eCommerce site.
When we're investigating a new client's account, we use tools like Ahrefs or Semrush to determine how they're already ranking in the organic search results, especially which keywords are driving the most traffic to their site.

After exporting that list of keywords, we filter them to what we call "Page 2 Opportunities." Usually, these are keywords a site is ranking for on the bottom of the first page (slots 7–10), as well as pages two and three.
Depending on the competitiveness of your industry, these could represent your top opportunities for SEO improvements and new conversions.
We then add up the average monthly search volume based on those keywords, which represents the majority of the traffic (and revenue) potential for improving your rankings. (Keep in mind that a page 1 ranking will only lead to about 20–30% of the monthly search traffic for a given keyword, because you're competing with the other results.)
In most cases, your ranking content already has a great foundation; after all, it's how it got to that spot in the search engine results in the first place! You may simply need to update meta information, add more keywords to the content, or perform other small adjustments to move up in the rankings.
Use whatever that implementation cost will be (plus the keyword data) to calculate the potential traffic return.
Option 3: Associate sessions with revenue.
Monthly searches and traffic are great indicators of value to SEO minds — but, in our experience, most stakeholders want to see those figures represented in dollar value.
It makes sense; when a company is going to invest in something like SEO services, they want to know how it's going to pay off for them in figures they can bring back to their supervisors.
So, we developed a method to tie potential new revenue to increases in organic search traffic.
It involves looking at two important metrics:
Annual revenue from organic traffic
Average revenue per session
(You can find these numbers in your analytics tools.)
Using those numbers, plus forecasted SEO performance, we can estimate more tangible ROI numbers for our clients.
Let's see an example in action:
A typical eCommerce client might have numbers that look like this:

With a little bit of math, we can estimate what monthly revenue would be if we increased the number of monthly sessions that occur from organic traffic.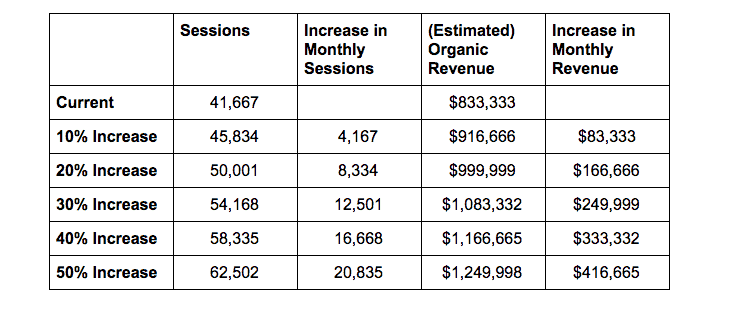 Impressive numbers right?
Typically, we use the most conservative achievable estimate as a baseline for our clients — but these expanded numbers give more context into exactly how much increased revenue could result from their SEO investment.
For example, if we increased sessions by 30% for a client with numbers similar to those shown above, we'd expect to increase their monthly revenue by $249,999.
Subtract our fee (or whatever other costs are required to reach their traffic goal), and that gives them an ROI they can take to whoever needs to sign off on committing resources to SEO.
If you're focusing on the Page 2 opportunities mentioned above, you can get even more granular with these revenue predictions. By analyzing the conversion rates and assisted revenue on that top-ranking content, you can forecast how much a certain increase in traffic will bump those numbers up, too.
The result: Real numbers that you can use to justify your investment.
Important Factors to Consider
In theory, calculating potential return on investment with SEO can seem like a great idea.
In actuality, SEO doesn't always work the way we'd like it to.
While forecasted traffic and revenue numbers are helpful for understanding your site's potential, they need to be taken with a grain of salt for a few important reasons.
1. SEO isn't a science — and results aren't guaranteed.
When we pitch SEO services, clients often get extremely specific with their questions — ie., "If we spend this much money on blog posts, how much can I expect to get back?"
The problem is that we just can't get that specific with SEO. It's not a science, and there are no guarantees.
In an ideal world, we'd love to be able to promise precise results to our clients. But Google's constant algorithm updates (combined with unknown search ranking factors and your competitors' efforts) make it impossible to predict exactly what traffic and/or revenue could look like in the future.
Certain SEO tools like Moz and Ahrefs can calculate estimated sessions and revenue for your site, but we don't recommend taking those at face value. While they can be fairly accurate (and have been for many of our clients!), don't use those numbers to set false expectations — because you never know what tricks the algorithm has up its sleeves.
2. SEO is a long game.
Unlike other digital marketing channels, where you can bump up your budget and see almost immediate results, SEO takes time to work.
In general, it takes our clients six to 12 months to see significant results from an SEO campaign — and that's barring any penalties or negative effects from other content along the way.
When it comes to calculating the value of SEO efforts, keep in mind that it will be a delayed gratification. But don't let that dissuade you from investing!
The work you do today will pay off in dividends in the future. And, if you continue to invest, you'll set the stage for long-term success.
Take, for example, one of our tour operator clients. During the height of the pandemic, their business was all but closed as vacations were put on hold. But, by continuing to invest in their SEO during that time frame, they were able to maintain their steady positioning in the #1–4 results and increase their top-10 keyword footprint by 72% year over year — setting them up for success when cruising returned.
All that to say, don't get bogged down in the expectation of immediate results for SEO. See it as a long-term investment that will lead to compounded performance over time.
3. Your returns won't be linear with your efforts.
Finally, remember that because SEO is often unpredictable, you can't expect your ROI to linearly grow with your investment as you can with other channels.
Even more importantly, you shouldn't expect your organic search performance to stay the same if you do nothing. Instead, you need to actively invest resources into your strategy to maintain your performance in the SERPs — or your competitors will take advantage of your inaction.
We recommend using competitors and top players in your industry to understand how much you'll need to invest before you can see real results. In most cases, changing a meta title here and there won't be enough; you'll need to emulate your others' content strategies and production to stay competitive.
In short, SEO is a compounding marketing strategy. If you're starting from scratch, you'll need to put in a lot more effort to keep up than those sites that already have a successful foundation.
Be Realistic with Your SEO ROI Predictions
When you're working with your boss or an executive and hoping to get approval for SEO improvements to your site, the last thing to do is be vague. The more details and data you can bring to support potential outcomes, the more likely you'll get the green flag.
As mentioned above, perhaps the easiest method is looking at your Page 2 opportunities and working with an experienced SEO specialist to calculate realistic numbers. That way, you'll come up with a number that's directly tied to revenue — not just a traffic prediction that may or may not mean anything to your stakeholders.
In our experience, this method is better than any other for demonstrating the eCommerce opportunity to decision-makers, without having to spend countless hours doing detailed keyword research and complex ROI calculations.
If this all sounds like a foreign language to you, it's probably time to reach out to an SEO agency. They can evaluate your site in-depth, explore your organic search opportunities, and come up with a realistic ROI prediction for your unique industry.
Fortunately for you, our Inflow team is ready to help.
Get a custom assessment of your search ranking performance (and future opportunities) by requesting a free proposal today.