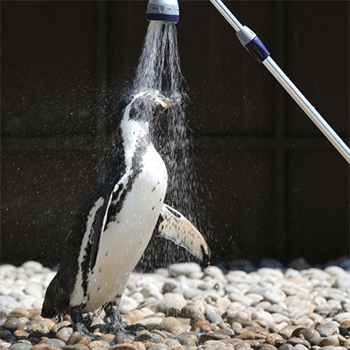 Hope you all had a fantastic Thanksgiving weekend! We had a great day spending time with family, loved ones, great food and a side of Penguin!
That's right, on Thanksgiving Day there were more rumblings of another Penguin algorithm refresh. After radio silence from Google for over a year, there have been near continual updates since mid-October. From what we've heard, 'recovering' from Penguin requires an algorithm refresh, so this is actually good news and reinforces the importance of implementing an ongoing strategy for analyzing your backlink profile and keeping your disavow file updated.
Just because you 'recover' doesn't mean you can't be penalized again in the future!
Inflower Expertise on Display
There were a few great pieces of content created by Inflowers in November.
Tim – also known as the Stapleton Master Community Association District 1 Community Delegate – spends a lot of time these days dealing with unruly Stapeltonians. However, he was able to make time last month to write this great Local SEO Strategy Checklist.
JD was over on the SEMRush blog sharing his 3 Tips for Shopping Campaign Competitive Analysis.
Everett hosted a webinar called Content Audits for Inbound Marketing. It dives into our process for executing a content audit. If you are interested in learning more about the process, check it out!
A Content Marketing Checklist You Can Use Right Now
We passed around a great article by Neil Patel over at Quicksprout this month called The Ultimate Content Marketing Checklist – 40 Questions to Ask Yourself Before Publishing Your Next Blog Post. It's a great checklist you can go through when planning and promoting a piece of content. But we thought it would be cool if there were an easier way to go through the checklist and take notes on a specific piece of content. So we built a spreadsheet containing the checklist you can use right now… enjoy! 
Other Articles We Enjoyed in November
Enhanced Ecommerce Tracking for Google Analytics Rolls Out of Beta – If you run an eCommerce website and have not heard of enhanced eCommerce tracking for Google Analytics, this is a good place to start. In general, enhanced eCommerce tracking is intended to "provide merchants with a more complete view of how visitors navigate through the purchasing funnel." 
Google has partnered with Shopify, PrestaShop, Blue Acorn for Magento and mShopper to make implementation easier for retailers on those platforms. Each now offers a pre-built Enhanced Ecommerce integration for its customers. 
How To Promote Content Before Hitting Publish – We have been using BuzzSumo a lot lately, and this post on their site digs into ways to get the most out of their tool and your content marketing efforts in general. 13 experts weigh in on how to promote content from the beginning, even before it's published!
Mounting Evidence Penguin Doesn't Work How You Think – This article postulates (with supporting data) that Penguin penalties are more due to on-page factors (specifically outgoing links) rather than a poor incoming link profile. If you have been hit by Penguin, be sure to look at the outgoing links on your site.
Google Is Experimenting With Special Ranking For Mobile-Friendly Sites – Is your site mobile-friendly? Google has previously mentioned that a non-mobile friendly site will soon have a negative effect on your rankings, and it seems they are beginning to move forward with their promise by tagging sites in mobile results as "Mobile-friendly" by using either text or an icon. Here are a couple of screenshots we took "in the wild."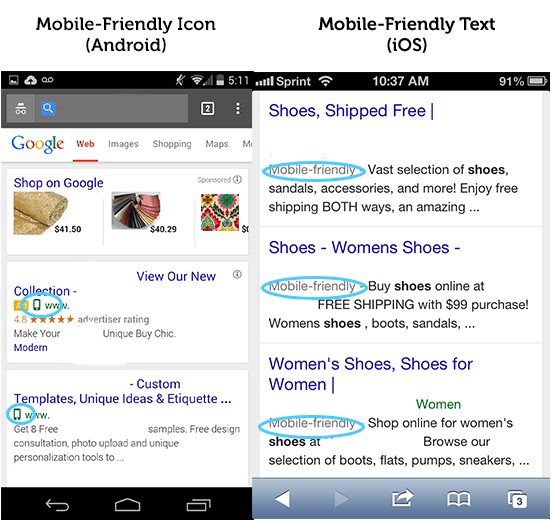 Feel free to reach out to our Strategists about anything you may have encountered on the web, read or experienced with your inbound marketing efforts. You can also reach out via social channels: 
Facebook | Twitter | Google+ | LinkedIn
Remember, we love to talk shop, so feel free to get in touch.
On a side note: we do hope you all are enjoying the season and we'd like to wish you all a very prosperous 2015!