Every eCommerce business will need to remove a product from its inventory at some point. Many businesses make the mistake of either deleting the product page, redirecting the page to their homepage or leaving hundreds or even thousands of out-of-stock pages online without actually looking into how this could benefit or hurt their website.
This post and the accompanying flow chart should help provide a general best practice framework for eCommerce teams on how to treat out of stock products in various situations.
It's not as simple as just deleting the page. It's not as simple as just leaving it up either.
Deleting a page with links could cost you hard-to-get link equity.
Redirecting a page to the homepage will preserve some link equity, but that equity might have benefited a more relevant page of your site. Also, sending visitors to your homepage can be a jarring and frustrating experience, which may have lost you a sale.
And lastly, leaving out of stock pages up on your site might cause index bloat. Google gives your site only so much crawl budget. If they spend your crawl budget on pages that don't matter, it's very likely they will skip some of the most important pages of your site.
With some of these things in mind, you have three basic options.
Leave the page online
Redirect the page
Delete the page and show a 404 or 410 status code
The option you choose depends on several different factors, which we'll talk about below.
---
For Out of Stock Pages That Will Not Be Coming Back
If the page has links:
The first thing you should check is to see if the page has any external links. External links are one of the strongest ranking factors used by the search engines, and it is difficult to build links into product pages. You don't want to lose that value by deleting a page without redirecting it. Use a tool like Open Site Explorer, Ahrefs or Majestic. If there are links, redirect the page to a related product. If there is no related product, redirect the page to a related category.
Keep in mind that product-to-product redirects can result in a lot of housekeeping down the line. If, for example, the new product eventually gets removed from the site as well, any previous redirects may go to a 404 page or may result in a series of redirects. Large websites might consider redirecting to category pages instead, as they tend to come and go much less often.
Alternatively, you could reuse the old URL for the new product, rather than redirecting it. If the old URL makes sense for the new product, this is the best option and saves a lot of hassle.
If the page has traffic, but no links:
You have four options:
First, check to see if the page is converting (driving revenue).
You might be wondering how an out of stock product page is driving revenue. This is through assisted conversions. Google Analytics (GA) tracks assisted conversions when someone lands on any page, browses the site and then buys another product.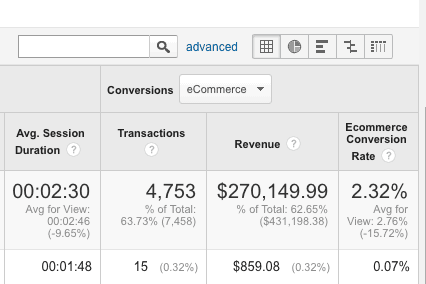 If you have a lot of pages to check, export the data instead. GA will only export as many rows as are showing on the page. Showing more rows allows you to export the maximum amount of data.
Compare the data from the exported spreadsheet to your list of URLs for out of stock products and see if any have driven revenue.
If the page is not converting but has traffic:
Redirect the page to a relevant product (a post-redirect message will aid user experience).
If the page is converting, either:
Leave the page up and point customers to other relevant products.
Redirect the page to a relevant product (a post-redirect message will aid user experience).
Choosing whether to leave the page up or to redirect it is a judgment call you'll need to make. A conservative approach would be to leave it up and point customers to other relevant products. If it doesn't convert well, you could then choose to redirect it and see if conversions are affected. On the other hand, redirecting immediately may convert just as well, and it would require much less hassle in the long run since you won't have to try to remember all the pages you need to come back to later.
If you choose to leave the page up, check to see if it's converting after a period of 1-3 months. If it's not converting, delete the page. Leaving old pages up will cause index bloat and could negatively affect your overall rankings.
If the page doesn't have any links or traffic:
Let it 404 and submit to Google Search Console for removal.

---
For Out of Stock Products That Will Be Coming Back
Avoid a poor user experience for those who find the product page in search engines. Too many users clicking back to search results, and providing other negative engagement metrics to Google's algorithms, could harm sitewide rankings and end up costing the business even more than just deleting the page. Here are some general best practices on how to provide a good user experience while products are temporarily out of stock.
Keep the page live. Return a 200(ok) status code in the HTTP header.

Clearly label the product as

temporarily out of stock

.

Use structured markup to indicate to search engines that the product is not in stock
Provide an expected back in stock date, if available.
Inform the visitor of back order or in stock notification options, if available.
Suggest and link to products that are closely related.
Hide the product in the category or push it to the bottom
Alternatively, for very large sites where it's difficult to manage many pages at once, you can set the date the page will expire using the unavailable_after meta tag when the page is created. This can be based on an auction date or go stale date. Google has stated it would remove the page approximately a day after the expiration date. This should be used when selling second-hand or one-of-a-kind products, and for auctions. Most websites with multiple units of each item in stock should not use the unavailable_after meta tag.
---
Make an Informed Decision
If you don't do your research before making a decision on what to do with out-of-stock pages, you could end up costing your business rankings and revenue. Preserve your link equity, convert more customers and prevent indexing issues by making an educated decision about how to handle old product pages. Download the flowchart below for a quick reference guide when making these decisions.
Access Our Out of Stock SEO Flowchart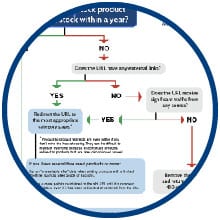 Fill out our form below to get access to Inflow's Out of Stock SEO Flowchart. This flowchart is a great reference while planning your product management strategy.