Successful eCommerce retailers and marketers must use all the metrics they can to improve customer experience. But one often overlooked data point is internal site search results, which are packed with SEO potential.
Using this data to optimize your website to get higher search engine rankings is known as "site search SEO" — and if you're not using it yet, now's the time to get started.
Research conducted back in 2013 estimated that about 30% of people who visited eCommerce sites used the on-site search feature. And, as searcher behavior has evolved since then, it's likely that number is a lot higher today.
In other words, by using on-site product searches to inform your eCommerce SEO strategy, you could gain a substantial competitive edge.
If you don't know where to begin with site search SEO, we've got you covered. In this guide, we'll explain:
Why internal searches are so important for SEO
How to view your internal site search trends
And how to use that data as part of your larger SEO strategy
Why are Internal Searches Important for SEO?
Internal searches reveal what your customers want to find on your website. They can provide vital insights into buying behavior, helping you uncover:
Which products or categories customers are actively looking for on your site
When customers are searching for specific products or categories
Because eCommerce search engine optimization places more emphasis on conversions over traffic numbers (although both are important!), you want to attract as much organic traffic with buying intent as possible. The data found in your internal search data can be the missing piece to making that happen.
If your SEO efforts are executed right, your eCommerce business could:
Deliver improved user experience
Experience higher click-through rates (CTR)
Enjoy higher rankings in the search engine result pages (SERPs)
Receive more organic search traffic
All of which can help you improve your conversion rate — the ultimate goal.
How to View Your Internal Site Search Trends
Understanding exactly what your customers want is a lot easier for eCommerce retailers than it is for traditional brick-and-mortar businesses.
All you need to do is set up your web analytics platform, such as Google Analytics, to accurately and consistently collect on-site search data.
If you use Google Analytics, follow these steps:
After logging into Google Analytics, navigate to Admin and click on View Settings.
Scroll down to where it says Site Search Settings. Click to turn it on.

3. Next, type in up to five query parameters in the field that emerges when you turn on site-search tracking. These parameters will be attached to the end of your URL whenever someone makes an internal site search. Examples include letters like "q" or "s."

To learn more about how to set up site search and query parameters, read this guide by Google.
Once you're done setting this up, you can access site search data under Behavior > Site Search > Search Terms on Google Analytics.
How to Incorporate Site Search Data into Your eCommerce SEO Strategy
Now that you have the site search data at your disposal, how exactly can you implement it into your larger SEO campaign?
Below, we've shared some tried-and-tested tactics that can yield profitable results for your business:
Create new category pages for top searches.
SEO success largely depends on providing a positive user experience. This means meeting the customer's expectations and tweaking the buyer journey accordingly.
With that in mind, if you notice that your customers actively search for a certain category (say, activewear), and you don't have a separate page that shows all of those products (yoga pants, tracksuits, etc.) in one place, go ahead and make one.
This can help you optimize the on-site search experience for your customers (and maybe even rank for competitive keyword phrases).
How Inflow Used Site Search Data to Improve the SEO of Itzy Ritzy
We took a similar approach when tweaking the SEO strategy of one of our clients, Itzy Ritzy — a brand of chic baby products for moms.
Data indicated that customers were entering keywords based on parameters like print, color, and pattern in the site's search box. However, at that time, Itzy Ritzy didn't have separate category pages for such keywords.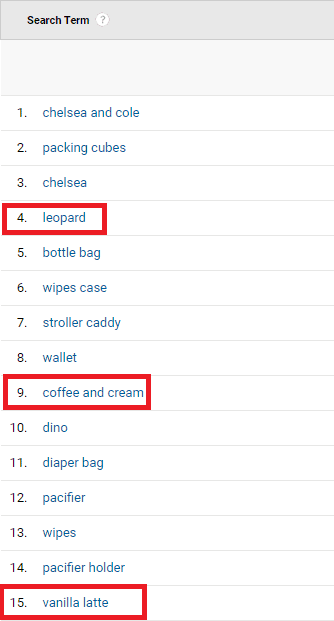 We saw that as an opportunity and decided to capitalize on it by creating landing pages optimized for those search queries.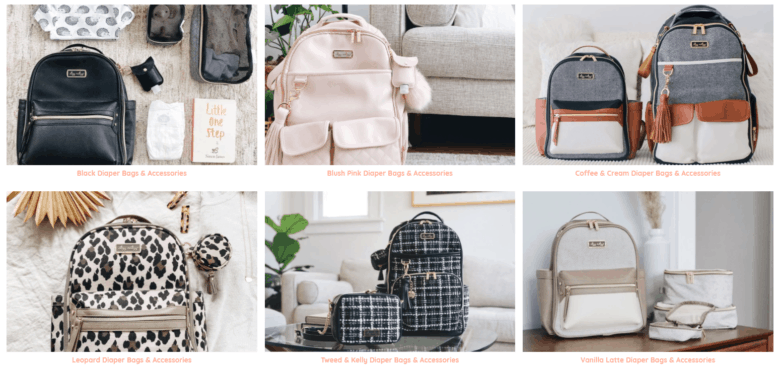 The end-result? One of those category pages (for "leopard print") started ranking on the first SERP shortly after it was published.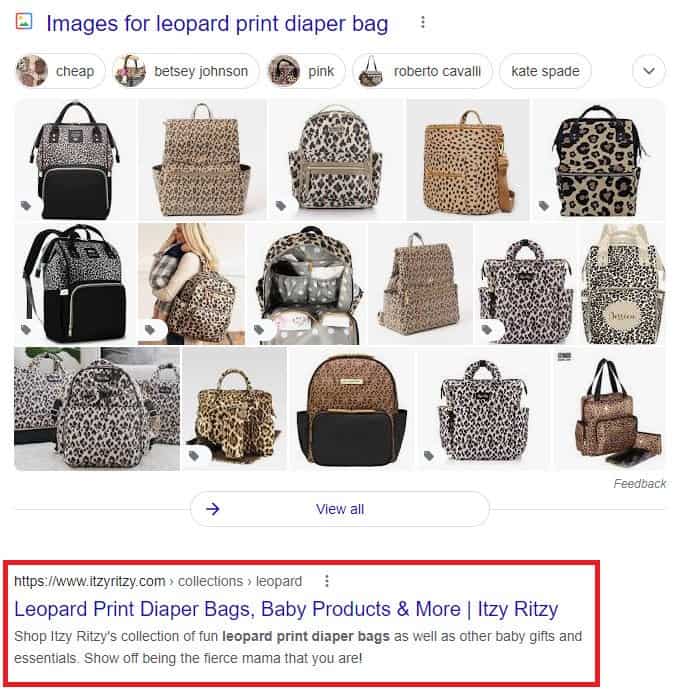 Add typos to keyword search results.
When searching for a specific product or category, a customer may sometimes misspell it. To prevent losing out on this potential sale, make sure that typos still return relevant results in your internal search function.
For instance, if a customer types in "dinning table" instead of "dining table," results should still populate for the dining tables you have for sale on your website (as you can see in the Wayfair example below).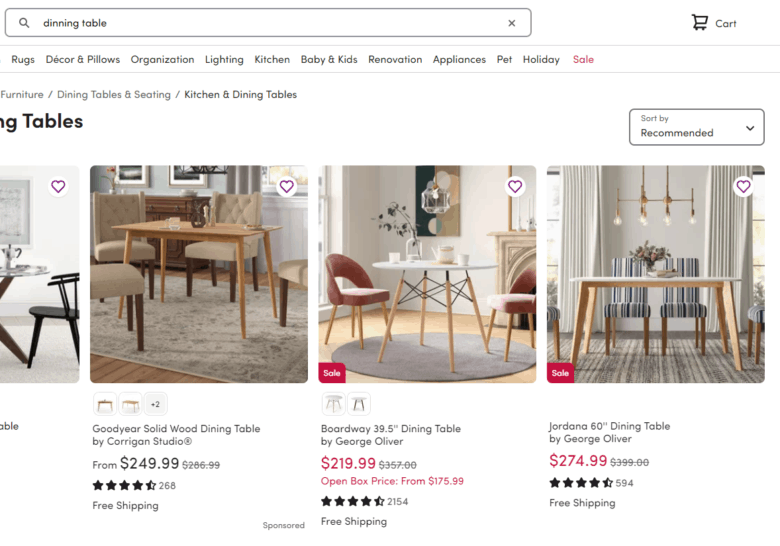 You can identify any common product or category typos by looking at your site search data in Google Analytics.
Examine the keywords you rank for.
If site search data shows that a lot of users are searching for products that you don't carry, this is an indication that there could be something wrong with the traffic you're getting.
This usually happens when you start ranking for wonky or irrelevant search terms.
Use an SEO tool like Semrush or Ahrefs to see the complete list of keywords you're ranking for, and shortlist the ones that you have nothing to do with.
Here's how to gradually stop ranking for them:
Change the copy of the page in question and remove undesired keywords from the title/meta tags, the meta descriptions, and any alt text.
Conduct keyword research to find relevant search queries (preferably with high search volumes), and optimize your page for those instead.
Tweak your eCommerce content strategy and solidify what you specialize in and/or sell with high-quality content assets.
If organic search traffic isn't the culprit, poorly optimized paid search campaigns may be another reason for irrelevant on-site searches. Audit them to see if they've been set up correctly, and clean up any keywords that you don't want.
Keep in mind: Not all irrelevant search terms indicate a poor strategy. If your site sells a great number of products, customers may come to your site for one reason — and search for another brand they think you may carry, based on those products you already have. This isn't usually anything to worry about, but we recommend keeping an eye on those search terms, just in case.
Decide if you want to index internal search results pages.
An internal search result page is a web page that's generated when someone searches for something on your eCommerce website. It has a unique URL, that may look like this:

If left unchecked, these pages might get indexed by search engines.
"But isn't indexing good?" you might ask.
The short answer: Yes.
However, when it comes to internal search result pages, that isn't always the case.
In fact, in its Webmaster Guidelines, Google recommends using the robots.txt protocol to prevent crawlers from analyzing such pages. The reason: to save your crawl budget for product and category pages that do matter.
That being said, if an internal search result page is receiving decent organic traffic, and a significant percentage of that traffic is converting, you could consider leaving it indexed.
You can learn more about whether you should index site search pages or not in our detailed guide.
Highlight popular or trending products.
Last but not least, use your internal site search data to see which products your customers are searching for the most, and then highlight them on your homepage. You can also consider adding related categories or products to your global navigation, specifically for category-type searches and other popular category pages that may (or may not) already exist on your site.
This way, if a customer sees the product they came looking for without even having to search for it, you'll create a memorable browsing experience — and they may be more likely to convert.
Bottom line: This strategy can help keep people on your website for longer and drive more sales.
Start Looking at Your Site Search Data Today
All things considered, internal site search trends are gold mines for customer insights for eCommerce businesses.
If you haven't already, we recommend leveraging them to start improving your SEO strategy today. The data will help you scale your traffic, establish authority, and ultimately grow your sales revenue.
If you don't know where to begin, our SEO experts would love to help you analyze and make the most of your on-site search data. Get in touch with us for a free proposal tailored to your business needs and goals.