One of the most enjoyable aspects of working in Internet marketing is getting to test fun and new marketing strategies. I run tests on my own websites because I have complete control over them. It also prevents me from making potentially costly mistakes on my client's websites.
I own a vaping website that I've been running since I quit smoking in 2010, but I've only recently started my email list somewhere around May or June of this year. I had three subscribers at the beginning of October and now I have 595, plus a ton of new followers on all of my social media accounts.
I ran a giveaway using Gleam.io that lasted for 17 days. The prize was a $100 vaporizer, sponsored by a well-known electronic cigarette vendor.
Gleam.io is a giveaway platform. They have a free option and paid options. The free option doesn't allow you to collect email addresses, so I went with the paid version, which starts at $39 per month.
I posted the widget at the very top of this page:
https://vapepassion.com/smok-x-cube-ii-review/
Notice that the URL is evergreen. I removed "Giveaway" from the title when the contest was over.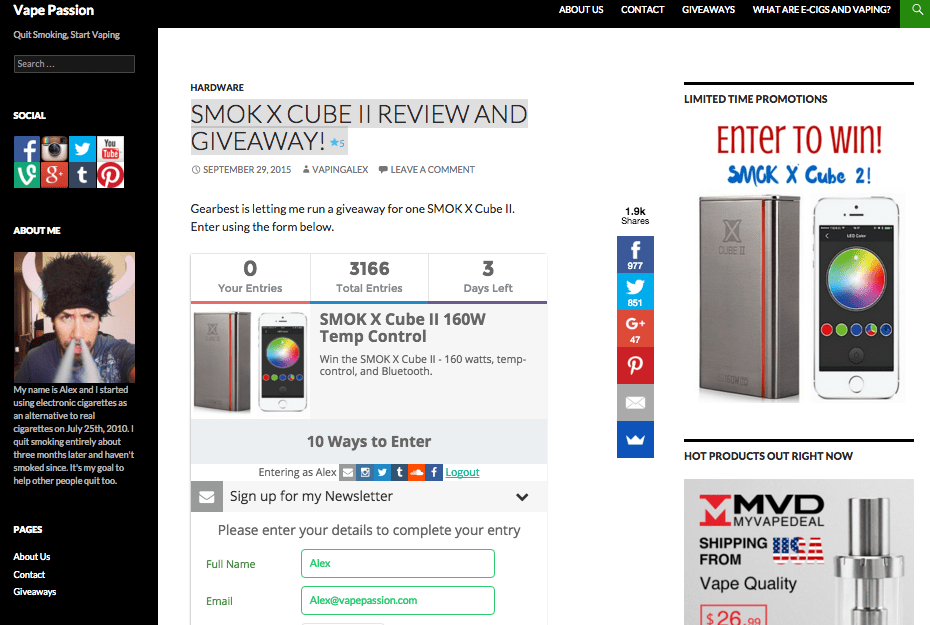 I have a dedicated "giveaway" page on my site, but I decided to run the contest on the product review page so that it earns all the links and shares.
Gleam.io Integrates With Most Popular Systems
They integrate with all of the major social networks, such as Facebook, Twitter, Pinterest, Instagram, Google+ and YouTube.
They integrate with most of the well-known email providers, such as Hubspot, Klaviyo, Mailchimp and Aweber.
You can see all of the integrations here: https://gleam.io/integrations.
Entry Methods
You can allow people to enter only once or you can allow multiple entries. You can also make some entry methods mandatory. I required newsletter subscription to be mandatory, which you can see in the example below.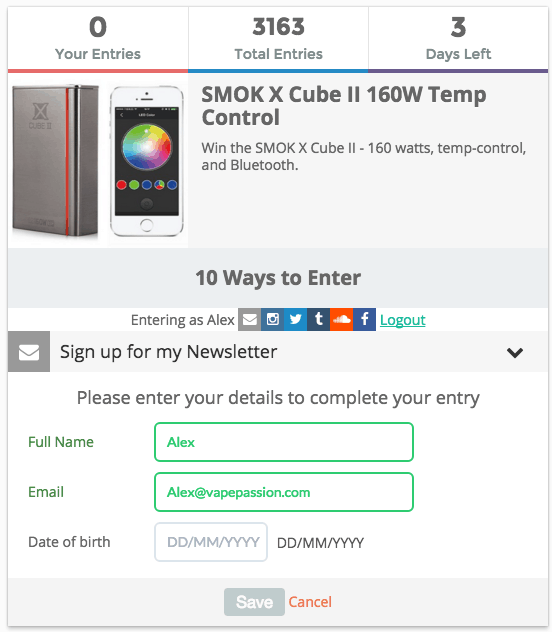 After submitting their email address, all other methods of entry are opened up and they can earn bonus entries into the giveaway.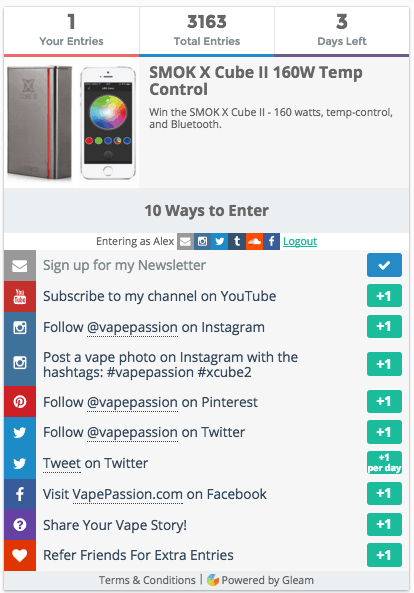 I allowed people to come back and retweet it every day so that it would continue to be promoted.
You can use Gleam.io to build your email list and social profiles, but you can also use it to collect data or crowdsource content.
You can do basic multiple choice surveys to collect data, which is great for many purposes. You can ask questions designed to get a better idea of who your audience is, which would allow you to deliver content that better resonates with them. Or you can collect data to be used to create a report, which can be used as gated content on your site, helping you build your email list even further.
You can also ask a question, giving your entrants the ability to write as much or as little as they would like. I loved this idea and decided to use it. I asked people to share their vape story about why they started vaping. I had 158 submissions, which can now be used for creating more content on my website.
Tip: Facebook has strict guidelines for giveaways. They do not allow people to "Like" your page to be entered into a giveaway, so Gleam.io only allows you to let entrants visit your page. To increase likes on my page, I made sure the top posts on my page were interesting and useful. Content that makes them want to come back. By using the "Refer Friends For Extra Entries" entry method in Gleam.io, you can also allow people to share your giveaway on Facebook.
How I Promoted My Giveaway
I published a product review video on YouTube
I didn't want the giveaway to live permanently in my video review, so I added annotations to the video that could be removed after the contest
I used YouTube's "Featured Content" feature so my latest video would display as a banner when anyone watched any of my other videos. This limited my ability to publish any new videos until the giveaway was over but seemed worth it.
Posted on all of my social channels
I put up a banner for the contest on my website sidebar to attract visitors from other pages of my site
I didn't have an email list yet but would have promoted there if I did
Launch day was not successful. I had only one entrant even though I promoted it several times throughout the day. So I found an influencer on Twitter who had recently entered another vape-related contest and mentioned it to her. She thanked me, entered the contest (including the additional entry method of "retweeting on Twitter") and it blew up. I didn't have to do anything else to promote the contest after that.
The Final Results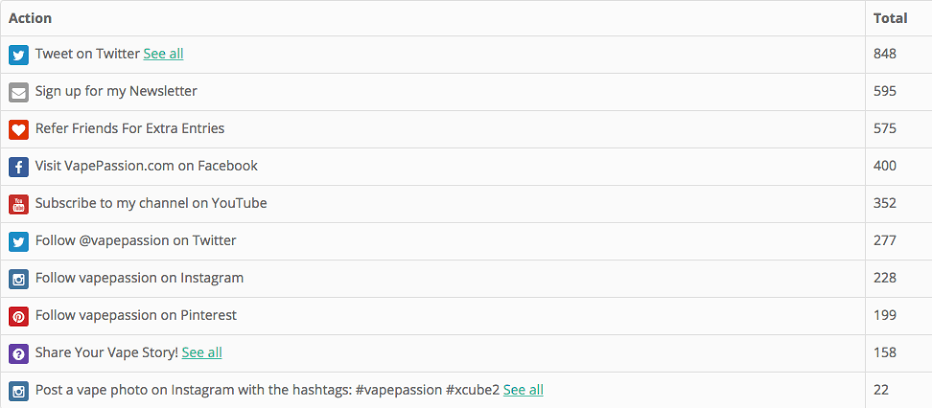 Here's what my analytics looks like:


I asked the sponsor if they would give me a promotional code that I could give to everyone who didn't win, which was added value to everyone who entered.
As you can see, running a giveaway can be a great way to build up an email list, social profiles and crowdsource content. My site is small and I'm not a big influencer, but by tapping into someone else in my community who has a lot of influence, my contest was so much more successful than I had hoped. I would have been happy with 50 new email subscribers, but the numbers just kept growing and growing! Imagine what you could do with more promotion, by reaching out to more influencers in your community and by offering more (or daily/weekly) prizes.