While the impact of traditional advertising is waning, the strength of social media marketing continues to increase.
Today, more than 50% of consumers use social media to research products, with 79% of them saying user-generated social content highly impacts their purchasing decisions.
Bottom line: If your eCommerce business isn't using its social accounts to their fullest potential, you're missing out on huge opportunities.
But what's the best way to win over and maintain customers on social media? Should you reach out to potential customers with an organic social media campaign, or should you use the power of social media advertising to reach a wide audience?
The answer is usually both. And, in this article, we'll help you understand why.
Keep reading to learn:
How organic and paid social media work
When to use each approach
And how to blend the two approaches for maximum effect
How Organic vs. Paid Social Work
As their names suggest, organic and paid social media work differently based on how they're created. Organic is free to use and create, while paid social involves paid, highly targeted ads.
When it comes to organic social media marketing, a brand account can do all the same things as a personal social media account:
Post stories and status updates
Create events
Share images, videos, and other media
And more
Like with personal social media accounts, there is no cost (other than time) for a business to use social networks this way.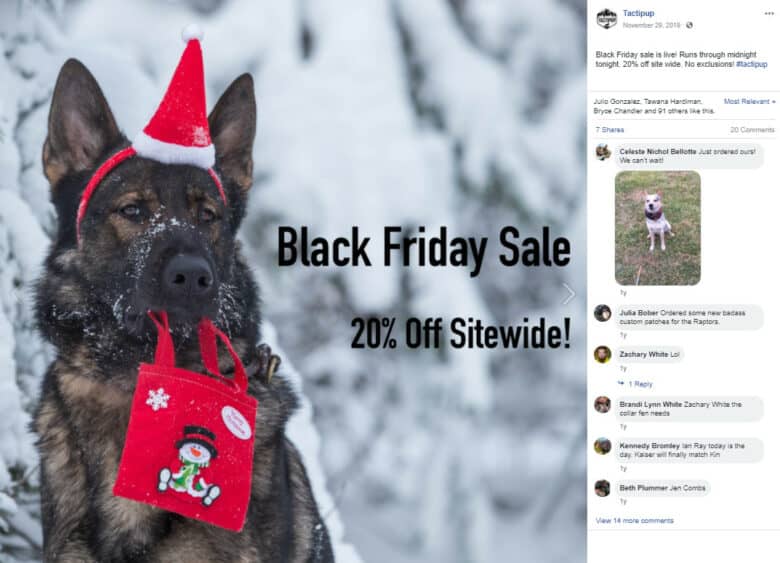 But, if you want to reach more people (and be more particular about who that audience is), you'll need to invest in paid social media. Essentially, your business will pay each platform to run highlighted ads to their users.
Because social media companies are continually shrinking the reach of organic posts, paying for promoted posts is often the only way to reach your full audience of followers. It's also a much more effective way to expand your audience significantly.
Paid ads are typically marked as "promoted" by social media, so consumers are aware they're ads.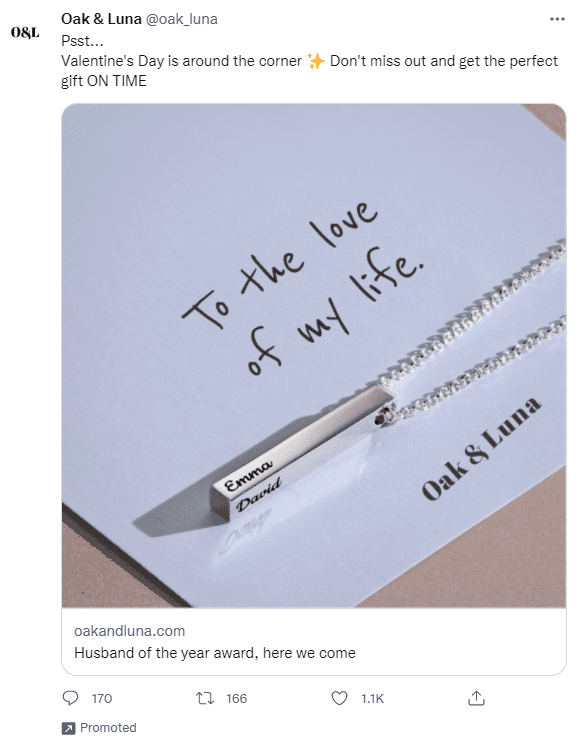 The Differences Between Organic vs. Paid Social Media Marketing
Organic social media and paid social media are implemented through the same social media platforms. For this reason, both types of social media marketing work in similar ways — but there are also significant differences in terms of the opportunities they offer and the strategies you can use to take advantage of those.
For a more detailed explanation of these differences, see our complete guide to using paid social media as an eCommerce business.
Today, we'll highlight just a few of the important factors that separate organic and paid social. While these strategies are different, neither is necessarily superior to the other. Depending on your strategic goals and limitations, you might choose one or the other.
Most often, eCommerce businesses benefit from using both.
1. Cost
Cost is the biggest difference between organic and paid social media.
As mentioned above, organic social media is (technically) free. Looking past the time and effort it takes to update your profile regularly, organic social media has no built-in costs.
If you're solely using this channel, we still recommend strategically boosting your organic content. This will improve your existing audience access and help you reach more potential new fans.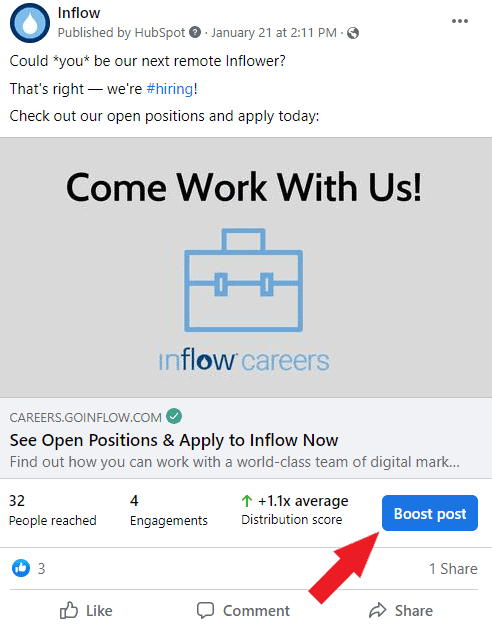 On the other hand, paid social media marketing always requires ad spend. While you have to invest to reach anyone with social media advertising, it often has the potential to hold greater value for your brand.
With organic social media, it's possible to put in a lot of time and see little or no return. This can get exceedingly expensive, just in terms of labor cost.
With paid social media, there's no guarantee of returns, but results are more predictable. Although it costs more, it's easier to maximize your return on investment (ROI).
(We'll talk more later on about how and why this is the case.)
2. Audience Reach
With organic social media, you have no control over who will see your brand's messaging. Usually, some fraction of your fans will see it. This includes any users who specifically go to your page, as well as some fans that social media algorithms decide might like to see it.
Paid social media, on the other hand, gives you fairly precise control over who sees your message. This is where the value comes from.
You can choose to target your audience on several bases:
Location (for example, within five miles of your physical store)
Behavior (such as retargeting those who watched a certain video)
Demographics (men, women, nonbinary, age, ethnicity, and other categories, depending on the social platform and the campaign)
Interests (such as people who are fans of Marilyn Monroe)
And more
Choosing your target audience increases the likelihood of more conversions. Essentially, it's a more reliable social media strategy for online businesses.
Think of the comparison this way:
Let's say you're standing in a big field with all your current and potential customers arranged in groups.
Organic social media is like writing your message on a bunch of scraps of paper, then releasing them with your fans downwind. The wind will blow some of the scraps to your fans, and some of your fans will walk toward you to pick one up, but you're not reaching most of them.
Paid advertising is like writing your message on baseballs and throwing it to various groups of people, including your existing customers and current fans. You can't control exactly which customers will catch those baseballs — but if your audience targeting is good, you can get pretty close.
3. Results Timeline
Because you can't control your organic reach, you don't have much control over how long it takes to get results. Your team can devote a lot of time and energy to posting, interacting with customers, curating content from other sites, and more.
At the end of it, you may have achieved some good results: positive brand association, referrals, even sales. Or you may have achieved nothing.
Contrary to popular belief, paid social media isn't like turning on a faucet for returns. However, it's something you can optimize.
With careful planning, A/B testing, and well-written CTAs, you can reliably build an audience over time using different formats, hashtags, and other strategies.
With the support of social media advertising experts, you can further cut down the time it takes to get good results. Digital marketing professionals have already learned from many of the mistakes you'll likely make running your own campaigns for the first time — and can give your business a head start.
The Similarities Between Organic vs. Paid Social
While organic and paid social media can be very different, they also share many similarities — mainly because they operate on the same platforms.
1. Time & Effort Required
You can't achieve success with either organic or paid social media without putting in time and effort.
If you want to build a following that will create brand loyalty, you'll need to do research, create a well-organized strategy, and listen actively to responses. If you aren't making a deliberate effort with your social campaigns, you're just wasting time.
There are few ways to lose money faster than with a poorly planned paid campaign. If you want to avoid pouring money down the drain, you have to carefully monitor your campaign — or pay someone to do it for you.
2. Competitiveness
Everybody knows that social media is important for the success of their business — which means almost everybody is doing it.
There's a lot of noise out there in the social space, with brands trying to reach the same audience and members of that audience becoming increasingly jaded to advertising efforts.
You'll need to monitor what your competitors are doing, learn from it, and innovate your own methods if you want to stand out and reach your audience.
Which is Best for Your Business?
There's no single "best" approach to succeeding with social media — just what's best for your business. Every brand is different, so which approach you take will depend on the specific conditions you're facing.
If you have more time than money, try an organic marketing strategy, especially if you don't need to achieve results immediately. As you see some success, experiment with boosting your successful posts to reach a larger audience and improve your brand awareness.
Here's an organic example from our client Simms Fishing that might benefit from boosting. Because it involves content that a larger audience might enjoy, Simms could raise its own brand awareness and drive more engagement with a smaller boost investment.
If you have a time-sensitive goal, paid social media is likely your best choice. However, if you're not experienced with these types of campaigns, it might be cheaper and more reliable to hire someone to run them for you.
A Blended Approach
As eCommerce marketing experts, we recommend a hybrid approach: using organic social for brand-oriented posts and paid social for sales-oriented posts. We'll walk you through an example from our client KEH Camera.
This post for Martin Luther King, Jr. Day is a great organic choice. It demonstrates the values of the brand and invites fans who share these values to like the post. 
On the other hand, when it comes time to promote active specials or sales, KEH chooses to use paid Facebook marketing. The goal for this post: reach new customers. With the right engineering, this type of message can bring in a solid ROI.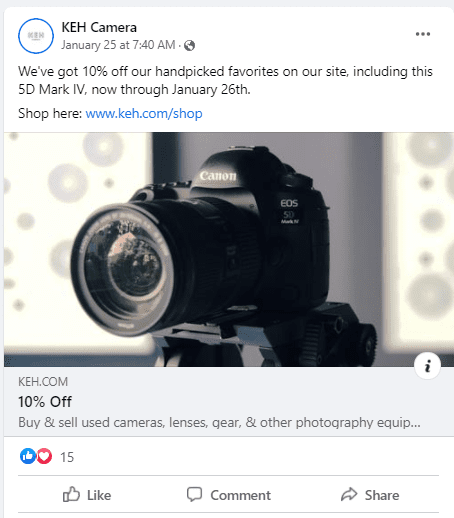 Don't forget to take advantage of user-generated content, too — for both organic and paid social posts.
By using a customer's photo for its own social posts, KEH demonstrates the value its customers get from its product and improves the impact of its advertising. 
Note the cross-platform use: This post began its life as an Instagram marketing play but, seeing its success there, KEH shared it on its Facebook page, too.
This post also incorporates the use of influencers, which can be more expensive — but, with the right approach, could be worth it for your brand.
Get a Professional's Advice
Both paid and organic social media seem very easy, especially for people who use social media recreationally. In truth, paid and organic social media are very easy to do wrong, and it's possible to waste a lot of time and money making simple mistakes.
If you're not experienced with social media and don't have time to experiment with your brand accounts, it's often a good idea to hire a professional to design and run your marketing campaigns.
Fortunately, our strategists are here to help.
If you're looking for an experienced team who can help you design effective organic and/or paid social media campaigns, Inflow is always happy to audit your accounts and create a personal strategy for your business needs and goals. Request a free proposal anytime to get started.
In the meantime, DIY your marketing efforts by reviewing our additional resources: