With Americans spending an average of four hours a day on social media, it's increasingly becoming the place customers go to learn about new products and make decisions about what (and whether) to buy.
This makes social media critical to the survival of your eCommerce brand.
But a successful social media strategy focuses on more than just marketing your products. It also focuses on building customer loyalty.
Loyal customers decrease the cost of acquiring new customers while increasing the number and value of sales. They're one of the most investments an online retailer can make, but they're not always easy to find.
Today, we'll help you understand exactly how to employ both paid and organic social media advertising to achieve this customer loyalty, with eight proven strategies for your online business.
How Do Social Media & Customer Loyalty Work?
Brand loyalty comes with tremendous rewards for eCommerce businesses. Not only is it a powerful tool for customer retention, it also benefits your overall bottom line.
The odds of selling to any new prospect are only about 5–20%, while your odds of selling to a current customer are about 60–70%. In addition, loyal customers spend about 67% more per purchase than new customers.
Most importantly, loyal customers will recruit new customers through referrals. The value of those referrals can be several times more than the value of customers' purchases.
So, how do you build valuable brand loyalty? Through a series of interactions with your customers.
Every customer interaction gives you the opportunity to add to any existing loyalty, deepening the commitment buyers feel for your brand.
Social media platforms give many opportunities for people to engage with your brand beyond their purchases, most of them at no cost and with little effort on their part. This relatively low buy-in makes it easy to build a customer relationship, as each step not only aids your marketing efforts but also promotes further engagement.
When a person chooses to follow your brand's account, it not only shows their current level of commitment but also makes it easier to get your future content in front of their eyes.
Social media also allows you to have conversations with current and future customers. This way, you can promote the value of your products in front of hundreds or thousands of other potential customers.
Finally, social networks are the modern form of "word of mouth." They naturally let your customers share your products with their friends, family, and followers, further increasing your brand awareness.
Unfortunately, with ever-changing algorithms, it can be hard to get the reach you want with organic social media. And that's why paid social media advertising is necessary.
8 Tips for Building Brand Loyalty Through Social Media Remarketing
While customer loyalty is valuable, it can also be hard to achieve. Fortunately, you can build brand loyalty if you:
Make sure your brand has a persona.
Focus on stories.
Learn from your organic social media.
Customize your retargeting efforts.
Take advantage of user-generated content.
Always engage with customers.
Keep in touch.
Know when to let go. 
1. Make sure your brand has a persona.
Social media channels are where people go to engage with other people. If you want them to engage with your eCommerce brand, it has to feel like a person. This means that your brand should have personality — but, just like real people, it should be multidimensional. 

Before you experiment with your social media tone of voice, make sure you have a sense of your brand's areas of expertise, history, values, and more.
Use a well-designed social media profile to make your brand someone that your potential customers would want to spend time with.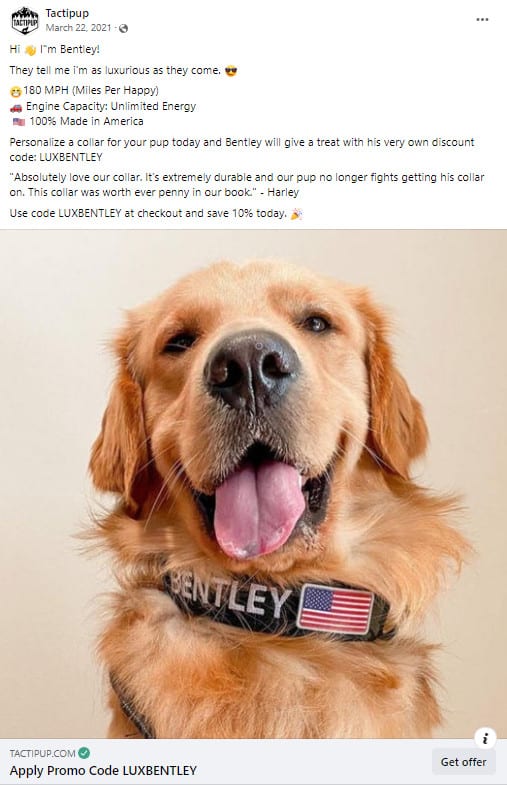 2. Focus on stories.
The human brain is a story-making machine — and social media succeeds because it engages that part of the brain. If you want your brand to build loyalty, you have to focus on stories that express not just the value of your product, but the ideas and concepts that make your brand something people want to incorporate into their own life.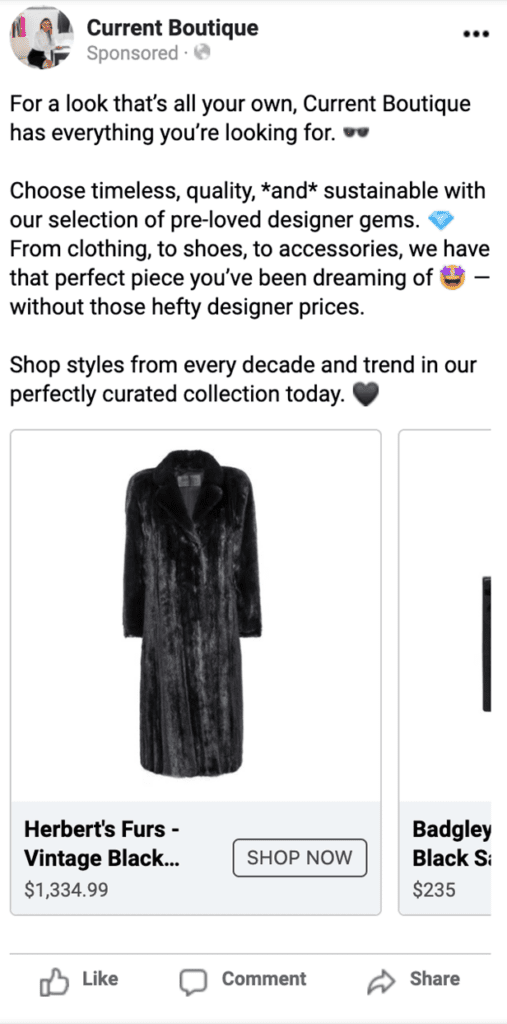 Fortunately, there are so many stories at your fingertips. Tell the story of your brand. Tell the stories of your employees. Tell the stories of your customers.
It doesn't matter where the stories come from. Just make sure you're telling the stories that matter to your customers.
3. Learn from your organic efforts.
Think of your organic social media efforts as your pilot program for paid social media advertising. Try out different things. See what works.
When you've identified which type of content works for your organic social media efforts, consider putting some money behind it.
With some minor tweaks, the creative that gets a good response from your organic audience can work well as paid social media advertising.
As part of our Facebook marketing services, we'll help you assess your organic marketing campaigns to determine which are the best candidates for paid remarketing campaigns.
4. But make your retargeting ads approach unique.
One key aspect of building brand loyalty is showing customers that you know them.
Nothing exposes your ignorance faster than retargeting your audience with content they've already seen. Make sure to segment your target audience to show that you're paying attention. If someone has seen your very successful video, show them a meme or other successful content instead.
Retarget to where they are in the sales funnel, too. For example, if target customers are still in the consideration phase, direct them to customer reviews or other content that highlights the unique value of your brand. You can build loyalty and make sales at the same time.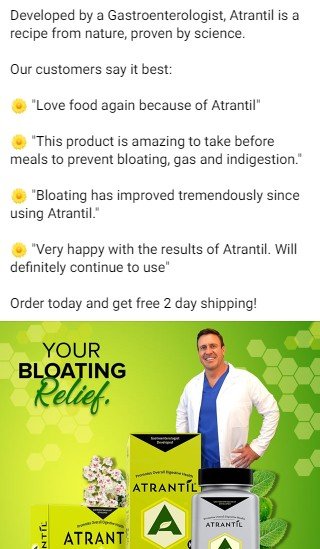 If people have already made a purchase, use retargeting to turn them into raving fans and/or encourage them to express that fandom. Ask if they're satisfied, and if they are, get them to write a review. If they're not, find out how you can address their concerns.
When appropriate, you should also retarget people for future purchases (don't forget to include discounts!), and consider offering loyalty discounts or having a loyalty program.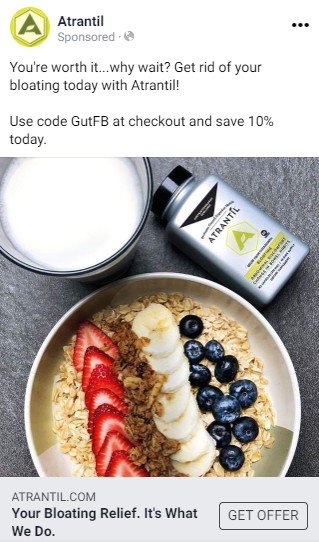 Learn more by reading how remarketing helped make this million-dollar Facebook campaign successful.
5. Take advantage of user-generated content.
While you're focusing on stories, remember that the best ones can come from your customers. Why? Because your customers can demonstrate how your products will fit into the lives of potential buyers.
This means you can often get the best results by using user-generated content in your social media ads.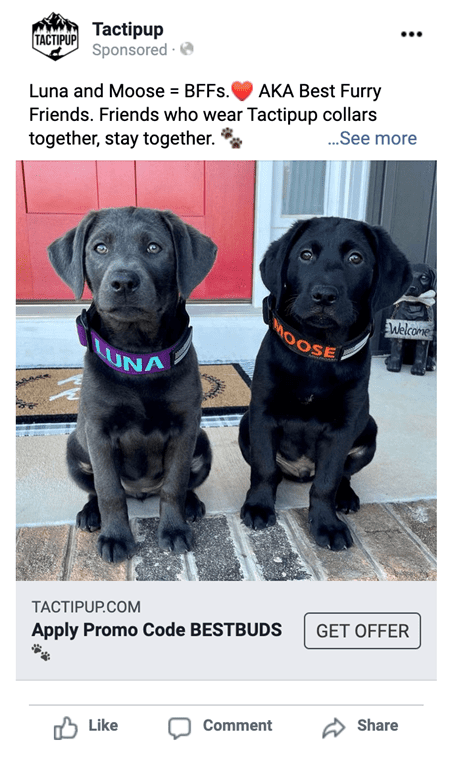 If you're lucky, customers will create this content on their own. However, don't be surprised if you have to solicit customer stories (a little promo code or discount can go a long way). Don't worry: It's possible to make these authentic and successful, like Vitrazza has done: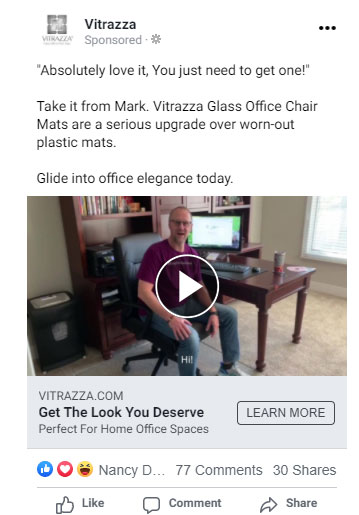 Consider whether you want to reach out to influencers, too. Influencers can present as high-powered customers and, even if they're more expensive to use, they usually pay for themselves if properly utilized.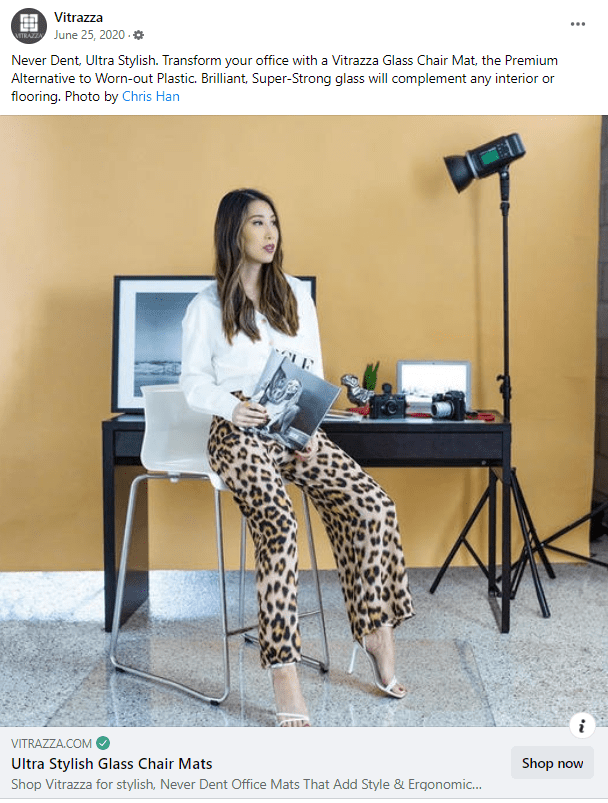 6. Always engage with customers' comments and concerns.
Loyalty is a two-way street. If you want customers to be loyal to you, you have to demonstrate loyalty to them. This means engaging with customers' comments, whether they're good or bad.
When you have good comments, show appreciation. When you have bad comments, see it as an opportunity to demonstrate your commitment to a quality customer experience.
7. Keep in touch.
Brand loyalty is like a friendship, and it builds up over time. If it's not maintained, the friendship can wane instead of growing stronger.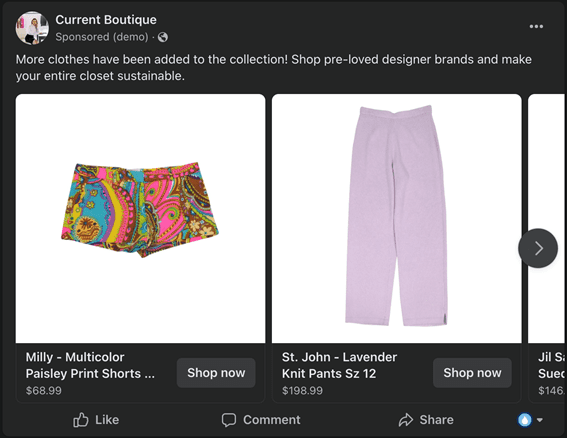 Use retargeted ads to reach out to customers who haven't purchased from you or engaged with your website in a while — to remind them that your brand still exists and continues to create products that will benefit their lives.
8. Know when to let go.
An important aspect of social media marketing: Knowing that your brand just isn't going to be for everyone.
Whether it's your products or your persona, certain audiences are going to find something they don't like about your brand that will keep them from buying.
So, recognize when it's time to let some people go. Maybe these audiences haven't engaged in a long period of time, or they have a very negative opinion of your brand and are making their thoughts known in your comments.
Set triggers for when to stop retargeting ads at certain customers.
Use Paid Social Remarketing to Your Advantage Today
Many eCommerce businesses think of brand loyalty as a secondary goal, after driving product sales. However, a properly optimized digital marketing strategy incorporates brand loyalty features from the beginning.
Winning loyalty isn't separate from making sales. It's an integral part of the sales process, although it does take additional investment in creative and ad space.
Our social media management experts can teach you how to make the most out of your ads with a personalized proposal for your brand. Request one from our team anytime.