In 2004, looking for a change of pace, I sold my retail wine and liquor store and got a job at an internet marketing agency. This was back when all businesses cared about was building a basic website and getting ranked number one on Google.
I was the agency's first Strategic Marketing Manager, and my job was to reach out to our top clients to sell them on a more complete marketing strategy, as opposed to the individual SEO and paid search programs that they were already paying for.
When I was brought on, the owner of the agency had me sit down with all of the other experts — paid search, SEO, graphic design, etc. — to better understand what they did. Around that same time, I discovered a book, Persuasive Online Copywriting by the Eisenberg brothers and Lisa Davis. The book contained an afterword about "how to increase your website's conversion rates."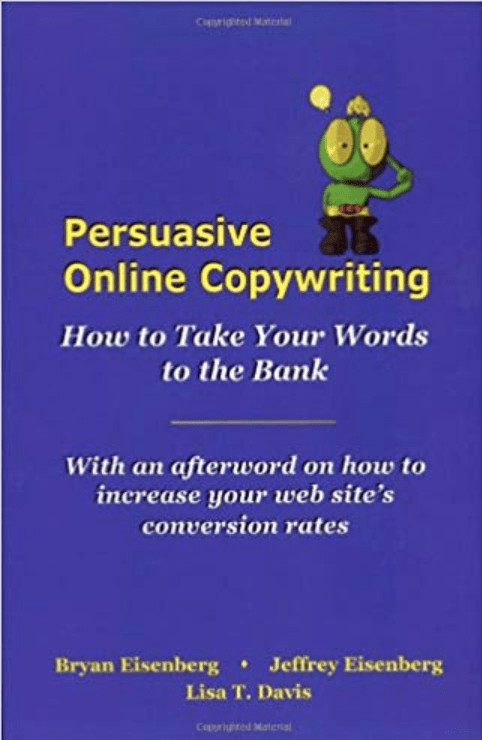 I was struck by the difference in what I read in that afterward and my conversations with various marketing specialists. Those specialists were myopically focused on driving traffic. I realized that conversions were critical, and no-one was talking about them.
Through my work at this agency, I became convinced of three things:
1. At the end of the day, nobody really cares whether they rank number one on Google or drive a bunch of traffic to their website. They just want to sell more. Because that's what business boils down to. Sales.
2. Any traffic generating tactic — whether it's increasing organic traffic, paid ads, having an amazing social media presence, or some other promotional strategy — none of it matters if you don't also have a well-tested conversion strategy in place.
3. This conversion strategy improves the quality and buying power from all traffic, not just visitors gained from paid campaigns or search engine optimization.
Based on these convictions, I became one of the few conversion optimization evangelists of that time.
I think of my philosophy as the Milk and Cookies approach, because traffic strategies without an emphasis on conversions is like having cookies without milk. It's just not complete.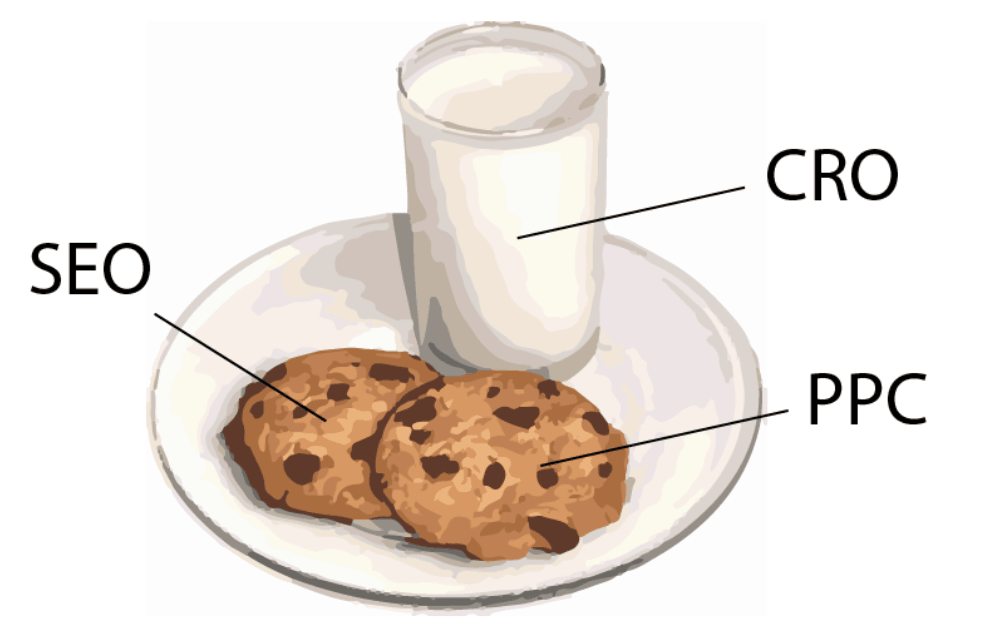 Three years later, I started an online marketing agency with three other partners. It was one of the first in the world, as far as I know, that was preaching traffic generation and conversion at the same time.
Basically, we based our entire agency around milk and cookies.
I was supposed to be the CRO expert, but soon after launching, we lost the partner in charge of sales. I volunteered to take over while continuing to help clients with conversion rate optimization. Managing my agency's sales helped solidify my feelings around the importance of CRO. I tested out my "you don't care about SEO or building a website, you care about sales" approach on our clients. And it worked.
I helped run the agency for seven years before selling my shares to my business partners and coming to work at Inflow.
Inflow runs on the same conviction: PPC, SEO, and CRO services compliment each other. We don't push all three services on our clients, but we encourage them to have a strategy for each in place, whether it's in-house or provided third-party.
In what follows, I want to share with you the Milk and Cookies approach to getting the most out of the investment you make in PPC or SEO services by combining it with CRO.
Note: Curious what conversion rate optimization might mean for your eCommerce site? Get started now.
Stop Thinking You're Spending $$ on Ads or Traffic
Here are some of the things I hear on sales calls:
"We've been creating a ton of content for SEO, like buying guides and how-to articles, and we're getting thousands more visitors a month, but none of that traffic is converting."
"We offer skincare creams and have been doing social media, but our sales are really low. You're experts in paid search. You can help us increase sales with paid search ads, right?"
"We only have three hundred thousand visitors a month but not enough sales, can you help us get more traffic?"
Every person I've worked with in 15 years has enlisted my help for one reason: they want to sell more products or services.
This is true regardless of how big they are, if they're looking for help with SEO, paid ads, etc. In this perspective, no-one is really paying for traffic or an ad — those things are just a means to an end.
And the end is more conversions.
When you spend money on SEO or PPC, you're paying for sales, not just traffic or rankings.
Traffic generating strategies (like SEO and PPC) don't operate in a vacuum apart from conversion rate optimization. They impact each other. And what gets in the way of conversions often isn't what clients expect.
Here's the analogy I use with prospects and new clients.
You Wouldn't Spend Money on Ads for a Run-Down Store
If you ran a brick and mortar store, you might spend money on all sorts of ads to attract people to the store.
Now imagine spending all that money luring people in the front door…
But the store is a mess.
It's not laid out well, labels are missing, and people can't find what they're looking for. So they leave without buying anything. And you've wasted your money.
Of course, the reverse is also true. If you spent lots of time and money creating a great customer experience, but no-one knows your store exists, you've also wasted your money.
The sweet spot is having a store offering a great customer experience plus an advertising campaign to let people know you exist.
It's the combination of promotion (traffic) plus experience (CRO) that makes people thrilled to find a store and make a purchase.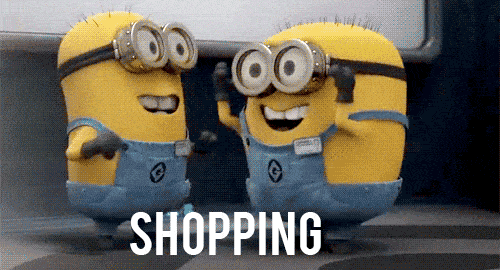 It's milk and cookies, and the same is true for eCommerce.
If visitors don't eventually convert into paying customers once they make it to your site, it doesn't matter how they got there, your plan didn't work.
The Impact of CRO Across All Traffic Channels
eCommerce owners who want to sell more are often thinking about "getting more traffic".
More website visitors are great, of course, but don't overlook the impact that conversion rate optimization can have on sales. Even small improvements in your conversion rate can cause a strong lift for sales.
Here's an example that's hypothetical—but also not uncommon for eCommerce companies we often work with.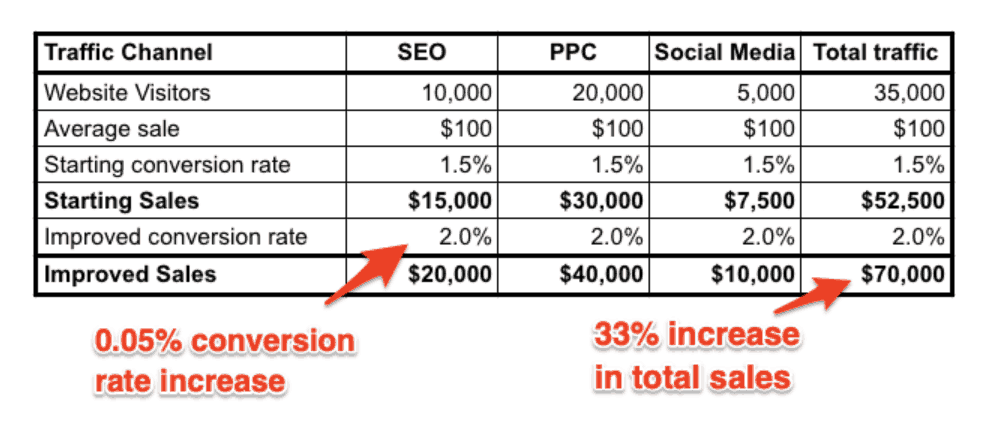 With a 0.5% improvement in conversions, sales go up by 33%. That's the power of CRO: it improves results from all the traffic sources people are using to find your site.
In addition, in highly competitive markets, improving conversion rates might be mandatory to make a marketing channel profitable at all. PPC efforts, in particular, might require improved conversion rates to see a positive ROI on your advertising spend.
Unless You Have ZERO Traffic, CRO Should Be Just as Important as Traffic
Back in 2004 when I started in digital marketing, few people were talking about conversion rate optimization. It wasn't as big of a deal because there was less competition.
People would search for what they wanted, find the one or two online stores that sold it, then make a purchase.
Since then, nearly every market has become incredibly competitive.
There's more interest in conversion rates than there was a decade and a half ago.
But even today, I still see far more interest in eCommerce SEO, PPC, and other traffic-generating strategies than I do in conversion strategies for the traffic you do have.
If you find yourself thinking mostly about driving traffic to your site without thinking as much about increasing conversion rates—you're probably leaving money on the table.
It's cookies without the milk.

Note: Curious what conversion rate optimization might mean for your eCommerce site? Get started now.