Whatever your site size or type, a technical SEO audit is a big undertaking (and one you don't want to do alone).
The overwhelm is real, and the details can be nitpicky. You may not even know that you need to do a tech SEO audit in the first place, believing that your platform has a firm grasp on the technical aspects of your site.
Unfortunately, thanks to regular updates and developments, even commonly used platforms like Shopify or WooCommerce can contain glitches and errors that negatively affect your SEO.
As confusing as they can be, tech SEO audits are important to understanding how Google (and your users) are seeing and using your site. With the information acquired, you can review potential SEO issues and make necessary updates that'll improve your ranking in the SERPs and, ultimately, increase organic traffic and conversions.
In this piece, we're going to break down our process for conducting technical SEO audits for our eCommerce clients, so you can get started on your own. Rather have an expert do it for you? Inflow is happy to help.
What is a Tech SEO Audit?
A technical SEO audit involves gathering data and analyzing your eCommerce site based on its technical performance. Instead of looking at the front end of your site the way your customers would, this process reviews your site from the viewpoint of Googlebot.
If Google has problems accessing certain web pages or moving through your site, when it goes to index and render your pages, there will be incomplete building blocks. Because of this, your eCommerce SEO will suffer.
When your eCommerce site has thousands of continually updating product pages, you may not even know where the issues lie, much less how to fix them. Learning how to perform a technical SEO audit will give you the information needed to confirm that your entire site is running and loading properly.
Getting this perspective is important. It enables you to optimize your site, improve your SERP rankings, and provide more value for your users. 
And, when done correctly, it can lead to some impactful results — such as a 118% increase in organic site revenue.
Inflow's eCommerce Technical SEO Audit Checklist
So, where do you even get started with your eCommerce technical SEO audit?
Inflow has developed this checklist over our years of working with eCommerce websites, and it's a process our team still uses today when completing audits for our clients.
It works, too. Our tech audit and the actionable insights it revealed helped our client Wild West Pool Supplies see a 434% increase in revenue YOY.
You can use this same approach to get a clearer view of your tech SEO standing and move the needle on improving your website today.
Now, without further ado, here's how to conduct a technical SEO audit:
1. Google Search Console & Analytics
First things first: If your Google Search Console & Analytics accounts show errors, the rest of this checklist will be null and void.
Without completing this step first, you won't know what is actually going right and wrong within your site.
Unless your analytics platforms are tracking correctly, the data you have is useless and won't lead to any real site improvements. This is especially important with the transition to Google Analytics 4 coming up next summer.
When it comes to Google Search Console (GSC) and Analytics, we look at a few items: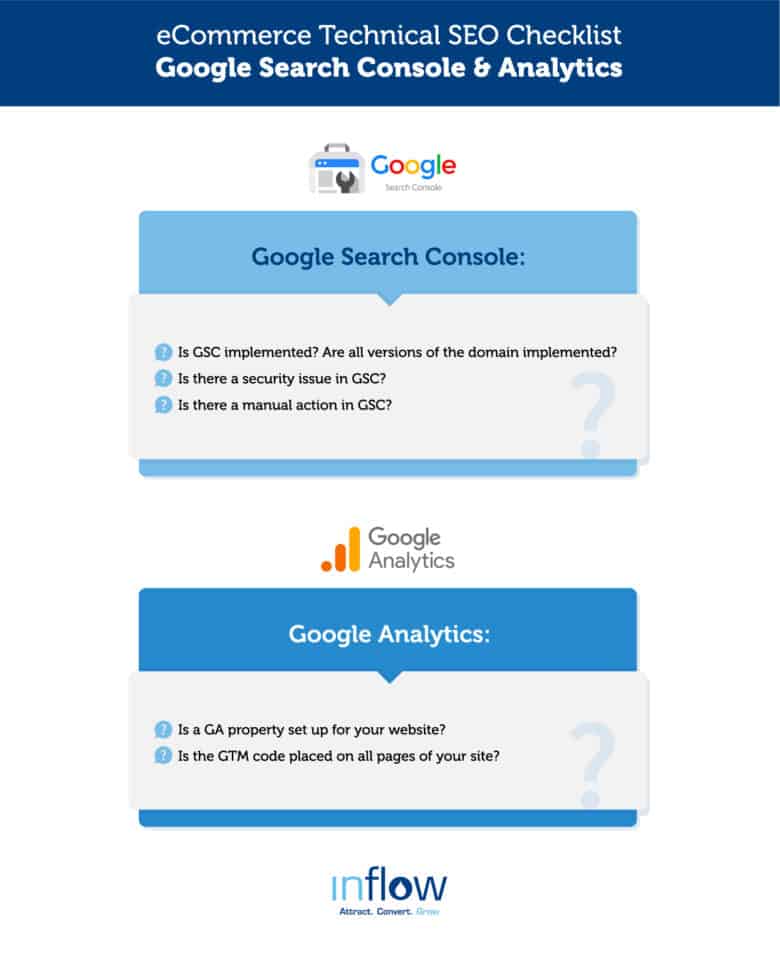 Google Search Console
Is Google Search Console implemented? Are all versions of the domain implemented?
Is there a security issue in GSC?

Security issues include hacked sites, malware, and social engineering. If a security issue is found, Google will display a warning in your results, and it'll show a warning to any users who visit your site.

Is there a manual action in GSC?

This is a huge potential problem for your site. If you are given a manual action, some or even all of your site won't be visible on search engines.
Google Analytics
Is a Google Analytics property set up for the website?
Is the GTM code placed on all pages of the website?

You'll need to run a custom Screaming Frog extraction or use a tag inspector.
While auditing your accounts is the first step in our tech SEO audit, remember that these platforms do not impact the function of your site. Instead, they're great monitoring tools that we use to check the status of the site before we dive deeper into our checklist.
2. Crawlability & Indexation
After solving the Google Search Console and Analytics issues, we move on to crawlability and indexation. Having a crawlable, indexable site is important; this is what helps Google recognize your content and direct users to relevant pages.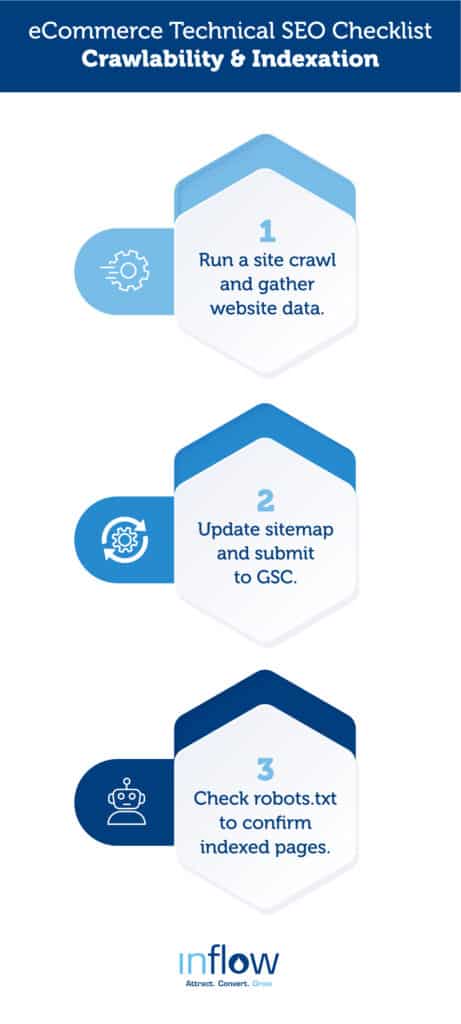 1. Run a Site Crawl
The first thing we do here is run a site crawl. This crawl report gives us an idea of how Googlebot crawls a site, revealing where the bot does (and doesn't) go and where potential crawl errors could be.
2. Update Sitemap
Then, we update or create a sitemap.
An XML sitemap is an integral part of crawlability and indexation. It's created specifically for search engines, telling them how to handle all of the information on your site. This way, the bots will know what to do and how to index without having to crawl your entire site (which they won't do anyway, because crawl budgets are limited.)
When it comes to sitemap best practices, make sure yours has been submitted to Google Search Console. Then, review the coverage report. With this information, you'll be able to fix any improper redirects and broken links as well as missing pages.
3. Check Robots.txt
Finally, we check on the robots.txt file.
A robots.txt file tells crawlers which pages on your site they can access and which they can't. We limit crawlable pages to avoid a website getting overloaded with requests.
Your sitemap should be referenced in the robots.txt file. You'll also want to ensure that all of your noindex tags are correct.
An Index Coverage Report will show you the indexing status of all the URLs that Google is aware of on your site. This is a good place to verify that the abovementioned sitemap and robots.txt files are on track. You should also check whether multiple versions of URLs are indexed and that any different versions are redirecting properly.
3. URLs, Response Codes, & On-page SEO
After you've determined that your site is crawlable and indexable, it's time to move on to URLs, response codes, and on-page SEO.
This is the area our experts find errors in the most frequently. Luckily, many of these issues are relatively easy to fix.

URLs & Canonicals
We start by analyzing the URLs — and there are a ton of things to review when it comes to your URL structure.
When it comes to technical URL specs, our experts check for:
Non-ASCII character
Underscores
Uppercase/lowercase URLs being implemented properly
Multiple slashes in URLs
We also examine whether parameter-based URLs and filter/facet URLs are implemented properly. Remember, your URLs need to be descriptive and keyword-rich, while also being under 115 characters.
Next, we focus on canonicals. Canonical tags are placed in the source code of a page to direct search engines to a parent or master page.
There are four main canonical situations we review:
Canonicalised: When a page has a different canonical URL than its own, it instructs search engines not to index the page. This can be done to prevent duplicate content or solve other issues.
Missing: If a page on your website doesn't deliberately indicate a canonical URL, Google will do its best to pick one for it. This can cause unpredictability in search engine ranking, so taking the time to fix missing canonicals is often worth the effort.
Multiple: Contrary to missing canonicals, sometimes a page can inadvertently have multiple tags. This can also lead to unpredictability and is worth sorting out.
Non-indexable: Canonical tags should always point to indexable URLs.
Response Codes
After we review canonicals, we move on to response codes.
Response or status codes are passed between browsers and your site's server when a user or a search engine visits a page. The codes allow your server and the browser to communicate about the HTTP status of a page and share what is about to happen — ie, is the user going to get the page they wanted, or are they going to get redirected?
These codes share information about redirects, page errors, and authorizations, among other things.
Response codes can have big implications for SEO. For example, if the page is redirected permanently, the SEO authority of the old page transfers to the new page — but if a page is redirected temporarily, that authority will not be shared.
Watch out for the following codes in your tech audit:
3xx (redirects)
4xx (site-side errors)
5xx (server-side errors)
In addition, look for never-ending redirect chains that impact load time and serve a poor user experience.
On-page SEO
After we check the codes, we move on to on-page SEO elements.
On-page SEO is equally important for your tech SEO and includes:
Title tags (meta tags)
Meta descriptions
Headers (specifically H1 tags)
On-page content
During a tech audit, we review whether any of these elements are missing or duplicated. Make sure that your page title tags and H1s aren't the same. Don't forget to also check for duplicate content, hidden content that needs to be unhidden, or content that needs to move from the bottom of a page to the top (and vice versa).
For a fuller look at your on-page SEO, run a separate audit with our complete content audit toolkit.

4. Site Architecture
While on-page SEO might be the area with the most frequently found errors, site architecture is often where our team often sees the biggest opportunities for improvement.
Site architecture is important, especially for eCommerce businesses. How your site is built and connected to itself helps your customers explore your web pages without getting lost. It also helps search engine bots crawl your site more effectively.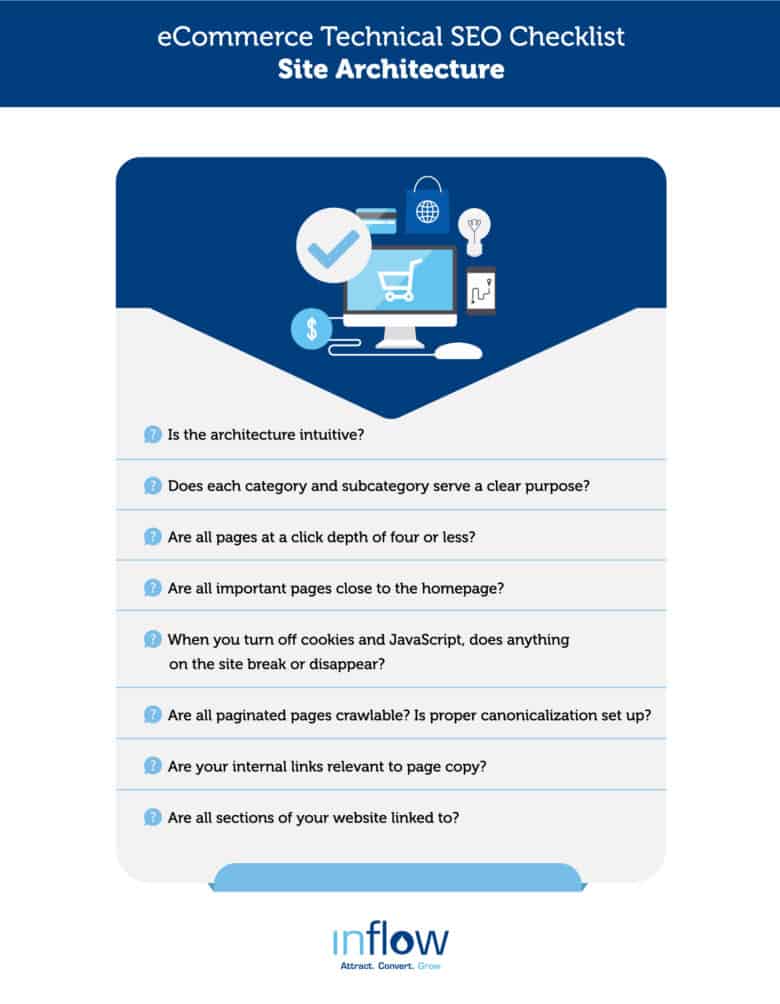 During this step in the audit process, ask yourself these questions:
Is the architecture intuitive?
Does each category and subcategory serve a clear purpose?
Are all pages at a click depth of four or less?
Are all important pages close to the homepage?
When you turn off cookies and JavaScript, do the menus still work? Does anything on the site break or disappear?
Are all paginated pages crawlable? Is proper canonicalization set up?
A site architecture analysis also includes a look into internal linking. (Read more about internal linking best practices.)
Navigation and footers also fall under a site architecture review. Here, we look for anything that is redundant and ensure that all sections of the website are linked to. We also double-check that these areas are accessible by crawlers and that the pages still appear when JavaScript is turned off.
5. Page Enhancements, Images, & Page Experience
Page enhancements, images, and page experience are last on the list. Because it's unclear how much weight these factors carry with SEO, our team usually leaves these until the end of the audit process.
Regardless of SEO impacts, page experience is important for search engine bots and your shoppers because it impacts how likely they are to stay on your site (and eventually convert.)
Page Enhancements
During this step, we review Open Graph tags, including:
Titles
Descriptions
Type
Site name
Image
URL
Page if
Admins
This is also a good time to review Google Search Console Products for warnings or errors and to look for any schema markup/structured data opportunities that are not being utilized.
Images
In this final chapter of the tech SEO audit, we check that images are properly optimized for search and for viewers by asking:
Are all images under 100KB?
Do all images include alt text and descriptive file names?
Are all images included in the sitemap?
Page Experience
When checking your site for user experience, be sure that your site is using an SSL certificate. Without one, users may be dissuaded from using your site due to the alerts that some browsers provide (looking at you, Chrome.)
Core Web Vitals also have a huge impact on your user experience. Slower page load times dramatically increase bounce rate on all devices, including mobile devices. We recommend running both a Desktop Report and a Mobile Report in Google's PageSpeed Insights tool to find areas for improvement in site speed.
Finally, be sure to optimize your eCommerce website for mobile SEO. The Google Search Console Mobile Usability Report is a good tool for running a mobile-friendly test and identifying errors.
Start Your eCommerce Technical SEO Audit Today
Between Google Search Console, crawlability, site architecture, on-page SEO, and page enhancements, a technical SEO audit can be a lot of work for an eCommerce company to undertake. These audits are expansive and require a great deal of time and energy to do right (and that's not even counting the development work required for any necessary fixes!)
Using external SEO tools like Screaming Frog and Ahrefs can point you in the right direction — but they won't always be able to give you specific solutions for your company's goals and nuances. That's why we always recommend running a custom audit is always advised, whether on your own or with the help of an agency.
If you want to perform this task in-house, our SEO technical audit checklist is a good place to start. Here are some additional resources for further reading and audit preparation:
When it comes to outsourcing your technical SEO audit, Inflow has you covered. Our team will review every aspect of your website's performance to provide actionable insights and improvement opportunities for your eCommerce SEO strategy.
Request a free proposal today to get started.