If we visualize the concept of internal and external linking as a net that represents your eCommerce company, it's clear they're both an important part of your eCommerce SEO strategy.
External links connect your web of information to multiple outside sources. The more connection points, the wider your net spreads, and the more strength it has to various outposts.
It's easy to see why backlinks are critical — but what about those internal links? What happens in the middle of the net when the outer edges are being expanded?
Internal links are just as important for the structural integrity of your digital marketing. These inner connections build strong networks within the site itself. They add webbing between the gaps and make sure none of your product or content pages slip through the cracks. They give Googlebot the ability to efficiently crawl your site, while also providing more resources and value to your customers.
In short, proper internal linking can help you increase traffic, spread link equity, and improve revenue.
Today, we'll help you get your internal linking strategy in order, by covering:
What internal linking is
How different types will affect your SEO efforts
And which 10 strategies we recommend for online retailers
What is Internal Linking?
Internal linking isn't just adding links in your breadcrumbs or in the sidebar to other product/category pages. It's a more comprehensive, deliberate act done to improve the organic ranking of (and total traffic to) target pages through increased site visibility, page equity growth, and improved keyword targeting anchor text use.
There are two basic strategies behind internal linking:
Linking between pages to help spread link equity
Capitalizing on anchor text (to assist with search engine topical relevance)
Internal linking is made up of inlinks and outlinks:
Inlinks: The links a page is "receiving"
Outlinks: The links included on the page or the links the page is "sending."
Here at Inflow, we pull data for both inlinks and outlinks — but mainly focus on inlinks for our client strategies.
In-content vs. Navigation Linking
There are two ways you can add internal links to your site: through in-content and navigation linking.
In-content Linking
In-content linking occurs when an internal link is placed naturally within the content of a page, directing the consumer to another piece of relevant content or a product within the same website.
This type of linking improves your page rank and overall traffic flow by helping search engines and users determine the purpose of a page on a website. These links help give more context to your page (and the pages it is connected to) through inlinks and outlinks.
For the sake of this piece, we'll focus mainly on internal linking strategies.
Navigation Linking
Navigation linking consists of architecturally important links that help users and search engine bots move throughout your site. These links help keep users and search engines oriented within your website, as well as improve your overall site structure.
Best Practices
Navigation linking should be used to improve site architecture and provide a user access to all important pages. This also helps link equity (or "link juice") flow throughout the site.
An organized site architecture also has the extra benefit of allowing search engine crawlers to more easily crawl and index your website.
Our recommendation: Make sure your site has top-level category pages with related sub-categories next, then products. This helps keep a low click-depth for important pages, like products.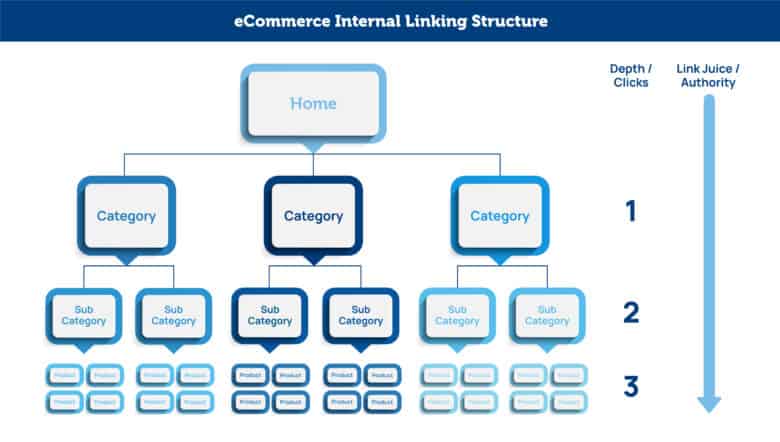 10 eCommerce Internal Linking Strategies
Through years of working with dozens of eCommerce sites, we have developed this list of best practices for internal linking.
But, before you jump in, remember this: Without first conducting an internal linking audit, your efforts may be directed toward the wrong solutions.
When reviewing your internal links, an audit should always be the first step. That way, you'll understand the current state of your linking strategy before you start making changes — ensuring that you're making only the most effective adjustments for your site.
While these best practices are a good place to start, for the best results, your brand should use a customized strategy built by SEO experts. (The team at Inflow is always happy to help.)
1. Prioritize your pages.
After you audit your internal links, you should have a clear understanding of which pages on your eCommerce website have high authority and which have low authority.
If you have pages with outsized authority, you'll want to leverage this across other relevant pages. This means you'll want to build links from these pages.
If you have pages with low or no authority, you want to start building links to them, so that the link equity flows evenly throughout your site. (This is why internal linking is one of the best ways to improve your eCommerce product page SEO.)
Looking at your organic traffic, sessions, and revenue will tell you which pages to prioritize. You can also get this information by looking at the Ahrefs Best by Links report.
2. Choose your first link on a page wisely.
Link equity, or link juice, refers to your website's authority. It's a ranking factor that search engines use in their crawl budgets and is dependent on things like topical relevance, HTTP status, and any authority from another linking page.
Link equity can be strategically passed throughout all your website's pages with effective internal linking.
The first link on any given page passes more equity than subsequent links on the same page. So, when you link to the same URL more than one time on a single page, the first link to that page will be more important (this matters for anchor text, which we'll touch on next.)
For example, if you have a page with outsized equity and a page with almost zero equity, you'll want to use that outsized page's link as your first link in content, instead of the page with no equity.
3. Use the right anchor text.
Capitalizing on the anchor text of internal links helps search engines determine topical relevance.
While your anchor text should be as detailed as possible, this is not a place to force keyword-rich phrases — just as you shouldn't do anywhere else in your copy. Instead, the anchor text should succinctly explain where the user will go if they click on the link.
We recommend writing the sentence first, and then choosing the text to use for your link. That way, the sentence sounds natural.
Google's algorithm also takes into account any surrounding text, so there's no need to over-optimize anchor text. The rest of the sentence around the link will also help Google understand the contextual link's purpose.
Here's an example:
Let's say you've written a product guide about the best dog beds for older dogs. You'll use copy like, "Your pets are part of your family throughout their lives. Get the best dog beds for older dogs so your family member stays comfortable every day."
Variety is also important when it comes to anchor text. If you're linking to the same pages in multiple places, do some additional keyword research and use your findings to provide a wider range of anchor text throughout your content.
Anchor text is one of the main signals that triggers a Penguin penalty, so be judicious with your anchor text. As always, don't over-optimize, but don't settle for "click here"-type anchor text, which lacks any context or detail about the link itself.
4. Link to and from top-performing pages.
For many eCommerce companies, important pages (like popular product pages) are key to spreading link equity throughout your site.
To decide which high-performing pages to link to, review metrics like organic traffic, conversions, and overall sales performance. We recommend filtering your URLs by organic sessions to see your top pages, then comparing their individual internal link numbers.
From here, you can see which pages have the most authority. You can link to and from these top performers to help spread the link juice across your site.
For example, if you sell specialty dessert products, you may want to link to a top-selling, high-revenue product from an article on "Best Chocolate-covered Treats to Gift Dad this Father's Day!"
The "why" behind page prioritization will vary. URLs could be Page 2 Opportunities, critical business pages (for SEO or conversion metrics), priorities set by company leadership, etc.
Generally, you'll want to prioritize pages like:
High revenue products
Best-selling products
Critical product categories
Great strategic content
P2 opportunity content
5. Don't overlink.
Linking is great — but this is not an "if a little is good, a lot is better" situation.
Overlinking is not only viewed as spammy by search engine crawlers, but it also dilutes the power of each link on the page.
The amount of page rank a particular page can pass is finite. Adding a new link to a page will change the distribution of this passed page rank among the linked pages, because you're now splitting it across more pages.
It's hard to give a standard for how much linking is too much. The number of internal links a page can handle varies on the type and length of content. "Overlinking" is a bit of a judgment call.
In general, keep the end users in mind. If you think the content is too spammy and unreadable, they will, too.
If you clicked on a blog post that you thought would teach you about the best wireless headphones and every other sentence contained a link, you'd lose a lot of trust in the site and the information it was giving you. Your customers are the same way.
For an article containing a decent word count, shooting for three or four outlinks is usually a good idea, if not a few more. Content with very little copy should have fewer links.
6. Use an HTML sitemap.
Sitemaps can be useful for both your customers and for search engines.
Proper sitemaps will show everything on your website, as well as how every page relates to each other. This helps search engines serve up relevant results to your customers, whether or not your customers knew those products or pages existed.
An HTML sitemap is a simple list of links that helps bots and users navigate your site. We recommend putting in the extra effort to make your HTML sitemap UX-friendly and useful for visitors — because this helps both visitors and search engines see that you're putting customers first.
Often, these are found at the bottom of a webpage and include broad product categories (but not individual product pages).
For example, here's the HTML sitemap for our client Mountain House. While it includes some of the obvious navigation links, its user-friendly design gives visitors and bots access to mid-level categories, as well. These categories are deeper than the main navigation bars but not as deep as individual product pages.

7. Remove poor links.
Internal linking errors can undo all of the hard work you're putting in. One of the biggest factors in effective internal linking is confirming all the links you're using for your eCommerce site are rich with equity and relevance.
But not all links are created equal. By removing poor links, you can easily improve a page's equity.
Poor links include:
Redirected links
Outdated content
Low-performing content
Badly chosen anchor text
Broken links
Don't be afraid to remove low-quality links from any of your pages. Less is more; fewer links ensures that each link that remains has more value.
8. Link to hard-to-get-to pages.
Some pages are always going to be easy for the user to find (ie. the homepage and contact page.) These pages, in particular, do not need to be linked within your content.
There's a chance that your contact page could be linked if it's part of your CTA, but we recommend avoiding building outlinks to this page.
Instead, you should provide links deep within the site to related products, landing pages, or articles that may be harder to access — but are still relevant to the context of the page.
9. Think about the user.
Your primary focus for everything on your site — especially internal linking and SEO — should be your customer, not Google's crawl bots.
Use relevancy as the determining factor for inserting an internal link on a page. Is the link being added to the page because it is relevant to the content and will help the user? Or is it being put on the page just to up the link count?
Be sure to only insert links that are completely connected with the content you are putting on a page.
10. Don't force an internal link.
Adding an internal link on a page just for the sake of it is not a good idea.
As with everything else on the internet, the number one thing to keep in mind is the user experience. Is the link helpful to the user? Is it something they will want to visit based on the current page they are on?
Inserting a link is a way of telling the user you are okay with them leaving the page to move on to the next page with relevant, valuable information.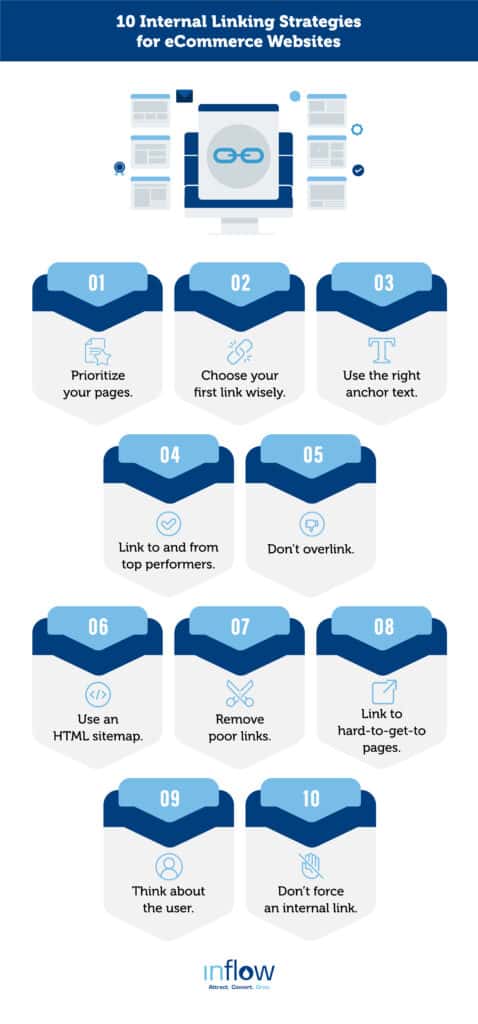 Create Your Internal Linking Strategy Now
Once you have customers on your website, you want to be able to keep them there by providing them more value. By concentrating on internal linking structure, you're building a well-connected net that your users can navigate to find the information and products they came looking for.
Proper internal linking will help share link equity throughout your site, which will help you rank higher and earn more revenue. Ultimately (and most importantly), it will also improve your visitors' experience.
The strategies outlined above are a great starting point for any eCommerce store. That said, a customized strategy will deliver better results and can be obtained by running an internal linking audit or partnering with an expert eCommerce SEO agency.
If you want a custom SEO strategy for your eCommerce website, our team can help. Request a free proposal to see what our experts recommend for you today.
In the meantime, check out our other helpful resources for your eCommerce linking and content marketing efforts: