Nothing is more important for an eCommerce PPC campaign than tracking all of your sales and revenue. While you might think you're capturing all the revenue from your eCommerce reports in Google Analytics (or other tracking tool), we've found that a good amount of revenue might actually be missing because it comes from orders placed over the phone — over 30 percent for some of our eCommerce partners! This amount of data can completely change the performance of your PPC campaigns and alter the decisions you make in optimizing your campaigns.
About the Play
The 411 helps marketers capture call data and incorporate it into your PPC campaigns, thereby their optimization strategies and getting more credit for these "offline" conversions. It can be found on page 13 of Inflow's eCommerce Marketing Playbook.
Who's it For?
eCommerce marketing professionals
Analytics and Reporting Professionals
SEO Professionals
When to Use It:
Use The 411 any time you're not tracking phone calls.
How to Execute The 411
There are many call tracking options out there (with similar capabilities), but we'll be focusing on what we currently use for our clients, CallRail.
Step 1: Capture Call Data
Step 2: Annotate results from your call data
Step 3: Import this data back into AdWords
Step 4: Optimize
Step 1: Capture Call Data
To begin, select your call tracking tool and make sure it has the option to track phone numbers down to the keyword level. This means you will need to opt for a "keyword pool," that dynamically assigns and swaps your website phone number based on each visit that comes to your site. While we always recommend capturing as much data as possible (data for all sources), make sure you set up these numbers to at least track all of your PPC traffic.
Here are some instructions for doing so with CallRail.
Step 2: Annotate results from your call data
Once the code is set up and your phone numbers are swapping accurately, you will now need to use call tracking software to annotate the status of each call. Using CallRail as an example, you can set up desktop notifications to pop up each time someone calls using one of your phone numbers. You can even have CallRail send a whisper message to your call staff so that they know the call is coming from your PPC campaigns.
Annotation Requirements:

This is really the hardest part. You will need to train your call staff to make sure they annotate every call, mark the calls that resulted in a sale, and add a note for the total revenue generated from that call.
We're almost there!
Step 3: Import this data back into AdWords
Now that you know how many calls your campaigns are driving and how much revenue your campaigns are driving from those calls, all you need now is to incorporate that data back into AdWords. This is where your keyword pool will really pay its dividends. Every call from your PPC campaigns will have one critical piece of data that will help you connect the dots, the gclid.
Keyword Level Swapping will Provide gclid:

To get all the required data, it will be helpful to export all necessary fields (i.e., gclid) in one bulk export. Your Call Tracking Software should allow for this: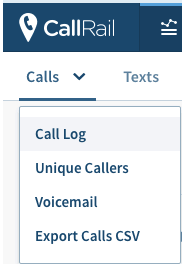 Before importing these transactions, you will need to set up a new "offline" conversion in AdWords so that you can import into AdWords (instructions below). Once that is set up, you will need to create an import file that has the following data for each conversion:
gclid
Conversion Name (you created this in the previous step!)
Conversion Time
Conversion Value
Conversion Currency
As noted above, all of these fields can be exported in a report from your call tracking software! Here are instructions on how to create the AdWords conversion and upload file, including common areas you may need to troubleshoot.
Step 4: Optimize
Use the new data in your AdWords account to further analyze and optimize your campaigns for better return on investment.
The 411 Resources
More information on the call tracking solutions we use to help us execute The 411.
How to create a Keyword Tracker with Call Rail
How to create the AdWords conversion and upload file