In our conversations with hundreds of eCommerce business owners, many have told us that their Google ads (formerly Google Adwords) campaigns aren't performing as well as they originally thought they would, and could be working more efficiently for a lesser cost.
When setting up their PPC advertising strategy, many of these eCommerce stores assume that setting up their feed and launching one Shopping campaign containing all of their products is all that it takes to create a profit.
They are disappointed and sometimes mystified that their ads don't drive a good return and the work that went in setting them up was wasted.
That's when I explain that if managed correctly and implemented by pros, Google Ads can actually be a great revenue driver that will grow your business… But it takes more than just keywords and ad creative.
Background:
This is exactly what one of our clients in the camera equipment niche came to us with. Unfortunately, the agency they had been working with prior to us hadn't been doing a great job on their Google PPC.
After we took over their PPC efforts, between Feb 1st, 2019 – August 31st, 2019, we got them a 76% increase in ROAS, from 5.61x to 9.89x, compared to July 1, 2018 – Jan. 31, 2019 when they had been working with the other agency:

Year-over-year, we got them a 56% increase in ROAS from 6.34x to 9.89x:

In this case study, we'd like to demystify the actual work involved and the combination of eCommerce PPC marketing strategies that we used to get results for this online store.
You'll see:
The Google Ads Strategies We Implemented for a 9.89x ROAS
Our Tiered Bidding Strategy: Implementation and Best Practices
Other Shopping and Search Ad Best Practices We Recommend to Reduce Spend
As eCommerce growth experts, our clients include not only 7 and 8-figure businesses, but 9-figure annual revenue eCommerce companies as well. Talk to us today to see if we can help you optimize your eCommerce brand's paid search, SEO, and conversion rates.
1. The eCommerce PPC Strategies We Implemented for a 9.89x ROAS
While every client presents unique aspects of their business and different challenges, we've learned through working with hundreds of clients about how important it is to follow a system in order to create results, which is what we did.
Audit and Analysis
When we begin running PPC for eCommerce sites, the first thing we do is audit the client's product feed, campaigns, and other performance indicators to see what is working and what is causing issues.

This site had high search volume and a very extensive product catalog of cameras, lenses, and other camera-related equipment. Due to the store's scale, we discovered that there were problems like incomplete/missing information about products in their Google product data feed. Their current PPC campaigns were also too broad given the different product categories on the site, which created wasted spend.

The work we determined would increase ROAS for this client included:
Product data feed setup and optimization

A Google Shopping campaign restructure

A Google Search ad campaign restructure

Google Display ad optimizations

Implementing the campaigns that worked in Google to Bing Ads
By optimizing each of the above, we positioned our client's products in a way that encapsulates the customer's entire buying journey. This resulted in less spend per click and more sales.
Here's How It Worked:
Product Feed Setup and Feed Optimization
The product feed contains your products and their related information including: product category, brands, quantities, sizes, colors, materials, etc.
Google Shopping Ads and Display Ads are based on information that Google pulls directly from your store's Product Feed: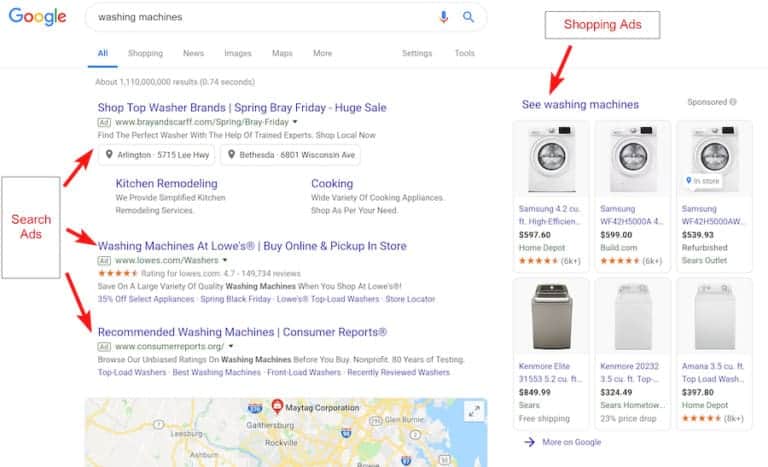 This is why optimizing the Google Product Feed is so important.
For this client in the camera equipment niche, that meant making sure that information like the camera brands, their lens sizes, and so on were all present, accurate, and easily found by Google.
The site had huge potential to be shown for many different specific product queries, but Google wasn't able to match those search queries to the product in this store's catalog.
Fixing this meant that now when somebody searched Google for a product in our client's catalog, such as a specific camera lens model, our client's product was more likely to appear right there as a Shopping ad. (We optimized the product feed in a tool called Feedonomics).
Shopping Campaign and Search Ad Campaign Restructures
A mixture of Google Shopping ads, Google Search ads, and Google Display ads is beneficial to most big online retailers.
Implementing all three often leads to enhanced product visibility across the buyer's entire journey, from research through to purchase.
With the product feed optimized, we began restructuring the client's search and shopping structures.
This particular industry has high search volume which makes it easier to gain traffic, but also harder to figure out the specific combination of search queries that drive the highest return.
So because of this, we created separate multiple tiered campaigns segmented by product type—creating different tiers for different product categories. In this case, a lens tier, digital camera tier, video camera tier, film camera tier, etc.
Display Ad Optimizations
Products ads that follow customers around the web might seem annoying on first glance, but in fact, retargeting ads do convert very well and have a great ROI. Why? Because they get customers at the end of the buying cycle (once they've already visited the store and looked at products).
People were visiting our client's store, but they weren't being remarketed to. The dynamic remarketing feature from Google Shopping enabled us to automatically show ads to people who came to the client's site without completing a purchase.
Dynamic remarketing makes use of your product feed to determine what products Google displays on its ad network. It can intelligently group different products together based on what's likely to convert best.
An example of a dynamic retargeting ad: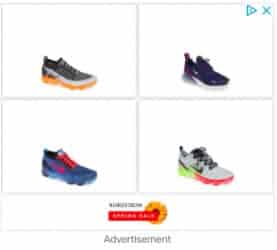 Using dynamic remarketing is a fairly straightforward strategy to skyrocket eCommerce performance, and we believe it's a must for any online retailer.
Bing Account Changes
Once we saw what was working in Google, we began transferring the Google Ads changes to attempt replicating their success in Bing Ads.
While Bing has a far lower search engine market share (2.63% as of this article's writing), we've found that what works well in Google Ads can often work in Bing Ads (now called Microsoft Advertising). Why not duplicate the strategies that work in Google to capture shoppers from another search engine?
2. Our Tiered Bidding Strategy: Implementation and Best Practices
When it comes to any PPC campaign, patience and being willing to adjust along the way are important. You'll determine the highest return queries and adjust your bids to prioritize them as an ongoing process.

In this case, we identified the highest return search queries based on this store's different product categories, and created a tiered campaign for each category.

Here's a visual representation of that tiered strategy. The search queries each tier drives are based on negative keywords, and we created multiple tiered campaigns for each product category: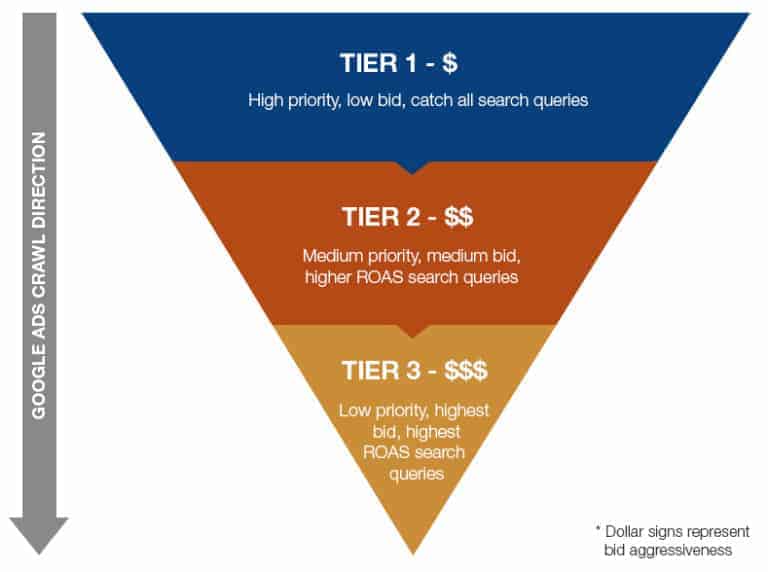 The Basic Steps to Establish Your Tiers
Run Search Query Reports

: Look at historical performance in Google Analytics by running search query reports, going back 6 months (or longer). Identify the queries or query combinations that have driven the highest revenue or ROAS in the past.

Filter those queries in Google Analytics to see if they have a high churn or not

. Decide which high return queries you want to filter into Tier 2 or 3.

Mark any interesting patterns.

For example, we saw a pattern of queries containing certain modifiers that tended to convert well, and we made sure to figure out the revenue and ROAS for those terms.

Keep building it out on a spreadsheet to organize what you find.

Organize those patterns to create the list containing the search query, revenue, and ROAS numbers.

Segment the tiers according to the revenue and ROAS numbers:

We

optimized Google Shopping

campaigns through the use of priority settings, bid stacking and negative keywords.





The basic premise is to apply low, medium, and high bids on search terms with low, medium, and high returns. Thus optimizing the cost-per-click (CPC).
Conversely, we apply high, medium, and low priority levels to low, medium, and high bids/returns. For context, the priority setting determines the order in which Google will cycle through the campaigns. High priority literally means Google takes this campaign into account first because it will be Google's highest priority.

To Illustrate:
Tier 1: We placed low bids on our catch-all campaign that drives all general queries. We added negative terms to avoid targeting queries that we wanted to bid higher on in the other tiers. Set to a high priority setting.
Tier 2: We placed medium bids on search queries we found to have a higher return than those in tier 1, but lower return than the queries we want to filter to tier 3.
As in tier 1, we added negative keywords for the queries we wanted to filter to tier 3. This tier was set to a medium priority setting.
Tier 3: Knowing what the most profitable search queries are, we place the highest bids on them. This tier was set to a low priority setting.
The tiered system works because in recognizing the performance of a store's different relevant search queries, you can have much more control over how much ad spend is allocated to each query.
3. Other Shopping and Search Ad Best Practices to Reduce Spend
Always send the best performing / highest return queries to tier 3.

By identifying the highest return queries, we are able to ensure less wasted spend by spending the least amount of money on low return queries and allocating the largest percentage of money to terms we are positive will actually drive a high return.



Use negative targeting.

Negative keyword segmentation in a tiered system allows us to

pay less ad spend

for lower returning queries.



Optimize by device.

After the tiers had run for enough time and gathered significant data, we analyzed performance by device to ensure no wasted spend.



Cut wasted spend on the least performing hours / days of the week.

After gathering significant data, we ran a time of day analysis to ensure we were optimizing for our best performing days and hours.



Launch Search Competitor campaigns

alongside your own search ads to target the competition (rest assured, they are likely doing this too).



Optimize by demographics

—

We ran demographic based analyses for age, gender & household incomes then implemented bid adjustments accordingly.



Optimize your display ads to capture who they retarget.

In addition to optimizing their bids and budget, it's important to update the ad copy to better target users at different stages in the buying funnel. For example, newer users require more brand focused CTAs, while previous purchasers do not. We also started testing new ad features from Google such as Smart Display ads. We often test Google's new features for our clients because we've seen that being one of the first to use new ad features is a

competitive advantage

(because competitors may be slow to adopt new features).
Takeaways
PPC is a dynamic advertising practice—meaning that management is ongoing—it's not a "set it and forget it" platform.
Results
Adjusting our PPC strategy allowed us to achieve a year-over-year 56% increase in ROAS from 6.34x to 9.89x.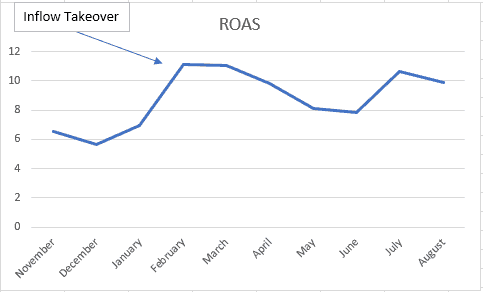 I hope this case study helped paint a picture of how a Google Ads strategy based on a systematic review and restructuring can quickly yield a higher ROAS.
eCommerce brands who work with us receive a tailored set of strategies like these to maximize their Google ads campaign budgets.

If you would like us to evaluate and improve your online store's PPC campaigns or identify additional growth opportunities, please get in touch with us today to see if we can help.