From ChatGPT to Bing's new AI-powered search engine, machine learning is arguably the most significant development in digital marketing in years.
But don't outsource all of your SEO content creation to the machines just yet.
Here at Inflow, we've been testing and experimenting with new AI technology since it first emerged — and today, we'll share our thoughts on its capabilities, its failings, and the best ways to incorporate it into your SEO marketing strategy.
The bottom line? While it's tempting to pass off the tedious aspects of content generation to robots and free up your valuable time, AI isn't quite ready to operate unsupervised. Right now, the human touch is irreplaceable in your digital marketing efforts.
Keep reading to learn how we're rapidly (but smartly!) incorporating AI and machine learning into our clients' SEO strategies — to not only save time but to also produce better results for their marketing investments.
Our SEO strategists are experts at building data-driven, human-powered approaches for our eCommerce clients. Find out what we can do for your site by contacting us today.
The Rapid Rise of AI SEO Tools
Unless you've been living under a rock, you're aware of just how much AI has flooded the marketing ecosystem in the last few months.
Artificial intelligence, once the promise of the future, is now an ever-present topic of discussion among digital marketing leaders, largely thanks to the public launch of ChatGPT at the end of November 2022.
The system, which interacts in a conversational manner in response to prompts, has inspired a plethora of app extensions, integrations, and even copycats. In fact, both Bing and Google have rushed to incorporate AI into their search engine algorithms (the success of which has yet to be determined).
As ingenious as most SEOs are, marketers quickly found a way to automate the most tedious of SEO tasks to these robots. Today, you can accomplish almost anything with the help of AI, including:
Keyword research and clustering
Content topic ideation
Content outline generation
Metadata creation
And more
The video below is hosted on YouTube. If you need assistance with viewing the video, please contact [email protected].
The Limits of AI-Generated SEO Content
But, as quickly as new AI-powered programs and capabilities emerge, so do accompanying questions of ethics, effectiveness, and other major concerns for brands.
Is It Truly Unique?
When it comes to plagiarism and duplicate content, does AI-generated content pass the sniff test?
Technically, yes. For example, while ChatGPT may regurgitate similar phrases it's picked up from the web, all of the content it produces is unique — but that doesn't mean it's safe from criticism.
While other companies are developing AI-content detection systems for educator use, OpenAI itself has released its own detection tool for AI-generated content. An OpenAI guest researcher has even suggested digital "watermarks" that identify AI-generated content to better regulate those passing the system's productions off as their own.
That, in my opinion, is the bigger question here. Who "owns" the content created by platforms like ChatGPT? Where do we draw the line with copyright and other non-SEO-related concerns?
I don't claim to have the answer — but I'll leave you with this story of AI-generated, award-winning art to ponder in the meantime.
Will Google Recognize AI-Generated Content?
Since the release of ChatGPT, Google has gone on record about how it plans to identify and evaluate any AI-written content. At the moment, no penalties will exist for content written by AI; however, Google will continue to focus on "helpful, reliable, people-first content" in its search engine rankings.
In other words: Using AI-generated content as a means of educating and helping readers? Good.
Using AI-generated content to "game" Google's SEO rules? Bad.
For those who do choose to incorporate AI-generated content into their websites, Google gives a few suggestions:
Overall, AI or automation disclosures are useful for content where someone might think "How was this created?" Consider adding these when it would be reasonably expected.
If you haven't already, I highly recommend reading through Google's complete response to AI-generated content here.
Is It Really Any Good?
Keeping those other factors in mind, there's really one question that's more important than them all:
Is AI-generated content actually any good?
I'll lean on an SEO's favorite phrase for this one: It depends.
The Atlantic likens typical AI-generated copy to that of a fifth-grader writing their first five-paragraph essay, and I'd tend to agree. Because automation lacks the complexity to understand language the way humans do, it also lacks the ability to create beautiful, prose-style writing that our best scribes can.
But, since no one's expecting Hemingway-style search results, things get a little murkier.
Putting aside the issue that ChatGPT has been known to state incorrect facts and that Google's new AI integration fails to properly credit its sources, AI-generated content tends to be… just fine.
In many ways, it's similar to that generated by content farms of old: Basic, formulaic, and not very interesting.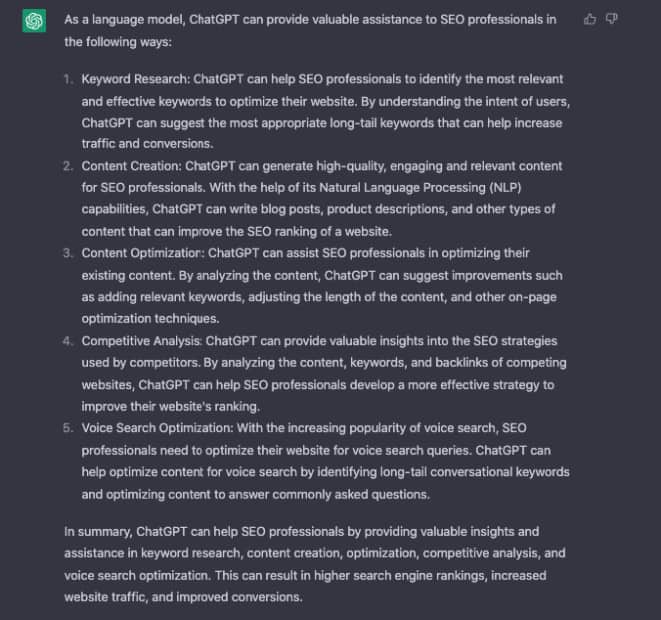 While that may suffice for some brands and for some types of web content, other marketing teams will (and should) hold themselves to a higher standard, especially when it comes to branded and product copy.
Our Approach to Using AI in Developing SEO Content Strategies
So, where does this leave us as we plan forward-thinking SEO strategies for our eCommerce clients?
At Inflow, we like to live by a "data-driven, human-powered" approach. AI is just another tool that will provide us the data we need; it's our job to make sure we're using it in an intelligent and ethical way for ourselves and our clients.
Here's our current strategy and recommendations for other SEO practitioners.
1. Always, Always Pair AI with an SEO Expert
To harness the full power of AI in SEO strategies, you need the guidance and expertise of a living, breathing human being who can:
Copyedit content: AI lacks the personality of a skilled writer. Not only is the content usually more generic than that created by a human, but it also struggles with idioms and other figurative language. While it's a good starting point if you're stuck for words, AI-generated content needs editing to become fresh and engaging.
Fact-check content: OpenAI's API frequently gets facts wrong, because its data system has limited knowledge of events after 2021. The expert proofreading AI-generated content must either be knowledgeable in the subject manner or take the time to read closely and look up facts to confirm accuracy — and add the sources/links that AI fails to include in its responses.
Test new AI tools: With new AI-powered tools popping up every week, it can be tricky to know which to use for different needs (like brainstorming ideas, writing code, developing schema markup, etc.), not to mention which are actually worth their costs. A strategist familiar with a business's goals and budgets can test these different systems and recommend those that will work best for the brand's content and SEO needs.
Stay up-to-date on new AI technologies: AI is becoming increasingly advanced. Content tools like Jasper were just the beginning; today, we're seeing tools like Dall-E for creating images, creating music, recreating voices, translating copy, and more.
Respond quickly to industry updates: We've seen quite a few examples of sites using AI content that have gotten hit by recent algorithm updates, especially those run by affiliate marketers. It's tempting for content creators to take risks like these and use entirely AI-generated content on their sites — but an SEO expert will advise caution while they watch industry developments closely (and put the best interests of their clients first).
A/B test AI content: AI-generated content should be treated as an experiment before entirely investing in its use. For example, our team tests content changes on a page-by-page basis to see if AI is working — and, if it's not, we can quickly replace it with high-quality copy.
In short, anyone can use ChatGPT. But SEO experts like ours are the only ones who can incorporate AI in a way that makes sense for a brand's unique marketing approach.
So, fellow marketers, breathe easy: AI won't be taking your job anytime soon.
2. Use It as a Tool, Not a Replacement for Humans
AI isn't a panacea for a company's entire SEO needs. However, it can be a wonderful tool for saving time, especially on those more repetitive search engine optimization tasks.
At Inflow, we've been using AI tools to help improve our clients' SEO efforts by:
Creating basic outlines for content briefs
Brainstorming and optimizing article titles for maximum clicks
Producing schema markup and other HTML code
Researching keywords, search queries, and other semantically related content topics
Identifying missing information from an article that top-ranking articles cover
Creating images to improve our articles
And more
This frees up some of our team's time to focus on more valuable efforts — strategy-building, auditing, and consulting — which we consider a much better use of our agency fees.
The results? Long-term, revenue-focused growth that comes from strategic work that AI tools simply can't do.
3. Incorporate Brand/Team Strengths
AI now makes it possible for anyone to create content with the push of a button, which means we'll likely see a renewed influx of similarly structured web pages covering the same basic topics.
What will make your brand's content stand out is not this basic outline that a tool can generate for you. It's your unique brand POV, industry experience, thought leadership, and more.
I predict E.E.A.T. SEO will become even bigger in the next few months (especially with Google's recent addition of "Experience" to the acronym). We already recommend our Inflow clients incorporate blog authors and experienced reviewers into their content production process — but this will serve an even bigger purpose to prove your content was reviewed (if not created) by experts, not just a machine.

Of course, every SEO content marketing strategy needs top-funnel content that can, unfortunately, trend toward monotonous. Where we can, we help our clients emphasize unique brand propositioning, products, and other details that take that content to the next level — and differentiate it from the run-of-the-mill copy coming out of ChatGPT.
4. Keep Testing & Learning
Like many SEO tools, AI content generators are only as good as the person who's using them.
In other words, how well AI works in your SEO strategies depends on how well you use it.
If you give ChatGPT a simple prompt ("write a product description for men's G3 guide wading jacket"), you'll probably get a pretty decent response.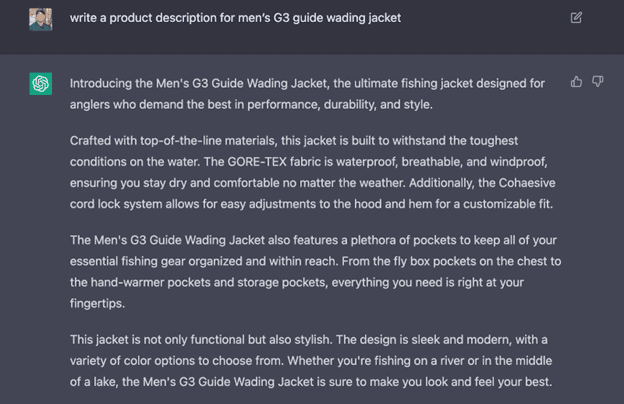 But, if you beef up your prompt ("write an enthusiastic product description for men's G3 guide wading jacket in the style of Simms Fishing"), you'll get a result with more personality and branded copywriting.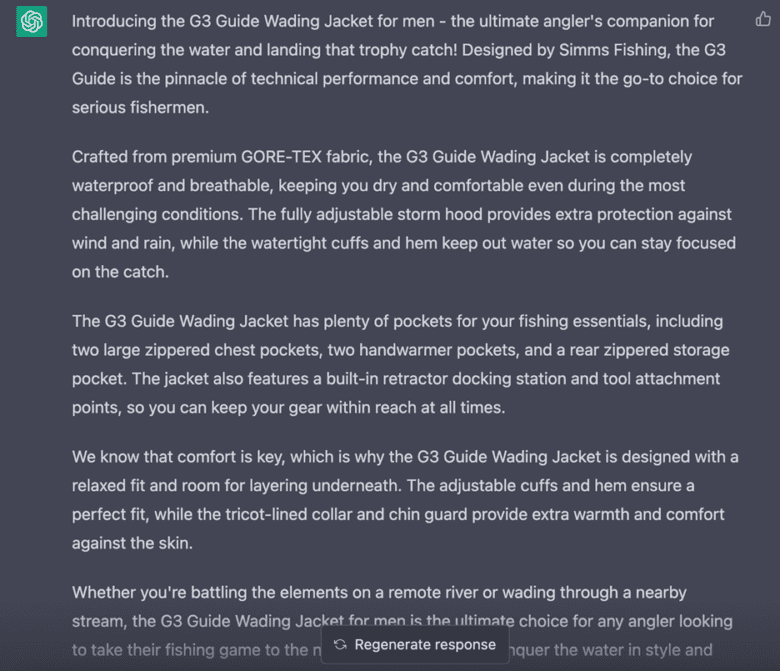 A note for those in eCommerce: If you run enough of these prompts for similar products, you'll start to notice similarities. For example, these tools will repeat things like "best in performance, durability, and style" or "ensuring you stay dry and comfortable" for every similar product you run through it.
This testing strategy applies to all AI tools, not just content generators. Whether we're using AI to build schema markup, content outlines, or something else, we always review before using — and keep testing our inputs to optimize the final result.
And we're not just sticking with ChatGPT, either. There are plenty of other useful writing tools (including Jasper.AI) that can aid in SEO marketing efforts.
But, because our clients don't have the time (or expertise) to review other systems themselves, we do the heavy lifting for them — giving our final recommendations on which ones to use (and how to use them) based on our real, human experience in the field.
The video below is hosted on YouTube. If you need assistance with viewing the video, please contact [email protected].
AI is Here to Stay — Now's the Time to Adapt
By the time you read this blog, it's highly likely that the tools and resources we had available to us while writing will be replaced by bigger and better versions — but our recommendations remain the same.
AI is an incredibly useful tool, one that all SEOs and digital marketers should be familiarizing themselves with. But it is, at the end of the day, only a tool.
The real value of using platforms like ChatGPT comes in the humans you have using it.
Here at Inflow, we're confident in the skills of our SEO experts to evaluate and use these tools intelligently, and we're already seeing the value they can provide to our strategic client work so far.
If you'd like to see what AI can do for your brand's SEO efforts, contact us today. We'll build a custom strategy for your website, incorporating the biggest trends in automation with our team's decades of experience in the eCommerce space to deliver the best results for your online business.