In this guide, we'll share our go-to eCommerce keyword research strategy.
This keyword research strategy is great for eCommerce in particular because it is based on intent marketing to optimize every type of page on your eCommerce website.
In other words, this process will show you how to find the right keywords to add to your website's:
Homepage
Product descriptions
Category pages
Landing pages
Blogs and articles
…that lead to higher search engine rankings and more search traffic.
We recently helped a client to find and optimize the underperforming blog articles on their site. One of these articles had only 59 organic sessions total since it was published in October 2018:

During this article's best month in February, there were only 12 organic visitors from Google (and only 59 total since October 2018).
We used our eCommerce keyword research process to find missing keywords and made copy edits to the article in order to include them.
After we implemented our SEO optimizations to the article, it began ranking #1 in Google for several of our target keywords (while additional target keywords also moved up in the search engine rankings).
As a result, organic traffic skyrocketed to 2,030 sessions over several days alone (December 1st – 4th, 2019):

After implementing our keyword research, the article's traffic increased dramatically to 2,030 organic sessions within several days.
Want to learn how to do keyword research that has the potential to get quick results like this? Keep reading.
Note: Our eCommerce SEO experts can perform effective keyword research like this for your online store to make profitable recommendations. Talk to one of our SEO experts here.
Why Does Our Approach to eCommerce Keyword Research Work?
Most of the guides about doing keyword research for eCommerce cover the same ground by focusing on the basics of keyword research in general.
For example, many keyword research guides recommend using Google's Keyword Planner to find keywords. However, this tool is specifically for finding keywords to use in PPC Google Ads (formerly Google Adwords) campaigns. There are better keyword research tools for SEO.
Additionally, we've seen some guides recommend to qualify keywords based on high search volume and CPC. However, this strategy isn't sound because it leaves you with only the most competitive keywords (the most difficult keywords to rank for).
The underlying principle of an effective keyword research strategy today is to identify and meet the searcher's intent for that keyword. This makes your content more likely to rank higher in search results and be engaged with by potential customers.
The rest of this post will help you:
Avoid keyword research mistakes that are rooted in past techniques that no longer work.
Use intent marketing in your eCommerce keyword research for better search engine rankings and traffic.
Follow our process for finding good keywords for your eCommerce website.
Let's start with what's changed in eCommerce keyword research.
eCommerce Keyword Strategy: Past vs. Present
What works in approaching keyword research today is very different from what used to work.
One big misconception we've seen is the idea that it's best to focus on optimizing specific content and pages for specific keywords.
The problem with the "one keyword, one page" approach is that Google's algorithm has evolved from a focus on keywords to a focus on the semantics of content, search intent, and topical relevance. The strategy for doing keyword research has changed right along with it.
For example: The keywords "red rubber boots" and "red rain boots" have the same search intent because they are relevant to the same product.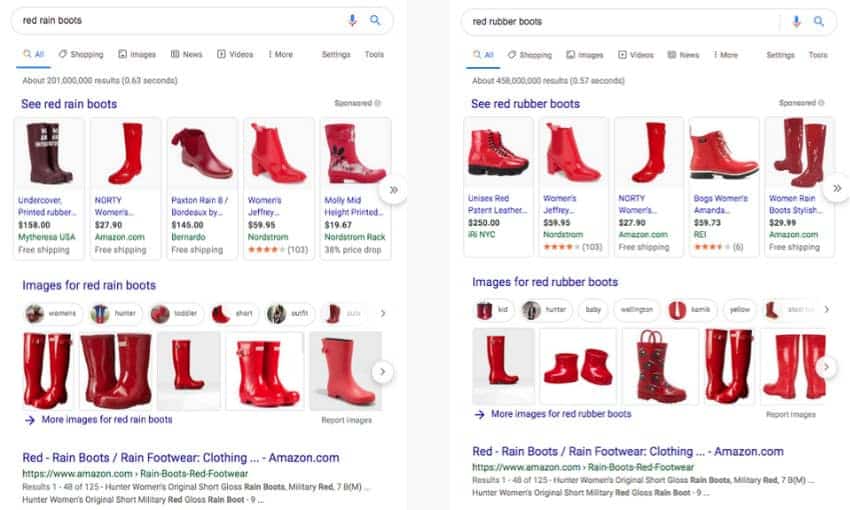 Different search queries with the same intent. Notice the Amazon category page ranks for both.
It makes more sense to have a page optimized to rank for both keywords than to create a separate page designed to rank for each keyword.
Why Did Google's Algorithm Change to Prioritize Search Intent?
Keyword placement and links used to be the primary focus on Google's algorithm, and they are still important components of search engine optimization (SEO).
However, people began to recognize and abuse the way Google's algorithm worked through spammy practices like keyword-stuffed articles with little real value and paying for low-quality backlinks to their websites.
The result was a prevalence of useless, unhelpful content and websites of dubious quality in Google's search engine results pages (SERPs). But as a search engine: Google wants to show users search results that they find useful and relevant.
So they released a series of updates to help meet users' search intent.
Three Major Google Algorithm Updates: Panda, Penguin, Hummingbird
This section — which is optional — further details how Google's algorithm updates have led to an intent-based approach to today's eCommerce SEO strategy.
That said, becoming familiar with Google's Panda, Penguin, and Hummingbird broad core algorithm updates will help you to better understand why intent-based search engine marketing works.
Panda Update
To compensate for manipulative SEO practices within the content websites we're publishing, Google released its Panda algorithm update in 2011.
Panda was aimed to reduce the amount of low-quality, thin content (often made by overseas content farms) in the SERPs in favor of unique, high-quality content users were likely to find useful.
We often recommend adding high-quality content to our clients' websites and pruning low-quality, thin content as two beneficial and essential SEO tactics related to Panda.
Penguin Update
Not far behind Panda was the Penguin algorithm update. Google released Penguin in 2012 and has updated it several times since then.
The Penguin update analyzes website backlink profiles to identify whether the websites with links to yours are authoritative ("good" links) or spammy ("bad" links).
We recommend disavowing low-quality links that point to your website to avoid a potential site-wide Penguin penalty.
Hummingbird Update
Google's Hummingbird algorithm update was a major shift in the way the algorithm understands the connection between entities, topics, subtopics, and synonyms.
As a part of Google's attempt to match a user's search query with the answers they are looking for, Hummingbird understands the connections between entities and natural language search.
Namely, this algorithm update specializes in analyzing and ranking content in terms of topics instead of relying on exact match keywords.
To get a sense of how Hummingbird helps Google to organize knowledge, think about the way every Wikipedia article has a table of contents with related subtopics.
Along with the table of contents, every Wikipedia article on a different topic is connected with a link.
Wikipedia's page on eCommerce
The Hummingbird update helps Google to integrate this "style" of organizing knowledge automatically into its machine-learning algorithm.
Since Google values thorough content, is it any wonder so many Wikipedia pages show up on the first page of search results, and in Google's knowledge graph (the visual type of search result below)?
Google's Knowledge Graph search result for "ecommerce."
What these Google algorithm updates mean for keyword strategy is: instead of trying to optimize for exact match keywords, you want to cover each topic deeply.
This increases the likelihood that Google will rate your content highly and rank it higher in the SERPs.
Hopefully this has helped you to understand why tapping into topical optimization and intent-based marketing is the best keyword strategy for eCommerce today.
Now, we'll go into the actual process for helping your website's pages to meet search intent and drive better traffic.
Our 4 Step eCommerce Keyword Research Strategy
If you focus on intent marketing in your keyword research, and topical optimization by adding high-quality content to your eCommerce website that contains those keywords, that content is going to rank better with fewer links.
Here are the steps to do it.
Step 1: Assign Search Intent to Your Different Page Types
The first step to doing keyword research for your online store is to understand the page(s) you're doing keyword research for, and the searcher's intent for each page.
Before we start: Are you doing keyword research for an existing page or a new page?
For optimizing an existing page on your eCommerce site: Perform Competitor Research
Focusing on older content is more efficient than generating new content. Updating your existing pages will usually improve page/site quality faster once enough articles are optimized.
The strategy for an existing page is to make your content more in-depth than your competitors' content while including their same keywords.
Skip ahead to the Content Gap Analysis step below to get the keywords to include in your existing content that your competitors rank for and you do not.
For optimizing a new page: Match the page type to keyword intent
Are you doing keyword research for a:
Product page
Category page
Homepage
Or for other content, like an article?
These different page types will typically have different types of keywords and search intent associated with them:
Homepage: Keywords describing what the business is or does (e.g. "Flowers and Flower Delivery").
Category pages: Mid-funnel keywords that show someone is shopping for a type of product (e.g. "fresh cut flower bouquets"). Brand keywords also come up here a lot, such as "Used Canon DSLR."
Sometimes, category pages even rank for slightly broad product names (e.g. "used canon rebel t6") because Google seems to want to show eCommerce category pages for a lot of long-tail keywords.
Product pages: Often, users search for product-specific modifiers when they are close to a buying decision. Modifiers like color, size, or item model just attached to the same category keywords (e.g. "one dozen red roses" or "used canon eos rebel t6s").
Articles and blog pages: These types of pages often rank for questions and problems that people are searching for. For example, a blog post about "How to Make Flowers Last Longer". Unlike home, product, and category pages — this content won't usually have commercial intent associated.
Note: Some search results have an eye-catching featured snippet such as a knowledge graph box, instant answer, or "people also ask" dropdown ranking above organic search results.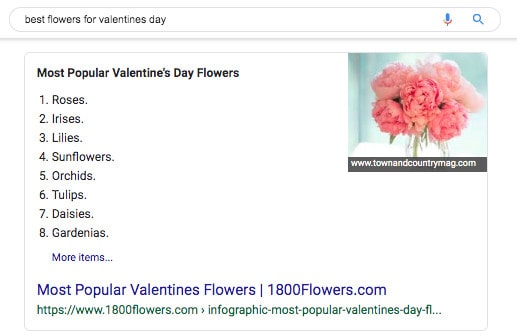 An example of a featured snippet from 1800Flowers.
To increase the odds of winning this real estate for yourself, do keyword research for featured snippets and use structured data on the page you're trying to rank.
Why is using structured data important for SEO? According to Google's information about structured data:
"Google Search works hard to understand the content of a page. You can help us by providing explicit clues about the meaning of a page to Google by including structured data on the page. Structured data is a standardized format for providing information about a page and classifying the page content; for example, on a recipe page, what are the ingredients, the cooking time and temperature, the calories, and so on."
Using structured data is a good best practice to do consistently. However, we normally recommend optimizing for featured snippets as an attempt to steal the current featured snippet for the keyword you are targeting. You should make your page content similar in structure and scope (but also better) than the ranking snippet.
Step 2: Brainstorm Optimization Opportunities
To get initial keyword ideas, start with what you already know about your eCommerce business and customers.
Ask the following questions. Note down the answers in a spreadsheet to create a list of different relevant search intents and topics for your site to target:
What are people searching for?
Who is searching for these terms?
When are people searching? (Are there seasonality trends throughout the year?)
How are people searching? E.g.

What words do they use?
What questions do they ask?
Are more searches performed on mobile devices?

Why are people searching?
Where are potential customers located — locally, nationally, or internationally?
With this spreadsheet, you can start to associate your existing or planned pages with their relevant topic and intent. Then, you'll start to find the keywords people are searching that line up with each of your webpages.
Use a keyword tool like Ahrefs, SEMrush, or Ubersuggest (free) to help you discover relevant keywords to target based on the intent and topics you've added to your sheet.
You can also look at Google's suggested searches for long-tail keywords that people are searching for. Simply start typing in Google's search bar to find these keywords and add them to your keyword list.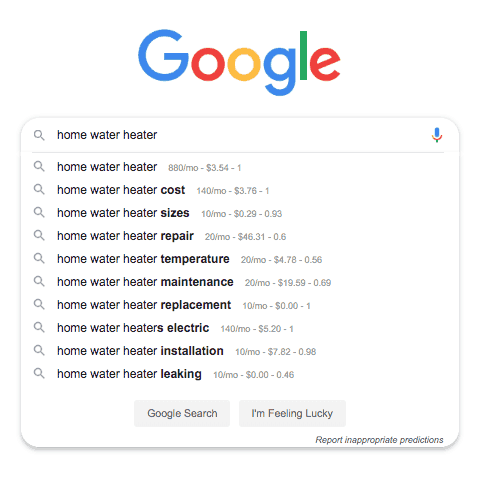 Google's Suggested Searches with their volume, CPC, and competition metrics from the Keywords Everywhere browser add-on.
If you pair Google's keyword suggestions with the Keywords Everywhere browser add-on, you can see keyword data including: the estimated monthly volume, CPC, and keyword difficulty for the suggested search queries, as in the above image.
Note: Keywords Everywhere has recently moved from a free to a paid business model, but it is still a very inexpensive keyword research tool.
Keep track of this keyword research within your dedicated spreadsheet by assigning groups of keywords to their relevant topic or intent.
Step 3: Prioritize Your Keyword Targets
Now you should have a list of main keywords and their related long-tail keywords. If you did competitor keyword research, you may have those competitor keywords as well.
Here is how to organize your keyword research if you're completely starting from scratch:
Make a list of what the page is about.
Include all kinds of search terms — from generic to highly specific — and put them into buckets.
Input those search terms within your list into SEO tools to find monthly search volume, competition, etc.
If you're finding too many related keywords with good search volume that you know won't drive conversions, get more specific.
If you're not finding any keywords with good search volume*, input some of the ones from your list of keywords into Google and do a simple search to find related keywords that do drive search traffic. *Note: Good search volume is relative, and you shouldn't get hung up on it.
For example, one of our clients in a small, niche market has very low volume keywords (10-30 searches per month for many phrases). However, they rank for many of them because of the low competition. Additionally, those low volume keywords have a great conversion rate because the pages ranking for them align with search intent.
It's better to optimize for highly relevant searches that have only 10 searches per month and meet user search intent than to optimize for irrelevant searches that have 500 searches per month.
To fill your list with relevant keywords:
Perform a Content Gap Analysis
Follow these steps to do a content gap analysis:
Login to Ahrefs, SEMrush or Ubersuggest. (In this case, we're using Ahrefs.)
Add your website's domain or page URL and click "organic keywords" at the top or on the left sidebar.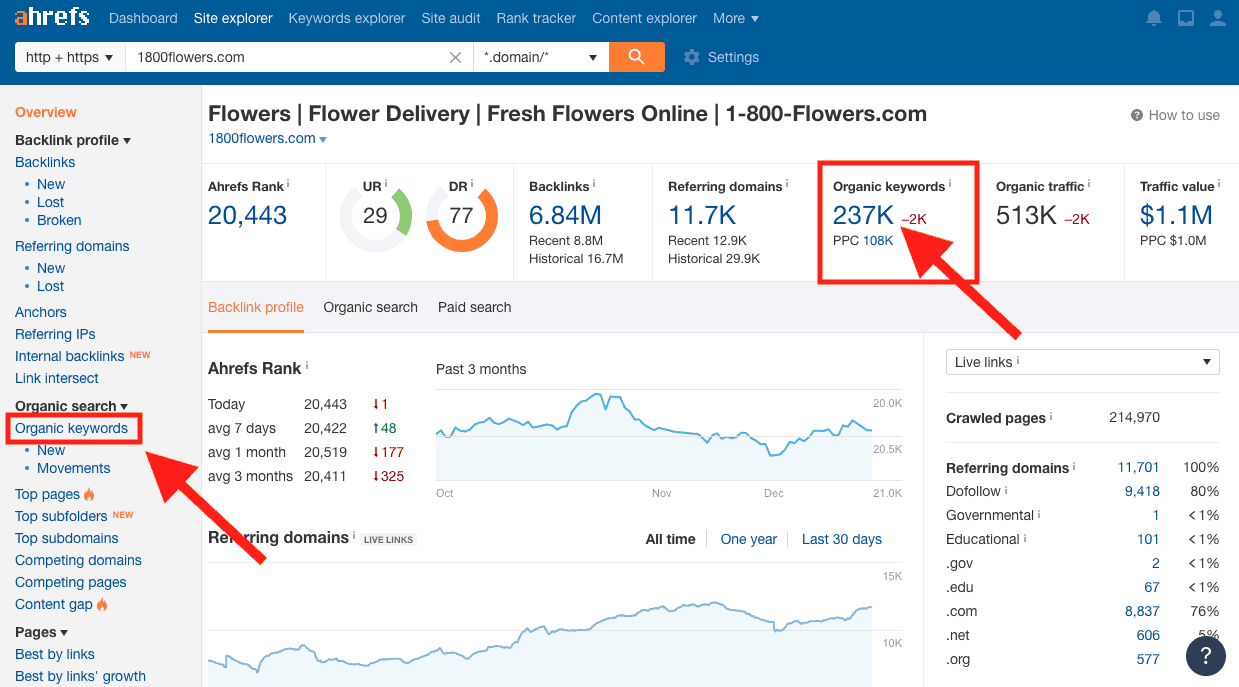 Filter by position 1-10 and click "export" to pull all the keywords that are ranking for the domain or URL into your spreadsheet: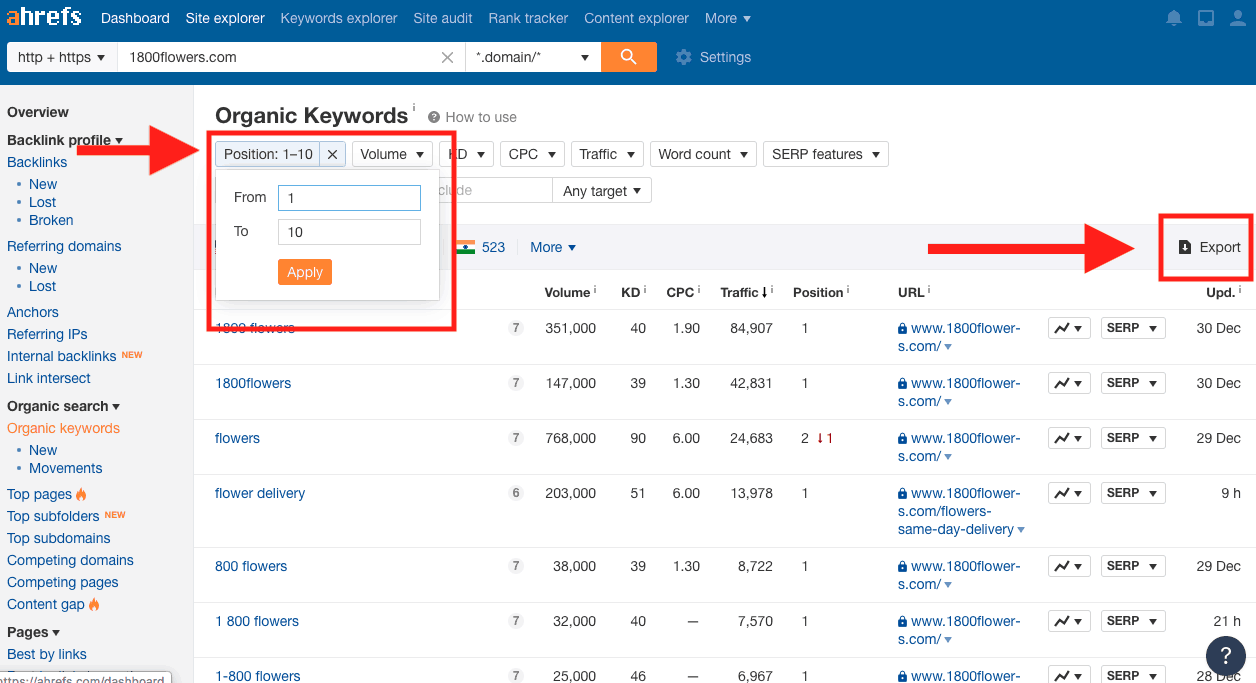 Navigate to the Content Gap report and enter at least 3 competitor URLs.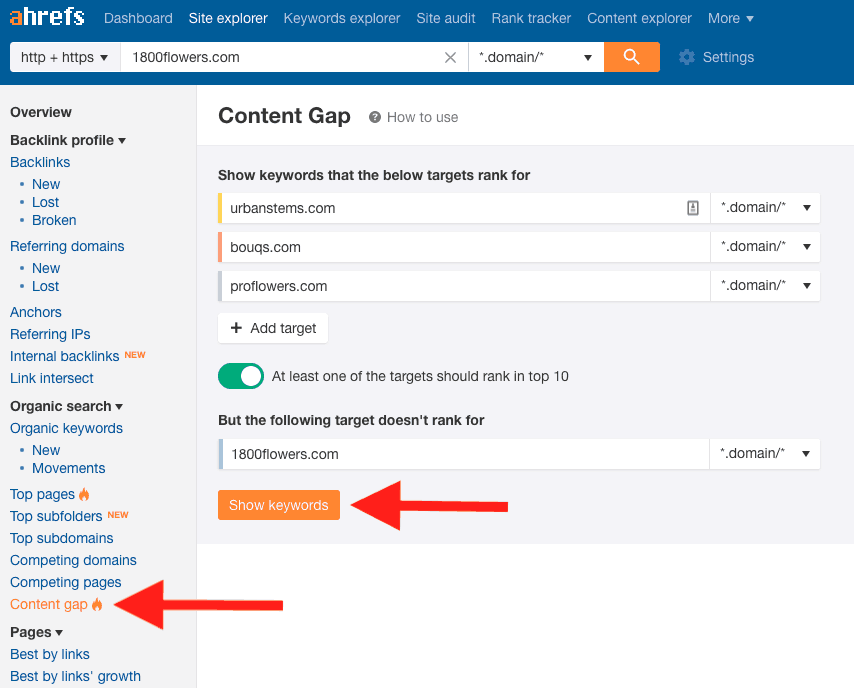 Pull keywords that competitors rank for and you don't, and then add these to your spreadsheet.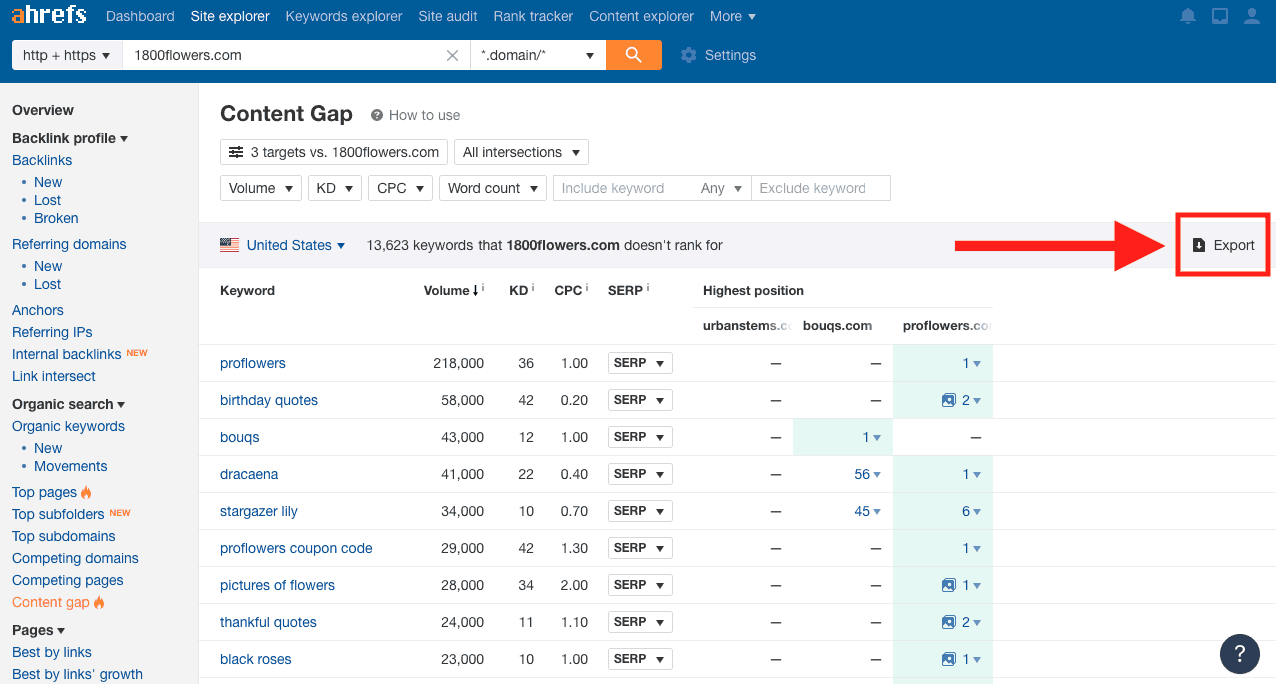 Note: Google Search Console is also a good place for existing content because we often find phrases that our client's site might get a few clicks for, but where the page doesn't rank well.
We like to use the Keywords Everywhere Chrome plugin to see search volume data in Google Search Console.
Organize Your Spreadsheet
Follow the steps below to finish organizing your keyword research.
Make sure you have a good mix of head terms and long-tail keywords.
Remove duplicates.
Remove keywords that you have no chance of ranking for (highly competitive).
Unless they are for buy-intent/product pages, remove keywords that won't move the needle (low monthly search volume).
Organize by monthly search volume (best indicator if the keyword will drive traffic).
Select a keyword that has solid search volume, that's competitive enough for the website to rank well for, and that fits the page contextually.
Step 4: Optimize Your Content
If you do a typical Google search for one of your targets, you'll quickly realize that the search results have a lot in common: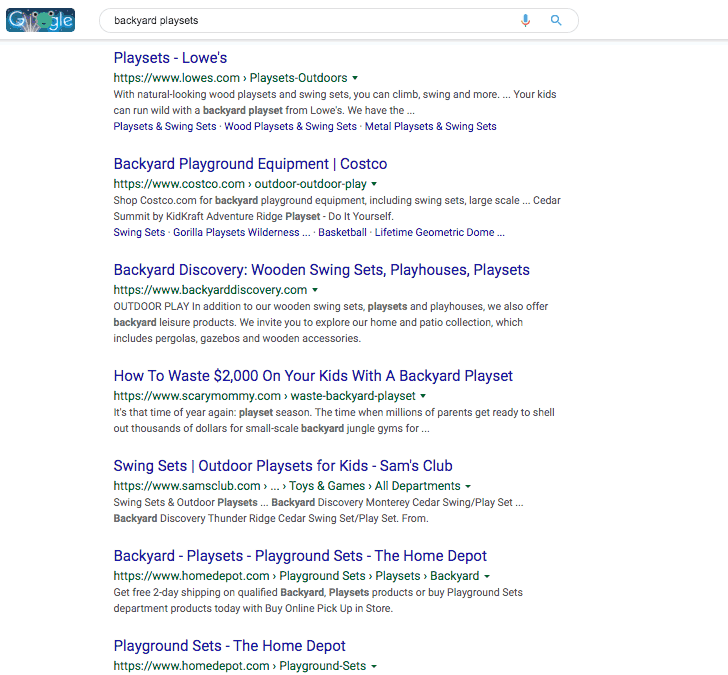 Popular search results share similar content and even specific keywords. This is a signal that your page should have that type of content and keywords in order to rank higher.
The great thing about this? You can look up the intent of any keyword by typing it into Google and looking at the first page of results. Those results are ranking at the top because they successfully meet the user's intent.
You can find the common keywords in the top-ranking search results by running the search query you're targeting through an SEO tool like Clearscope.
This tool will generate the relevant terms you should include in your page copy, help you uncover even more search intent, and assign a letter grade to your page copy based on your competitors' content.
This step is very important because it sets up your keyword research and page optimization for success (remember Google is looking for semantic connections).
Use all this research to develop well written page titles, meta descriptions, header tags, and page copy (learn how in our eCommerce copywriting guide).
Conclusion
eCommerce keyword research can be overwhelming at first, but once you discover the keywords people are searching for when they want what you offer, it becomes a lot more straightforward.
Intent marketing and topical optimization are the eCommerce keyword strategies we have seen win time and time again.
That said, we know that many eCommerce marketing teams are too overextended to devote the time needed to optimize their website SEO and engage in content marketing.
Or, your business may simply be looking for a fresh approach to doing eCommerce keyword research that drives more revenue. Either way, we can help.
If you would like our eCommerce SEO experts to perform SEO improvements and make profitable recommendations for your online store, get in touch here.