In consulting on eCommerce sites, I get asked a lot about Best Practices. I'm happy to share what the best practices are within a given context, user scenario and industry, however I am deeply worried when reviewing sites and seeing that they are breaking conventions.
Breaking a Convention, Lose lots of Money (Period)
"If you are gaining insights and testing, you can have big wins ignoring best practices."
A Convention is simply the way something is usually done, while a Best Practice is professional procedure that is generally accepted as being correct or most effective. Best Practices are based on opinions while Conventions are based on habits, and we all know how hard it is to break a habit.
Not following Best Practices does have the potential to cost a company over time, but it also has the potential to earn a company money because if you are gaining insights and testing, you can have big wins ignoring Best Practices. But if you are breaking Conventions, you are losing money all the time. I have NEVER seen a test that breaks Convention win.
When a Convention is broken, it throws people "off" or "for a loop," it disorients them, makes them take a step back to figure out what is going on.
Example:
Deprecated navigation in Checkout: Hiding navigation through eCommerce Checkout generally tests well and may be considered a Best Practice, but it is not a Convention. If it were a Convention, then its presence would confuse people by being there, and it does not. So when we see 17 out of 20 Best-in-Class sites deprecate navigation in their Checkouts, we don't cry foul on the three that do not.
What are Conventions for eCommerce
When compiling our most recent eCommerce Best-in-Class List, and its corresponding Best-in-Class Comparative Matrix, we realized a large part of what we were doing was inventorying a lot of Conventions. We recognized that calling these out should be the first thing we do when publishing our findings, because it is the first thing any site should fall in line with.
eCommerce Conventions Related to Online Sales Optimization
Current Conventions
Homepage
Show Merchandise: Products are shown on the homepage so users can see examples.
All sites on our list are showing merchandise that they sell on their homepage. In the near past this was not the case with some sites believing it was not possible to show just a few of their products when they sold so many. Looking at our list, it is easy to see a clear Convention has been set where products are shown and they lead to that product category (in rare cases the product themselves).
Sell and Deliver: Provide Information and links to purchasing options, return policy, shipping and delivery information.
While presented in a low-key way, ALL of our Best-in-Class sites provide easy access to their policies and deliver information on their homepage…ALL OF THEM (in case you don't get the hint you should do this).
Navigation
Noticeable subcategories to aid navigation: User is offered the ability to navigate beyond top level and to other categories at the same level.
The days of people methodically "drilling-down" as a preference are gone. Today, people want to see the navigation options at least two levels deep before they click.

Multi-select facet navigation: Ability to select more than one filter option at a time to gain wider results.
All but two sites allow users to apply more than one attribute to a filter, and both of those sites that don't are that way because it is right for them. If you don't allow users to select multiple facets, you likely need to invest, as Inflow has shown the ROI to be there time and time again. Even with top faceted navigation (6 of our 20 Best-in-Class sites have this now), the navigations allow you to filter on several options at the same time.
Below is an example of how Underarmour.com does it.

Sale price (called out) on gallery pages: Sale price is called out after regular price is crossed out.
EVERY site on the list that has sales does this, pretty much the same way. See REI.com's treatment below: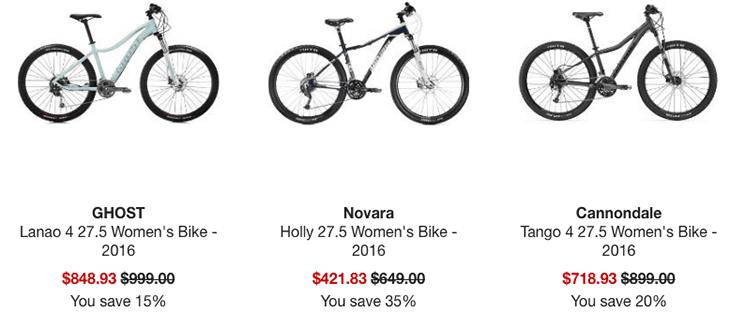 Product Page Add to Cart
Image and full attributes provided: Presence of product image, and attributes like color, size, material, etc.
When a user adds to cart, the Best Practice is to show the product image and all meaningful attributes. This is why 17 or 19 sites on our list do it. The benefit is that users know, without A DOUBT, that they have the right thing in their cart. If there is any possibility that the user may doubt they have the right product, then they are compelled to double-check by re-visiting the page. When they do this, friction is added to their experience and you lose money.
Click Image Thumbnails: User must click thumbnail to change main product image
The current Convention. Worth testing Thumbnails changing on mouse-over (which will not throw people off since it changes as they click).
Reviews on Product Detail Page (PDP): Does the PDP have reviews?
A Convention that is not always followed within branded eCommerce as much as retailer eCommerce, but expected especially if you sell other company's goods. Fifteen of the 20 sites on our list have this. The other five have strong enough reasons not to.
Wishlist
On Product Pages: Is it present on product pages?
The two sites on our Best-in-Class list that don't have this on PDPs don't have it at all. Only one is traditional eCommerce, the other is a web security site.
Faux Convention Gated Wishlist: Is the user required to register prior to saving to their wishlist?
Despite the fact that most sites require registration before allowing a user to save to their wishlist (including 15 of 19 sites on our list), this is not a Convention or even Best Practice. Testing show un-gating eCommerce wishlists or doing some sort of gated hybrid convert more wish-listers into buyers (by far) when done properly.
Cart and Checkout
Focus to Cart, not Checkout: Lead user to Cart, even if they say they are going to Checkout
If you ever offer a button that says "Checkout" (other than in the Cart), know that people are expecting to go to the Cart when they click it. That is the Convention and only three of the sites on the list deviate from that, which is right for them, not necessarily for you.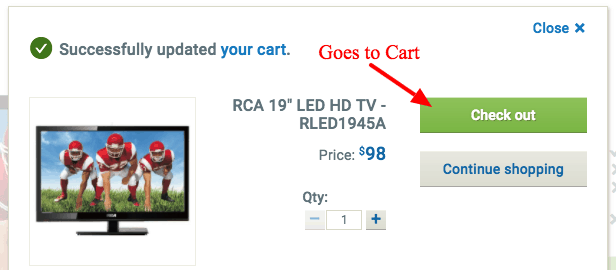 Shipping & Billing: Auto select same as shipping or billing
All but Barneys default to using the same address. This is a Best Practice and makes things easier for users. Form fields scare people, so hide them.
Social Sign-in: Allow people to sign up to site features using Facebook or other social media sites.
For sites with Cart/Checkouts that involve a "sign-in" page, the emerging convention is to allow the user to register with their Facebook, sometimes Google, account. Make no doubt, users have grown and grow more each day to expect this, and not offering it will stop many people in their tracks.
Example: ModCloth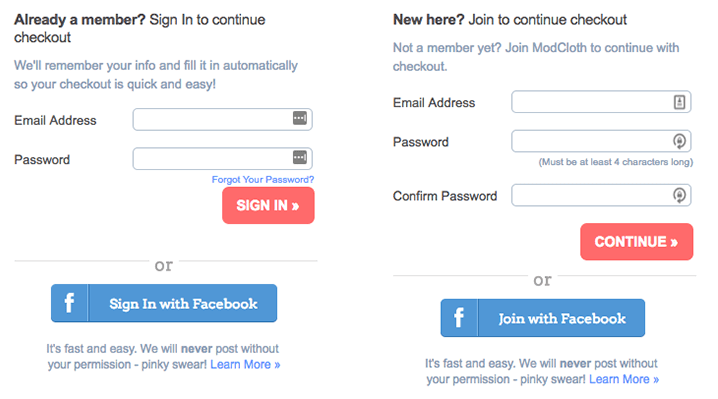 Summary
If there is a Convention, it needs to be followed. There are lots of opportunity to be creative, try new ways of doing things. There is even room for change for the sake of change (but let your marketing team take the lead on that), but there is no room for giving someone an experience when they are expecting another.
We hope this article and the matrix the data was pulled from help you. We'll keep updating the data daily so you can have the same up-to-date information we have on Conventions, Trends, Innovations, etc.