You've attracted a consumer to your site and won them over on a particular product, but most eCommerce marketers know that doesn't guarantee a sale. Shopping cart and checkout functionality can make or break a sale. It can also make a big difference to your average order value (AOV), which is why optimization of online your store cart and ecommerce checkout design is so important.
Each year we analyze leading eCommerce sites across dozens of categories to identify what features and technology they're using: which features are trending and becoming the norm. In this post, we detail our research about shopping cart and checkout trends, creating the best checkout pages, and ecommerce shopping cart best practices, complete with examples from many of the websites we studied.
Based on our research on leading eCommerce sites in 2018, here are:
Note: Want to talk to our CRO team (who performed this study) about how your site compares to the best-in-class? Reach out here or schedule a call above.

Part One: Popular Shopping Cart and Checkout Features
Across the leading eCommerce sites we studied, these six features were extremely common:
Feature #1: Site Keeps a User on the Page When They Add an Item to the Cart
In use on 17 of 20 best-in-class websites
Keeping the user on the product page instead of taking them to a separate cart page is now a dominant trend in 2018.
Our rule-of-thumb is that sites that average more than 1.6 products per order should not send users to the cart each time they add a new product.
There are two standard styles you'll see for sites that do this: a drop-down "bag" and a lightbox-style pop-in layer.
13 best-in-class sites use a drop-down "bag".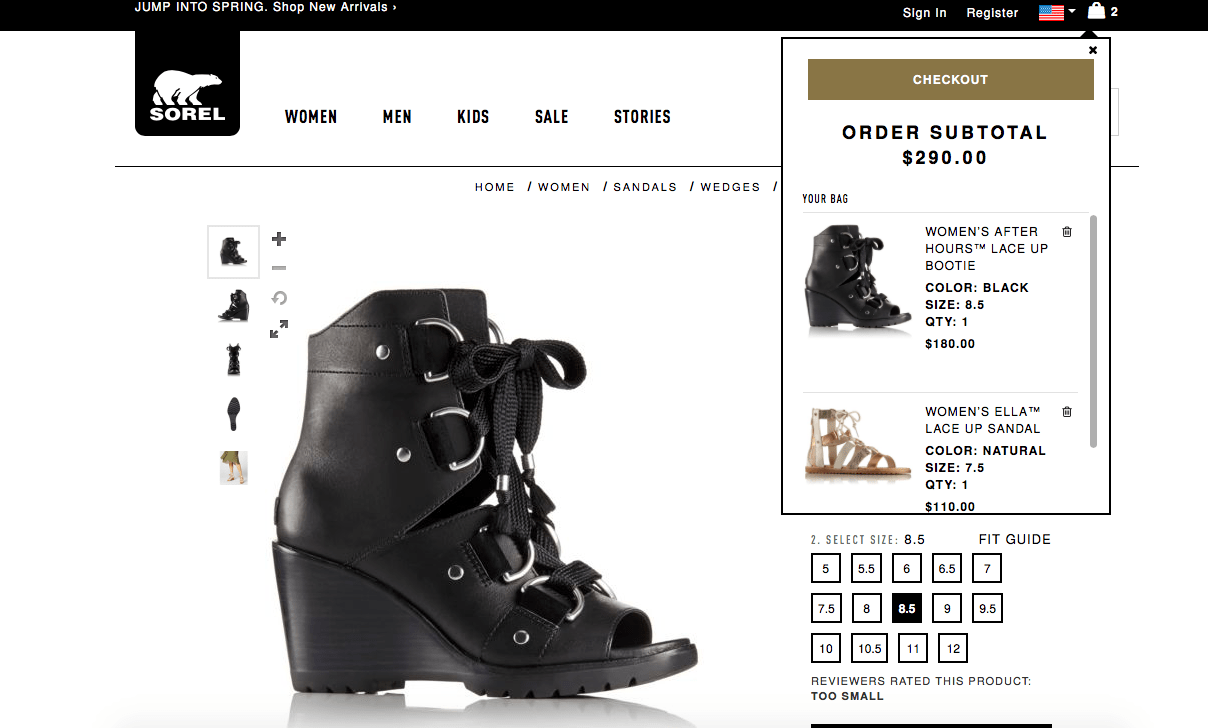 9 best-in-class sites use a pop-in. We this option trending up and believe it's because pop-ins allow for easier cross-selling options.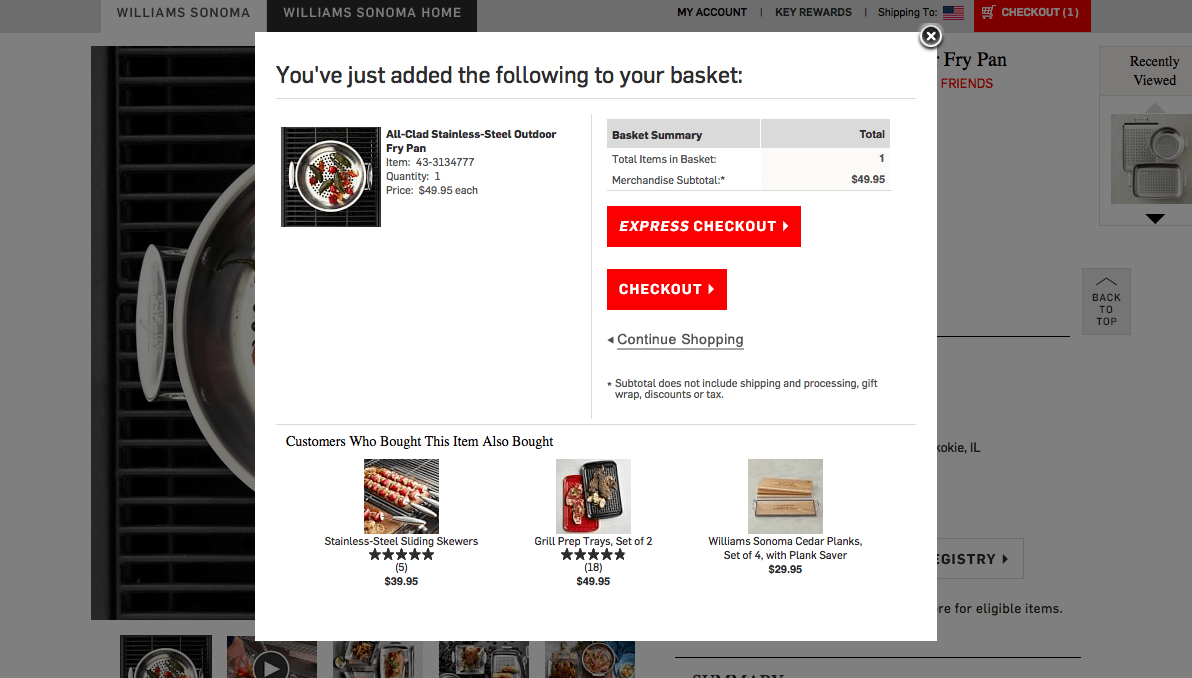 Feature #2: Cart Provides Product Attributes
In use on 18 of 19 best-in-class websites  (1 site not applicable)
This year, we saw dramatic growth in the number of best-in-class sites that include product attributes (such as fabric, finish or size) in their cart details.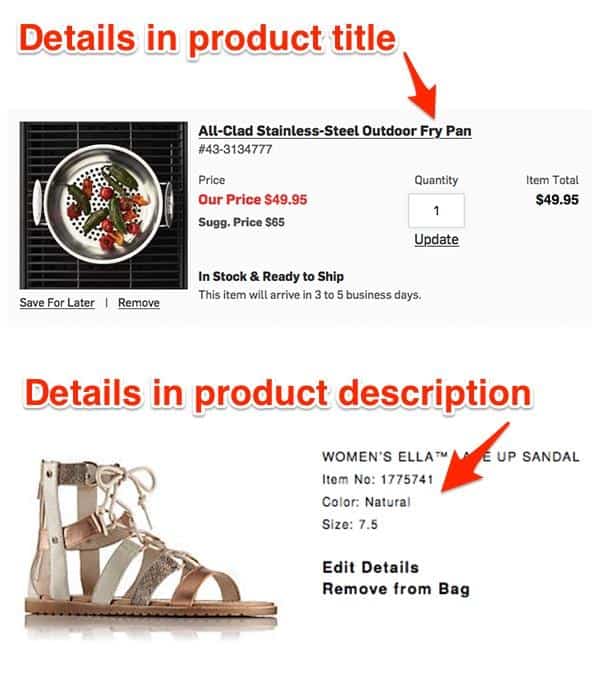 When you have similar products that may differ on one or more attribute, you need to show the attributes with the product name and picture to assure users that the right item is in their cart.
Feature #3: Cart Contains a "Candy Rack"
In use on 10 of 19 best-in-class websites (1 site not applicable)
The "candy rack," or upsell area is growing in popularity. You'll currently find this in half of the best-in-class sites, and most of the sites that aren't employing a candy rack simply haven't found a good way of doing so.
For instance, due to the amount of products they sell, REI or Walmart need a higher level of intelligence to get the right product in front of you, and Nixon or GlassesUSA are unlikely to sell you another watch or frame. Whenever you can get relevant products in front of users, however, this has a high likelihood of increasing AOV.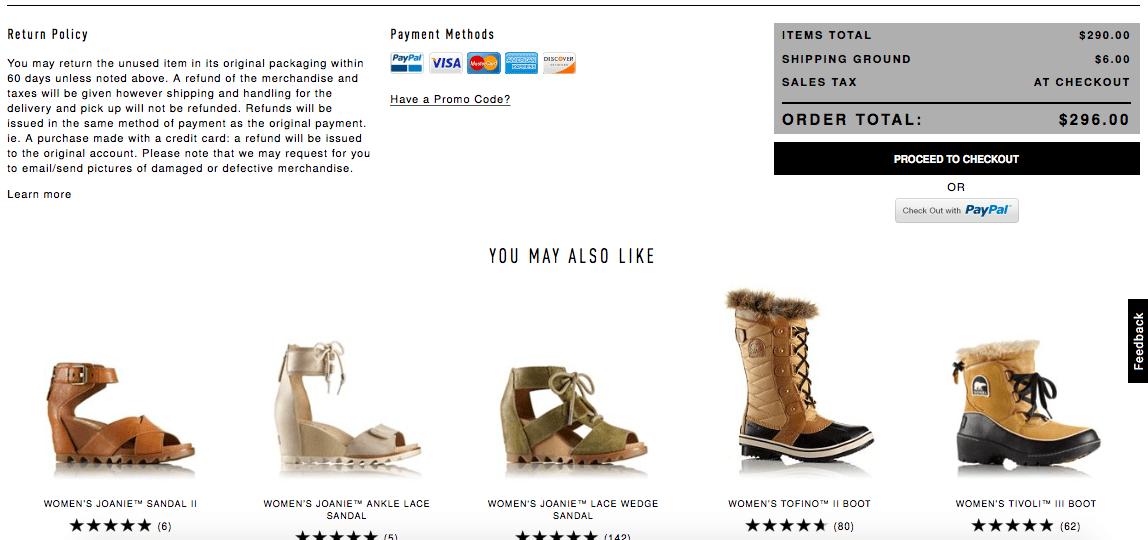 Feature #4: Final Pricing Available in the Cart
In use on 17 of 19 best-in-class websites  (1 site not applicable)
With this feature, the user is able to obtain the final cost in the cart — or at least an estimate of their credit card payment.
In our past surveys, most sites still didn't allow the user to see final pricing in the cart, despite users wanting it.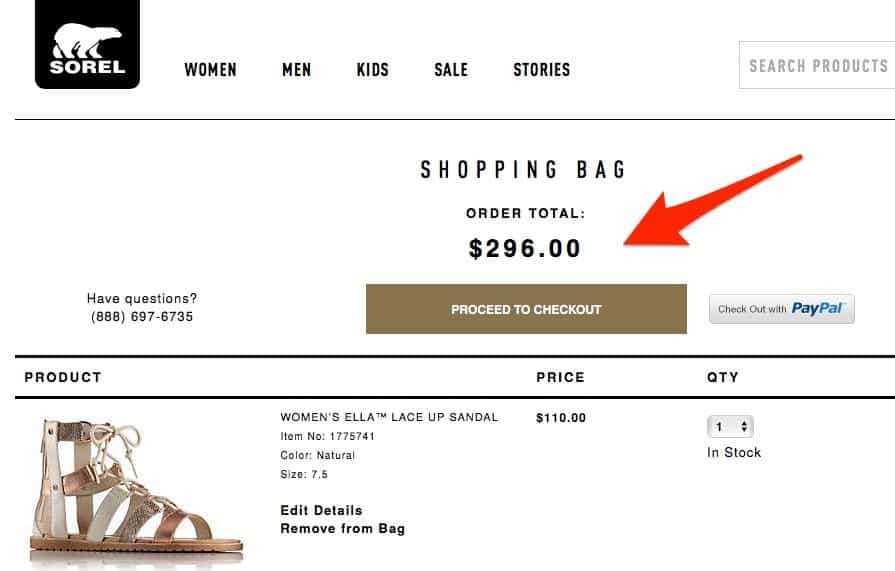 Feature #5: Order Summary Persists Throughout Checkout
In use on 16 of 20 best-in-class websites
It is becoming a standard practice to show the order summary throughout the checkout process.
Users want to be sure they are buying the right items. By having this ability throughout checkout, you prevent users from getting sidetracked and leaving the checkout process to find out. Additionally, doing this allows you to bypass a review page.
Removing that step has a large impact on conversion rate through the checkout flow.

On additional benefit of this practice is that it allows customers to maintain an emotional connection to the item throughout the checkout.
Feature #6: Shipping and Billing Address are Auto Filled In
In use on 13 of 19 best-in-class websites (1 site not applicable)
In the past, most sites auto-selected the shipping and billing addresses to be the same, but this year, we saw several sites get rid of this feature. As we've seen verified with our own testing, auto-populating or auto-selecting the second address field is a best practice — since it makes things easier for users.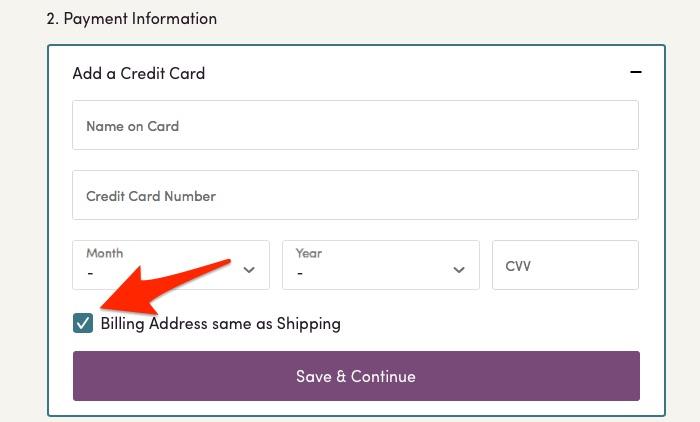 Part Two: Shopping Cart and Checkout Features Trending Down
The following are four features we saw fewer best-in-class sites using than last year. It's important to note, however, that a downward trend doesn't mean the features are necessarily bad practices.
In many case, sites have simply not figured out how to best implement them.
Feature #1: Estimated Arrival or Ship Date
In use on 3 of 18 best-in-class websites  (2 sites not applicable)
Showing the estimated shipping time in the cart has decreased considerably this year. This is an example of a downward trend we see as a loss for user experience.
Displaying the estimated arrival or ship date is a good practice to implement whenever possible because it's information people always want.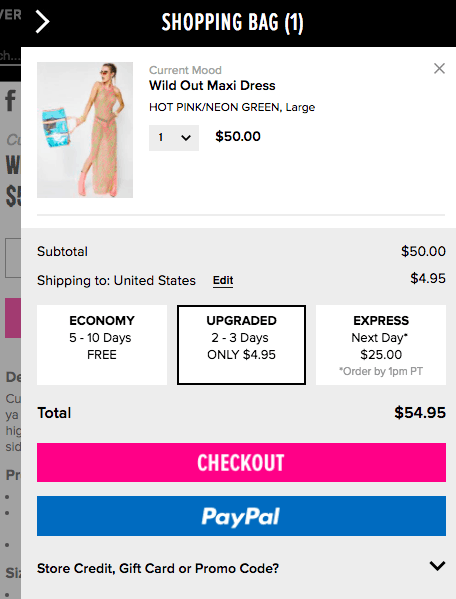 Feature #2: Save Products for Later
In use on 8 of 19 best-in-class websites  (1 site not applicable)
Fewer sites are offering the ability to save the product in a wishlist for later. This is a feature that users respond well to, but it has not yet taken hold in the industry.
We believe best-in-class sites haven't figured out how to do this well yet. Once they do, we expect it will become dominant.

Feature #3: One-Page Checkout
In use on 6 of 20 best-in-class websites
We saw a pretty dramatic decrease in one-page checkouts (where all fields were open to edit and view on one page), and they are now the minority. Previously best-in-class sites were split between this option and multi-page checkouts.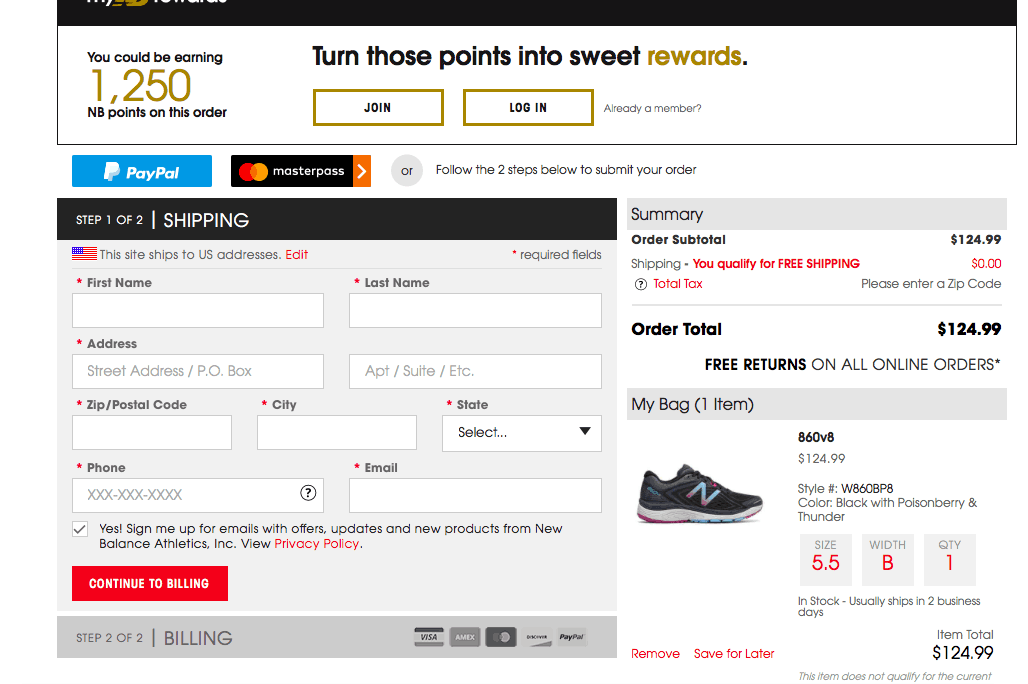 Our advice is to be very clear on how many steps there are and how far along the user is in the process. If you choose to do this on a single page, consider the accordion-style checkout — which does this very cleanly.
Feature #4: Review Page
In use on 11 of 20 best-in-class websites
While having a review page during the checkout process is still a dominant trend, a couple years ago the majority of the list would likely have used one. Now we see the number is down to just about half.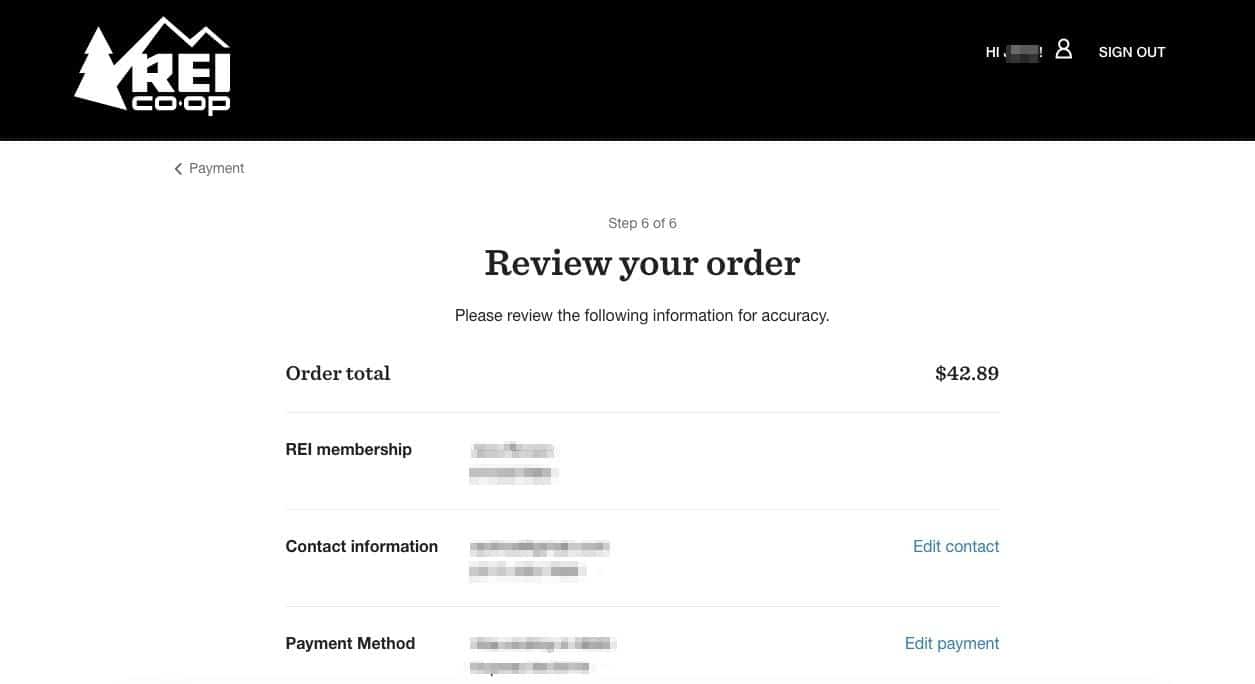 In general, unless there are important details to confirm (such as prescription information for glasses orders) you can skip the review page.
As mentioned earlier, a better practice is to have the details of the order available throughout the checkout process.
Note: Want help improving cart and checkout design on your eCommerce site to improve your results and decrease cart abandonment? Contact us to discuss how to optimize your site for conversions.