Late in 2017, one of our clients, Home Science Tools moved its website from Magento to BigCommerce.
The move went well in almost every area.
"We're able to have better granularity and understanding of who our customers are," said Brandy Hansen, Director of Marketing for the company, whom we spoke with recently.
This new functionality — the ability to better track who's visiting the website and what they're looking for — has been critical to the company's efforts to better personalize the potential customer experience on the site, which improved user experience in general.
"We're able to get a certain level of understanding from what products they're buying, the frequency, or the time of the year that they're purchasing," Brandy told us.
The search engine optimization (SEO) impact, however, was unexpectedly negative immediately after the migration.
"We did have some hiccups with SEO though, which we've been addressing."
In this article, we'll share with you what happened from an SEO perspective: why they had those hiccups, and how they've turned things around in a big way in the time since.
Note: We've worked with dozens of eCommerce companies to increase conversions based on organic traffic. We can create a custom SEO strategy for your business. Contact us here.
BigCommerce SEO and Blog Challenges
In general, hosted eCommerce platforms such as BigCommerce (also, Shopify) are not great places to host content like blog posts or educational resources. They all have out-of-the-box blog solutions, but the blogging tools that come with the platforms are extremely limited compared to the most robust blogging software ever: WordPress.
Thus, our recommendation to eCommerce stores for setting up your blog is to decide how much you will invest in it:
If you plan to have only a few posts, it will be easiest to just use the built-in, out-of-the-box blogging solution from BigCommerce, Shopify or whatever your hosted eCommerce platform is.
But if you plan to have, or already have, a lot of content (like Home Science Tools did) or if you want to customize lots of details about your blog (exact look and feel, social share plugins, email capture, pop-ups, etc.) then you'll want to use WordPress.
Having a WordPress hosted blog with a BigCommerce store has never been easy.
In fact, in mid-2018, the BigCommerce platform came out with a new WordPress integration to address this exact issue. We don't view the new integration to be a robust solution, but it does show that BigCommerce is aware this isn't a strength for its platform.
In 2017, that integration wasn't an option.
That was a problem for Home Science Tools, which had a large database of content (its "Learning Center"), which generated thousands of pageviews a month in traffic.
Its best choice was to move the learning center to a WordPress powered subdomain.
If you look at the site today, that's the setup you'll see.
The main eCommerce business pages (built on a BigCommerce website) are on: homesciencetools.com.

The Learning Center (built on WordPress) is on: learning-center.homesciencetools.com/blog/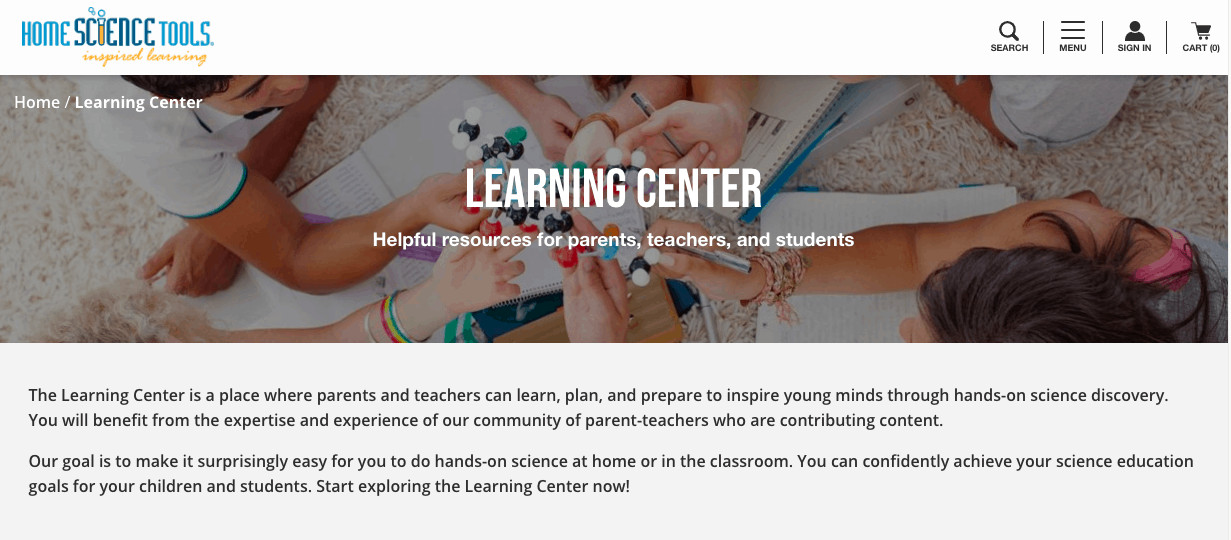 An Initial Drop in Organic Search Traffic
Initially, the move to the subdomain caused a dip in organic traffic to both the main eCommerce website and the learning center — a dip that alarmed everyone at Home Science Tools for a while.
It has not stayed that way, however.
In the past year, our team has worked with Home Science Tools to make steady improvement in the site's search engine optimization performance.
"We've been very judicious in how we approached SEO over the past six months, and we've seen some incredible results in that area," Brandy told us.
What, specifically, has worked to turn things around?
As a ranking factor, the platform doesn't matter nearly as much as you might think.
Regardless of whether you have a Magento, WordPress (WooCommerce), BigCommerce — or something else — what matters for Google search engine results is getting the fundamentals right for your online store.
Where the platforms make a difference for important stats is the ease in which you can make the changes to follow the fundamentals mentioned below.
Here are two of the key "fundamentals" that have been leading to results for Home Science Tools. If you're also looking to switch eCommerce sites or simply improve the search engine optimization performance on your current platform in an SEO audit, they should hopefully be useful to you as well:
1. Getting Redirects Product Page Redirects Set Up Correctly
Home Science Tools has thousands of product pages and hundreds of content pages across its main domain and the learning center.
Unfortunately, BigCommerce doesn't have a "smart" way of managing redirects built into its platform (like some other systems do).
Making the process more complicated, years ago, Home Science Tools was called Home Training Tools, with the URL: https://www.hometrainingtools.com.
That meant there were already thousands of existing product pages redirecting from the old domain to the new one — all of which needed to be managed as part of the migration.
Moving the learning center to a subdomain meant a lot more redirects needed to be created as well.
Combined, that left a list of many thousands of redirects to manually create, making it impractical to build every redirect that needed to be built pre-migration.
As a result, some the "link juice" from some of Home Science Tools' backlinks got lost in the migration.
Solving this was a straightforward — if painstaking — process. In partnership with our team at Inflow, Brandy and her team identified the redirects that most needed to be built to improve organic traffic. They prioritized them, then sent them to the development team to be processed.
By doing so, we recapture a little bit of that lost link juice with every redirect we correct.
2. Removing Low-Performing Content (or Deindexing From Google)
A relatively new tactic in SEO is the process of removing low-performing content from a website. It's one we recommended for Home Science Tools and from which we've seen a very positive impact.
In the learning center, specifically, there were pages of content that had been created years ago, weren't optimized for SEO, and weren't getting pageviews of any kind.
For any web page that met that criteria, we recommended either:
Improving it
Deindexing it from Google
Anything outdated was removed or deindexed from Google. For pages that had content that just hadn't been updated in a while, these lower-quality pages could often be combined, creating one high-quality page from two or three pages that hadn't been performing.
"We had this enormity of content," Brandy told us. "It had been years since we'd intentionally pruned, removed lower-performing articles, or repurposed and republished pages. We started with our 16 top performing articles, improved them, and then we went down the list from there. It's work that continues to this day."
This aligns Home Science Tools with Google's broader push to reward quality content for eCommerce brands, a trend that all SEO experts expect to continue.
Home Science Tools is Poised for the Best Year in Organic Traffic
Home Science Tools didn't make the move from Magento to BigCommerce with SEO as its primary consideration.
But the move did expose a number of areas where SEO improvements could be made for the online store.
By addressing SEO fundamentals in a systematic, organized way, Home Science Tools is trending toward its highest year ever for organic traffic.
One additional eCommerce SEO tactic that we have yet to implement is to move their library from a subdomain to a subfolder. Despite Google repeatedly announcing that it makes no difference, our experience — and that of many other SEOs — is that it usually does. It is possible such a move could further improve organic traffic.
Unfortunately, hosted eCommerce platforms such as BigCommerce don't make putting a WordPress-powered blog in a subfolder straightforward. There are tactics to make it happen, which we are exploring.
Nonetheless, even if we do move the library to a subfolder and see an increase in organic traffic, it will still be the execution of the fundamentals (e.g. quality content, proper redirects, on-page optimization, keyword research for target keywords and long-tail keywords, meta descriptions, internal linking, etc.) that will be responsible for the majority of their SEO success.
Note: Want a custom in-depth assessment of your search ranking performance? Contact us to get started.