Cruft is a word used by developers to describe superfluous, messy code. None of them actually write code like that. Only the developer before them does. Not sure how that works? Me neither.
But in SEO it works much the same way. Our first job with a new site is usually to clean up all of the old stuff that could be harming search engine rankings. This includes useless junk URLs and low quality pages indexed by Google. AKA, "the cruft".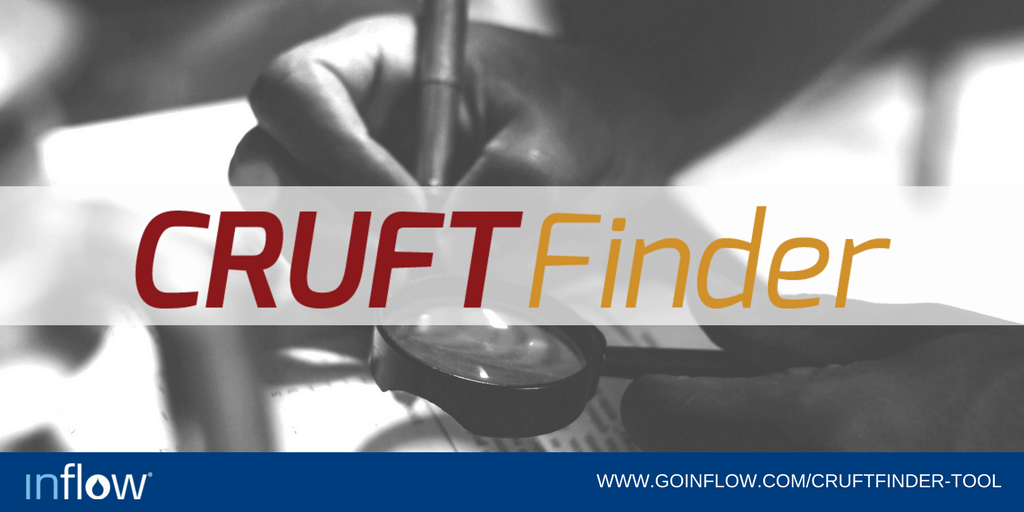 Why Cruft and Indexation Bloat are Bad for Rankings
First, and some may argue foremost, it improves the crawlability of a site by conserving crawl budget and internal PageRank for URLs that matter the most. It also improves the overall perceived "quality" of a domain when low quality content is removed.
Quality signals include things like:
The actual quality of the content itself, of course
Perceived Expertise, Authoritativeness and Trustworthiness (EAT)
PageRank (PR / Links)
Brand Trust (Reviews, Sentiment analysis)
Engagement Signals (See below)
User Experience
If we put all of the above quality signals into one lump and call it QualityRank (for the sake of discussion), what would be the most cost-effective, quick way to improve your QR score?
Cutting the cruft, pruning to optimize crawl budget, reducing index bloat… These are different ways of saying generally the same thing, as illustrated below: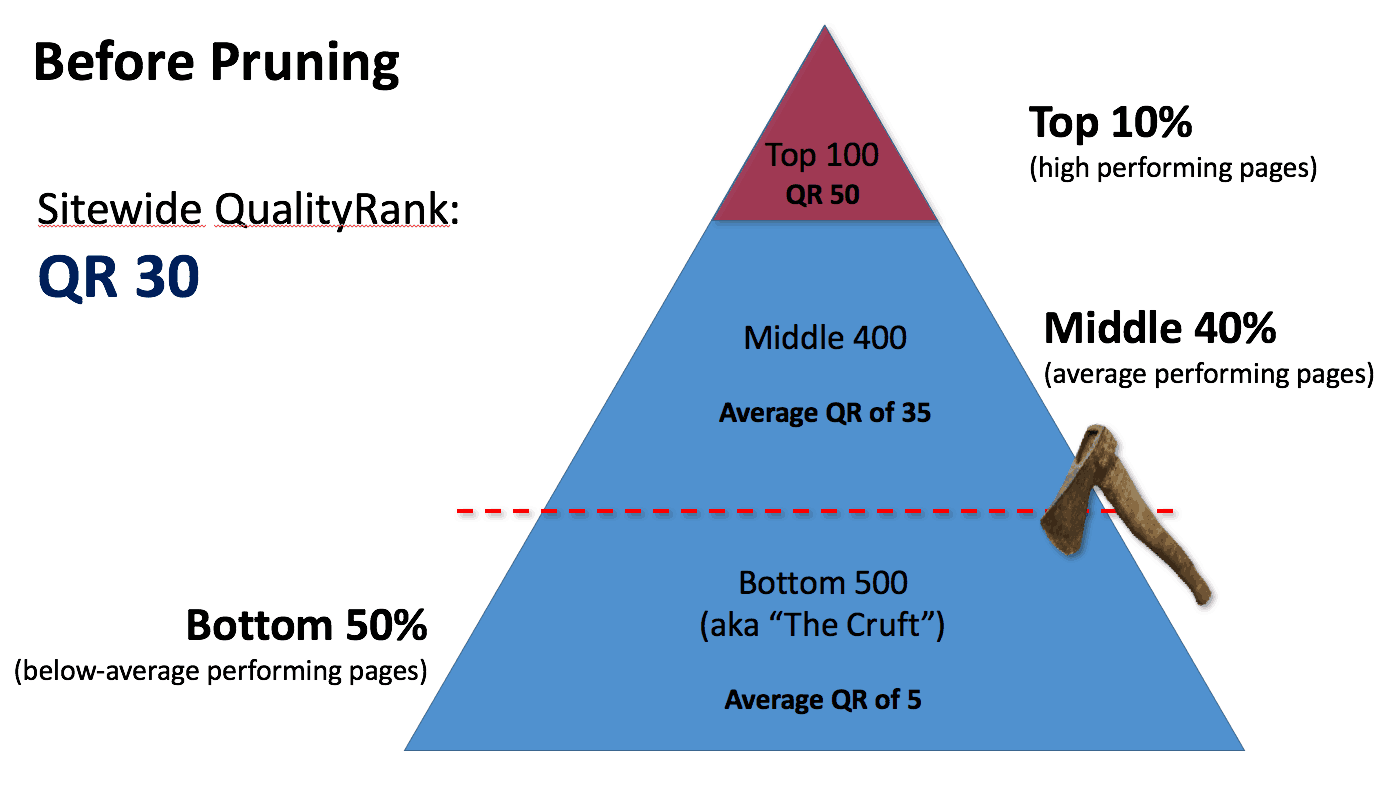 The bottom 50% have very few organic search visits. We're talking none to a handful during the busiest part of the year (to avoid seasonality mistakes), and all of which add up to less than 1% of total traffic from organic search. If they receive traffic from elsewhere, that's fine. You'll keep them up, but will not allow Google to index them.
The illustrations above may be simple, but implementing this concept requires deep research or you risk doing more harm to the site than good. We built The Cruft Finder to be primarily an early diagnostics tool. It's like when you go to the doctor but before you see her, the nurse comes to take your vitals. In other words, stick it somewhere in your audit process / checklist and make a habit of using the tool in audit, especially on very old sites or those that have recently migrated to a new platform.
Introducing The Cruft Finder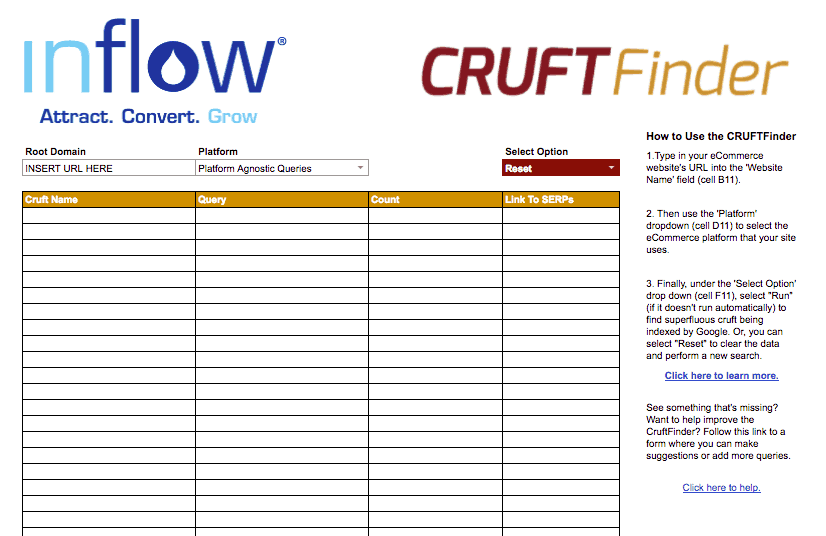 [You will be prompted to make your own copy.]
What The Cruft Finder Does
The Cruft Finder tool helps eCommerce marketers find and remove unnecessary and potentially harmful content from Google's index.
It does this by querying Google for your domain in combination with various URL strings, titles, content and query parameters that are associated with "cruft" in general, or specific to certain eCommerce platforms like Shopify, Magento and WooCommerce.
Click here for a video tutorial that demonstrates how to use the tool.
Who Should Use It
eCommerce business owners, executives, website builders and marketers can all benefit from this tool in various ways. It is easy to use and requires little technical SEO knowledge to run and diagnose whether or not there are issues to address.
If the report returns a significant amount of suspected "cruft," a more experienced SEO can look into whether there are problems with "index bloat" and "crawl budget." Step-by-step instructions, guides and background articles are linked below.
The Cruft Finder will work for any eCommerce website, even homegrown systems. When possible, it searches for platform specific cruft. At launch we have common cruft queries for Shopify, Magento, Wordpress/WooCommerce in addition to the platform agnostic searches.
SEO Cruft Pruning Resources
Background on Google Index Cruft, Content Audits and Pruning for SEO
The Most Effective Way to Improve Sitewide Quality and Rankings
I feel like I've rewritten this article in a dozen different ways, but the link above is still my favorite.
Index Bloat: What it is and how to fix it (carefully)
Dan Kern approaches it from a slightly different angle and provides a ton of great insight in this post. Did I mention he's Inflow alumni?
The Cruft Crusher (eCommerce SEO Tactic)
Guides and Other Tools
Pruning Your eCommerce Site: How and Why
Content Audit Strategies for Common Scenarios
How to Get More ROI Out of Your Content Audit
URL Profiler Content Audit Tool