Google is the kingpin of digital marketing.
It's a household name; it's a verb; all eCommerce companies (heck, almost all people) have heard of it — and almost all marketing departments have at least tested out its paid advertising capabilities for their company's products.
Google is certainly the most well-known online marketing opportunity, but it isn't the only player in the game.
For some companies, including many of our clients, it's wise to diversify marketing budget to include some of the less-popular cousins — like Microsoft Advertising (more commonly known as Bing Ads).
Whether you're setting up paid search advertising for the first time or looking to expand and branch out from the headliner, it can be tricky to decide how much you should invest in Bing Ads vs. Google Ads (formerly known as Google Adwords). Knowing which is right for your brand — and how to maximize those PPC campaigns — is critical for meeting your goals.
In this article, we'll discuss how you can allocate your resources for these two platforms, based on how Bing and Google Ads differ on:
Features
Audience Reach
And Budget
Bing Ads vs. Google Ads: The eCommerce Breakdown
Many of our eCommerce clients have experimented with both Google and Microsoft Ads over the years, with varying results.
It's impossible to say one is "better" than the other without personal experimentation and testing. Your results may emulate the overall market, or your company could be an outlier.
Testing and analysis are the only ways to know for sure if Google and Bing are a match made in heaven — or if you need to stick to one over the other for best results.
Whether you have an in-house team or use outside experts for your paid search advertising services, the Bing vs. Google Ads conversation is one that needs to be had.
To help you decide where to start your tests (and understand how to make the most of your budget right off the bat), we'll compare the biggest aspects of the two platforms, using our own client examples.
Features
Microsoft (Bing) Ads often roll out similar features to Google, although they may come a few months or years later.
The current state of the two search engines looks similar on the surface — but there are subtle differences you'll notice when digging deeper into the automation, functionality, and capabilities of each.
Which placements are available:
In addition to Google Search & Shopping, Google also offers options like display ads, YouTube ads, and more.
We often recommend using both Search & Shopping ads in your eCommerce Google Ads strategy. Giving your buyers more opportunities to see your brand and your products can boost visibility and ultimately conversions.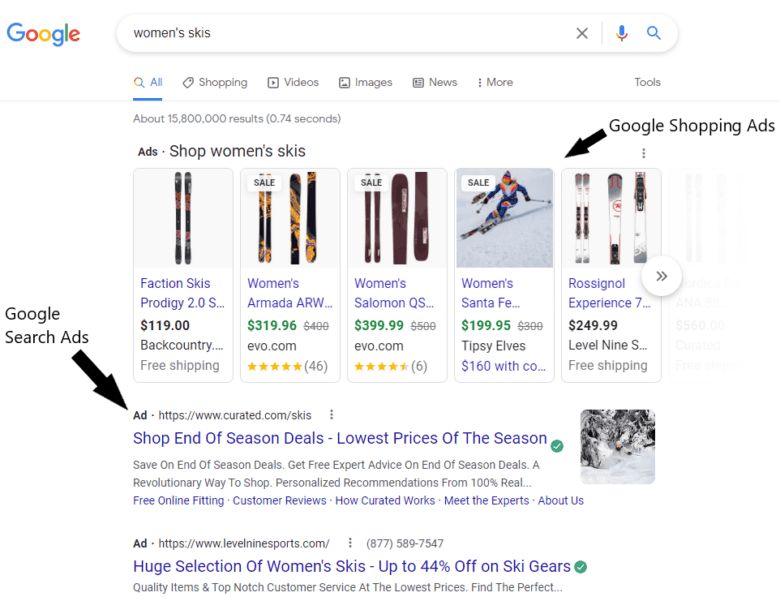 Bing also offers Search & Shopping Ads. The platform also just recently implemented Smart Shopping options.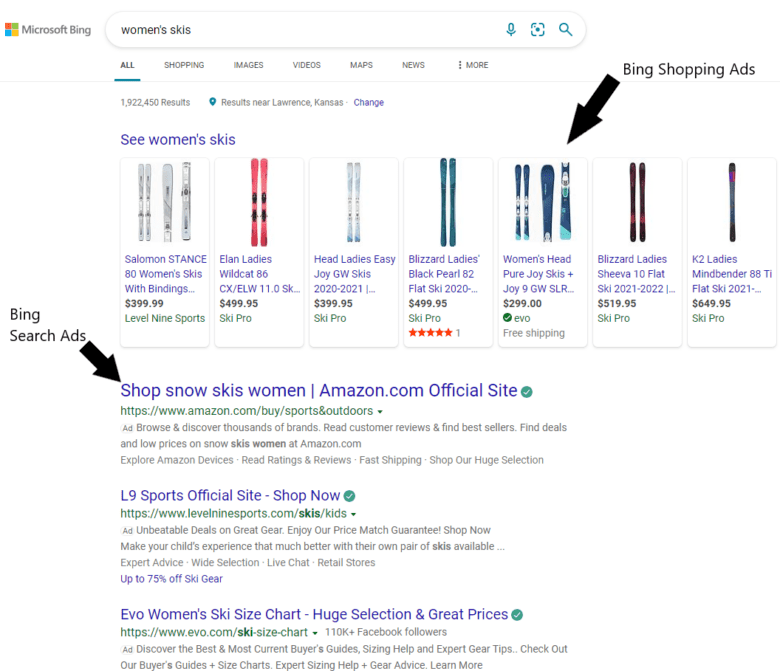 On the surface, it might appear that the two offer the exact same types of ads; however, Bing's Shopping capabilities are nowhere near the level of Google's. With limited data available in Bing for optimization, it's not an apples-to-apples comparison for marketers.
Today's shoppers are doing extensive research before buying, and you want to make sure your strategy positions your brand in front of as many searchers as possible.
This is why diversifying your paid advertising across Bing and Google display networks can be beneficial.
Where ads are shared:
Any ads in your Google Ads campaign are only going to be shared on Google's search network and by its search partners.
On the other hand, Bing Ads are shared across Bing, AOL, MSN, and Yahoo, as well as other, smaller partner sites.
All that said, Google still has the lion's share of searcher usage. Google searches account for 92% of daily online search queries; Bing, the next largest competitor, only holds about 3% of global searches.
How automated ads can be:
Google gives marketers a lot of automated options to choose from. On Google's platform, you can automate everything from bidding to Smart Shopping and display ads to dynamic search ads.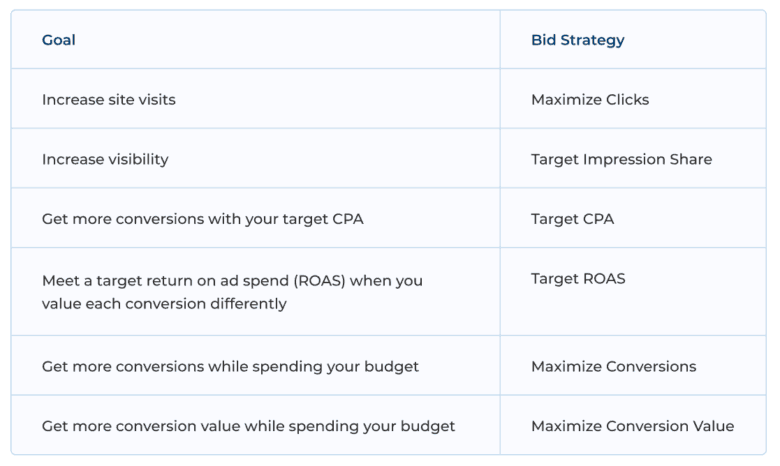 (Read more about these options in our guide to Google Ads automation.)
Microsoft Ads mirrors Google's capabilities, allowing marketers to automate for:
Enhancing CPC
Maximizing Clicks
Maximizing Conversion
Target CPA
Target ROAS
Because both Google and Bing are regularly testing and rolling out new paid advertising offerings, it can be hard to stay on top of the changes and keep your ad campaigns optimized. In this case, it might be worth hiring out your Google Search Ads management and Google Shopping management needs to a team who knows the platform inside and out and can leverage these ad placements, targeting, and automation with ease and expertise.
Audience Reach
While Google and Bing have similar ad placement options and automation features, the audiences between the two are in no way comparable.
Microsoft Advertising sees about 12 billion searches a month globally. About 500 million of those are conducted in the US.
In contrast, Google receives about 5.6 billion searches a day.
Obviously, Google has a much bigger audience, since it's the No. 1 search engine in the world. The platform also allows for some sophisticated targeting options because of the vast network of resources available to advertisers. Because of this volume, finding the right strategy and targeting specific audience demographics can be more dialed in on Google.
That said, Bing has a few targeting options that Google does not offer — namely, the ability to target an audience and/or apply bid modifiers based on LinkedIn industry information. Outside of LinkedIn itself, Bing Ads is the only platform to offer this option. It's easy to set up, and it's a great opportunity for your business to more precisely find the highest-performing audiences for your products.
While Bing has a much smaller search engine market share than Google, the demographics of that audience (older, higher-income shoppers) may be exactly what your eCommerce company is looking to attract. With an average age between 45–54, Bing users also typically earn more than $100,000 per year.
If your audience is primarily made up of older, desktop users, Bing could be a very smart addition to your paid advertising strategy.
Here's an example: One of our clients sells medical devices, which (for obvious reasons) sell best to an older audience. The brand has seen huge results from advertising on Bing because of those audience demographics.
Other clients, whose target audiences are younger, don't often see as significant results.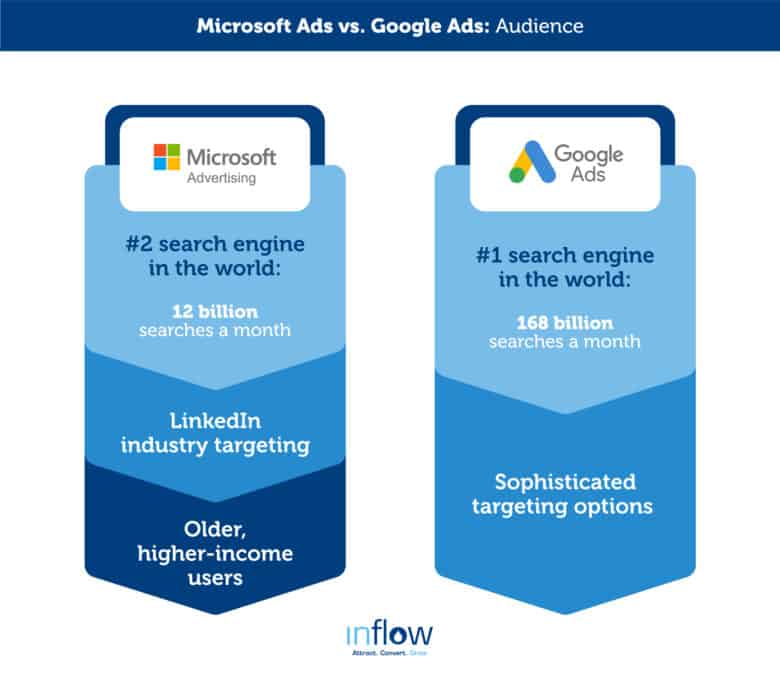 Budget
When we decide to experiment with both Google and Bing Ads for our clients, we do so thoughtfully and with a keen eye on budget. 
We want to make sure that we're maxing out the budget on Google first, learning all we can about what works and what doesn't — so that we can then import that information, those keywords, and rules directly into Bing. That way, we can work efficiently without reinventing the wheel as we build new campaigns.
Once we've maxed out the marketing budget on Google, we'll decide if there's leftover budget to move some efforts to Bing. When we do this, we typically recommend an 80/20 Bing Ads vs. Google Ads budget breakdown for our eCommerce clients.
Why?
Google Ads by far requires more budget than Bing for results — but that's because the competition is fierce since the audience is so big.
But, because there is less competition on Bing, you can get more clicks for less money. If you're running ads for highly competitive keywords on Google, you may be able to realize a lower cost per click (CPC) and a higher CTR for the same high-search-volume keywords on Bing.
However, those clicks may not always be as high-quality.
Bing takes more liberties with "similar" keywords than does Google. Sometimes, we see ads appear for irrelevant search terms because Bing's algorithm decided that two non-like terms were related. (If you're committed to advertising on Bing, you can remedy this with thorough negative keyword targeting.)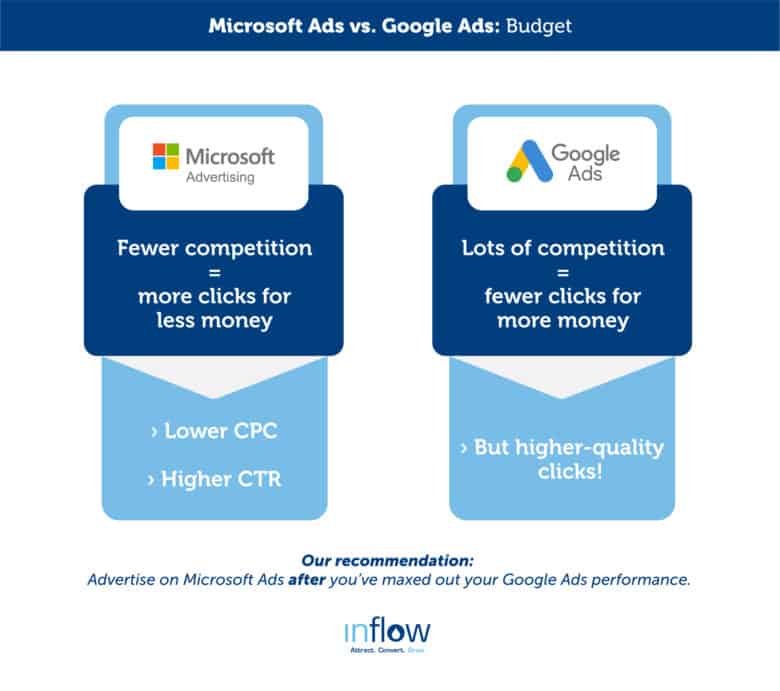 Importing what works from Google and then adjusting it to work with Bing's unique capabilities has helped some of our clients reach — and exceed — revenue goals.
One of our wholesale clients was able to generate 252% more revenue on Bing than on Google, at a 25% lower CPC and 57% less spend.
Another client saw conversion rates increase by 123% on Bing for branded keywords. Transactions increased 178%, revenue went up 111%, and click-through rates increased by 178% — all while average CPC dropped 27%.
Remember: How well your eCommerce company performs on Bing or Google will always come down to thorough testing and analysis. Your results may vary.
Bottom Line: Bing is Not a Substitute for Google
Both advertising platforms have pros and cons for eCommerce marketers.
But, when you're deciding between Google vs. Bing Ads, know that it's not a level playing field — at least, not yet.
Google continues to be the major player for online businesses using search engine marketing. It's a more robust ad platform with a larger potential audience of shoppers. The tools and features it offers also make implementing and automating successful campaigns much easier. 
Bing, on the other hand, isn't right for every company's PPC campaigns. But, it can be a beneficial addition for those with:
The budget to allow for additional paid advertising beyond Google
An aligned target audience
Strong keywords
If your eCommerce business has the budget, we recommend using both in a dual PPC marketing strategy that hits multiple audiences and delivers results for ad spend on each platform.
Not sure how to make that happen, or whether your brand is ready to take that next step? Our team of PPC ads experts can help.
We're always happy to audit your paid search ad accounts to identify the biggest opportunities for your brand. Request a free proposal today to get started.