Editor's note: This blog was originally published in 2019 and has been updated for accuracy.
If you want your eCommerce brand to retain its competitive edge in the PPC space today, Google's automated ad types are practically required.
Google's move toward automation has been a long time coming for a few reasons:
As more people use Google's search engine for shopping, Google wants to find the most relevant ad type depending on how those people are searching.
To accomplish this, Google uses machine learning AI to figure out which ad type is "relevant" to a given search.
As a result, advertisers who use automation for Google Ads (formerly Google AdWords) tend to get their products shown in front of a broader audience who they may not have necessarily targeted manually.
We've already seen the proof. Our digital marketing team frequently uses automated campaigns to expand traffic, boost awareness of our clients' brands, and improve efficiency.
Just one example: 323% increase in transactions, 182% increase in revenue, and 31% increase in ROAS:

Therefore, if you want to prevent being left behind by your competitors, it's time to start (smartly) using these Google Ads options. In this blog, we'll show you how, detailing the four kinds of automation available to you and our recommended practices for each.
Our Recommended Google Ads Automation Strategies
Since their implementation, the Google Ads automation features we've seen the most success with are:
Below, we'll explain how these capabilities can help optimize your Google Ads accounts and which crucial things you should keep in mind when using them.
1. Automated Bidding
Larger eCommerce stores typically don't have enough time in the day for manual bid management and optimization.
Automated bidding can optimize the maximum CPC of keywords for specific goals, using strategies that Google has built into their AI.
Google's automated bidding strategies and goals include: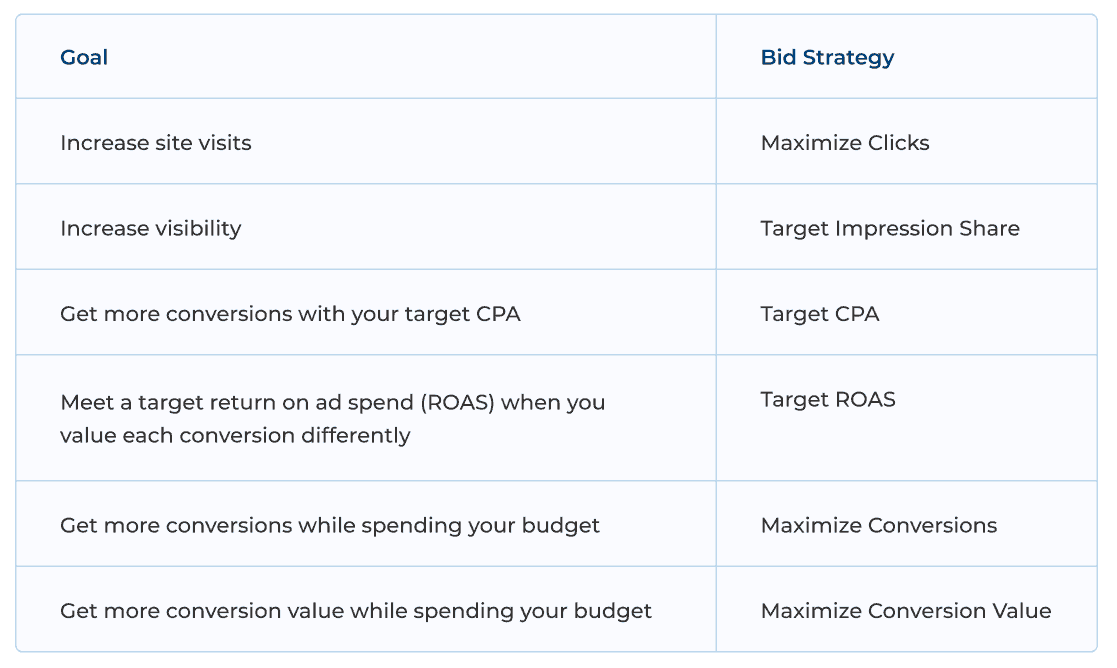 Note: Target CPA, Target ROAS, and Maximize Conversions are part of a subset of automated bidding strategies called Smart Bidding.
Which automated bid strategy you choose will depend on your business objectives. In most cases, Google's "bid strategy" recommendations will suit your needs, but we have a few suggestions based on our own experience, too:
Increase conversion volume: Use the Maximize Conversions bid strategy.
Increase conversion value: Use the Maximize Conversion Value strategy.
Increase traffic: Use Maximize Clicks and Target Impression Share strategies. We've also used Target Impression Share to target and outrank specific competitors.
Meet target ROAS and conversion rate: Because Target ROAS and Target CPA tend to be directly correlated with profitability, we recommend this dual approach. 
You can also check out Google's own documentation on how certain automatic adjustments interact under specific strategies.
Things to Consider About Target ROAS & CPA
Like with all automated Google Ads strategies, we don't recommend implementing these tools without a grain of salt and human review. This is especially true with Target ROAS and Target CPA strategies.
Target ROAS
This automated strategy is useful if your goal is to increase return on investment (ROI) and/or ROAS from PPC campaigns.
One client example: We had refined a tiered Shopping campaign strategy to segment search queries and prioritize bids based on different performance buckets for those search queries. This was very successful in directing search queries to these different tiers, but we were struggling to hit the client's strict ROAS goal.
So, we tested adding a Target ROAS bidding strategy. With the ROAS goal set slightly higher than what we historically saw in the account, we assumed this would limit our targeting. However, automated bidding was able to find efficiency without decreasing our traffic, and our client saw a gradual but steady lift in performance. 
To make the Target ROAs strategy work for your brand, we recommend making adjustments toward the goal in increments — in essence, "massaging" the campaign through gradual increases. In our experience, Google's machine learning algorithm will adjust better to this than a large jump.
Another note: Target ROAS requires existing conversion data (such as 30–50 conversions within a 30-day window) to work well.
Target CPA
If a client wants a specific return, or if they're concerned about specific margins and don't want to invest too much, Target CPA may be the right approach.
It's common for margins to become a concern when selling higher-priced products. Marketing them via PPC can sometimes (but not always) be more expensive from a keyword perspective. Higher-priced items also have longer conversion and lead times, so CPA can be more efficient.
Let's say a home heater priced at $2400 has a margin of $150. Anything over that is a straight loss. If the sale costs $150 in ad spend, that break-even amount simply went to pay for a conversion.
In order to have a "successful" campaign, ROAS would have to be 16x or 1600%. In most Google Ads campaigns, that ROAS would be incredible!
That's why margins are so important to consider in any strategy.
Before starting, we'll usually determine with clients what a realistic Target CPA and Target ROAS will be. That way, these automated rules are more likely to generate leads or purchases at a cost that makes sense for our clients to acquire them.
Like Target ROAS, Target CPA bid strategies require existing conversion data, so that Google's artificial intelligence has a model from which to spend your ad budget.
Google May Prioritize Automatic Bids Among Competitors
Automated Target CPA and Target ROAS strategies can work especially well if you have a competitor with a manual CPC. In our experience, Google seems to be more incentivized to hit target CPA or ROAS for the automatic campaign when one competitor is not using it.
But Don't Abandon Manual Bidding
Automated bidding may be the future of PPC marketing, as algorithms continue to rely on conversion data more than ever for improved efficiency, better budget spend, and opportunities to pursue more fresh and broad targeting opportunities.
That said, automated bidding may not work across all campaigns. Depending on the competitor landscape, manual bidding will still be useful when the AI doesn't work.
It also still makes strategic sense in certain cases, such as campaigns that perform a "scorched earth approach" of Maximizing Impression Share to dominate a search query or category.
You might also need to first run a manual campaign to gather the minimum conversion volume needed to run an effective automated campaign later on. Of course, you always want to ensure you're feeding Google's AI accurate conversion data, so that it can optimize toward the correct conversions and conversion values later on.
2. Smart Shopping
Smart Shopping automates bidding and ad placement through a combination of Standard Shopping and remarketing Display Ad campaigns. We like to use Smart Shopping campaigns to fill in the gaps our standard Shopping campaigns leave open.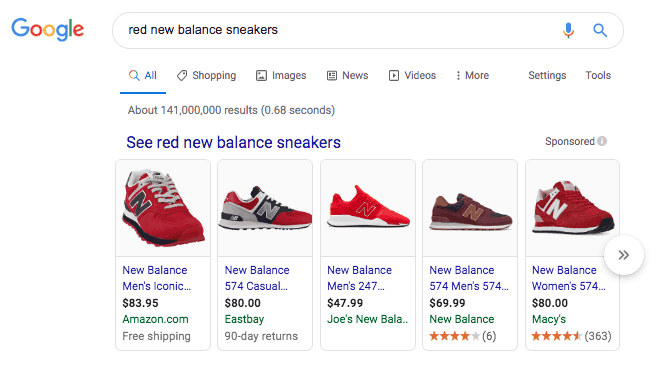 Example 1:
One of our clients had a very efficient standard Shopping campaign that wasn't bringing in the transaction and revenue volume they wanted. Although this campaign was converting well, we were struggling to find growth for it.
When we introduced a Smart Shopping campaign, we immediately saw a boost in transaction volume, without sacrificing our efficiency. The Smart Shopping campaigns allowed us to increase spend and discover new pockets of relevant traffic, increasing our year-over-year revenue by 200% while still maintaining the account's ROAS.
Example 2:
After testing Smart Shopping on an account in fall of 2019, we began to see results almost instantly. Within a month, shopping ROAS had doubled.
By the third month, we broke our ROAS record at 1500%. Since then, revenue has also consistently been up 200–300% year over year.
Best Practices for Smart Shopping Campaigns
An optimized product feed is crucial for both automated and manual shopping campaigns.
For Smart Shopping in particular, you really need a highly optimized Shopping feed to give Google the signals it needs to find your product relevant to a search.
Our team focuses on titles, descriptions, and keywords. If a client lists a yellow T-shirt, then we need the size, color, and material of it in the product feed.
Because of the nature of Smart Shopping campaigns, you don't have any visibility into which search terms are triggering products to display. Optimizing your data feed is the best way to ensure search terms remain relevant and accurate to the product they trigger.
With that said, certain businesses need a lot of control over the search terms and audience that they're targeting. Large name brands may decide against automation tools because they need to know how their brand terms are being used or associated. They might also desire control over what they are targeting and which audiences, based on specific brand guidelines and user demographics.
Smart Shopping often takes away that control and insight.
3. Smart Display Ads
Smart Display is another automation type to incorporate into your overall Google Ads strategy.
Smart Display campaigns use automated bidding, automated targeting, and automated ad creation, based on information about your products and their performance. Google then displays the ads across the Google Display Network to reach customers outside of your manually targeted campaigns.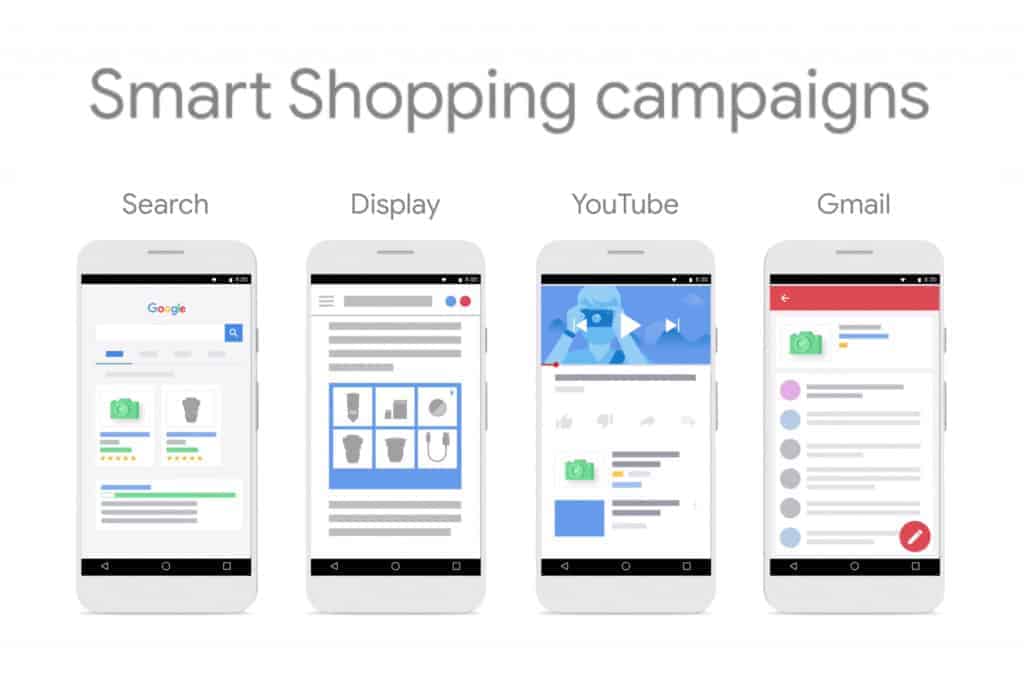 We've used Smart Display campaigns primarily as a branding play to increase awareness and attract users whom we might not typically target to our client's sites. So far, it's been a powerful traffic driver for our clients.
To capitalize on this increased volume, we've created remarketing lists for continued re-engagement of those people who have visited a client's website. This way, we nurture these top-of-funnel, less-targeted users into potential conversions by reaching them at multiple points in the buying cycle.
Smart Display campaigns are based on a Target CPA strategy which continually optimizes for conversions. This is another situation in which your store's performance data is integral.
Like with automated bidding, make sure to set the Target CPA at a rate that could get a viable return.
4. Dynamic Search Ads
Dynamic search ads are also extremely helpful to eCommerce businesses, especially those with a wider inventory.
With this automation option, Google uses a landing page from your website to create unique copy for your ad when someone searches for a relevant keyword. It's "dynamic" in that it pulls information from your website to create the text ads within search results in real time. These ads are also dynamic in the keywords they match and target.
For example: If someone searches Google for "rain jacket women," and you have a landing page for women's jackets, that searcher will see your Dynamic Search ad with the headline "rain jacket women" (if Google's algorithm finds it relevant to the search and decides to display it):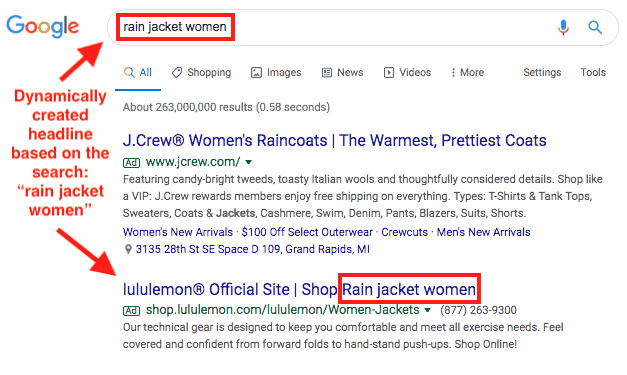 We recommend using this campaign type when launching new accounts, as it ensures you'll have coverage on all relevant keywords. This strategy can also be used to identify new or seasonally trending pockets of traffic in existing accounts that are trying to expand. 
Not only is this a good keyword mining tool, but it may also foster strong campaign performance when paired with a Target ROAS or Target CPA bidding strategy.
To make Dynamic Search ads work, you must first think of them as a very basic ad type. Our team likes to view them as research tools; these ads frequently analyze areas you aren't necessarily targeting.
Second, understand that these ads revolve and change. Over time, your campaigns will continue to target new keywords and new ad copy (and thus fill in temporary gaps), but they will not necessarily continue targeting any one keyword.
Above all, Dynamic Search ads are an ongoing strategy. As Google creates these ads and you see what results in conversions, you can use that information to expand your thinking for other campaigns.
Start Implementing Automated Strategies Today
In our view, using these main automated Google Ads strategies are 100% necessary to stay competitive in the eCommerce PPC landscape. If you don't use these automated strategies, chances are that your competitors will — and their stores may benefit from the increased opportunities.
When implemented under human review and with enough historical data, these automated strategies have helped us boost client results better than expected. And, with all the time saved on manual campaign adjustments, we can divert more attention to higher-level strategic initiatives that bring even more success.
Now, it's your turn.
The first step to begin using automated strategies effectively is to gather their conversion data. With this, Google's AI can effectively target a broader audience than manual ads will allow.
Need help gathering this data, or setting up your manual and automatic campaigns? Our team of eCommerce Google Ads experts is here to help. Request a free proposal anytime for personalized guidance, or check out more of our proven strategies below: