Editor's note: This blog was originally published in 2020 and has been updated for accuracy.

If you have a limited digital advertising budget, which channels should you invest in?
For most eCommerce businesses, the decision comes down to social media advertising (ie. Instagram/Facebook Ads) vs. Google Ads (Shopping & Search).
But, here's the deal: It's not an "either/or" situation. To generate real growth for your online store, you should instead be asking which one to scale more than the other.
There's no "one size fits all" answer. Instead, your path will depend on your business details and goals.
In this post, we'll help you choose the strategy that works best for you by explaining:
How to best deploy simultaneous Google Ads and Facebook Ads

Which eCommerce products tend to work best on each channel

And how you should budget these ad formats for the most profitable campaigns
If you want a personalized Google Ads, Facebook Ads, or Instagram Ads strategy from our team, request a free proposal anytime.
Building the Strategy: Facebook Ads & Instagram Ads vs. Google Shopping & Search Ads 
As mentioned above, we recommend eCommerce businesses run a combination of paid social advertising and paid search advertising campaigns. This not only helps you get your brand across as many channels as possible, but also provides insightful data that you can use to scale your strategy up or down as needed in the future.
So, how should you use these platforms together in your eCommerce marketing strategy?
Here are the basics:
Facebook Ads
Goal:
While you can (and should) target conversions from Facebook and Instagram ads, the ideal primary goal for these platforms is brand awareness.
If you're a new company, or if you're selling unique products, there might not be any relevant keywords and search volume to target in your Google pay-per-click (PPC) ads yet. However, once a customer has seen your social media ad, they'll commonly search for your brand in Google — where your organic and paid results will populate.
For this reason, you can use Facebook and Instagram Ads to drive more demand for your brand in search engines.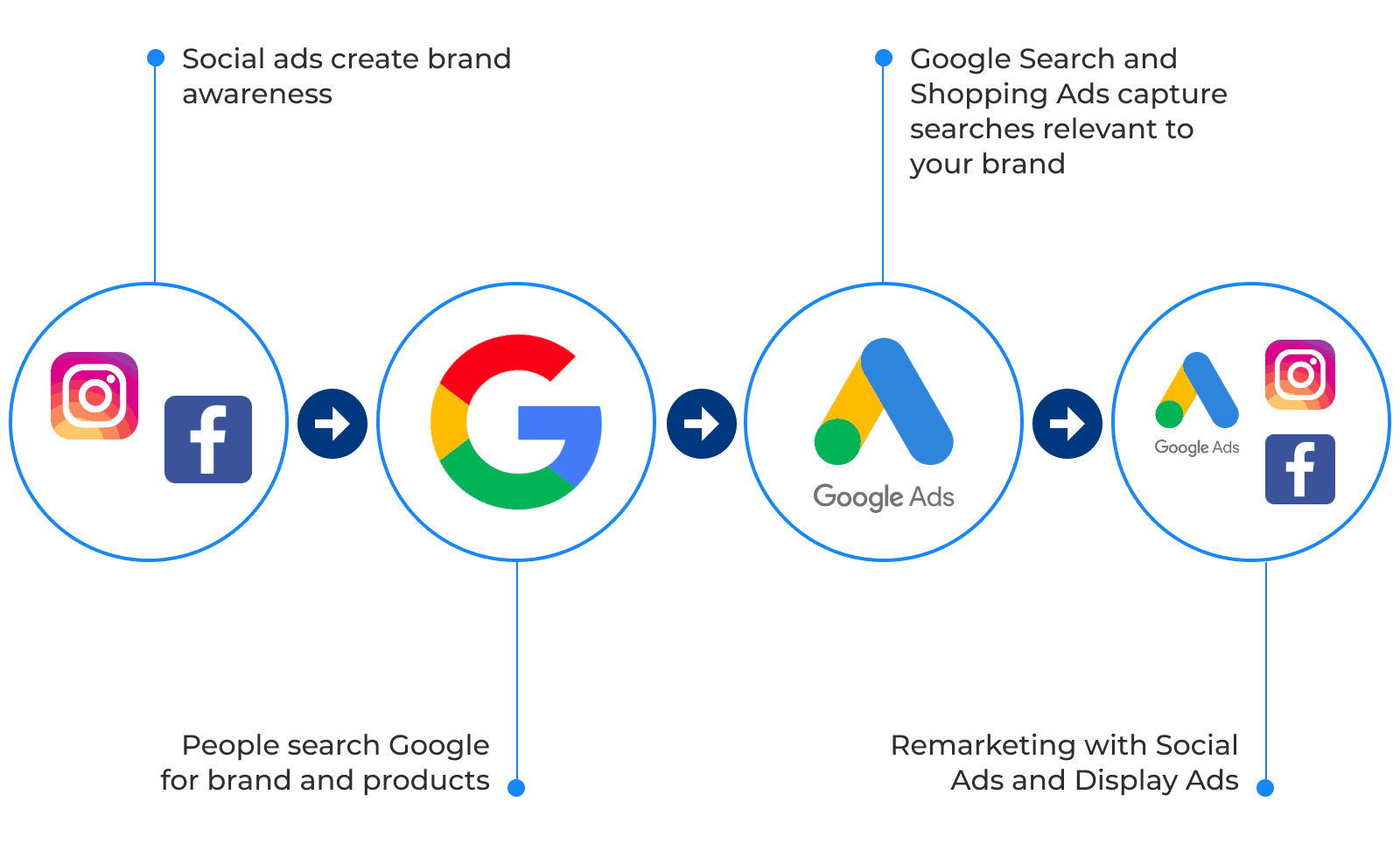 Strategy:
If you're just getting started with social media advertising, invest in these campaigns first:
Awareness:

These campaigns show your ads to fresh audiences based on the interests and demographics of your best customers.

Lookalike

: Facebook can automatically create a "

lookalike audience

" of people based on your website visitors, Facebook fans, email subscribers, or a custom list of contacts that you upload.

Engagement:

These campaigns serve remarketing ads to audiences who have already engaged with your brand as customers, on social media, your website, and/or your email newsletter.
We call this strategy the "See, Think, Do" approach. Rather than focusing on just one stage in the buyer's journey, you can use these different targeting options to re-target users with proven interest (to help drive them toward a conversion) and create more brand awareness by prospecting new customers who are similar to your existing shoppers.
This approach helps your campaigns reach more qualified prospects, which wastes less of your budget on people who aren't as likely to be interested.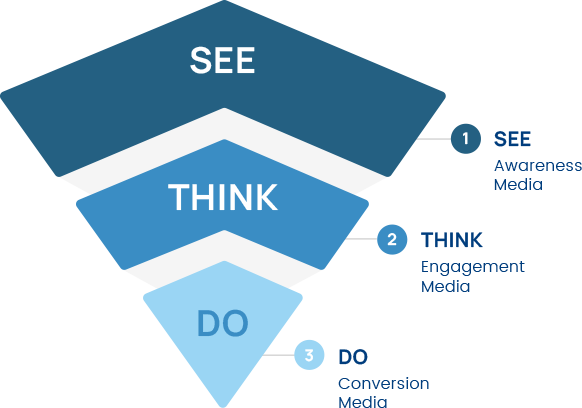 Google Ads
Goal:
Google Ads (formerly known as Google Adwords) is ideal for capturing the people who are actively searching for your brand and the products that you sell — to push them toward a direct conversion. 
Unlike Facebook or Instagram Ads, your Google Ads campaigns are designed to capture existing interest in your brand or products and turn them into sales.
Strategy:
You can target your Google Search Ads and Shopping Ads toward direct and measurable purchase intent by:
Bidding high on keywords directly related to your own brand and products

Optimizing your Google Shopping product feed for visibility

Investing in remarketing campaigns to capture people in each stage of the buying journey
Bid High on Branded Search Campaigns
Whether you are an established or new eCommerce store, your Google Search Ads should have campaigns that aggressively capture branded searches. Why?
These campaigns target relevant search queries for your brand and products. Owning your brand on Google's ad platform directs these engaged prospects to your online store quickly and easily.
The "free market" nature of Google Ads means competitors can bid for your brand name in an attempt to intercept the people searching for you. Owning your own keywords in Google Ads prevents this from happening.
Take this example: When you do a Google search for "Bouqs," Bouqs' Search Ad beats the competing Urban Stems ad below it. If Bouqs wasn't running Google Search Ads (or underbidding on their own branded search terms), customers would be directed to competitors' websites instead.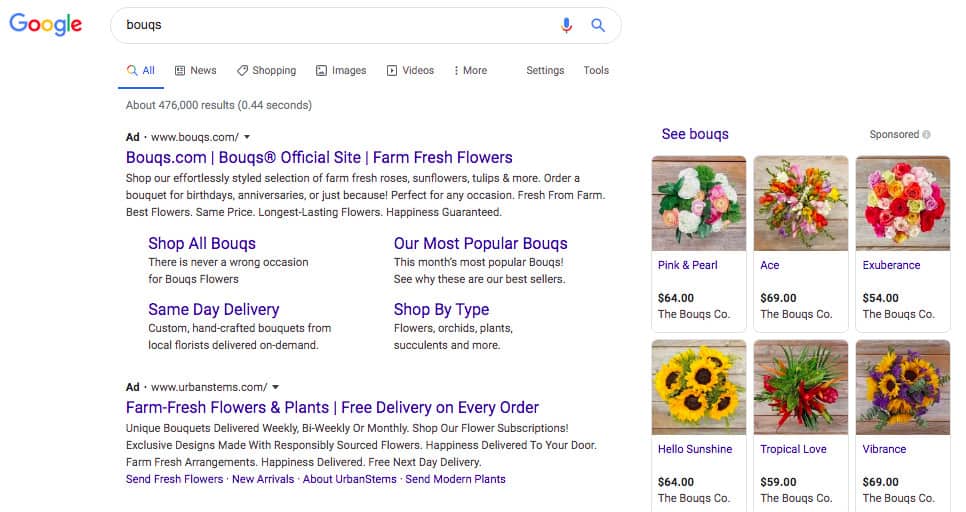 Be like Bouqs. Don't let your competitors steal your prospects.
Optimize Your Product Data Feed
Regardless of how much you choose to spend on your Google Shopping campaigns, your product data feed needs to be as optimized as possible for maximum visibility in results. This is important for both paid and free Google Shopping listings.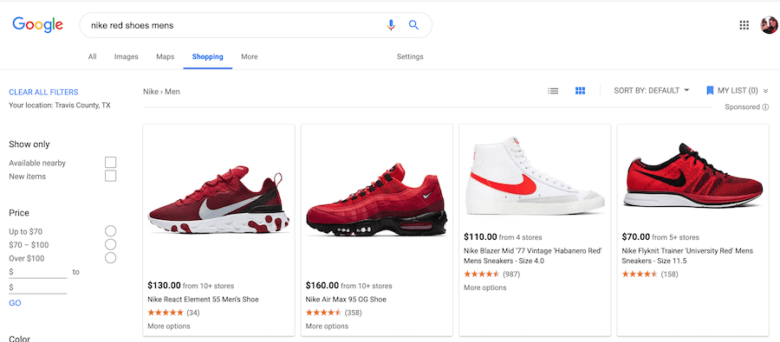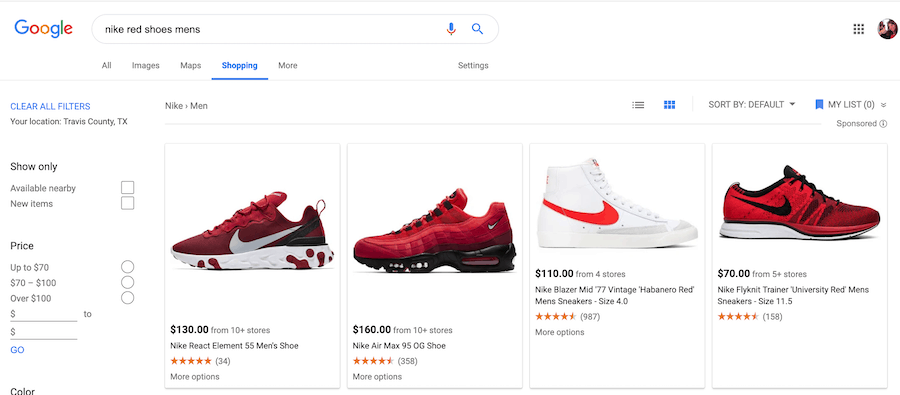 As you build out your Google Merchant Center account with product listings, follow our five steps:
Make sure every product has a GTIN.

Use the right keywords in your titles.

Be specific with your product categories.

Optimize your product descriptions.

Use attractive, original product images.
Read more details in our complete Google Shopping data feed optimization guide.
Run Remarketing Campaigns
This final step is the most important, especially for tying together your Facebook Ads and Google Ads efforts. By sharing customer data across both platforms, you can craft an actionable remarketing target audience and follow up with high-potential customers.
Here's what we recommend:
Remarket to people on Facebook who engaged with your Google Ad campaigns through a Facebook pixel (find out how in our guide to using

Facebook Business Manager

).

Remarket to people across the web through Google Display Ads.

Build an audience

in Google Analytics with your

Facebook Ad UTM

parameters, import it into Google Ads, then overlay it on your branded campaigns.
Bonus: These remarketing campaigns can be very cost-effective, since they're targeted toward more engaged prospects.
How it works in the real world:
We helped a client with their Facebook Ads for furniture by using remarketing campaigns to increase conversions and improve their return on ad spend (ROAS).
To do so, we segmented audiences based on their current stage in the buying journey. We then tailored Facebook Ad messaging for each audience segment to make sure the ad they saw was relevant to them.
As these audience segments were retargeted with the right ads at the right time, this strategy nurtured them along the path toward conversion, leading to a quick uptick in ROAS.
Choosing the Products: Google versus Facebook/Instagram
An important (but sometimes overlooked) aspect of paid advertising is how certain products will perform on different channels. Not all eCommerce products are made to be advertised on social media platforms; if you don't test your products (or at least consider their visual appeal), you'll likely be disappointed by your campaign results.
Best Performers in Social Media Ads
Because of social networks' heavy emphasis on photo and video, the best products to advertise on Facebook and Instagram Ads are often visual products, such as apparel and beauty products. These blend in well on a variety of placements, including the organic newsfeed, Stories, Reels, and more.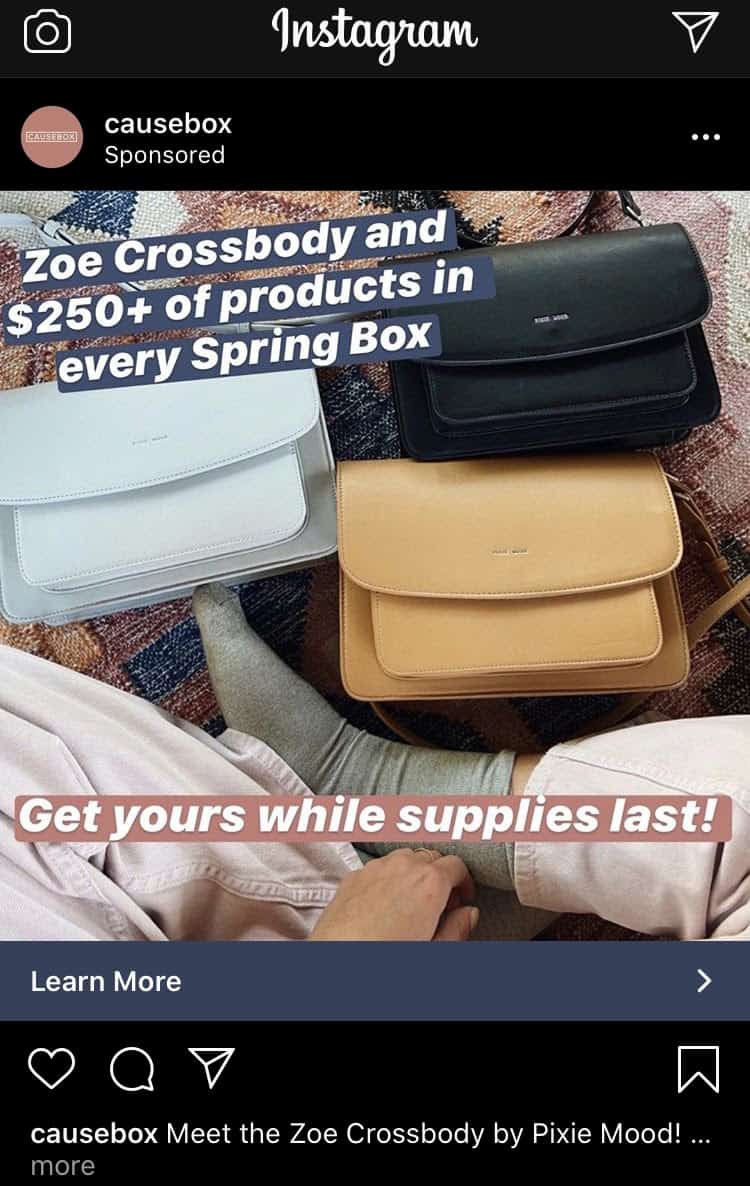 Best Performers in Google Ads
Google Ads can certainly be great for advertising visual product types, too. But, in general, Google Ads typically excel in terms of direct conversions for products that are:
More expensive

Less visually appealing in nature

Higher consideration, with a longer path to purchase
Appliances, home improvement, and travel are just some of the categories that benefit from a focus on Google Search & Shopping Ads. That's because, when high-potential customers are actively shopping for these types of products, they go straight to Google's search engine.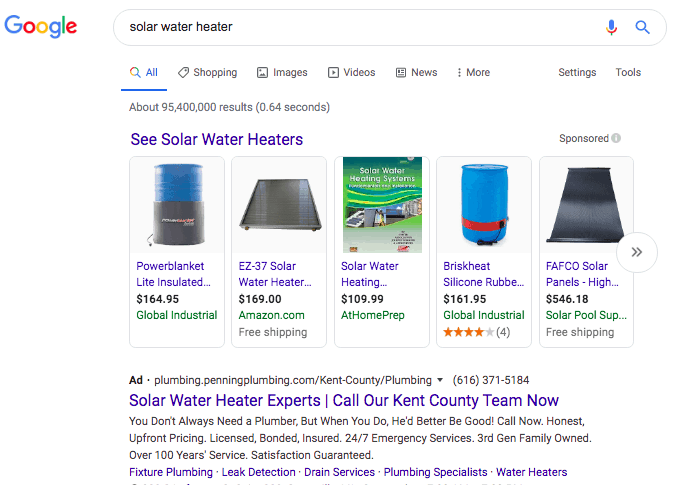 Budgeting: How to Maximize Your Opportunities on Facebook and Google's Ad Platforms
Finally, the big question: How should you spend your online advertising budget across Google Ads and Facebook Ads? 
Naturally, your budget will impact how you prioritize these platforms and the campaigns you run within them. 
We'll offer some general rules below, but remember — your business is unique, and you should test your budget across both platforms to find what works best for your specific audiences and goals.
Smaller Budget
For small businesses, we usually recommend prioritizing Google Shopping and Search Ads to capture more immediate return on investment (ROI). This path will give you better bang for your buck than Facebook Ads (which typically have a lower conversion rate and higher CPA).
However, don't completely neglect social media advertising. When done right, Facebook and Instagram ad campaigns featuring your brand and products will increase your brand awareness. As people within your target social audience search Google to learn more, your Search Ads and Shopping Ads can funnel this audience back to your website.
This strategy isn't just for small brands, either. In fact, Allbirds CEO Tim Brown admitted that most of their sales are driven by word of mouth. I'm sure they're running well-funded Google Ads, but there's no denying that Allbirds' extensive Instagram and Facebook advertisements, press coverage, and previous customers all contribute to new interest and demand for their products.
As that word of mouth spreads, Allbirds bids on their brand and product-related terms to capture any organic searches for their product in Google: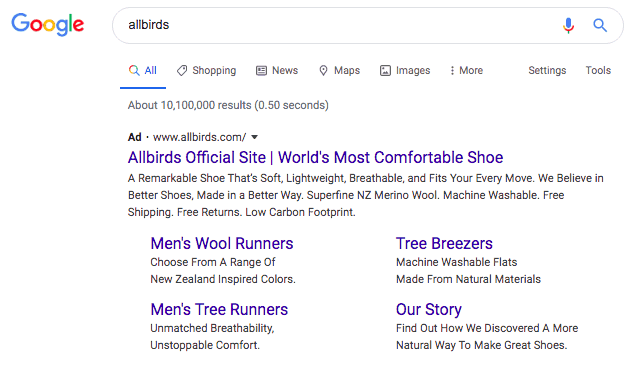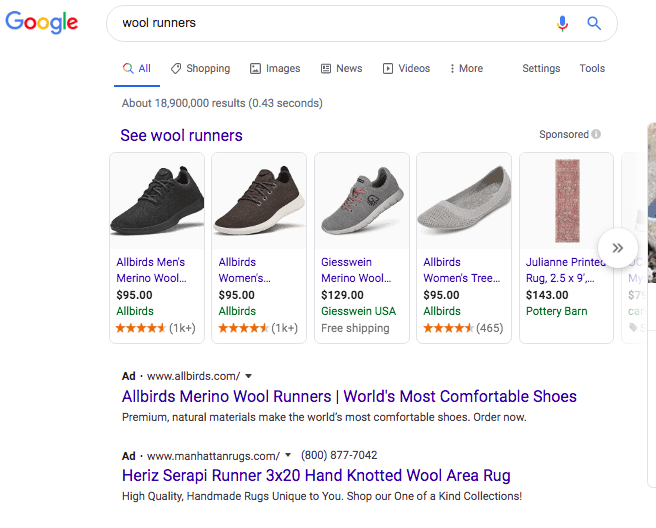 Larger Budget
For larger stores with the capital to invest, we recommend a more aggressive approach on both Google and Facebook Ads, rather than running low-budget tests or relying on word of mouth.
Many managers lean toward multiple small, low-budget tests in an attempt to find a minimum viable budget. But starting with a bigger budget to find what works, then paring back what doesn't, can be a much more effective strategy.
Why? A big campaign budget allows you to conclusively test what advertising model or campaign types work best. Then, you can scale up the proven campaigns.
Given the increase in costs and competition on these digital ad platforms, the reality is that you need to "pay to play" in order to discover your most profitable campaigns. A four-figure budget might seem like enough to test the waters on both platforms. But, in most cases, it barely scratches the surface of what's possible with your campaigns.
For large retailers in particular, a five-figure budget (or more) is needed to prove the effectiveness of one channel or a certain campaign type on that channel. Otherwise, they might not be fully able to take advantage of any test insights — because the campaigns haven't spent enough to reveal the winners.
The bottom line: There is room to improve results if you scale up your spending to allow yourself to find what returns a profit.
Trust us: We've got years of experience in running eCommerce PPC campaigns with budgets in the seven- and eight-figures, and we use this strategy whenever a client's budget allows.
Other Factors to Consider
Strategy, products, and budget are all important in the Facebook Ads vs Google Ads discussion. We also recommend considering a few more factors:
Your Brand Feel:
As you evaluate your prospects on Google Ads and Facebook Ads, ask yourself: Does your brand lend itself to the social media "vibe"?
While you can always target your perfect customer on these platforms, don't forget to think about the context. Someone who wants to buy a pool or move across the country will probably go on Google to look for businesses that offer what they are looking for. In that case, you might not get a return by leaning toward FB.
On the other hand, Facebook and Instagram ads are perfect if you sell items that are visually appealing like clothes or other inexpensive consumer goods — such as low-involvement purchases or novelty items.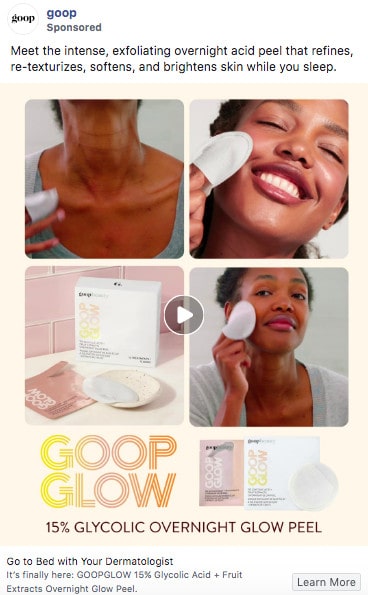 Your Existing Brand Awareness:
How much consumer knowledge is there about your business? If you sell items that no one is searching for in Google, you can lean on social media advertising to drive search demand for your brand and products.
Keep in mind what a prospect may search for in the days after seeing your ad, when they can't remember what your brand was. You don't want to feed these people to your competition as they search for products that aren't specific to your brand.
For example, a Search Ad for "blue beach towel" is going to be hard for you to bid on. But "[your brand] blue beach towel" is, of course, a lot cheaper to bid on. Or, "Bali blue ocean waves beach towel" if that's the name of your product.
Your Brand Goals:
Ultimately, your decision to pursue Instagram/Facebook Ads or Google Ads comes down to your particular business goals.
Here's what we recommend to clients, based on their ambitions:
Lacking brand awareness and need to build it up?
Facebook Ads can help create more exposure and drive more demand in search engines (remember the Allbirds example above).
Want to expand into high volume areas of search and go broad with a keyword-based strategy?
Start with these Google Ads strategies for eCommerce, especially the three-tiered bidding system: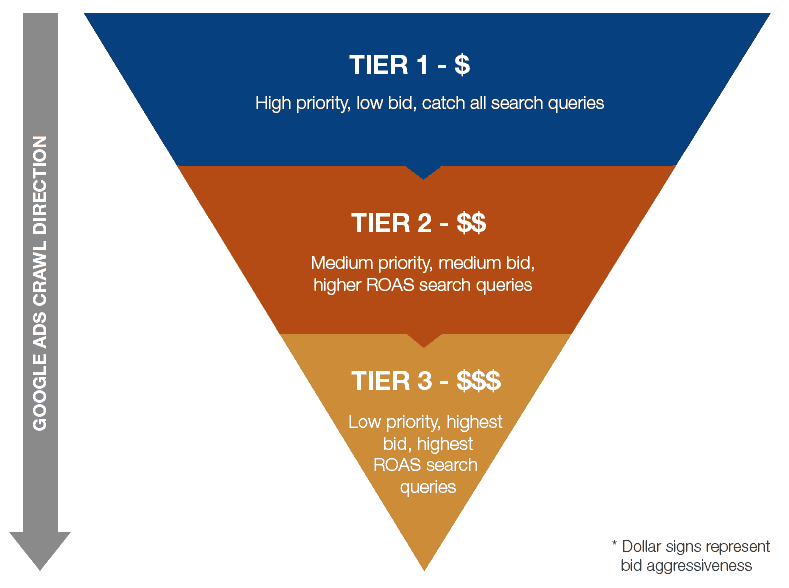 Your brand- and product-related keywords go in Tier 3 with higher bids, while increasingly broader keywords go in the upper tiers with lower bids.
This allows you to bid higher for customers likely to convert in Tier 3, while continuously building brand awareness in Tier 1 and Tier 2 (with the added bonus of still capturing profitable conversions in the latter).
Want to reduce campaign costs?
Use Facebook Ads to create an audience of engaged visitors to remarket to. Then, convert through your retargeting campaigns on social media and with Google Display Ads.
Want to grow aggressively with your budget and find what works quickly?
If your budget allows, invest in a variety of campaigns using an ample spend on all digital ad platforms:
Broad keyword Search and Shopping Ads
Note: ROAS will go down with this more aggressive approach. But, revenue may also go up and is overall the better metric to focus on with this strategy.
An example of this strategy in action: One of our clients with a seven-figure Google Ads budget allocates 75% of their spend on brand-awareness tactics like Search Ads, Video, and Display Ads. Rather than focusing on ROAS, they concentrate on extending their reach.
And it works for their business, mainly because their ad budget allows them to "be known" as a major player in their industry. In turn, this brand awareness helps their broad-based keyword campaigns targeted at general product searches to win against the competition.
Conclusion: "And" instead of "Or"
If there's one lesson to learn, it's that both Google Ads and Facebook Ads are a complementary pairing in the modern digital marketing ecosystem of your eCommerce business. When budget allows, launch campaigns in both to test and gather the insights you need to succeed.
And, when testing advertising channels, don't forget: It's better to go "all in" with a big budget. These days, you simply have to "pay to play" with most of the competition until you figure out what advertisements have the best ROAS for your specific eCommerce business.
Rather have an experienced hand managing that budget for you? Our team of paid search and social strategists have optimized many large eCommerce marketing budgets, and they'll be happy to do the same for you. Request a free proposal today to find out which ad types we recommend for your business — and which strategies will bring your brand the highest revenue possible.