As a digital marketer, you're probably already running Google Ads. After all, it's a critical part of any eCommerce strategy.
But, remember that old adage about putting all of your eggs in one basket?
In today's ecosystem, diversification is the name of the game. Sure, Google is an incredible option for running paid search advertising — but, if you want a more holistic approach to online marketing and higher traffic for your site, consider branching out to other search engines, too.
Microsoft Advertising (unofficially known as Bing Ads) is certainly Google Ads' younger, less-popular sibling. But, if you follow the right strategies, this channel can still hold some revenue potential for your online store.
With a tailored approach (like ours at Inflow), Bing Ads can help you reach a larger portion of your audience than just using Google Ads alone — and may even get you a better cost per click on competitive keywords.
In this blog, we'll help you get started on the right foot with Bing Ads by explaining:
What Bing Ads service offerings include
Whether or not your eCommerce store should use this platform
And which strategies are best for campaign success
Bing Ads Service Offerings
One of the biggest service benefits of the Bing network? Brands can have their ads seen across a variety of platforms, including Bing, AOL, and Yahoo.
In the last year, Bing has upgraded some of its offerings to better mirror the futuristic and more intelligent ads that Google has been using for years. In some ways, Bing is still behind Google's capabilities. In others, they actually surpass Google's current offerings.
With each update and added opportunity in Bing, online retailers will likely see better conversions, more traffic to their sites, and more bang for their buck.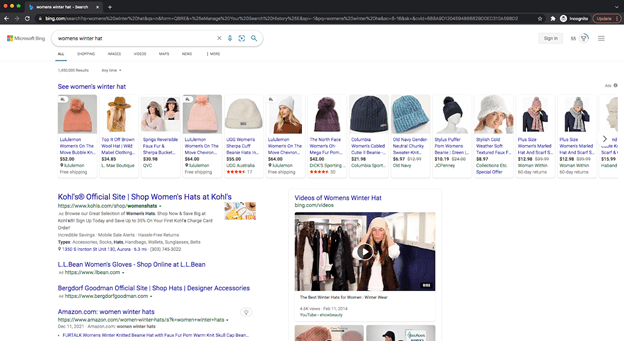 Search
Search ads might be the most well-known of Bing's ad types. These are the ads that come up at the top, bottom, and sides of a search engine results page (SERP). They require active management, research, and testing to perform well.
Bing Search Ads can include Expanded Text Ads, Dynamic Text Ads, Smart Search Ads, and even App Download Ads.
Shopping (Product Ads)
Shopping ads (also known as product ads) help streamline the purchase process for online shoppers. Typically, these ads appear when a searcher's intent is geared more toward purchasing than researching. They include an image of related products and a brand's price points.
Smart Shopping Ads is one of the newest services Microsoft Advertising has recently rolled out, and we're happy to see this feature has made its way from Google's platform to the Bing search platform, as well.
Should Your Business Use Bing Ads?
Microsoft Advertising isn't right for every eCommerce business. It's not even right for every business that is currently using Google Ads.
But, when it comes to the brands for whom Bing is right, it's really right.
Here are a few factors our paid search experts consider when determining whether to include Microsoft Ads in a client's portfolio:
Budget
Budget is the biggest consideration when we're deciding whether to expand into Bing Ads for a client.
While plenty of opportunity lies in Bing, you must first ask yourself a few questions to decide if your account (and budget) is in the position to capitalize on that opportunity:
Have you maximized your Google efforts, or are you severely limited by budget?
How much of your budget are you willing to move from Google to Bing?
How will any ad spend that you reallocate affect your results?
With these considerations in mind, we often operate on an 80/20 budget rule between the Google and Bing platforms.
Audience
The demographics of Bing users are primarily older, wealthier shoppers — so we always recommend analyzing the target audience of your eCommerce website against these average Bing user metrics.
Another handy feature of Microsoft Advertising's platform: You can target and/or apply bid modifiers based on LinkedIn industry information. This isn't yet an option that Google allows advertisers, and it's a great way to hone in further on your ideal customers.
Goals
Because Bing Ads are generally less competitive, they can be a good way for your campaigns to get cheaper clicks in highly competitive arenas that you're already running search campaigns for on Google.
Here's an example: One of our clients sells a highly competitive product (blankets). During the holiday rush of 2021 (November & December), we ran ads on both Google and Bing to see how the results might differ.
At a 25% lower CPC on Bing, we were able to generate 252% more revenue — for 58% less spend.
Moral of the story: While the Bing audience is much smaller than Google's, so is the competition. If you have the budget and historical success to support testing, we recommend so.
You may find that Microsoft Advertising is an excellent addition to your digital marketing strategy.
Google Ads Performance
Depending on how your campaigns are performing on Google, you may be in a perfect spot to add Microsoft Advertising to the mix. We encourage you to revisit not only your current results but also your budget to make the right choice for your business.
There's no one-size-fits-all approach here. If you want an expert to review your paid campaigns and identify opportunities for growth, contact our team for a personalized audit and strategy that will drive the best results for your eCommerce business.
Bing vs. Google Ads for eCommerce
It's a common question from business owners and marketers alike: Should we use Bing or Google Ads for our eCommerce store?
Once again, the answer comes down to your particular business needs and goals.
Google Ads is a more robust platform with a much larger audience. Bing Ads can deliver better CPC rates in highly competitive areas.
In short, both platforms have pros and cons for marketers. And, while Bing is not a substitute for Google, it can be a great addition to your strategy.
Again, if you choose to use both platforms for paid search advertising, we recommend splitting your budget 80/20 in favor of Google Ads, simply because its tools are more refined and the audience is bigger.
3 Strategies for Bing Ads Success
Based on what we've discussed about budget, audience, and goals, you've decided that Microsoft Advertising might be right for your company. Great!
Now what? How do you go about getting results?
Not every business is the same, and not all of the strategies listed below will work for each brand. We encourage you to plug and play with the following suggestions to see how they fit with your eCommerce campaigns.
Here are our experts' top tips:
1. Don't Reinvent the Wheel
The first thing we recommend: Take your successful Google Ads eCommerce strategies and use the same system when creating Bing campaigns.
We usually import the best-performing Google campaigns into Bing as a starter test to get a lay of the land and an idea of how different campaigns will perform.
Importing the campaigns directly makes the process smooth and streamlined — but be sure to check all the settings when you import, to make sure that they are importing to Bing exactly how you want them to. Our strategists recommend transferring only the basics, such as ad groups, keywords, and ad copy. Other complex categories (like bidding and audiences) are best to approach on a platform-by-platform basis.
Watch the data coming in, and let it dictate how to address any differences between the platforms.
Keep in mind the difference in match type. What's working on Google might end up being too broad on Bing. It may be worth testing a cut down to exact-match for better results.
In one client's campaigns, we consistently found ourselves spending a large portion of optimization on negative keyword sculpting due to more lenient matching in Bing. So, we tested running those campaigns for exact-match queries on Bing vs. Google.
The Bing results:
123% increase in conversion rates
178% increase in transactions
111% increase in revenue
Most importantly, the average cost per click (CPC) decreased by 27%. And, due to higher relevance, the click-through rate increased by 178%.
2. Focus on Brand & Search
In our experience, brand and search ads tend to perform best on Bing.
It's beneficial to run branded search campaigns in spaces where CPC is cheap. This allows you to control your brand messaging at a low cost and ensures that competitors aren't taking your top spot on the SERP.
Microsoft Advertising's algorithm matches keywords with a much wider range of queries than do other search platforms. Because of this, you'll need to watch for which queries to negate, so that you aren't popping up in unrelated searches.
3. View Bing Shopping Ads as a New Experiment
Here's the truth: There really is no comparison between Google Shopping Ads and Bing Shopping Ads.
If you plan to run both, you have to approach Google and Bing Shopping Campaigns as separate beasts. Don't expect what does well on Google to do well on Bing.
For example, our winning three-tiered structure does not always transfer perfectly to Bing, due to the more broad approach to keyword match type. Additionally, search impression share is not an available metric at the product group level in Bing, which is valuable data to have when optimizing Shopping tiers.
Our strategists consider Bing shopping as a testbed to discover what works (and, full disclosure, it doesn't always work). However, with Bing's new Target ROAS bidding strategy, it's getting better for some of our client accounts.
Bottom line: Test, test, test.
Find Success with Bing Ads Today
Bing Ads offers the opportunity for some eCommerce companies to expand their reach beyond Google Search Ads, while simultaneously lowering their ad spend.
Taking PPC campaigns that are already working well on Google and importing them directly into Bing makes it easy to streamline your paid advertising process — and experiment with the results Bing can add to your already successful campaigns.
While Bing's lower popularity might initially seem like a drawback, it's actually a benefit for the right eCommerce companies. Less competition for keywords means your brand can secure a larger market share at a lower investment.
Interested in starting up (or revisiting) Bing Ads campaigns for your business? Our team of paid search strategists is always happy to audit your accounts and create a personalized strategy just for you. Request a free proposal anytime.
Want to DIY your initial approach? Start with these helpful resources: