It's not uncommon for a Google algorithm update to throw your site's SEO off track. Back when Google started releasing their Penguin and Panda updates, both of them seemed to cause some online retailers to see declines in their revenue. When this happens, it's always a good idea to call in a team of experts who can quickly uncover the root of the problem and help you implement any necessary changes.
The Client: Houseplans.net
Houseplans.net is an eCommerce site that sells ready-designed house plans direct to consumers.
They came to Inflow after a sharp decline in revenue that was suspected to be linked to the Google Panda and Penguin Algorithm updates.
We started by performing an SEO audit to uncover the root of the problem. The audit revealed some issues that could be addressed with a thorough link audit and cleanup. While cleaning up detrimental links, Inflow also began to strategically build new, quality links.
Next, a Content Audit was performed by Inflow where the team found opportunities to improve the site quality as a whole and clean up indexation in Google. That process involved pruning underperforming content on the site, which turned out to be close to 80 percent of all product pages.
The Results?
After what seemed like a long wait for Google to release updates and reindex the site, improvements started, and a large upswing in traffic and revenue took place. For America's Best House Plans, this resulted in a 434% increase in organic traffic revenue over the previous year. Organic traffic also improved 91% when looked at year over year, as well.
Organic Search Traffic


Organic Search Revenue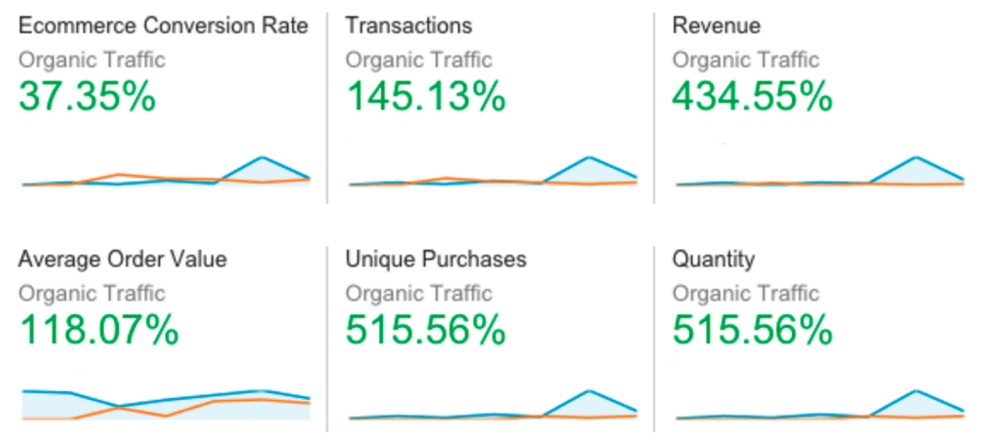 Has your site been negatively impacted by a recent Google algorithm update? If suspect that might be the case, feel free to call in our team of experts by filling out the form below.