Whether you're creating a piece of SEO content from scratch or updating a piece affected by content decay, you can't just jump straight into writing. Instead, you must put in the preemptive work, evaluating your readers' needs and the SEO opportunities for that particular landing page.
For most businesses, this means creating an SEO content brief.
Today, we'll walk you through the five integral factors to include in your content briefs for maximum organic search performance. We'll also share our in-house template (available to download for free!), so you can replicate the results our eCommerce SEO clients see daily.
Let's get started.
What is an SEO Content Brief?
An SEO content brief is an outline for your content, incorporating not just key parts of the usual writing process but also important factors for search engine optimization.
Every team's brief will look different. As you advance your content marketing strategy, you'll identify which aspects are more (or less) important to your team, whether your content writers are in-house or outsourced.
When you're just getting started, we recommend creating as in-depth a brief as possible. That way, you can tweak your template as you discover what your team does (or doesn't) need during the writing process.
Typically, an SEO content brief will include:
A content outline
Alt text suggestions for images
Target keywords
Updated metadata (page titles and meta descriptions)
Insights on competitor content
Suggested topics to cover
And more
Download our SEO Content Brief Template below as a starting point.

Why Content Optimization & Re-optimization is Key
You can have the best-written content in the world — but, if you don't optimize that content with SEO tactics, it can get buried in the search engine results pages (SERPs) and never get seen by your target audience.
By incorporating SEO techniques into your drafting (or rewriting) process, you make it easier for search engines to recognize the value of your content, giving your pages a leg up on your competition.
Remember that Google's algorithm is always changing, serving up new results in the SERPs as it sees fit. Using an SEO content brief for your content decay strategy allows you to improve your existing content based on what's working now, not when the original content was published.
Take, for example, a blog post on Restorative Practices in Schools that we recently updated for our client Next Generation Learning Challenges. While the original content was extremely well-written and in-depth for readers, it wasn't very digestible for readers and search engine bots.
By improving key SEO factors — metadata, keywords, etc. — and reorganizing the copy with better headers and images, we aimed to drive more organic traffic to the page.
And it worked.
After we implemented our brief in late September 2021, year-over-year traffic improved by about 428%, with a 420% increase in new users to the site!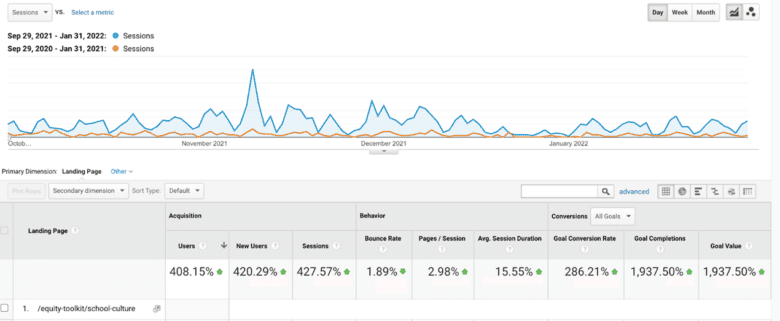 The blog's keyword footprint improved as well, almost doubling since the page update: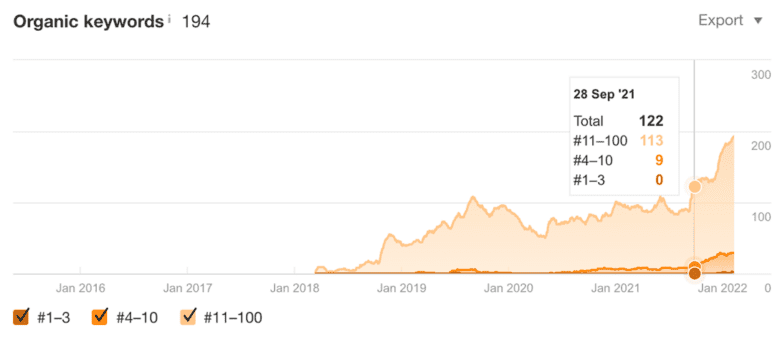 With the right content brief, just a few hours of work can pay off in dividends, as this example shows.
So, let's talk about the key points of the brief that made this update work — and help you start crafting your SEO content briefs today.
How to Create an SEO-Focused Content Brief
As mentioned above, your SEO content brief will be unique to your team's needs. You may need more detail in each brief as you begin, and then slowly reduce the amount of time and data you incorporate before the writing process.
Whatever you do, make sure to include the following important aspects every time. That way, you'll maximize your organic performance and keep your content high-quality for your readers.
Step 1: Identify Your Goals.
Before you start writing or even drafting your content, you need to decide what your goals will be.
Obviously, improving your organic performance (traffic, sessions, etc.) is part of this. But you also need to take into consideration your audience, brand voice, buyer personas, their buyer stage, and their needs.
Remember: You're not creating content for Google. You're creating content to educate and inform your readers about your products, services, and brand.
Consider writing a brief statement for each piece of content, identifying the page's goals and how it will serve your audience. Don't forget to include a statement on how this content will help you achieve your business goals, too.
Here's an example for this blog:
"The goal of this content is to help readers understand the different aspects of an SEO content brief, so they can replicate it on their own. By offering a free downloadable template, we can help our readers kickstart their own SEO strategy. Because this is a top-of-funnel piece, most of these readers will be developing their own strategy from scratch or, contrarily, look to improve their existing processes. This blog will not only provide value to those readers; it will also add to Inflow's position as a thought leader and go-to resource within the industry."
Step 2: Conduct Keyword Research.
The base of any good content brief is your keywords. By deciding which phrases and terms to target, you can better control where your pages end up in the SERPs — and ensure that your content addresses your readers' needs.
This research is a vital part of the content creation process. It will not only help you determine search intent and find related keywords but also subtopics that need to be included when writing content. Take advantage of free and paid keyword research tools, from Ahrefs to Google Search Console.
Many new digital marketers start by going after high-volume keywords in hopes of drawing in as much traffic as possible. For the highest-quality traffic with the most potential, we recommend using an intent-focused content strategy, instead.
Let's take this blog as an example. It can be tempting to target keywords like "content brief," which overshadow more niche phrases in terms of search volume. But, by focusing on lower-volume, long-tail keywords like "SEO content brief" and "SEO content brief template," we more accurately represent our content to search engines and have less competition.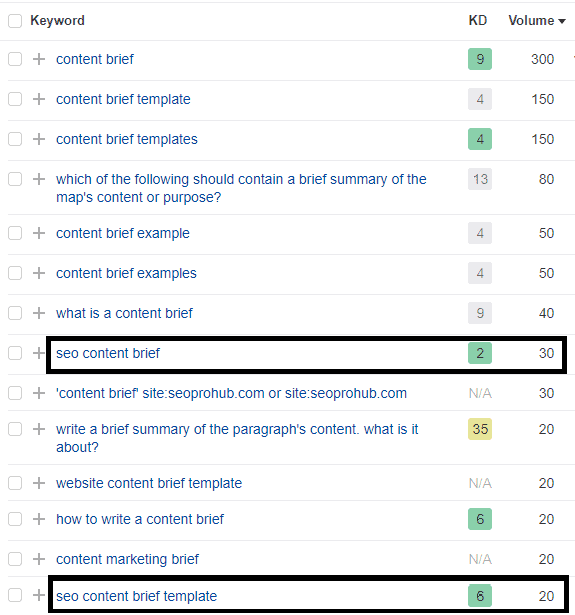 Of course, a well-rounded keyword strategy will also include a few of those higher-volume search terms for relevancy, even if they're not the primary keywords.
For more guidance on selecting your primary and secondary keywords, read our advanced keyword research strategy now.
Step 3: Review Competing Content.
As you create your brief, don't forget to review your competitors. Understanding which content is currently being served in the SERPs can help you improve your own.
Look for content opportunities like:
Headings and subheadings
Popular image and video types
Featured snippets (like "People Also Ask" and other highlighted sections)
For example, when looking at competing content for this blog, we see that most results in the SERPs follow a "how-to" structure, with a list of aspects to include. If we hadn't already planned to structure our piece in that way, we would consider changing up the outline to better reflect those pages in the results.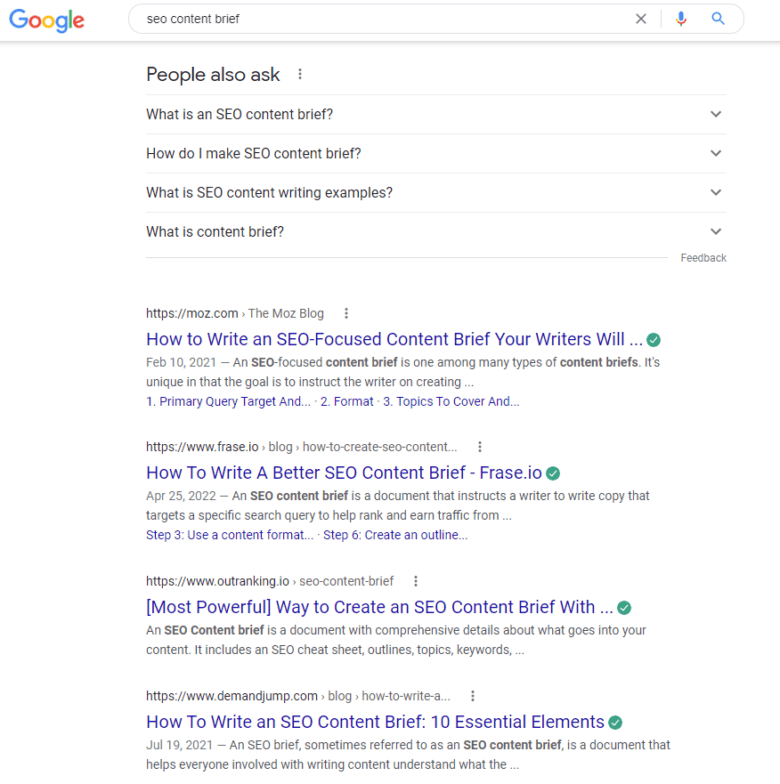 Be wary of becoming a copycat, though. There are thousands of content mills out there that use AI and other tactics to quickly churn out almost identical content to what's ranking in the SERPs.
Your goal is to provide something new in this space, whether it's by structuring your content differently, incorporating additional resources (like a free template), or taking a stance that goes against conventional wisdom.
If it doesn't work, you can always reoptimize your content with a different strategy later on.
Step 4: Identify Multimedia Opportunities.
No one wants to read a block of text. So, as you're creating your content brief and outline of topics, identify opportunities to add multimedia elements (like screenshots, video embeds, and infographics).
If you're reoptimizing an old piece of content, review the images currently on the page. Should they be replaced with more modern versions? Are they really serving any value to your readers — or are they stock images you could find on any run-of-the-mill site?
Work to make your multimedia as unique and valuable as possible. It may take more time to create new images than simply use the old, but fresh multimedia will keep your readers on the page longer.
Don't forget about alt text, which describes an image and makes your content more accessible for readers who are visually impaired.
Step 5: Add Original Content & Make Notes.
Now that you've done all the preemptive work, it's time to update your content outline — or, if you're reoptimizing a piece, add in your existing content and make some notes.
An outline is crucial to delivering a piece that meets your goals and standards (even more so if you're outsourcing your writing to freelancers). The more detail you can provide in each section, the more on-target the final product will be.
Go through your outline or existing content with a fine-toothed comb before you start making edits, noting opportunities for:
Content length
Important topics to cover
Keyword usage
Multimedia placement
Internal and external links (with proper anchor text)
Brand mentions and CTAs
If you haven't already, create brand standards and copywriting guidelines to reduce edits and rewrites later on.
Putting Your Briefs Into Action
While it's tempting to "save time" and jump right into the writing/editing process, an SEO content brief will actually save your content team wasted hours later on. And, since SEO is a long game, the better your content is when first published, the better results you'll see and fewer pain points you'll run into.
To help you get started, we've created an SEO content brief template that you can download today for free.
Download Our
SEO Content Brief Template Now
Our template is always evolving, and so should yours. Use this version as a starting point, and don't be afraid to add and remove certain aspects based on what works best for your content creators.
When you're ready to dive in on your content writing or rewriting, we've got plenty of other resources to help: