Do you want to keep the traffic from search engines coming to your eCommerce website?
Competing search results along with Google's periodic updates can cause organic traffic and corresponding sales to go down: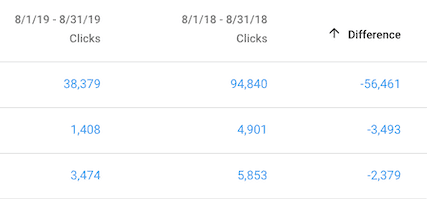 The image above shows the year-to-year difference in clicks for search queries on a "money page" that was getting traffic and driving sales for one of our eCommerce clients.
Overall, this page took a 38% hit to the traffic it was getting from these queries in August 2019 compared to August 2018. Revenue from the products it linked to followed suit.
That's why the questions we're answering today are:
How do you keep valuable content assets driving traffic from search engines?
How do you recover if your content loses its search engine rankings?
In past posts, we've outlined:
In this post, we'll outline how to help the best content on your eCommerce site continue to "sell while you sleep"… and what to do if things drop off.
Note: We specialize in helping eCommerce businesses to automate more of their sales through SEO, PPC, and CRO. If you want us to drive more traffic and sales to your store, get in touch.
Why Organic eCommerce Sales Drop When Traffic Drops
When your best content loses its search engine equity, so do the product pages that the content links to.
Those specific products, in turn, don't pass on as much link equity to the additional products that they link to.
Search engine optimization (SEO) can often be a "survival of the fittest" of competing websites vying to rank at the top of Google for potentially valuable search queries.
At the same time, Google is always experimenting with new ways to feature the pages that they think are most relevant for a given search. We see them do this all the time.
To illustrate, Google used to look like this, with purely organic results:
Today, here is what the top of the search engine results page for this query actually looks like with Google's "rich snippets":
The organic results shown above are actually down on the page. This is because there is a larger variety of result-types Google is using in addition to the old-fashioned organic rankings. 
Including:
Featured Snippets

(like recipes and step-by-step lists)

Knowledge panel

Local pack results

"People Also Ask" questions

Paid ads

Images

And Video content
One of our clients saw traffic drop several times due to Google's updates like these.
Even though their strategic content maintained its organic rank at position 0 AND position 1 (the "top" of Google's organic results), the traffic to their money page went down between August 2018 – August 2019.

Searching Query 1 in Google, we saw several things pushing their top-ranking strategic content further down:
A Google Ad for a product

A "People Also Ask" section

A video carousel section
These rich snippets dramatically reduced the number of people going to the client's ranking content. This was correlated with lower revenue from the products that page links to.
While we have a general traffic drop checklist, how do we fix this specific situation of a traffic drop on quality content, and get more sales flowing back?
How to Help Your Best eCommerce Content Recover
There are three SEO remedies we recommend to reclaim valuable traffic that was lost due to a rankings drop like this:
#1: Reclaim Real Estate for the Page in the Search Engine Results Page (SERP)
To do this, improving the on-page SEO and technical SEO for the content and overall website can help Google rediscover their relevance. Sometimes, doing this can even land your content in place of the rich snippets that knocked yours down the page in the first place.
To help your content reclaim real estate in the SERPs and help the likelihood of it appearing as a rich result:
(1.) Add schema markup to create structured data where possible, as it makes your existing search listings visually stand out more. This could include the following types of markup:
Local business

Site navigation

Logo

Q&A

How-to

Product

Rating & Review

Article

Author
…the list goes on!
Google is more likely to pick up on structured data and use it as a rich result. You can test a webpage for missing markup with Google Search Console's Rich Results Test.

(2.) Outside of using markup, claim space in the other new organic sections by optimizing your page's content toward them.
To do this: Structure your content in a featured snippet or people also ask-"friendly" way.
This usually means being clear in your formatting by making the page structured with headers, bullet points, numbered lists, and clean/concise questions/answers.
Tip: To see what Google "likes" to feature:
Search Google for the keyword you are targeting with your content

Look at the rich results that come up and any questions in the "People Also Ask" box

Incorporate similar content to the page, such as a similar definition or a recipe that showed up as the rich result, and add a Q&A section comprised of the questions in the "People Also Ask" box. (

Similar

in terms of topic and length:

not identical to the competitor's content

, as this opens up the possibility of a penalty.)



Improving your website's quality through on-page and technical SEO can help maintain it against SEO traffic drops. We have several other guides to help with optimizing your eCommerce website's content:
(3.) Finally, if you can't beat the organic content to reclaim your real estate organically: pay to beat the competition using Paid Ads.
PPC can help your website to reclaim real estate in the SERPs with more certainty than the above strategies.
However, this strategy depends on several variables (your business, the ad targets, and the competitive landscape) and it might not be viable if the competition can outspend you.
If the ROI is possible from Google Ads, then paying to reclaim the lost real estate is a viable option. Often, though, it's hard to compete when other eCommerce brands can outspend yours for a term.
#2: Do a Better Job Linking to Products from Existing Content
In our experience, interlinking across your own site (or across multiple owned sites) is one of the most overlooked SEO activities.
Chances are, there are other pages on your site getting traffic.
Can you link to relevant products in your store from that other existing content that drives visitors?
#3: Create More Content That Links to More Products
Should your store start publishing strategic content? Yes.
We highly recommend consistent content creation to:
Create additional assets that can engage potential customers in organic and paid audiences

Help improve the domain authority (the overall quality in terms of SEO) of your website through additional links.
We often recommend adding copy to product descriptions on product pages as well as to category pages to help with their overall quality. That said, we also see their revenue suffer when the quality content that links to them does.
We've found that applying inbound marketing tactics for eCommerce companies including the creation of high-quality content at scale can drive revenue without direct sales from product and category pages.
Why eCommerce Stores Can Benefit from Creating More Quality Content
What is quality content?
In general, quality content means pages that meet their stated purpose and satisfy someone who finds them in a search engine.
When it comes to product and category pages, "quality" usually means adding more comprehensive, helpful detail to them. The best content for eCommerce websites in terms of quality typically aren't your product and category pages because online stores tend to leave these pages undetailed.
We recommend starting with adding content to product and category pages such as additional copy, pictures, and videos) to make them really high quality.
After product and category pages are optimized, layer in quality "strategic content" (e.g. articles). When people in the SEO industry talk about "strategic content," they really mean successful or effective content that achieves a goal. For example:
It drives traffic, links and engagement

Ranks in Google's search engine

Creates desire for your product or services

And/or it leads people to key conversion pages (like a lead gen form or product/category page)
Internally, we refer to quality content as "strategic content" because it strategically meets one or more of these goals. There is also "big content" like comprehensive guides that we refer to as "cornerstone content" and "keystone content" because they are longer than an average article. 
We recommend creating both types as "big content" can be supported by smaller pieces of strategic content (for example: strategic content that drives people to the big content where they convert).
Quality content gets inbound links naturally in ways that products do not. Links are a huge data source for Google about what different websites and pages are about, and to what degree they are relevant to someone's search query.
In our experience, one type of content that gets a lot of inbound links is "How-To" content.
Why "How-To" Content = Quality Content for eCommerce Websites
"How-To" content (usually an instructional guide, infographic, or video) teaches your target audience something they didn't know related to your industry.
It's best to create content that is directly related to your eCommerce business.
An online cookware store might post a video and/or recipe using ingredients or cookware that you sell. An auto parts website may have installation and use guides for specific parts.
This type of content provides the perfect opportunity to add internal links to your product and category pages: driving relevant traffic from that quality content to your product pages where they can convert.
Plus, by teaching your audience and helping to solve their problems (i.e. the questions they are searching in Google), you position your store as an authority on the topic and build lasting trust with your customers.
Conclusion
While many of the eCommerce brands we help tend to focus on paid marketing, the most profitable stores we see often grow with the complementary combination of paid media and search engine optimization.
SEO doesn't just help to drive more traffic to your products through internal linking. Google evaluates content quality for their ads. Adding and optimizing targeted content on eCommerce websites can help the conversion rate and efficiency of PPC like Google Ads.
We know that eCommerce content marketing can be a large task. We would welcome the opportunity to apply our eCommerce marketing expertise toward growth-focused content creation, copywriting, and SEO for your online store.
If you want to direct more people to your products or services, and help preserve your website's discoverability against competitors and Google updates, please get in touch.