It can be difficult sometimes for even the best eCommerce brands to get in front of customers. Whether you're the say-all-be-all of asphalt or the sweetest candy shop online, you'll need a little creativity and social savvy to increase online engagement. Especially on platforms like Facebook where user attention is at a premium.

We helped two clients boost brand awareness through two different strategies designed to earn a little social currency.
Client: Asphalt Kingdom
When Asphalt Kingdom came to us, we quickly realized they were the say-all-be-all of asphalt and asphalt-related products.
Yet they weren't receiving the traffic we felt they deserved, nor the quality or quantity of backlinks needed to rank well in search results.
Their needs were twofold. For one, they needed strong, natural links back to their site to boost overall SEO health and in the end, revenue.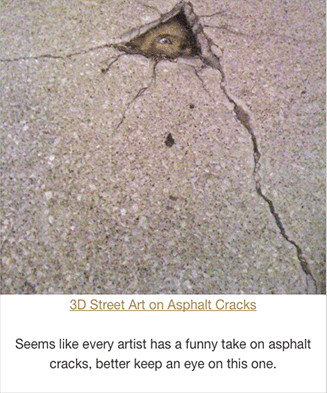 We worked with Asphalt Kingdom to think outside the box on its overall approach to Content Marketing-based link building. They were looking for creative solutions for bringing more attention to their brand while developing backlinks.
We developed and focused on targeting different customer personas and demographics with content that would be compelling and relevant to them. We wanted to create a piece that would meet Asphalt Kingdom's goals and be unexpected for an eCommerce site.
Eventually we compiled a linkbait piece featuring 3-D chalk art. It was fun, unexpected, interesting and had the potential to be a social media sensation.
The Results?
By stepping outside the realm of traditional content marketing, we found a huge hit within the asphalt community and beyond. In less than 30 days, we received 121 links and more than 4,200 social shares. The social shares are significant, as they send social signals back to Google, which can influence rankings. Best of all, none of Asphalt Kingdom's competitors are doing anything close to this, giving Asphalt Kingdom a strong competitive edge for brand awareness.
Client: Candy Direct
Candy Direct is an eCommerce site that sells bulk vintage/nostalgic candy.
When they came to us, Candy Direct had no content on their blog. We set a goal to begin to create a rich and interesting library of blog content for possible customers. Along with the goal of creating content, another was to help increase brand awareness for Candy Direct as a go-to source for bulk candy.
For Candy Direct, starting with no content opened the door for keyword research, creative brainstorming and other possibilities. One major target audience was party/event planners.
A great way to get their attention while showing off the different products available was to compile an multi-expert piece. We interviewed Candy Stylists from around the world on how candy buffets can add pizazz to an event, and some of their best tips on styling a beautiful candy buffet.
Then we turned our focus on social engagement. We opted to use a tried and true lure here: Guess how many jelly beans are in a jar to win cash? A contest like this touches users on so many levels, including nostalgia. Because Candy Direct specialized in nostalgic/vintage candy, it was a beautiful brand reinforcement for Candy Direct. Timed with the winter holidays, the contest also offered "Holiday Cash" in the form of a Visa Gift Card, something very tempting for those doing holiday shopping.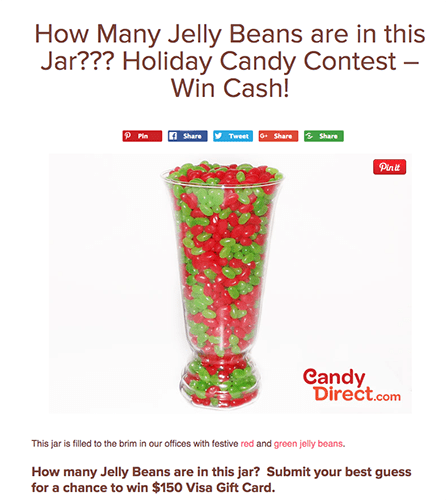 The results?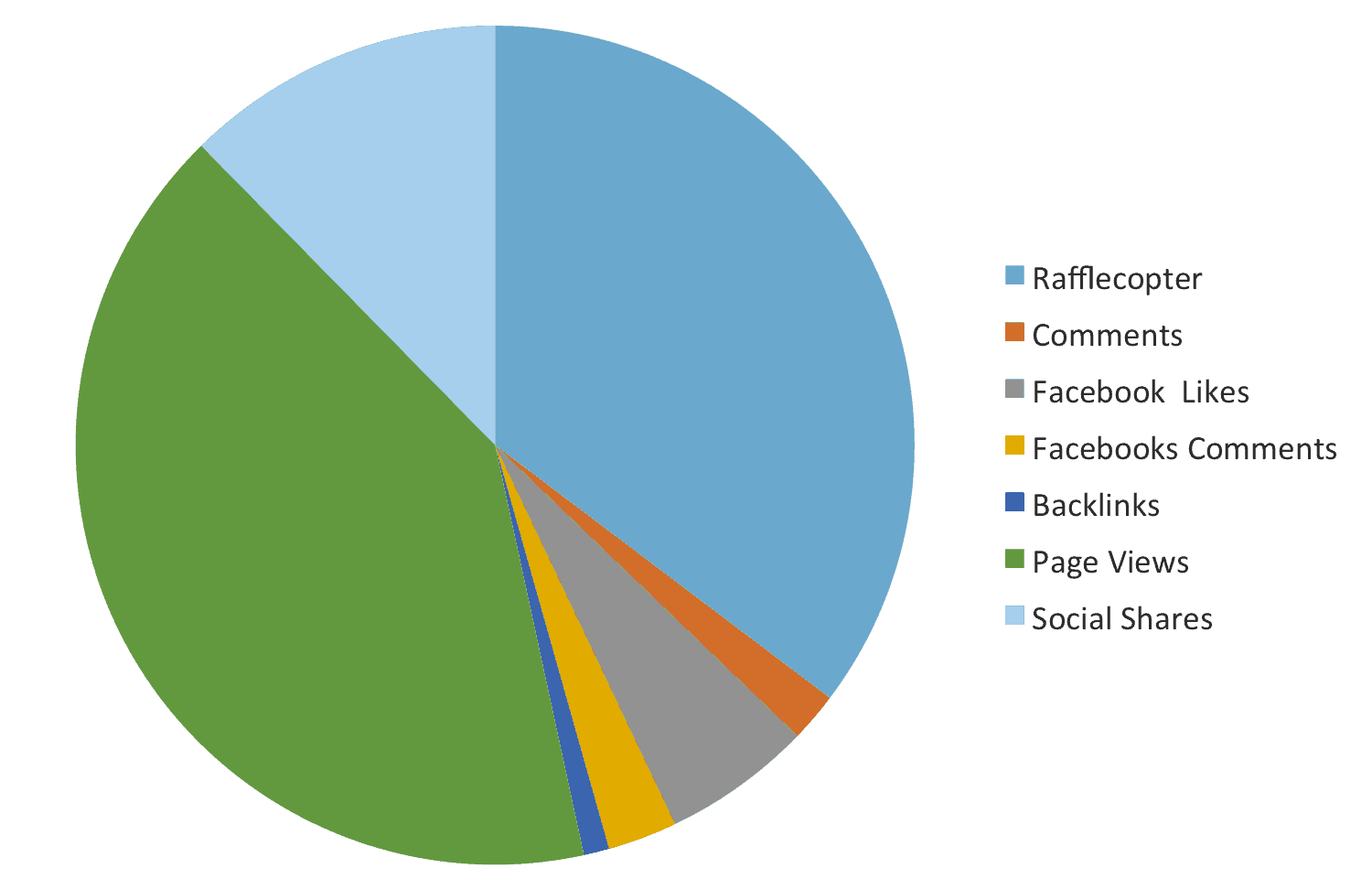 Contests and giveaways are always wildly successful on blogs. Our jelly bean guessing game was no different. We used the Rafflecopter plugin to count and track our 540 entries directly on the blog post.
We were also able to track 628 pageviews and 8 links as well as 29 comments on the blog post.
On Facebook, we logged 88 Likes and 41 comments. Overall, there were 189 social shares on all channels.
And as for results from Candy Direct's new blog content, considering this was the very first introduction of Candy Direct to the content marketing world, they didn't do too shabby! Candy Direct earned 7 links back to the article, 257 pageviews and 41 social shares across major channels for this piece.
How sweet is that!?
Looking for some new strategies to help your brand stand out?
Fill out the form below to get in touch!