If you want to improve SEO or SEM results for your eCommerce site, should you hire a marketing agency to help you? Or should you add an in-house SEO or SEM employee to your staff?
To help you with this decision, we looked at data from Glassdoor to see what salaries are being offered today for eCommerce SEO or SEM professionals.
We also took a deeper look into current job listings for SEO and SEM marketing positions so you can better understand what skills you're getting if you decide to hire an employee in-house.
Keep in mind that Glassdoor only provides salaries, not total cost. You'll have to add 20% or more to these salaries to figure out what the true total cost is for hiring one of these marketers.
Here are some of our key findings from the research:
Senior SEO marketers are approximately 20% more expensive than entry-to-mid-level SEO marketers.

SEO marketers who understand eCommerce SEO are more expensive than an average SEO marketer.

SEM marketers are slightly more expensive than SEO marketers.

Companies usually don't advertise for eCommerce-focused SEM marketers, but they do advertise for eCommerce-focused SEO marketers.

SEO salaries are relatively consistent throughout the country.

SEM salaries vary much more depending on location.

Hiring a marketing agency is often a cost-effective solution for eCommerce companies—instead of hiring a new employee directly.
Note: Interested in a personalized SEO or SEM strategy for your eCommerce website? We can help. Contact us here.
Salaries for SEO Professionals
There are several titles listed in job ads for general SEO professionals. Some titles you might see are:
SEO specialist

SEO manager

SEO marketing associate
All of these titles refer to mostly the same thing: someone who performs SEO full-time.
We narrowed our research down to three key positions:
SEO analyst is an entry-to-mid level job.

SEO senior analyst is a higher-paying job for people with more experience.

eCommerce SEO manager is someone who specializes in eCommerce-specific SEO. Sometimes, they have to mentor or manage other SEO marketers.
Here are the salary ranges we found from Glassdoor:

Salaries for General SEO Marketers
The most common job title we saw was SEO analyst. This usually refers to someone with general SEO understanding and skills.
We saw that the title of SEO analyst was on listings for entry-to-mid-level jobs. The title of SEO senior analyst was on listings for SEO marketers with more experience.
What's interesting here is that it appears there is a small difference between an entry and senior-level SEO analyst.
Just from the numbers, for an extra $1,000 per month in salary, it's possible to get someone with an extra year-and-a-half of experience.
However, recruiting senior-level candidates can be much more expensive as it's harder to find candidates with more experience, a cost that is often overlooked when making these kinds of comparisons.
Salaries for eCommerce SEO Marketers
We saw the title of eCommerce SEO manager on job listings for SEO marketers who specifically have the ability and experience to optimize the SEO of eCommerce sites.
An eCommerce SEO marketer costs over $1,000 more per month than a senior SEO analyst.
This makes sense since eCommerce SEO often involves situations that other sites don't have. eCommerce companies often have to rank hundreds, if not thousands, of product pages. This isn't an issue when doing SEO for other businesses (i.e. a SaaS company).
The Agency Benefit: More Experience for Less Expense
How does all of this compare to hiring an agency?
While directly hiring a senior-level eCommerce SEO manager will cost you $7,000+ per month, hiring an agency can give you access to a professional (or team of professionals) with just as much experience.
In many cases, you can get a senior SEO marketer with years of experience in eCommerce to work on your site for less than the $5,000 per month salary you'd pay for an entry-level SEO analyst.
In addition, by hiring an eCommerce-focused agency, you get access to a team of experts with experience in all the various SEO specializations, including technical SEO, content, link-building, and much more. To really gain that kind of expertise by hiring directly, you'd need to hire three to four employees.
Even if you do have an SEO team in-house, hiring an agency is a low-risk way to expand the SEO skills your company has available—all to improve sales, revenue, or whatever specific business results you might have.
Salaries for SEM Professionals
Similarly, we saw several different titles on job listings for SEM professionals. It's common to see titles like SEM associate or SEM specialist.
We found two relevant titles for SEM professionals:
SEM analysts are entry-to-mid-level SEM marketers.

SEM managers are more experienced, senior SEM marketers.
Here are the salary ranges we found on Glassdoor:

General SEM Marketers and eCommerce SEM Marketers are Paid Similarly
We saw very few ads for eCommerce SEM specifically. Glassdoor has data for eCommerce SEO managers, but there was no equivalent title for eCommerce-focused SEM marketers.
This means that it's likely that SEM marketers in eCommerce and non-eCommerce companies are paid similarly.
SEM analysts are a little more expensive than SEO analysts. The average SEM analyst has a salary of $67,000 while the average SEO analyst has an average salary of $60,000.
There is a decent salary difference between an entry-level SEM analyst and a senior SEM manager. On average, you'll have to pay an extra $1,500 per month to hire a more experienced SEM marketer.
SEO Analyst Salary by Location
As you would expect, marketer salaries are higher in the more expensive cities. In order to determine how SEO analyst salaries fluctuate due to location, we used Glassdoor to analyze SEO analyst salaries in different cities.
We made sure to pick several cities across the country that have a significant amount of Glassdoor salary data.
Here's what we found: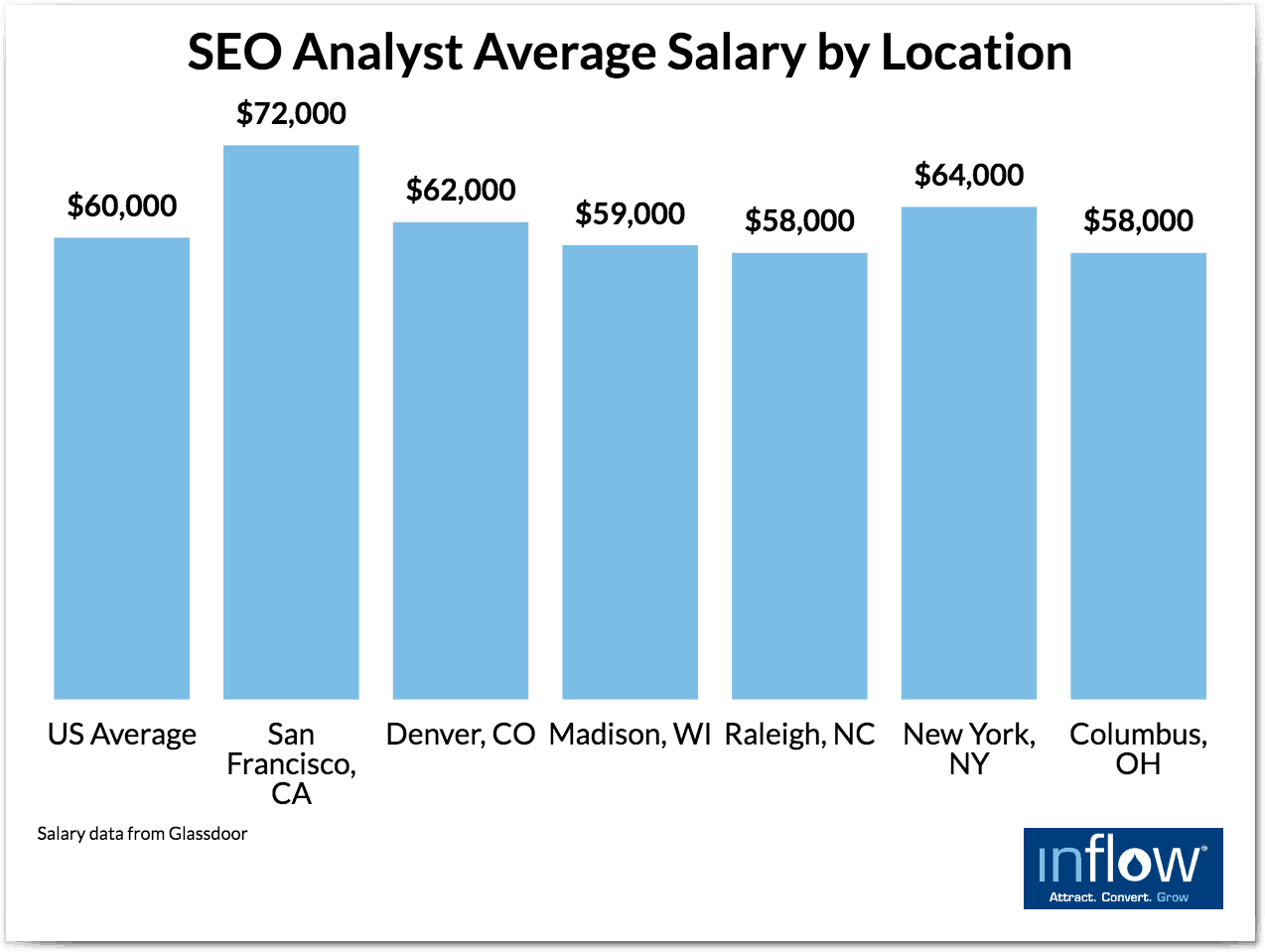 This shows that SEO analyst salaries don't vary as much from region-to-region. In New York, the second-most-expensive city in America, SEO analysts only make $4,000 more than the average SEO analyst.
Besides San Francisco, all of the cities we analyzed had an average salary within $4,000 of the national US average.
SEM Analyst Salary by Location
We did the same location-based analysis of SEM analysts' salary data. Here's what we found: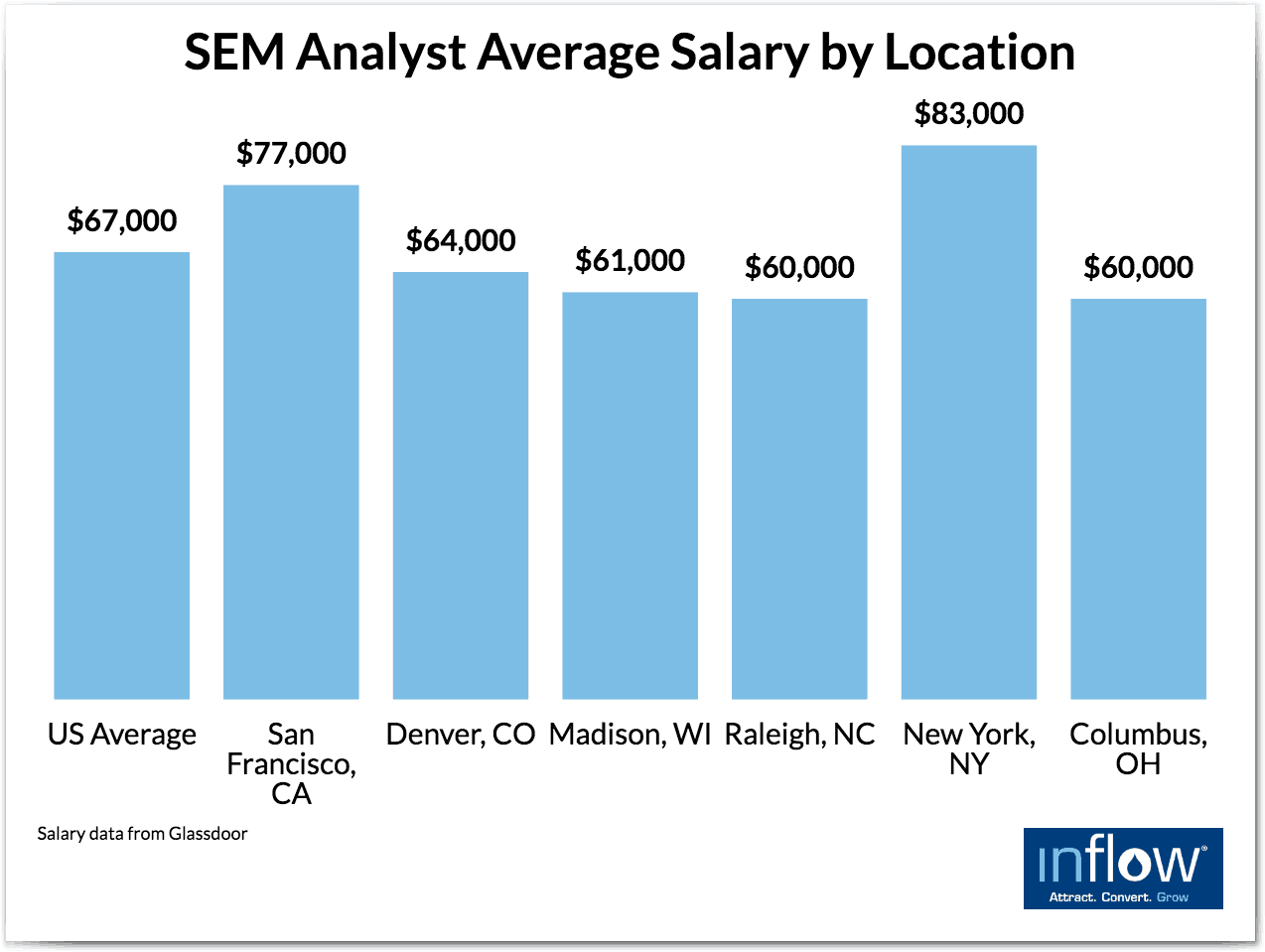 SEM analysts' salaries are much more variable than SEO analysts' salaries. An average SEM analyst in San Francisco makes $17,000 more than an average SEM analyst in Columbus or Raleigh.
Something else we want to point out is that SEM analysts have a higher average salary in New York than in San Francisco, even though San Francisco is a more expensive city than New York.
This shows that cost-of-living isn't the only factor that determines how much to pay an SEM analyst. Factors like the supply-and-demand of different types of labor may have a bigger impact on what a competitive salary is.
Skills Listed in Job Ads for SEO Analysts
When you're hiring an SEO analyst, you have to be sure that they possess all of the skills that you want them to have.
To show how people with the same job title of SEO analyst can have different skill sets, we looked a ten random SEO analyst job listings on Glassdoor and listed how often we saw a requirement for a certain skill.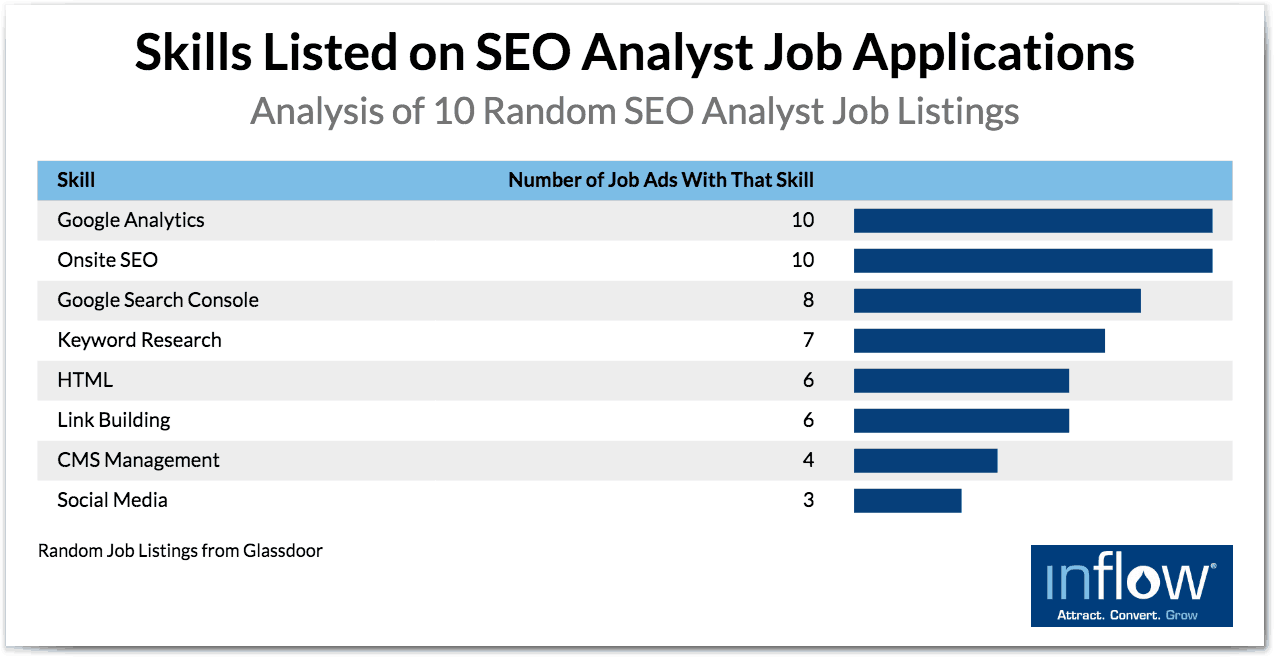 Being able to use Google Analytics and do onsite SEO are skills that every SEO analyst should have. So are link building and keyword research.
Some SEO analysts may need to be able to work with an out-of-the-box CMS like Wordpress, but others may be working with a home-grown CMS.
While they are often considered to be separate, several companies wanted their SEO analysts to understand social media marketing: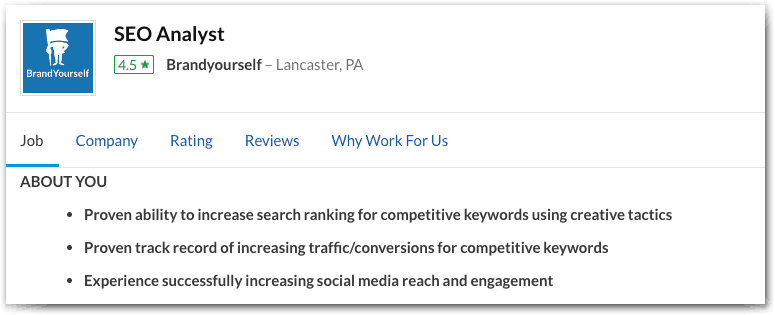 The skills you want in an SEO analyst can have a direct impact on what salary you have to offer.
You may have to pay more if you want to hire someone who's a top-notch link builder, has a strong understanding of HTML and technical SEO, can tweak Wordpress to make a more SEO-friendly site, and also knows how to spread SEO-friendly content on Twitter.
On the other hand, let's say you already have people on your team who are good at link building. You could then hire someone who has all of the other skills that you need. You can then train the new employee on link building later—or just leave it to another team member.
Skills Listed in Job Ads for SEM Analysts
We looked at ten random job listings for SEM analysts on Glassdoor and saw a similar dynamic. Not every SEM analyst job requires the exact same skill set:
Knowing how to use Google Adwords and being able to make effective recommendations to improve an existing advertising campaign are basic skills of any SEM analyst. From there, the jobs could differ slightly.
8 out of the 10 SEM analyst job listings required the applicant to have some knowledge of Bing Ads. This matches with our experience as most of our clients advertise on Bing, even if Google is used ten times as much as Bing: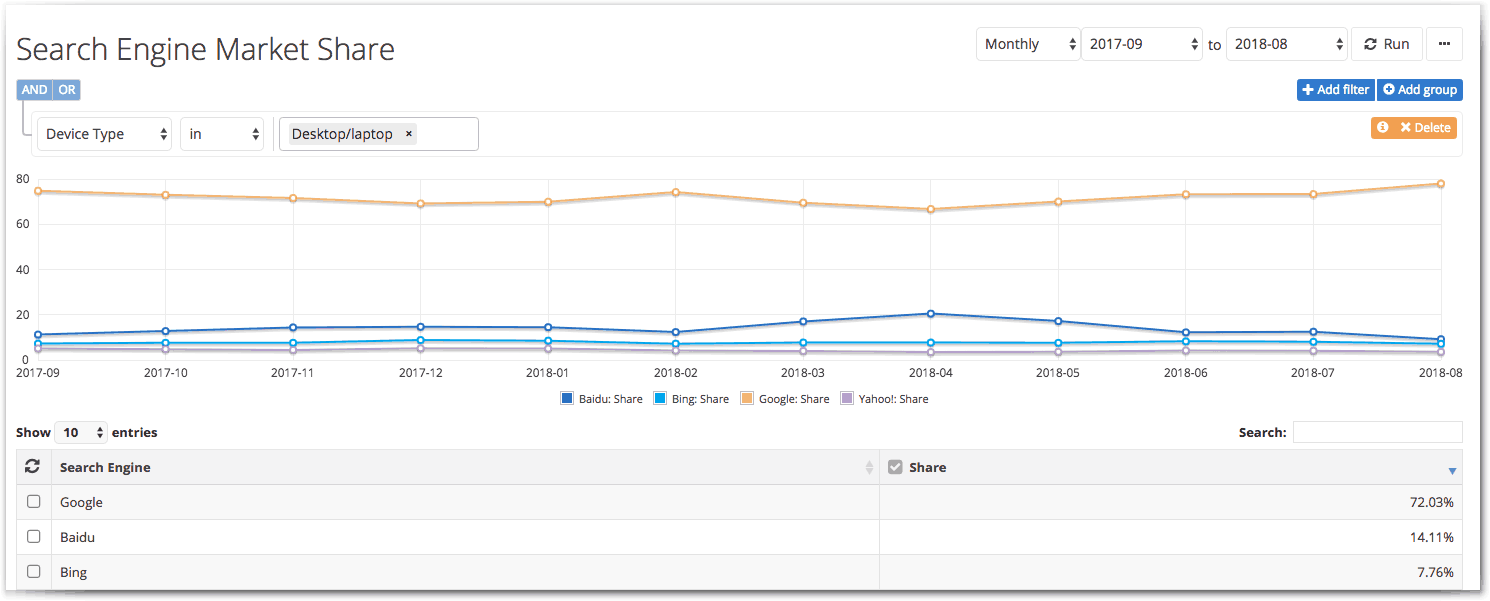 While some SEM analysts have to do keyword research to find new keywords to target, some SEM analysts may spend all of their day optimizing campaigns on existing keywords.
If you aren't familiar with the industry, you might be surprised to know how necessary Excel skills are for an SEM analyst. Dealing with spreadsheets of data can be a major part of the job. Some companies were adamant that applicants have advanced Excel skills: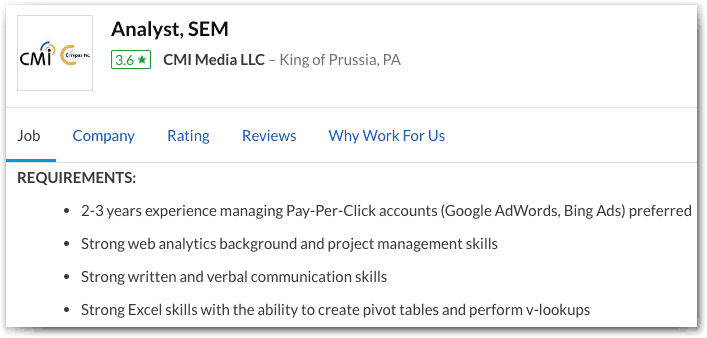 The same dynamic applies when hiring SEO analysts. The more skills that you want your applicants to have, the smaller the pool of potential candidates becomes, and the higher the chance that you'll have to pay more to hire an SEM analyst.
Earlier, we showed how SEM analysts can have an annual salary from $47,000 to $96,000. Location has a lot to do with that, but so can the requirements of the job.
If you're able to train a potential SEM analyst in the skills that they are lacking, then you might be able to pay them a little less and mold them into the complete marketer that you need.
If You Don't Have Time to Recruit and Train a New Employee
As mentioned earlier, another cost-effective option is to hire an eCommerce-focused agency with a team of professionals already trained in all the skills you might need to improve results for your site.
This lets you tap into an existing team of professionals—without having to worry about training a new employee on new skills.
The cost of hiring an agency will vary considerably based on your specific needs and goals, but in many cases the agency option can be a more cost-effective solution.
Takeaways
Here are our biggest takeaways:
Experienced SEM and SEO marketers, especially those with eCommerce specific knowledge, are more expensive but may provide more value dollar-for-dollar.

In general, more expensive cities require you to pay slightly more for the same position. However, there are several factors in play as some cities have an average salary that is higher than the average salary of more expensive cities.

Hiring a marketing agency is often a cost-effective way to get the SEO and SEM results you're looking for, without having to recruit, hire, and train a new employee.
Note: Want an expert evaluation of your eCommerce SEO or SEM strategy—for less than it would cost to hire a new full-time employee? Contact us here.