*This post was updated for accuracy in December 2020.
When most people think about optimizing their Google Shopping ads, they focus on their campaigns, bid strategy, and execution.
While this is important, we'd argue that the more significant wins actually come from optimizing your data feed.
Optimizing your Google Shopping feed is the foundation of successful campaigns for eCommerce businesses. Without it, you may find yourself spending more money than you need — with decreased visibility in search results.
In this post, we'll outline how we optimize the Google Shopping feed for our PPC clients and show you how you can do the same for your eCommerce business or clients.
Here's what we'll cover:
What a Google Shopping data feed is and why it's important
The five initial steps to take when optimizing your Google Shopping feed
And the four longer-term strategies to guarantee success
What is a Google Shopping Data Feed?
First, some background. Google Shopping consists of two products: Google Ads (formerly AdWords) and Google Merchant Center. Google Merchant Center is where your product data feed lives, and Google Ads is where you can optimize your campaigns, set your budget, and adjust your bid strategy.
Your Google Shopping data feed is a subset of all of your products. It's a digital product catalog that contains attributes like:
Product title

Description

GTIN (Global Trade Item Number)

Product category

And more
The attributes you use to describe your products in Google Merchant Center will show up the same across all types of feeds.
In short, this data determines how often and for what keywords — organic and paid — you show up for.
Why Does Shopping Feed Optimization Matter?
Optimizing your Google Shopping data feed works somewhat similarly to SEO. The more information that you have associated with your products, the more relevant you are for people's searches. In turn, Google will reward you by showing your ads more frequently and for less money.
Optimizing your data feed is like building a house. The data feed is the foundation on where you build all of your Google Shopping campaigns. If the foundation is off or your data is bad, you will have a hard time performing well.
Here are a few things that happen when you do optimize your Google Shopping data feed:
Your products show up for the most accurate, high-intent search terms.

You spend less money to show your ads.

You take up more space than your competitors.

You get correct visibility, which reduces the likelihood of overspend.
For example, say you sell Nike shoes. If your product titles only contained basic information, (such as "Nike red shoes") without size, color, or model, then your ads won't show up for some of the highest-intent relevant search queries. Even if they did, you'd be spending a lot more than competitors who implement a Google Shopping data feed optimization strategy.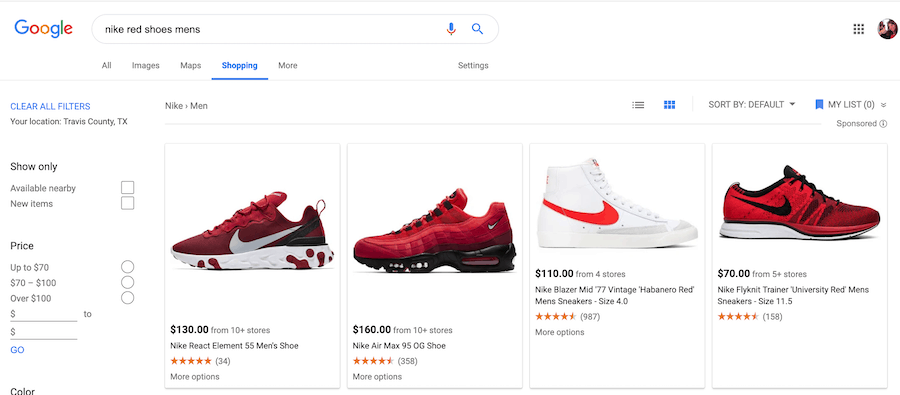 In other words, if a customer is looking for a Nike Lebron Fitness 5 in a size 12, a "Nike red shoes" product title won't get them to your ad. Instead, you want to be as specific as possible to be seen and convert on those high-intent terms.
Optimizing your Google Shopping feed isn't solely for the purpose of paid search campaigns. Because Shopping results appear in organic searches too, improved product listings can increase your chances of being shown to organic searchers, as well.
How to Optimize Your Google Shopping Data Feed
There are a few simple Google Shopping optimization tips you can apply quickly across your products.
I'll talk about them in more detail below, but here's your basic checklist:
Make sure every product has a GTIN.

Use the right keywords in your titles.

Be specific with your product categories.

Optimize your product descriptions.

Use attractive, original product images.
Step 1: Always include a GTIN.
The GTIN is the UPC of the online world. When you're a reseller or a manufacturer of goods, you use this information to track your products across Google's Surfaces and to keep an eye on MAP pricing through the Manufacturer Center.
Sometimes, you may not have a product's GTIN. When possible, use your research skills to find it. Talking to the product manufacturer is a good place to start.
The only time that you don't need a GTIN is if you're selling one-off goods — meaning you sell one-of-a-kind antique furniture or used products, or you sell things as a bundle.
But, because of all the information it includes, when you have a product's GTIN, make sure to always include it.
Step 2: Use the Right Keywords in Your Product Titles
I talked a bit above about product titles, but it's worth repeating: Product titles can make or break your Google Shopping quality score.
Importing the titles from your Shopify store directly into Google Shopping won't do the job. You'll need to take some extra steps within Google Merchant Center to target the highest-intent keywords.
Product title optimization is important because Google Shopping is all broad match. There's no phrase or exact match here. Instead, the algorithm uses a title to identify what the person is actually searching for and matches those keywords with the feed.
One of the biggest mistakes that we see brands making is keyword-stuffing their titles. Google will penalize you for long titles (i.e., anything over 70 characters). If your title is over 150 characters, they won't approve your ad.
Be precise and include the most relevant information in your titles. Your title should reflect how your customers or prospects are already talking about your product. Remember: The more specific and relevant information that the user includes in their searches, the more likely they are to buy.
Another example: If you sell jeans, you need to include all of the main keywords in the titles, such as: "Men's Levi's Boss Jeans Size 34." If your product title is only "men's jeans," you'll appear on all of the general searches — but you'll miss out on the higher-intent searches that are the most likely to result in a purchase.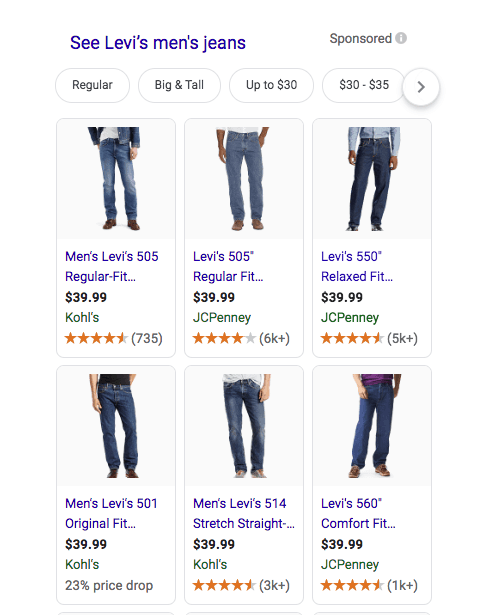 Step 3: Get Specific with Your Product Category
The product category is how products are categorized inside Google Shopping itself.
Because there are over 6,000 default Google product categories (here's the full list), we recommend you get as granular as possible. Some of these categories can go down five tiers or more. A categorization tool can help you with this.
For example, if you sell reading glasses and you haven't optimized your product categories, your products might be showing up under "drinking glasses" instead of "reading glasses."
Step 4: Optimize Your Product Description
The description for each individual product carries less weight than the attributes above because it takes about two clicks to see (as opposed to the title, price, and brand, which show up immediately in the results without any additional clicks from the user). However, this is still worth optimizing because of its use of added relevancy.
Here are a few tips for optimizing your description:
Put your product title at the end of your description.

Add high-relevance keywords into your description.

Identify added HTML that was not removed. There are many times that these pieces of code will get caught in the description.
Step 5: Use Original Product Images
Google prefers to see original product images and original product descriptions used on your website. For this reason, try to use a photo taken specifically for your store, rather than stock or manufacturer photos. Follow the image "rules": no watermarks, no logos, and no additional text on the image.
Make sure to use high-resolution images. People want to zoom in on your product and see all the details. If you use a low-resolution product image, it will look grainy in a closer look.
Remember to add proper titles and alt text to images. The titles and alt text of your images should describe the product, using any relevant long-tail keywords. Learn more about this in our guide to optimizing for long-tail keywords for eCommerce.
Other Google Shopping Optimization Tips
If you're optimizing your feed from scratch, we encourage you to start with the six attributes above. To go above and beyond, follow these suggestions.
Pay Attention to Google Merchant Center Warnings
Google Merchant Center acts as a QA source to make sure your data is clean and accurate. When you upload your data feed into the Merchant Center, you'll see errors, warnings, and disapprovals.
While they will still show your ads for certain searches, it will end up costing you more money in ad spend than your competitors who have optimized feeds. So, when you start seeing these errors come in, you want to clean them up ASAP.
There are three different levels of issues in the Merchant Center: by account, by feed, and by item.
Account-Level Warnings
Account-level warnings are the most serious of Merchant Center alerts. Left unaddressed, they can lead to larger issues, such as Google completely shutting down your Merchant Center.
If you get an account-level warning, such as a verification issue, fix it immediately so that you can keep your ads running.
Feed-Level Warnings
During a feed check, the Merchant Center will go through your data feed and make sure it's delimiting correctly, as well as confirm that all the files are set up and readable.
Item-Level Warnings
SKU or item-level warnings occur at the specific product level. The Merchant Center will go through all of your products, let you know if you are not including specific attributes, and give you a warning or a recommendation.
This is where most issues are found. They'll need to be fixed in the data feed.
Match Product Data to Landing Pages
Shopping ads and their landing page messaging need to be the same, or you'll get poorer ad scores and a lower conversion rate.
For example, make sure to use the same color names in your product data as appears on the landing page. In other words, don't let someone click on a Shopping ad for one of your yellow bowties — and end up on a red bowtie landing page instead.
Analyze Ad Performance Data
You should cross-reference Google Shopping data with search volume and other ad data sources. Some key things to look at:
Conversions

Search volume

Negative keywords
This is a great way to add more optimizations back into the feed. Analyzing the feed and campaigns from this level should help you steadily increase performance over a longer period of time.
Update Your Data Feed Regularly
To continually improve your campaigns, get in the habit of updating your feed any time your product prices, availability, or inventory levels change.
For example, if you sold 500 products last month and now you are only selling 350, you need to update your data feed. Otherwise, you're paying to market 150 products that you aren't currently selling. Worse, the products will throw a 404 error in the Merchant Center and bring down the quality of your feed.
To update a feed efficiently, we ask our clients for a dynamic file — meaning that we pull in a new file of a client's products every single day. We optimize those products through a custom tool and then upload the data in Google Merchant Center.
If you want to do the same, make sure the task is covered by someone who has Google product feed optimization experience. If you attempt this on your own (or use an automated platform), you won't have a living, breathing analyst looking over the feed. As a result, random keywords will be added to your titles with inaccurate attributes.
You'll end up with a feed that isn't fully optimized, and it could cost you more money in the long run.
Start Making Improvements Today
Optimizing your Google Shopping feed is a powerful way to improve ad performance, lower your cost per click, and generate more sales for your eCommerce business. Give the tips above a try, and let us know how it goes.
Having difficulties optimizing or just want a pair of expert eyes on it? Our PPC strategists can help you out.