Editor's note: This article was originally published in May 2020. It has been updated for accuracy and current best practices.
In 2020, Google expanded its Google Shopping Ads services, offering up more organic search result opportunities and making it free for U.S. merchants to sell on Google Shopping. 
Before this change, many eCommerce retailers had to rely on paid merchant Shopping Ads to get their products seen. And while product listing ads (PLAs) remain an effective component of eCommerce ads campaigns, these free Google Shopping opportunities offer new avenues for growing your online sales.
But, because these Google Shopping organic placements are unpaid, the associated data isn't easy to find. Before you can analyze the impacts of your free Google Shopping performance, you need to set up proper tracking.
In this blog, we'll walk you through the Google Shopping tracking process we use for our eCommerce PPC clients — a process you can easily replicate with your own accounts.
How to Set Up Free Google Shopping Tracking
Google isn't completely stingy; it offers some performance data for these free placements in your Google Merchant Center account.
Currently, you can view clicks for your organic Shopping placements under the "Performance" section:
Unfortunately, this isn't enough data to get the insights you really need. For the full picture, you need to see transaction data, engagement data, product data, or other data segments.
So, we turn to Google Analytics.
eCommerce websites will see more search traffic due to these free listings, and it has to show up somewhere in Google Analytics. It's up to us to identify exactly which traffic it is, so we can segment it and better understand how our PPC and SEO efforts are impacting results, with and without this new traffic.
This can be easily solved with fundamental Google Analytics tracking practices — using specific tracking parameters.
Here's an example from one of our client's sites:
We had previously set up specific tracking parameters for one Google Shopping feed, applied across all the links in that product feed. This meant that any landing page traffic that contained this parameter could only be coming from those data feed links.
Next, we tracked down the landing page report, filtered to the abovementioned parameter, and added a secondary dimension for "source / medium." Essentially, we created a view for any "non-Google / CPC" source with similar traffic patterns to the click report from GMC.
This way, we found all of the "Google / Organic" traffic that was using our free Google Shopping parameter.

Comparing this graph to the unpaid clicks report in GMC, we saw traffic volume and patterns were incredibly similar.
The next step: Get the data as granular, reportable, and optimized as possible, using good old-fashioned UTM tracking parameters.
We'll walk you through three of these options for analyzing your free Google Shopping performance.
Option 1: The Quick Cut
This method will only work if auto-tagging is enabled in Google Ads (previously known as Adwords). Your Google Analytics account and Google Ads account must also be connected.
Auto-tagging will override any other UTM parameter attached to URLs and ensure that your Google Ads reporting stays clean. However, because organic shopping results will also pull from the data feed URLs, they will not override the click with GCLID data (since GCLIDs are only associated with Google Ads traffic).
Therefore, any clicks on these free URLs will latch onto the UTMs and result in the proper "Source / Medium / Campaigns" segmentation you decide to use.
One such option:
source = google_shopping or google
medium = organic
campaign = shopping
term = Product ID
We prefer using "google_shopping" as a source for our clients. This provides a top-level data breakdown without our team having to dig too far for analysis. Including the product ID also allows us to run comparisons against Google Ads for the same product.
Here are a couple of implementation options:
1. Use a feed rule to append your link URLs.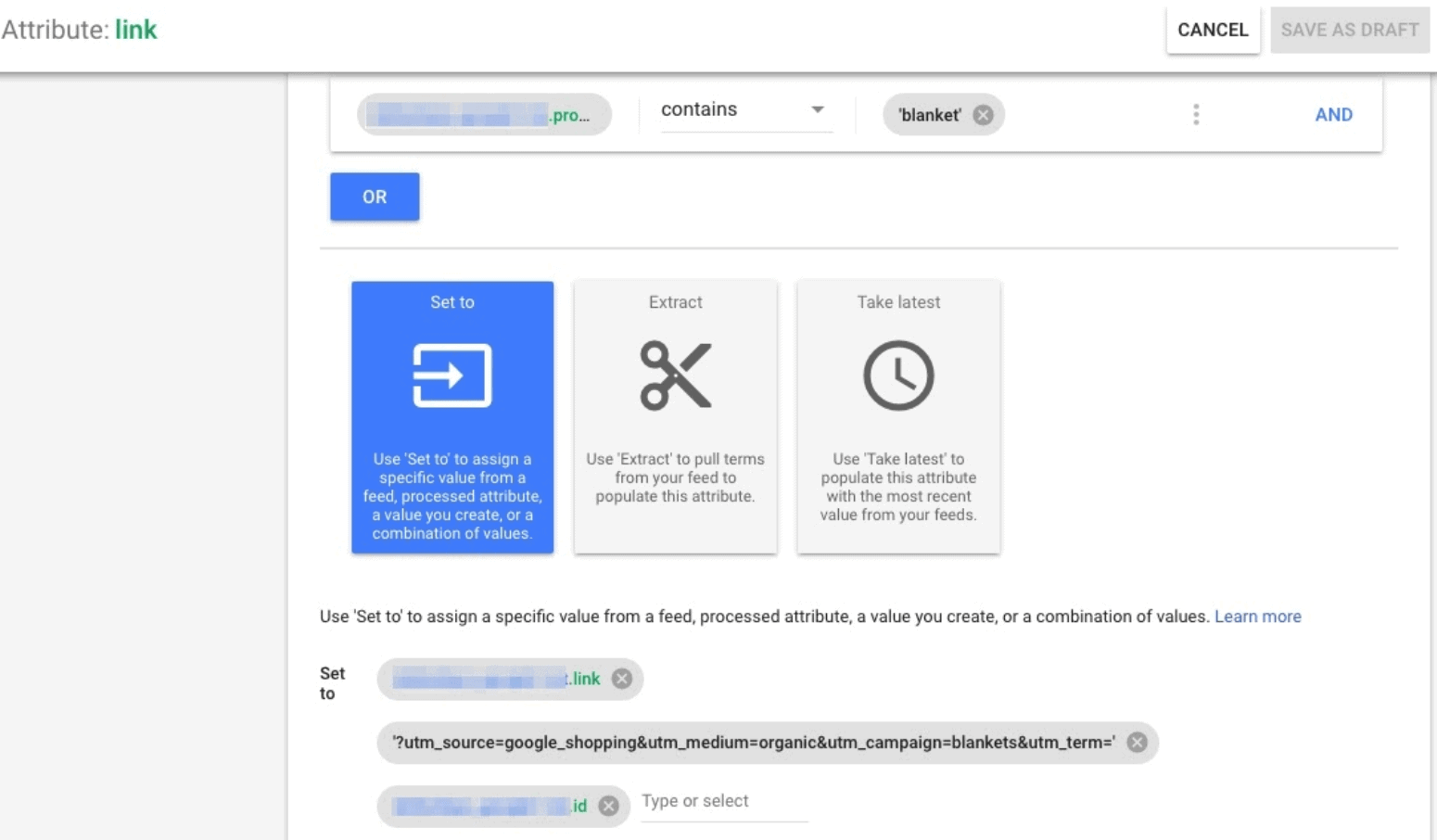 2. If using a manual feed, append the URLs with parameters yourself.
This should be easy to pull in the IDs with a concatenate.
Note: Watch out for any special characters or spaces in your UTMs, as these can cause landing page errors. If you're unsure about your tracking accuracy, you can use this URL builder to check.
Option 2: The Bird's Eye View
If you can't use Option 1, you can still develop custom tracking parameters to break traffic sources out in Landing Page reports.
Selected parameters should:
Integrate well with your landing pages
Not be stripped due to any website coding (i.e. when the URL is entered, the parameter should still appear once the web page resolves)
Not cause any errors
This approach allows you to report on revenue and run comparisons on how this traffic is (or isn't) impacting your current Shopping campaign performance.
For this option, auto-tagging does not need to be enabled.
Option 3: The Surgical Cut
Google now offers the ability to target your feeds to specific destinations, allowing for more precision and granularity of data. You can use a primary feed for each individual destination or multiple destinations, including Shopping Ads, Buy on Google listings, and free Shopping listings — the latter of which we'll focus on below.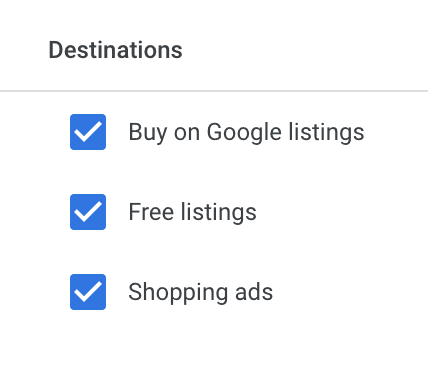 This option gives you more control over what products you want to list for free compared with other destinations, as well as control over tracking at the URL level.
Option 3 is the best choice for you if your primary Shopping Ads feed differentiates from your overall product availability. For example, a Shopping Ads feed may only include products at a minimum price point, as there may be margin concerns with driving paid traffic for low-priced items. In this case, we recommend all products be included in the Free Listings feed, because there will be no cost-per-click to consider against margin.
The Final Step: Using Your Free Google Shopping Analytics
Once you have your free Google Shopping tracking set up and your data rolling in, you can use it to strategize different optimization tactics for organic vs. paid Shopping traffic.
For example, test out new ad copy or photos on your free Google Shopping listings. If they work, apply them to your paid ads to drive results where they really matter.
We recommend comparing (at a minimum) all top-level traffic, transactions, and cost data from paid Google Shopping campaigns to their free counterparts for all of your products. Bring in your SEO analytics data, too, for a fuller picture of your paid vs. organic traffic — and use it to further optimize all of your listings on the search engine results pages (SERPs).
Run into issues setting up your free Google Shopping tracking? Our team of digital marketing experts is always happy to help. Reach out anytime for a free proposal, including our proven strategies for Google Shopping success.