We were excited to hear that Google would be expanding its Google Shopping Ads offering for more organic search results and making it free for merchants to sell on Google Shopping. Product listing ads, otherwise known as PLAs, can be a very effective component of eCommerce ads campaigns.
Some of the first questions to come to mind were: How is this going to impact paid merchant Shopping Ads, the bread and butter for eCommerce PPC ad campaigns? And how could we track this free Google Shopping performance to measure the impact?
It is essential to measure the success of any advertising campaign performance (paid, organic, or otherwise) to understand its effect on eCommerce sales.
We quickly realized, though, that there was no easy way to identify the impact of this new offering within Google's current toolset settings.
Tracking Free Google Shopping Performance
The new Google Merchant Center (GMC) "Performance" section is a start. While it is very early on, it does measure "Click" data:
Unfortunately, that is not enough to get the insights we really need. There is no transaction data, engagement data, product data, or other data segments we would want for our analysis.
The bottom line is that our websites are going to be getting more search traffic and it has to show up somewhere in Google Analytics. If this is going to be a new avenue for traffic, we want to make sure we know that it's coming from this new search result.
Also ideally, we can segment it separately so we can better understand how our PPC and SEO efforts are impacting PPC and SEO results, with and without this new traffic.
The answer to these questions came down to some Google Analytics fundamental tracking practices (more on that below).
First, we recalled that one of our feeds had specific tracking parameters, unique to the links in our feed (i.e. all landing page traffic that contained this parameter could only be coming from our data feed links).
Second, we tracked down the landing page report, filtered to this parameter, and added a secondary dimension for "source / medium." Essentially we were looking for a non-Google / CPC source with similar traffic patterns to the click report from GMC.
We found Google / Organic traffic that was using our PPC Shopping parameter.

This graph lined up very closely with the traffic volume and patterns from the clicks report in GMC. Our next step was to figure out how we can get this data as granular, reportable, and optimized as possible.
While we believe Google will at some point expand Google Merchant Center's reporting, we can currently use old-fashioned UTM tracking parameters.
We have compiled new ways to use UTM tracking to gain insights into how your free Google Organic Shopping traffic is performing.
Option 1: The Quick Cut
A very important note is that this method will only work if auto-tagging is enabled in Google Ads, otherwise known as Google Adwords. Also, the Google Analytics and Google Ads accounts must be connected. If not, a different approach would be best.
If auto-tagging is set up, this will override any other UTM parameter attached to URLs and ensure Google Ads reporting stays clean.
However, since the new organic shopping results will also pull from the data feed URLs, they will not override the click with GCLID data, since GCLIDs are only associated with Google Ads traffic.
Therefore, clicks on these URLs will latch onto the UTMs and result in the proper Source / Medium / Campaigns segmentation and any other UTMs you decide to use.
One segmentation option is:
source = either google_shopping or just google

medium = organic

campaign = shopping

term = Product ID
We tend to like google_shopping as the source since this gives a break-down at the top level without having to dig too far. Also, the product ID will allow us to run comparisons against Google Ads for the same product.
Here are a couple of implementation options:
a) Use a feed rule to append your link URLs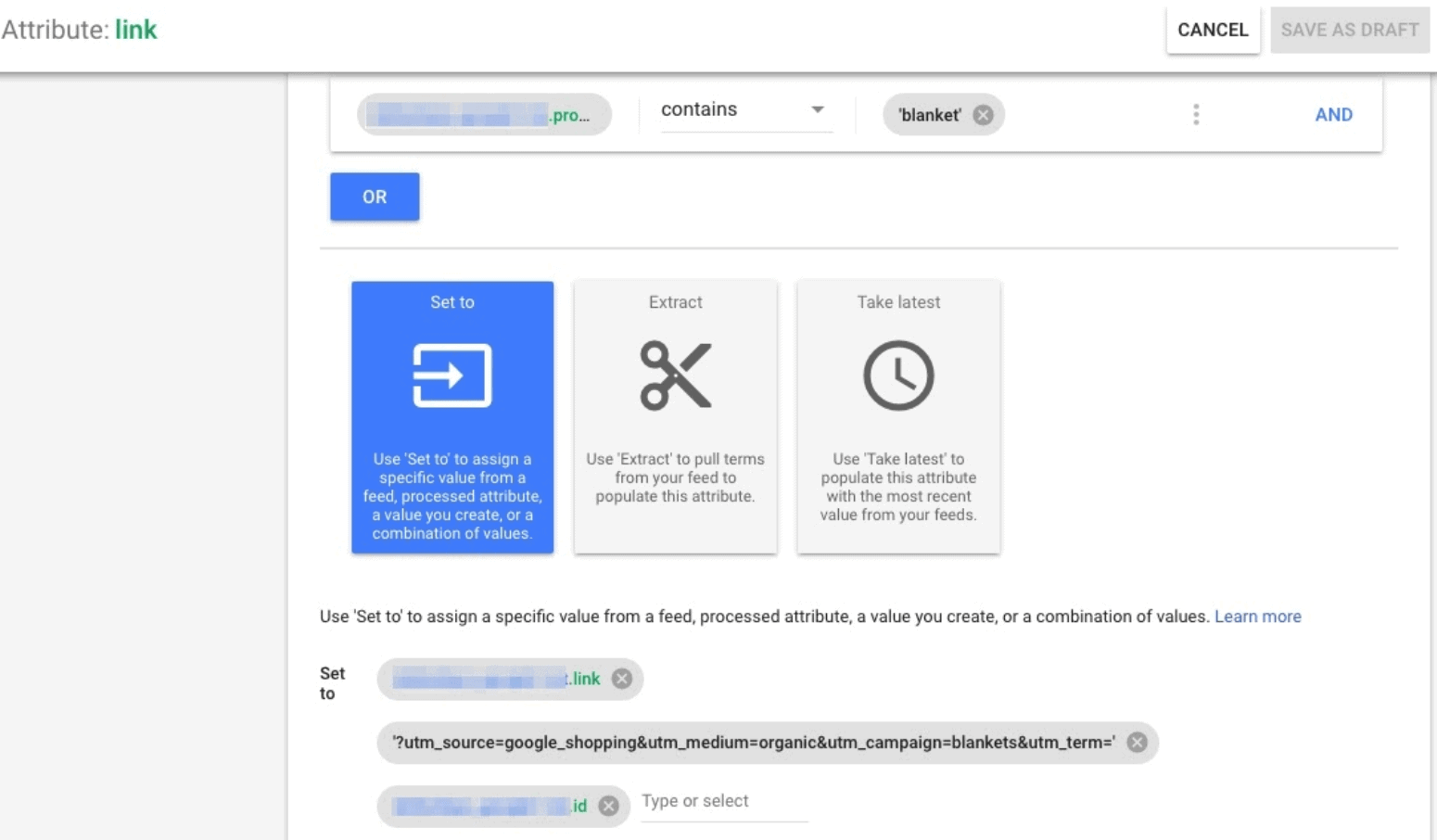 b) If using a manual feed, you can just append the URLs with parameters yourself. This should be easy to pull in the IDs with a concatenate.
NOTE: Make sure to watch out for special characters or spaces in your UTMs, as those can cause landing page errors. If you are unsure, you can use this URL builder to check.
Option 2: The Bird's Eye View
If for some reason you are unable to use the above option, then at minimum you can develop some custom tracking parameters to break the traffic sources out in Landing Page reports.
Selected parameters should:
Integrate well with your landing pages
Not become stripped due to any website coding (i.e. when the URL is entered, the parameter should still appear once the web page resolves)
Not cause any errors
Doing this, at a minimum, will allow you to report on revenue and run comparisons to see how this traffic is impacting or not impacting your current Shopping campaigns.
For this option, auto-tagging does not need to be enabled.
Option 3: The "Wish List" Surgical Cut
We're not 100% sure how to implement this option and perhaps it will be an update coming down the pipeline.
However, ideally there will be two separate product feeds: one targeting Google Shopping and another targeting Google Surfaces. These two feeds would allow for more precision and granularity of data.
For now, Google Merchant Center does not allow for two primary feeds if they contain the same products. Therefore, this last option is merely a "wish list" item.
We like this option the most because it is a cleaner cut that would eliminate any concern over tracking inconsistencies. The other added benefit of this view is that once the data starts rolling in, you can consider different optimization tactics for Organic vs. Paid traffic.
Theoretically, the Organic segment could be used as a "sandbox" and where any changes that lead to improved results could be applied to the active Paid Google Shopping Feed.
What We're Tracking Next:
As an eCommerce marketing agency, we are entering week one of tracking free Google Shopping performance results. We are setting up tracking across our accounts, but testing the waters first.
Running comparisons during a time that has no historical equal can be especially challenging.
However, at a minimum, we will compare top-level traffic, transactions, cost data from our Google Shopping campaigns to their Free Shopping counterparts for all products.
Eventually, we plan to compare accounts to see if we are seeing similar industry ratios, then even compare to specific products and accounts for PPC vs. SEO.
In short, there is more to come – so stay tuned. There are many potential opportunities, and we would love to hear from you if you have a creative solution for this.
Also, if you are having any issues setting up tracking for your free Google Organic Shopping tracking, please reach out to our team of PPC experts for help. Our team of experts can help ensure that your product ads produce strong conversion rates and that your ad spend delivers solid ROAS.