Editor's note: This blog was originally published in 2017. It has been updated for accuracy and modern practices.
Many eCommerce retailers struggle to coax results out of their paid search campaigns — especially without an experienced marketer manning the helm.
Skreened was no different.
As an eCommerce brand that sold trendy design-driven apparel and other products, Skreened was missing out big by not running Google Shopping campaigns. Due to previous lackluster performance, the company hadn't run Shopping campaigns in two years when they finally came to Inflow.
"Paid search is a beast," Todd Barrs, Skreened's vice president of eCommerce and marketing told us. "It's tough for any small business to compete in it without expert advice or someone managing it."
Fortunately, they'd come to the right place.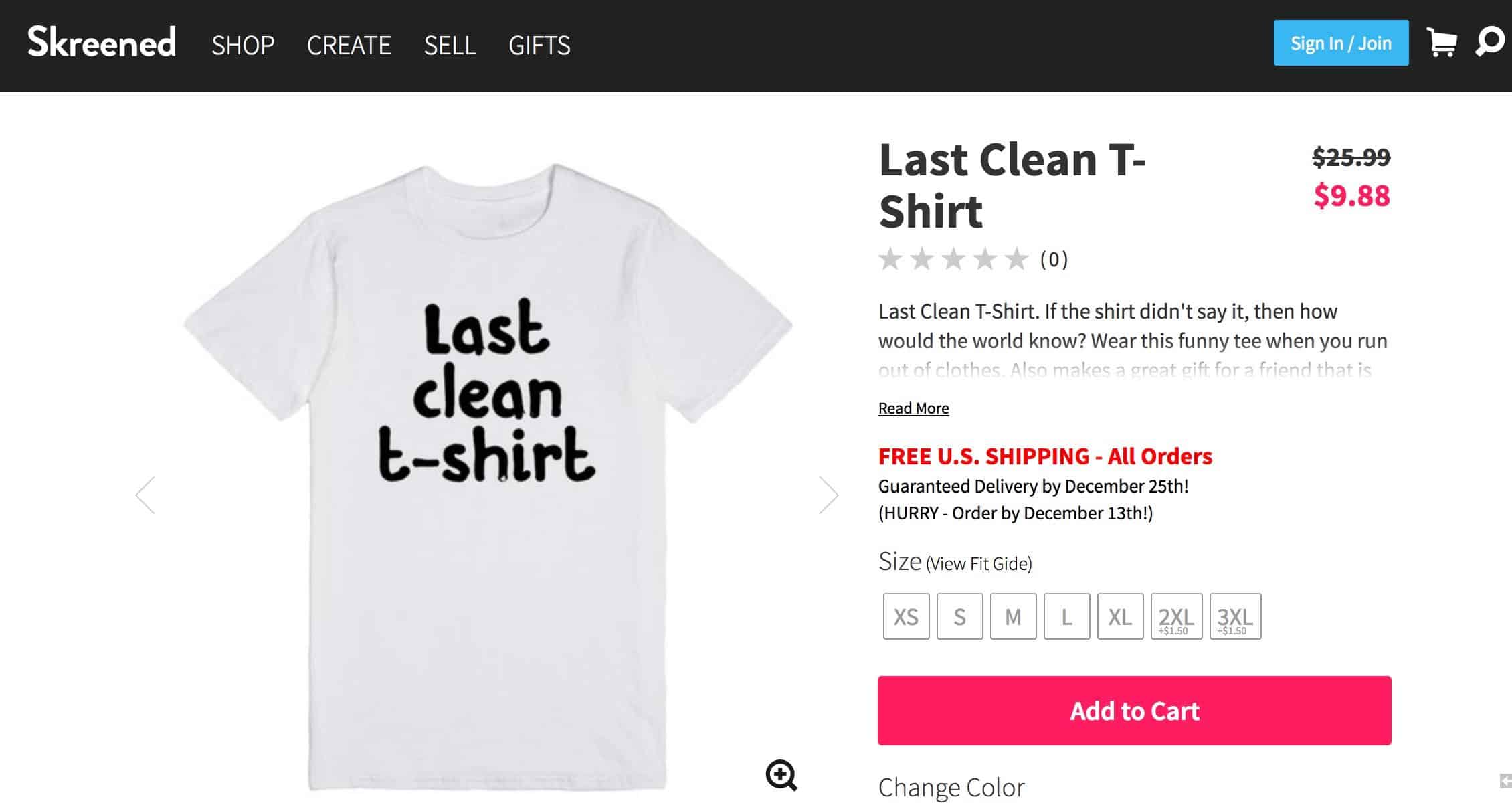 With Inflow's help, Skreened would see 360% return on ad spend (ROAS) in just one month, with Google Shopping revenue making up 10% of that month's overall income.
In this case study, we'll explain how we did it, with a few Google Shopping Ads strategies you can use for your online business today.
The Challenges of Google Shopping
Google Shopping campaigns don't target keywords like most Search campaigns. Instead, Google Shopping's complicated algorithm relies on the details of your product data feed (found in your Google Merchant Center account).
Optimizing your Shopping feed alone can make or break your campaigns. But it's not the sole piece of the puzzle; Shopping campaigns require time to set up, careful thought in targeting and account structure, and a complicated strategy to drive big results.
Which is why Skreened came to us. As an eCommerce marketing agency, we've experimented with countless Google Shopping strategies and tactics to identify the winning one for online businesses. Using our advanced, tiered campaign strategy, we were ready to help Skreened target the highest-potential search queries and boost their Shopping performance.
Want similar results for your eCommerce store? Request a free proposal here.
How We Maximized Skreened's Google Shopping ROAS
Using our three-tiered eCommerce PPC strategy as a starting point and customizing it for Skreened's unique brand needs and goals, we implemented the following campaign structure:
Step 1: Identify highest-value search terms.
If you want your eCommerce store to improve ROAS on Google Shopping, you need to start with historical data. Unfortunately, if you haven't run many campaigns, you're starting at a disadvantage.
Skreened was in this exact boat. Because they had no metrics or data from previous campaigns, they couldn't know which products or searches were likely to perform well. And, with so many SKUs on their site, identifying which searches would have the highest sales potential would be particularly challenging.
Some background:
Skreened sells creative designs that can be printed on apparel (such as T-shirts and sweatshirts) and other products (such as coffee mugs or dog beds). The site allows users to upload their designs, as well as set up marketing accounts to sell their designs to others on Skreened.com.
Because of this, they have over 900,000 products for sale!
Skreened's top sellers are designs centered around trending topics and memes. Because these phrases are included in the product titles and descriptions, they're also naturally included in Google's algorithm, which takes all the data from a product feed into consideration when deciding which search terms are most relevant to your product.
Here's the catch: People searching solely for the trending topic or meme (e.g., "Come at me bro") are less likely to be searching for a product to buy.
For that reason, we knew we'd find the highest conversion rates on searches involving the combination of trending topics and memes with product terms (such as "shirt" or "tank top").
See our example below, where adding "T-shirt" to the search phrase changes the search intent to show Shopping listings.

Because of this, product-related terms would be Skreened's highest-value keywords.
But here's where these campaigns get tricky. Unlike other Google Ads (formerly Adwords) campaigns, Google Shopping campaigns do not allow you to target specific keywords. So, we can't simply bid the highest on search queries that include the product terms most likely to turn into sales.
If we want to ensure our campaign dollars go to these top-converting queries, we need to think outside the box. And that's where our tiered bid strategy comes into play.
Step 2: Split PLAs into three campaigns.
While Google doesn't allow for targeted keywords in Shopping campaigns, you are allowed to add negative keywords that filter out search queries not directly related to your products.
So, instead of telling Google what queries we did want to be included on, we filtered searches out until only the ideal queries were left.
To use this to Skreened's advantage, we set up three separate campaign types that allowed us to corral the most useful searches into our most aggressive bid strategy.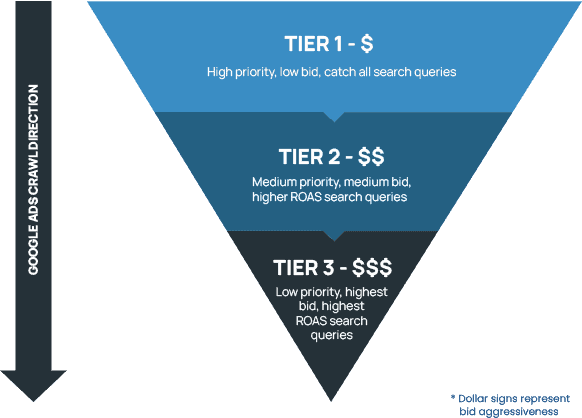 Tier 1: Highest campaign priority, lowest bid
We set our first campaign up with the highest campaign priority, so that Google's algorithm would always hit this tier with search queries before anything else. Since we expected these searches to have the lowest conversion value, we bid the lowest on this campaign.
For this tier, we wanted to capture traffic that was searching for trending themes and memes — but not including specific search queries such as "shirt" or "racerback." This way, we could capture lowest-converting search terms without spending much money.
Because Skreened's product data feed included the titles and descriptions of products related to trending topics, this campaign captured searches related to those topics. It also naturally captured searches that included the phrase printed on the product.
For that reason, we added negative keywords to filter queries that included the actual words describing the type of product — such as "sweatshirt," "sweater," "T-shirt," "tanks," or "tank tops." Those queries would pass through to the second tier, where we bid more aggressively.
Finally, to exclude any high-converting brand traffic, we also added "Skreened" as a negative keyword in this tier and the next (saving that traffic for our most aggressive bids further on).
Note: The focus here isn't just conversions. This first tier can be great for mining new keywords or product groups at a cheap cost.
Tier 2: Medium campaign priority, medium bid
Any higher-potential search queries that contain our designated negative terms now bypass the first tier and are filtered into the second tier (except, of course, for "Skreened" brand terms).
As a result, these search queries could include both terms describing trending topics and product terms, such as "unicorn racerback" or "I can't adult today sweatshirt."
To further filter out this tier, we added negative keywords for style and model terms (ie. "boss"). Because these specific searches are extremely high-intent, we save them for our final tier (more on that below).
Because this second tier gathers higher-intent search queries than our first, we intentionally configured this tier to bid more aggressively.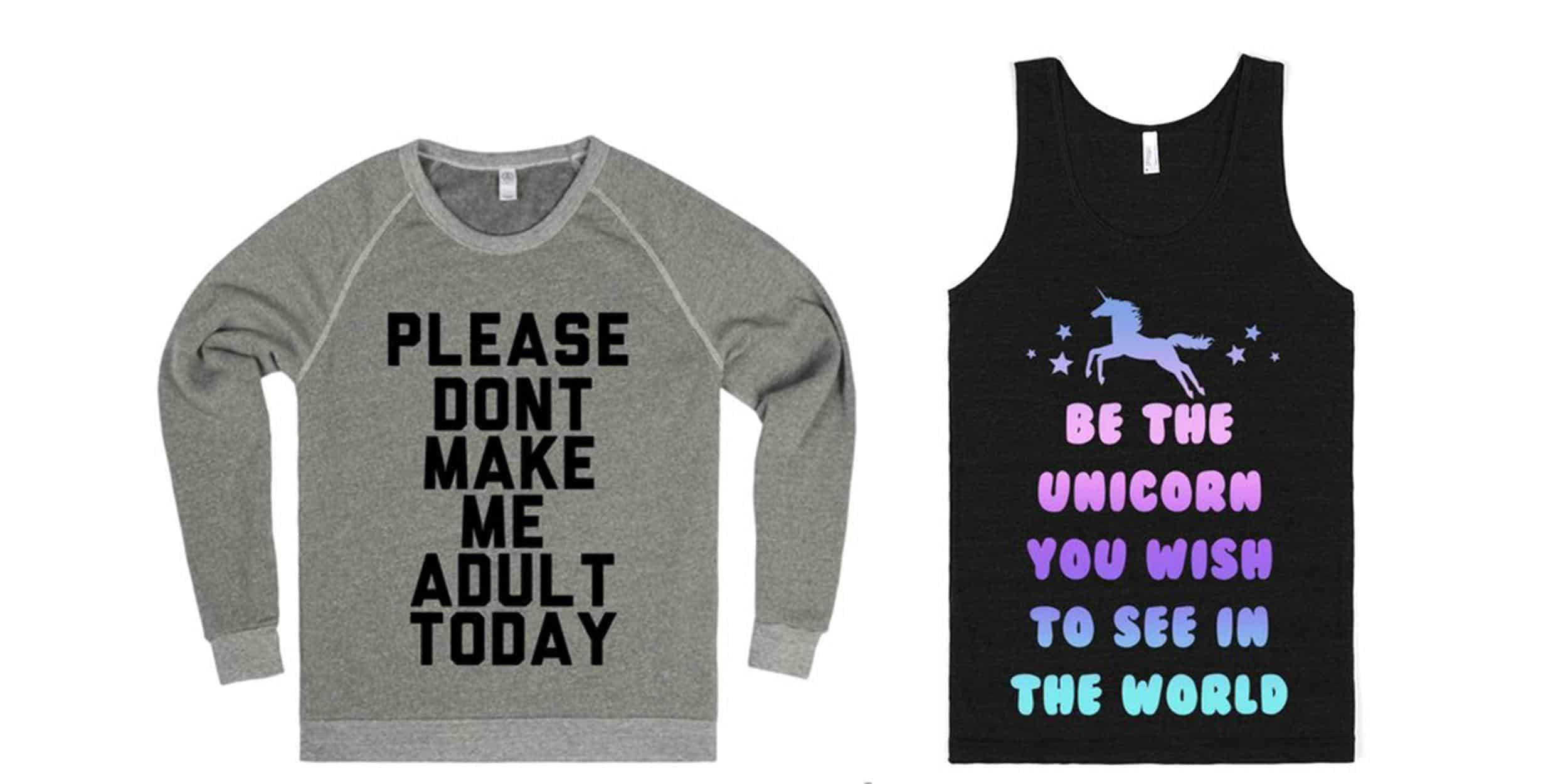 Tier 3: Low campaign priority, highest bid
Our final campaign exists to catch any remaining search terms negated from the previous tiers — which tend to be the highest-converting brand traffic and specific style/model search terms ("i can't today adult sweatshirt skreened medium").
Because of the specificity of these terms, we bid the most aggressively here out of all of our tiers. The high conversion value requires us to pay the highest to get the purchase. But, thanks to all the work we've done in the first two tiers, it's well worth the cost.
The Results
In the first month since launching this three-tier campaign strategy, Skreened's campaigns saw 360% ROAS — and made up 10% of total site revenue for that month.
Over time, we'll expect even better results as we continue our optimization of negative keywords, eliminating patterns of search terms that don't perform well and waste our ad spend.
It's also important to continually optimize product groups in our product data feed. That way, Skreened can further integrate its brand and Shopping campaigns to highlight top-selling products.
The bottom line?
Unstructured paid search campaigns waste money — because they make you pay for ads that almost always have lower conversion rates.
Our tiered Shopping structure enables you to get the results you want, while spending less in the process.
It's for good reason that we recommend Shopping campaigns to all of our eCommerce business clients. After branded search campaigns, these kinds of campaigns generate the highest average ROAS of all digital marketing campaigns.
If your Shopping ads have been falling short of expectations, our team of PPC experts is always happy to take a look. Contact us today for a free campaign analysis and custom proposal for your online business's target ROAS goals.
In the meantime, check out more Google Shopping strategies below: