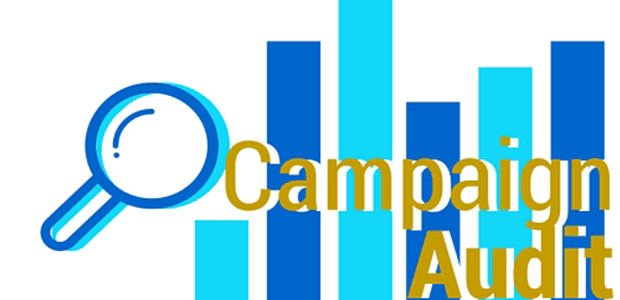 The last few months have produced an increase in requests for PPC audits here at Inflow. We're not sure why the growing trend but two reasons stand out:
1. What should we be doing for the holiday season?
2. We are managing our paid advertising in-house but want some extra eyes on the account.
Look, I get it, everyone wants advice. And usually for free. While I am always up for talking about new trends or tools to help manage accounts, a true campaign audit is not something that should be handled lightly. Just like it's not easy for your financial advisor to tell you what you should invest in to make a quick buck, there are several factors that go into running successful PPC campaigns: the campaigns themselves, external factors on your site, competitors, consumer and business landscapes, selection, quality, pricing, etc.
A true audit takes an understanding of your business, competition and goals (micro and macro), and from there we can begin looking into the depths of your accounts and campaigns.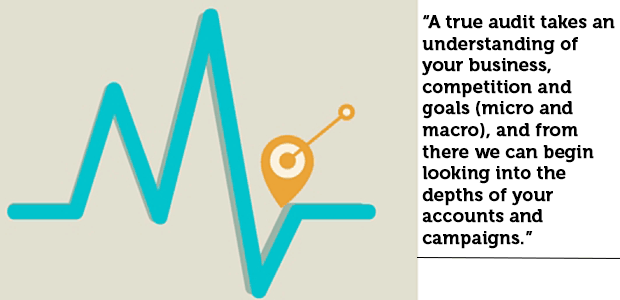 However, when you are in need of quick insights into what's going on with your account, there are a few key elements that I always look for to gain a top-level understanding into the performance and health of the account. This will help you know what questions you should be asking your PPC manager or agency. For this exercise, I am going to focus on a Google AdWords eCommerce account.
To start, I like to at least look at the most recent quarter of data. Of course, when you are going more in depth and looking for things such as seasonality, you want to open this up significantly to spot changes and trends. For a quick look though, let's just focus on the most recent quarter. On the campaign level, a few indicators really stand out to me: Status, Cost, Conversions and Search Impression Share (spoiler: these are all actually interconnected).
First, Status is almost too obvious, but when campaigns are limited by budget, I like to see how much the current budget differs from the recommended budget and examine this against conversion performance to get an idea of how much opportunity is being left on the table from a budget standpoint. Several budget-limited campaigns often point to a budget commitment problem or a misallocation of budget throughout the entire account. A campaign with this condition is really never afforded the opportunity to perform to its full potential, with the budget often wasted by running out too early. (Questions to ask: Are our campaigns being limited by budget? If so, what is the scale of this problem throughout the account? What are the gaps in the current budget and recommended budget? How are we allocating our current budget?)
Moving over to Costs, I am looking for the month-over-month spend, campaign cost differences (especially for shopping and branded campaigns) and where the current spend is being largely allocated. It's the high spenders that are naturally going to get a lot of scrutiny, but as I look to Conversions, that doesn't necessarily point to the best opportunities. (Questions to ask: Are current costs aligned with our budget? What campaigns are taking up the majority of the costs and at what percentage out of the total budget? What is causing these campaigns to spend a lot? Are we seeing the desired ROI from these high-cost campaigns?)
For Conversions, I want to see the top converting campaigns and their conversion rates, as well as the cost per conversion. Highlight those campaigns that are converting well, while examining this against the conversion rate and cost per to get a better understanding of conversion performance. For low converting campaigns there can be a lot of reasons. You may not get a lot of answers at this level, but it's important to understand from a high level what's not working to then dig deeper. (Questions to ask: What campaigns are converting and what campaigns are not? For those that are converting, are they converting around our cost per conversion goal? Is a low conversion rate driving up costs? For those that are not converting, what are the reasons for this? Should this budget be allocated elsewhere?)
Lastly, on the campaign level, the Search Impression Share (IS) is going to give us insight in the opportunity level of the campaigns. For campaigns with low search impression share determine if Search Lost is due to budget, this is most often the case. Search Lost IS due to rank is also a common problem, which means you need to take a deeper dive into bid optimization, as well as quality score in order to improve impression opportunities. Tying search impressions to conversions also tells us that we may be leaving a lot of conversions off the table. The solution could be as simple as increasing budget. (Questions to ask: What is the current Search Impression Share across our campaigns? How much is budget and rank causing the loss of search impression share? Is the budget reasonable for the existing account? Is budget being allocated appropriately?)
This quick campaign-level audit will help you get an understanding of the current campaign, but we highly recommend seeking experts to do an in-depth audit of your accounts in order to find solutions to the problems that may surface. This should be done on a regular basis by your agency or your paid marketing manager to ensure your accounts are meeting your goals.