Today's marketing landscape is a world of extremes. For every online business struggling to combat inflation and tightening wallets, there are countless others reporting record-breaking profits and unthinkable growth.
Just one example: Our travel provider client, Shore Excursions Group.
Thanks to the post-pandemic travel boom and a history of smart, strategic marketing choices, SEG's profits have been through the roof since the beginning of 2023 — boasting increased conversion rates, clicks, and revenue to blow the brand's goals out of the water.
In fact, May 2023 delivered Shore Excursions Group's highest number of PPC-assisted bookings ever, a marked comparison to a business driving no sales just two years ago during the height of the COVID-19 pandemic.
So, how did they do it — and what can other brands learn from their success?
We recently sat down with Jeff Cohen, Vice President of Marketing at Shore Excursions Group, to find out what's been driving the brand's recent success — and where they go from here.
The COVID-19 Effect
Like it did for all travel and tourism businesses, the COVID-19 pandemic hit Shore Excursion Group hard in the spring of 2020.
"We went from pretty successful growth pre-pandemic to absolute zero for two years, which I challenge you to find another industry that was hit so hard," Cohen says. "Why? Because no cruises equals no excursions, so we had to refund every piece of business that was on the books, plus pay commission to travel agents.
"We had nothing coming in for two years, but we did spend that time optimizing our site as much as possible — SEO activity and such — to put ourselves in a good position," he continues.
In fact, it's that commitment to sustained digital marketing to which Cohen attributes SEG's survival over the past few years.
With Inflow's help, SEG reinvested quick-return advertising dollars (spent on campaigns such as Google Ads) into longer-term strategies, including search engine optimization.
Specifically, SEG's marketing team took advantage of the industry shutdown in 2020 and 2021 to redesign and migrate their site without the fear of lost traffic (since that traffic was nonexistent when cruises were moored). With a refreshed site, SEG could continue to optimize existing content for future cruise vacationers, building a foundation that would return the investment in spades.
Throughout the pandemic shutdown, Shore Excursions Group retained steady positioning in the #1–4 results in the SERPs and grew their organic keyword footprint in ranking positions #1–10 by 72% year over year — setting the stage for great performance when cruisers started to book again.
Responding to Changing Customer Behavior
But post-pandemic cruisers aren't the same as they were before. After months of hearing things would "get back to normal," travelers bring a new sense of wariness and reluctance to book — should pandemic restrictions be enforced once again with little warning.
To avoid the complications of third-party fees and policies (and with newfound digital experience from surfing the web for months of lockdown), today's customers are much more likely to conduct research — and purchase excursions — without the help of a travel agent.
"You have this kind of shift happening in the marketplace over time. More and more consumers are booking direct," Cohen says. "There's so much information available online now…They understand that they could just start Googling, you know, 'best tours' or 'best activities to do in Juneau, Alaska.' And so that's where we're trying to be on the digital side of things."
So, while SEG's primary marketing focus remains partnering with travel agents nationwide to promote shore excursions to their cruising clients, the team is also expanding marketing efforts to new direct-to-consumer channels.
In contrast to the targeted digital marketing the brand traditionally relies on, SEG is now re-engaging audiences through organic social and reputation management. The goal: Build brand awareness and credibility, especially on those platforms that customers are using to ideate and research their next trips.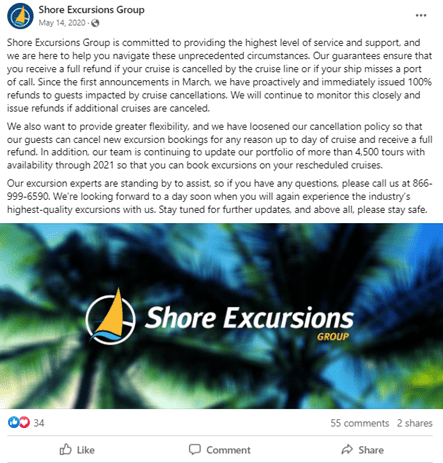 "Customers are, especially in the travel space, using social media as a validation of credibility," Cohen says. "So, we're putting a lot of focus around that — marketing activity that says we care deeply about delivering amazing experiences, but from a customer service standpoint, too."
Sticking with the Tried-and-True — and Testing the New
At the same time, Shore Excursions Group doubles down on those tactics that traditionally drive significant results for the brand, including paid search marketing campaigns.
While paused during the height of the COVID-19 pandemic, SEG's PPC campaigns were strategically relaunched during the fall of 2022 to take advantage of the rapidly recovering travel industry.
But the Google Ads landscape had changed dramatically in those few years. The introduction of automated campaign types like Performance Max made previously successful strategies obsolete.
To maintain the level of success the brand was used to, Inflow's PPC experts had to implement a new approach — updating ad copy and assets, adjusting demographic and custom audience modifiers, and much more.
You can read about the entire strategy shift in this case study — but, long story short, the changes allowed SEG's campaigns to hit a three-year-high ROAS of 18.73x and a 1,333% increase in profit margin with only a 157% increase in spend, month-over-month.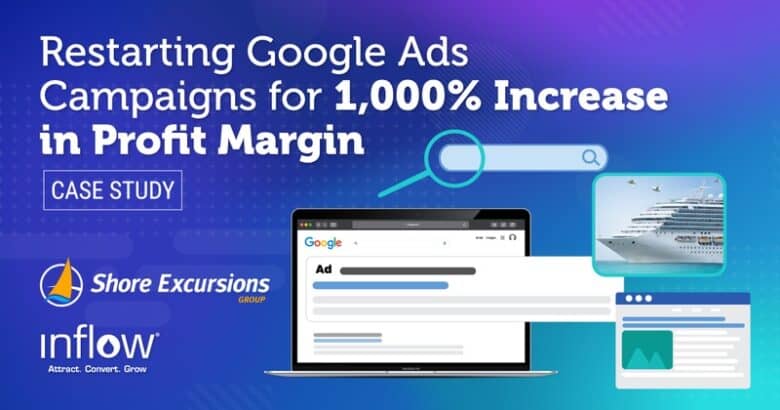 But, to maximize the opportunity out there, SEG's team knew they needed to go beyond their reliable PPC campaigns. Finding new audiences (and turning them into bookers) meant expanding to different channels, including YouTube ads, targeted paid social campaigns, and more.
"I wanted to kind of expand and get into some other digital channels, as well as things we've tried in the past and haven't had much success with," Cohen says. "Our mentality and approach is, 'Let's take a reasonable swing at it, without going for the fences' — but enough of an effort to be worthwhile and give it a good chance for success."
In our agency's 15 years of working with brands, it's that exact willingness to test (and openness to learning from failures) that separates the cream of the crop in the digital marketing world — and is a key reason why SEG continues to grow at a rate unmatched by others.
Full Speed Ahead for SEG
As a highly seasonal business, Shore Excursions Group knows that now is the time to double down on their marketing. There's no relaxing and enjoying the results; it's all business to keep pushing and spending as much as they can, while they can still take advantage of the pent-up demand of travelers.
And, while profitability is always at the forefront of their marketing efforts, Cohen makes sure to keep customer joy in mind, as well.
"We're selling fun. Most of our excursions are awesome bucket lists, really cool stuff," he says. "It's a fun product to market. We're selling aspirational-type things, and we're trying to inspire people.
"People truly do use all forms of marketing channels now they make travel decisions," he continues. "It's amazing the impact some of these channels play."
Curious about how your brand can take results to the next level? Have the same willingness to experiment and test new channels for your business?
Reach out to our team to start building a results-driven digital marketing strategy today.