Whether your brand has shut down Google Ads in response to COVID-19, ongoing economic troubles, or other issues, half the challenge is deciding when to turn them back on — and how to do so successfully.
In today's case study, we walk you through how we did it for our client Shore Excursions Group.
After almost two years of pandemic-induced advertising silence, we relaunched the company's campaigns earlier this spring — and are reporting some significant gains just six months later, including a three-year-high ROAS of 18.73x and a 1,333% increase in profit margin.
Keep reading for the whole story, including some recommended strategies that your eCommerce business can use in its paid search advertising reboot, too.
Client Background
Shore Excursions Group is a cruise tour provider that connects travelers with smaller, authentic experiences hosted by local operators. They came aboard as an Inflow client in early 2019 — with no idea of the industry shakeup that would come less than a year later in March 2020.
As the pandemic emerged and cruise ships were docked indefinitely, Shore Excursions decided to pull back on their ad spend, reallocating their resources to longer-term projects like SEO.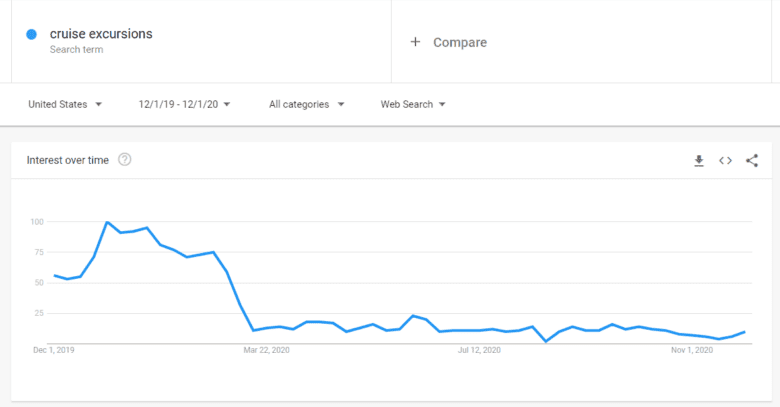 But, when cruise lines started to relaunch services in full force last winter, their team knew it was time to dive back into the brand's PPC campaigns — to set the stage for a potential industry boom in the spring and summer of 2022.
Relaunching Their PPC Accounts
In the two years since Shore Excursions had run their Google Ads, the cruising industry wasn't the only thing that had changed. Google's operating system itself had gone through several iterations of automation options, campaign types, and more.
Fortunately, our team stayed at the cutting edge of every update, testing new approaches and strategies on our other clients even during the height of the pandemic.
We brought the expertise, and Shore Excursions brought the willingness to invest in a test budget necessary for making a relaunch splash.
The Goals:
Like with other clients, our PPC strategists track a variety of metrics for Shore Excursions, including return on ad spend (ROAS), cost per click (CPC), and more.
However, when it came to restarting their Google Ads campaigns, the Shore Excursions team was interested in one KPI above all others: their commission threshold, A.K.A. their contribution (profit) margin.
This metric considers the many complex factors involved in Shore Excursions' revenue — marketing spend and profitability, possible cancellation fees, etc. — to estimate the brand's return on its investment.
Using this metric, our team was tasked with achieving profitability every month after the relaunch to prep for the upcoming "high" season.
The Process:
Because of our historical partnership with Shore Excursions and our team's knowledge of paid search trends, restarting the brand's Google Ads campaigns was very simple — and involved three basic steps that any brand can replicate.
1. Reviewing Historical Performance
As with any campaign relaunch (or even simple optimization), reviewing historical data is the first priority. Not only does it help us understand how ads have performed in the past, but it also is integral to setting realistic expectations — especially in the "post-COVID" age.
Shore Excursions had almost two years with no historical data, which meant we had to go back even further in our analysis. After throwing out most of their COVID-19 data, we extended our lookback window to 2018, giving our team three years of historical performance to consider, especially with understanding the seasonality of the business.
Of course, the cruising industry (and the world) is much different than it was in 2018. That's why we recommend taking any historical data with a grain of salt and comparing it to current and expected performance within your industry.
However, when it comes to relaunching Google Ads campaigns, Shore Excursions' historical data served its purpose: to give us a starting point for our testing.
2. Understanding the Industry Landscape
Next, we took that historical data and compared it to the cruising industry's current landscape — that is, which locations were allowing cruises, which had been most affected by the pandemic, and which remained the most profitable for tour providers.
Working closely with our Shore Excursions contacts, we got specific with our test locations. For example, instead of widely targeting all Alaska ports, we looked closer at individual cities and ports that had performed well in the past (and, to the best of our knowledge, were welcoming cruisers with open arms).
But we didn't just look at Google Keyword Planner in our research. Our PPC strategists also collaborated closely with our SEO strategists, reviewing organic trends to further support our test campaigns and budget.
(And, thanks to our SEO team's work during COVID-19, Shore Excursions was uniquely positioned to lean into those organic opportunities with targeted user content.)
3. Updating Outdated Ads
Finally, with our test strategy figured out, it was time to update the two-year-old search and display ads sitting in Shore Excursions' accounts.
As mentioned above, campaign types and automated bidding strategies have gone through several iterations since the pandemic first hit in 2020. Many of Shore Excursions' old ads literally could not be run as they were originally crafted — because the capabilities to do so no longer existed!
So, to make the ads Google-compliant, our team:
Replaced Expanded Text Ads with new Responsive Search Ads
Updated ad copy and assets
Adjusted demographic and custom audience modifiers
Identified and incorporated high-return automated bidding strategies with A/B testing
In short, we had to get the ads ready for a "post-COVID" world — which, thanks to our experience with other travel and tourism clients, was a straightforward and effective process.
Our advice to you: If you're running Google Ads, you must keep up with all of the platform's new campaign types and automation updates. Only by understanding how these new capabilities work can you effectively restart PPC campaigns and expect to see results.
The Results:
Like many brands hit hard by the pandemic, the Shore Excursions team was wary of high expectations after two years of poor performance. But, after jumping back into the Google Ads game with refreshed campaigns, their results were even better than anyone could have anticipated.
By trusting in our team's work and giving us the budget needed to succeed, our PPC strategists were able to quickly scale not just ad spend but also ad return. Just six months after our initial relaunch in March 2022, we're reporting consistent month-over-month profitability for Shore Excursions (despite higher tour cancellation fees), with:
A three-year-high ROAS of 18.73x
1,333% increase in profit margin (with only 157% increase in spend, month over month)
Month-over-month achievement of commission threshold goal
The Next Steps — And Our Recommendations
With Shore Excursions' paid search campaigns officially back in business and the cruising season winding to a close, the last thing we're doing is pulling back. The offseason is a perfect time to test new strategies, budgets, and campaigns — and that's exactly what we'll be doing for Shore Excursions.
The first test? A new competitor campaign to take on other major players in the industry, learn from their strategies, and create a stronger approach for when the high season returns.
At the same time, we'll be continually experimenting with all of Google's trending automation — a strategy we recommend every eCommerce brand consider. The push toward automation isn't going away anytime soon; if you're considering revamping or relaunching your campaigns, the more you know about these features, the better.
Want an online marketing expert to explain them to you and show you the opportunities for your eCommerce business?
Contact our team today for a custom PPC strategy built around your brand's strengths, historical performance, and the future we see for your industry.